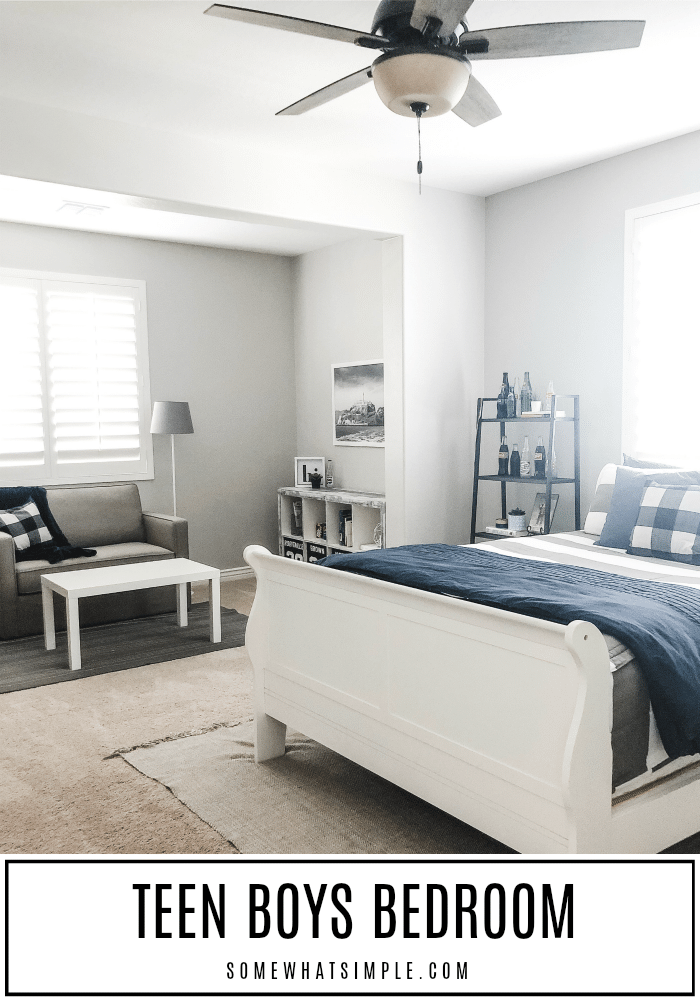 Designing a teen boys room doesn't have to be a difficult task! Take a look at Ethan's room to see how we achieved both function and style.
This post is in partnership with Saatva.com. All opinions are my own.
I've been slowly working my way through furnishing and designing each of my kids spaces, one room at a time! I'm done with Leah's Tween Bedroom, and I finished both the Playroom Under the Stairs and the Teen Loft. Today I want to show you how I designed Ethan's teen boys room – a space we both absolutely LOVE!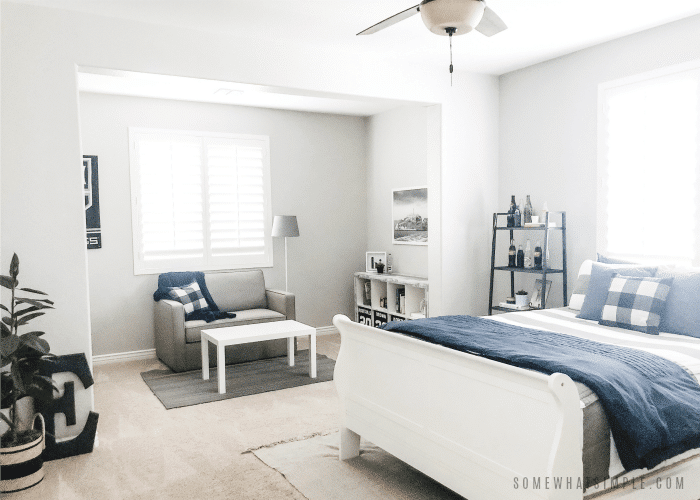 Teen Boys Room
When I first saw the floorpan of this house, I thought this room would be perfect for all THREE of our boys to share. The large windows made it bright and airy, it is connected to a Jack and Jill bathroom, and it was definitely big enough! But when we announced our plans to move to a new city 30 minutes from our current home, our then 13 year old needed something to help build his excitement. (Sharing a room with not 1, but 2 brothers was adding to the discontent of leaving his friends and starting a new school!)
We decided to let Ethan have this big room all to himself, and while my visions of built-in bunk beds might have been set on the back-burner for some time, I do love him having a space of his own that he loves.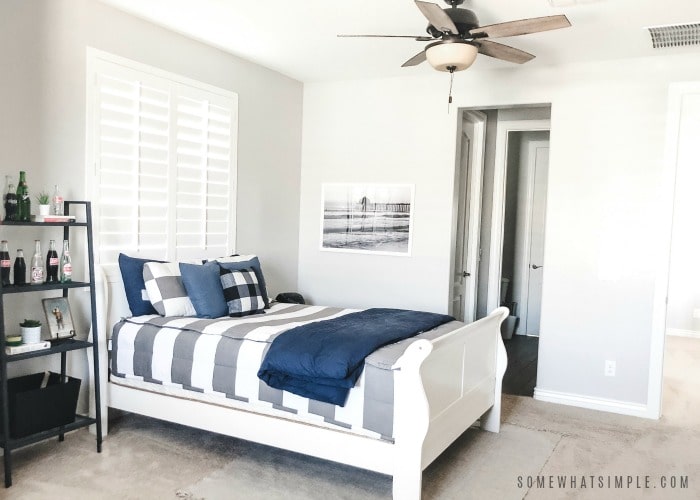 Teen Boy Room Ideas
The biggest design problem that comes with decorating a teen bedroom is finding the right balance between too matchy and too mismatched. (Gone are the days of decorating an entire room around his favorite sport!) My son was insistent that we didn't do any sort of theme or color scheme – and this was new territory for me, but I actually 100% agree. The design we came up with still coordinates without being too juvenile.
Here is how we achieved this look –
*All the products we used in this space will be linked at the end of this post.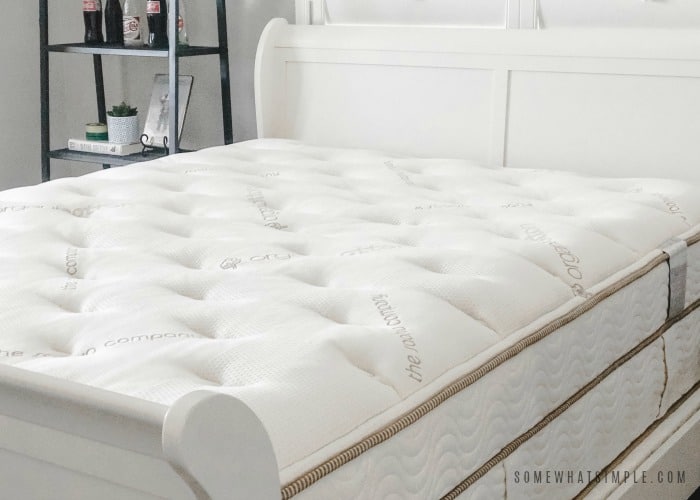 All Good Bedrooms Start with The Perfect Mattress!
A little back story:
Once upon a time, my husband and I were newlyweds and decided it was worth the splurge to buy a nice mattress. We found one we loved so much that we used it for over 13 years before parting ways in our last move. Unfortunately, we have spent the last 2 1/2 years regretting our new mattress choice, and I was starting to think we'd never sleep as comfortably again.
And then last month, I got an email from Saatva. I had never heard of this company before, but here is what I found –
Saatva's website says they are "America's best-priced luxury mattress" and that they use "Eco-Responsible Materials".
They offer a variety of options when it comes to mattress construction and comfort levels. I love this because I don't feel like a mattress is "one size fits all." So whether you're a back sleeper, a side sleeper, or a stomach sleeper, there is definitely a Saatva option for you!
Saatva also offers a 120 day home trial, so if you're not happy, you can return it and only be responsible for the $99 transportation cost.
I ordered a queen sized Saatva Plush Soft for Ethan's room. It is a 14.5″ deep mattress with a core that is just the right firmness to conform to your body without letting you sink in too much. This mattress came with free delivery and set up, and they even offered to haul away Ethan's old one!
You guys.
This mattress is PERFECTION.
I can't even tell you how much I love it. We all do. It is the most comfortable mattress in our entire house! It is plush, but supportive, and the quality is exceptional!!! The few interactions I had with the customer service team regarding scheduling the delivery were pleasant – and the delivery guys were so helpful and kind. I can go on and on about all the positive aspects of ordering a Saatva mattress, and I literally have NOTHING negative to say about it. Not a single warning or word of caution.
I guess the only regret we have with this mattress is that we didn't order one for our master bedroom! In fact, my husband said he wants to swap beds with our son and let him have our California King so we can sleep on the Saatva mattress! (We will definitely be replacing ours very soon!)
Finding the perfect mattress isn't something you need to lose sleep over any longer!
For more information, visit the Sattva website and follow them on social media –
Website || Facebook || Instagram || Twitter || Pinterest || YouTube || Blog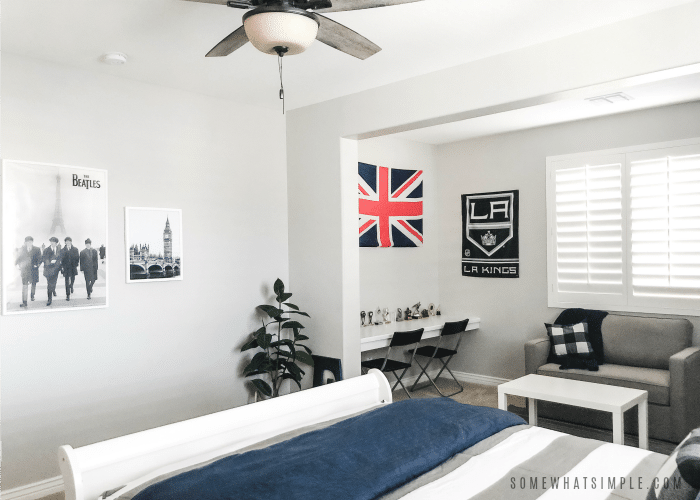 Teen Boy Room Decor
When choosing the overall design of Ethan's room, I wanted to find a way to showcase his hobbies and interests:
We travel a lot as a family, and he wanted large artwork of some of his favorite destinations.
Ethan collects glass soda bottles and flags from various places we visit.
He is a huge LA Kings fan, and he has quite a few trophies of his own to display.
Here is how it all came together –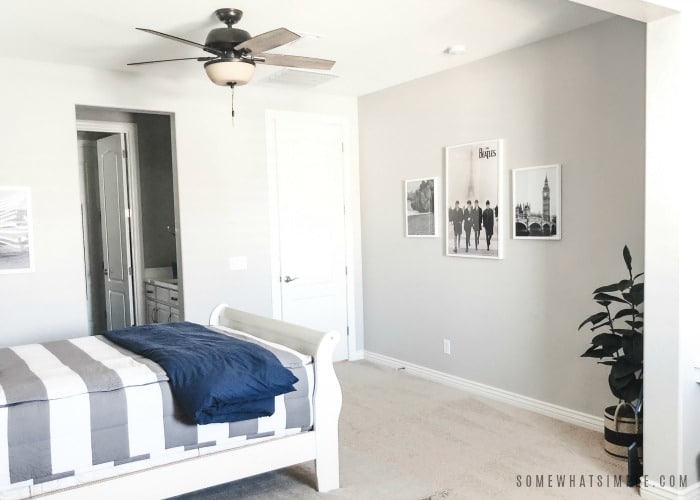 First, I printed some vacation photos in black and white engineer prints at Staples. Not only did Ethan request a picture from Paris, he also loves the Beatles, so the print of The Beatles in front of the Eiffel Tower that I found on clearance at Hobby Lobby worked perfectly. I framed the prints in matching white frames from IKEA. The black and white photography helped coordinate each vacation print so we didn't have to find matching color tones and hues, and I love the clean lines of the white frames on our gray walls.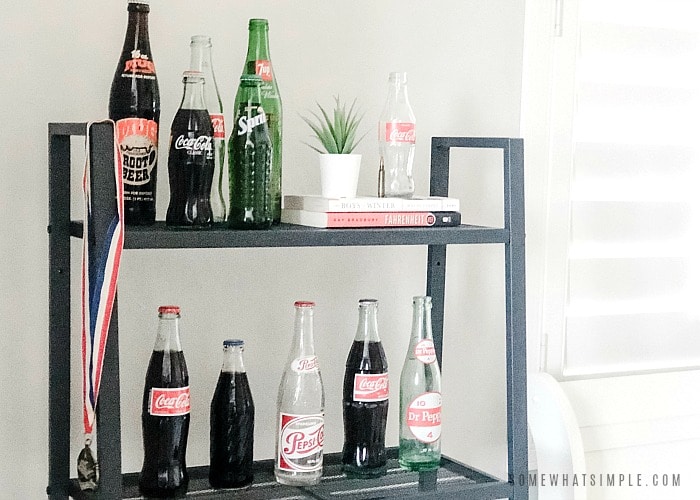 I told Ethan he isn't allowed to collect any more soda bottles now that his room is finished. 😉 All the bottles he has look perfect as they are!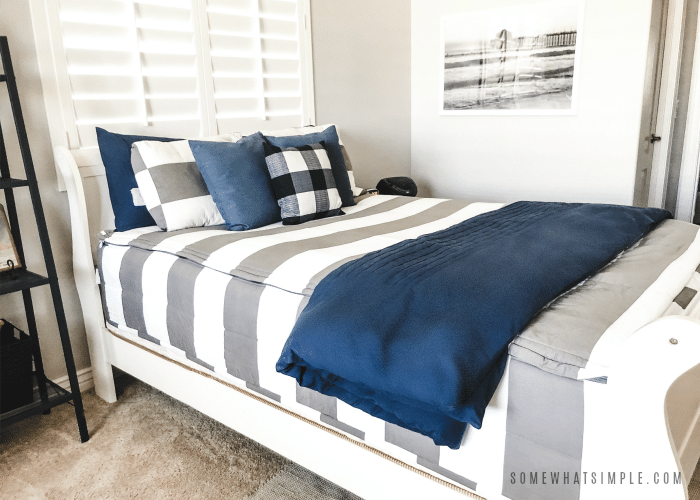 His bedding is from Beddy's and I purchased it 3 years ago. We both still love it, but I added a navy blanket + some new throw pillows. (All of which can usually be found on the floor!)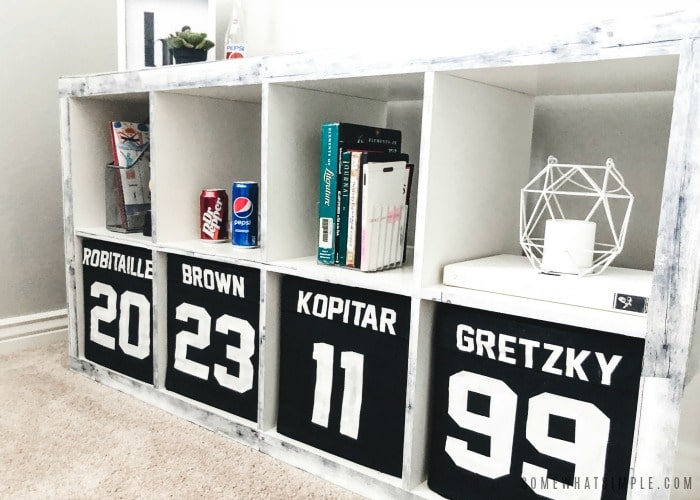 While he might have outgrown his Hockey Room, his love for hockey still runs deep. We kept the Hockey Shelf I made all those years ago, which allows for some hidden storage of all the things we didn't want on display. The cubby shelf is normally white, but I covered it with peel and stick wallpaper that I had leftover from my pantry.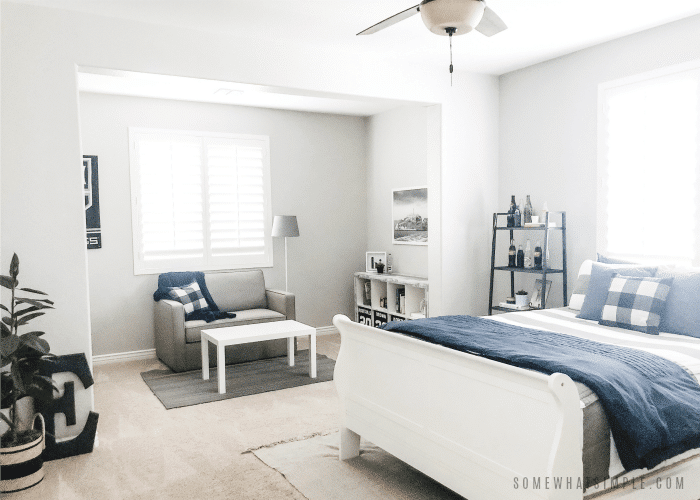 What do you think? Do you like this teen boys room as much as I do?
My only fear is that this room is so awesome, he may never want to leave home!
Shop this Teen Boys Bedroom –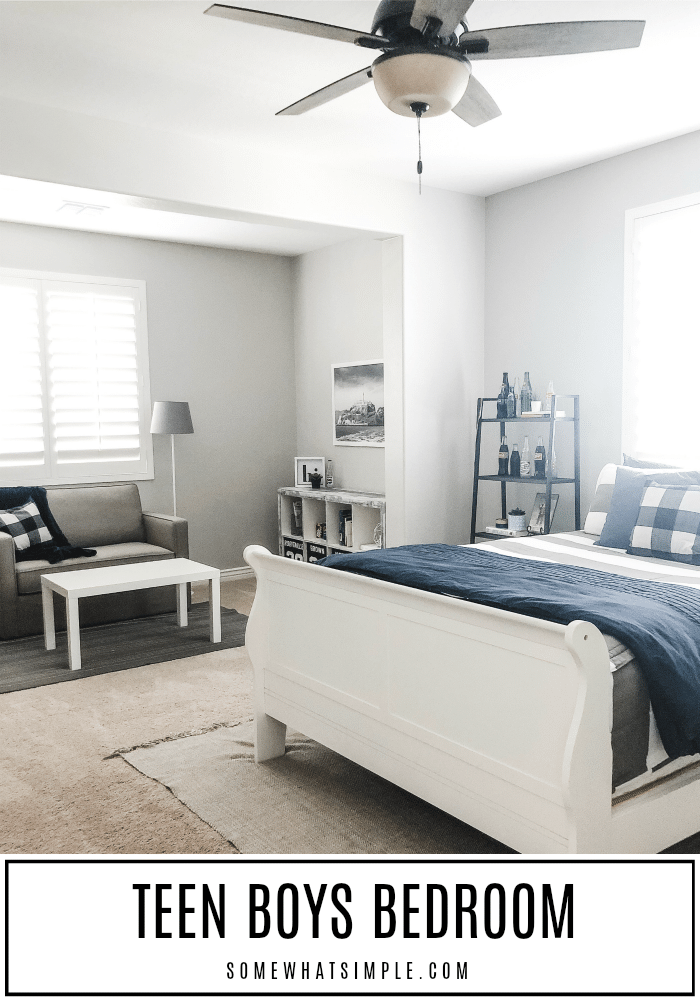 Styling / Design / Photography | Stephanie, from Somewhat Simple
Sponsored by | Saatva