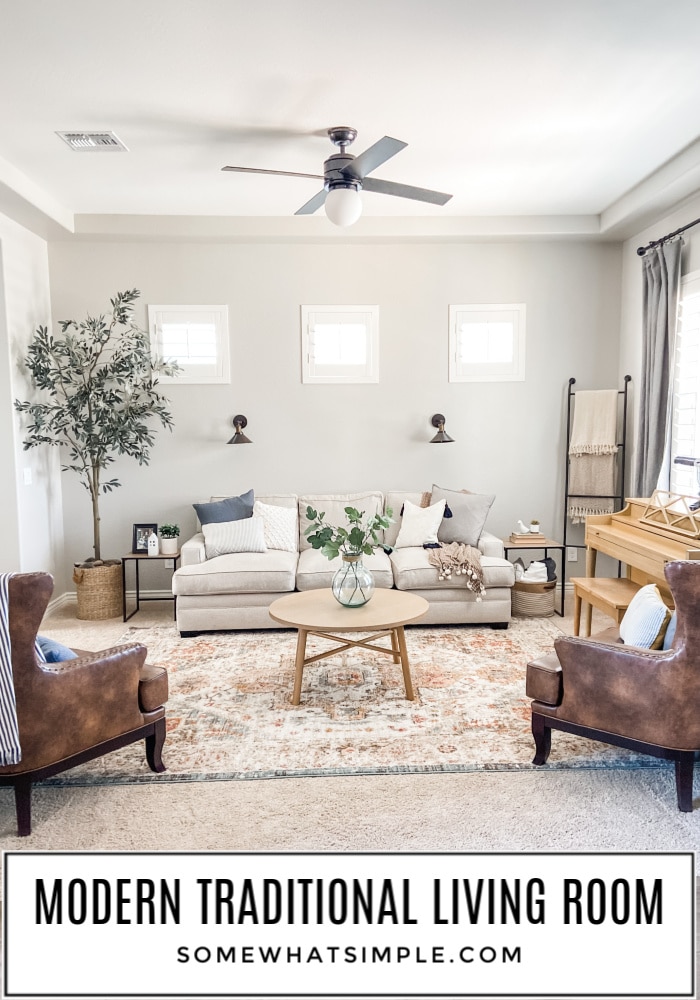 The BIG REVEAL of our Modern Traditional Living Room that went from heavy and over-crowded to bright and fresh!
Anyone else knee-deep in projects right now? If you've been following me on Instagram, you've definitely seen my living room up close and personal! This sweet little sitting room finally looks put together, and I am so excited to share the big reveal with you all! First, take a look at what it used to look like –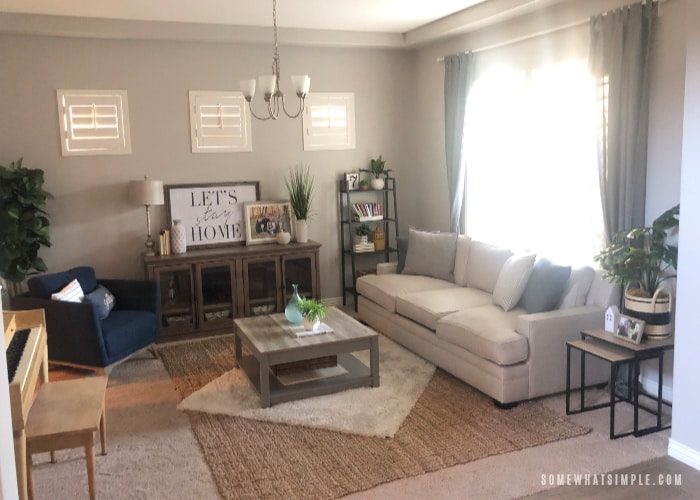 There was just too much going on here – all the furniture and accessories just made it feel heavy and crowded. I usually like a mix of metals and woods, but there were too many colors and textures happening.
So I got to work with a mission to SIMPLIFY and MINIMIZE this space. I cleared everything out, rearranged the furniture and only brought back in the pieces that made sense. Here is what this space looks like from that same angle now –
So.much.better!!!
Here is what I did –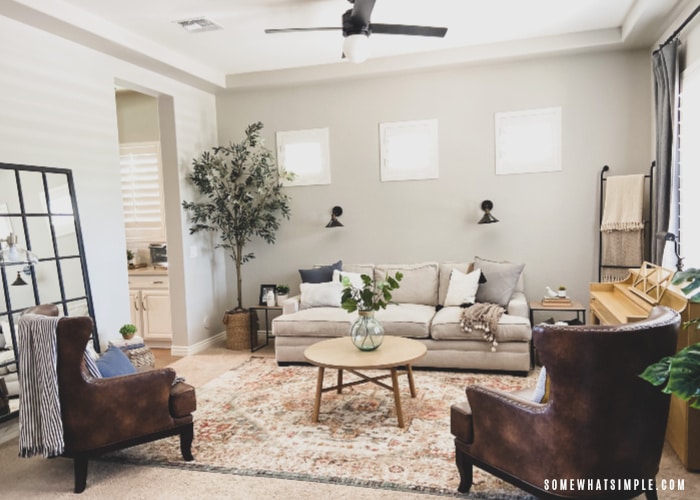 Modern Traditional Living Room
*All the links to the products I used are at the end of the post.
Once I figured out the layout of the furniture that made the most sense (this took a while!) it was time to address the rug situation. I already knew the jute rug had to go because I wanted something with color, but something that felt light and airy. I think the rug I chose is PERFECTION!
With the rug now anchoring the entire space, I got to work on the other decor!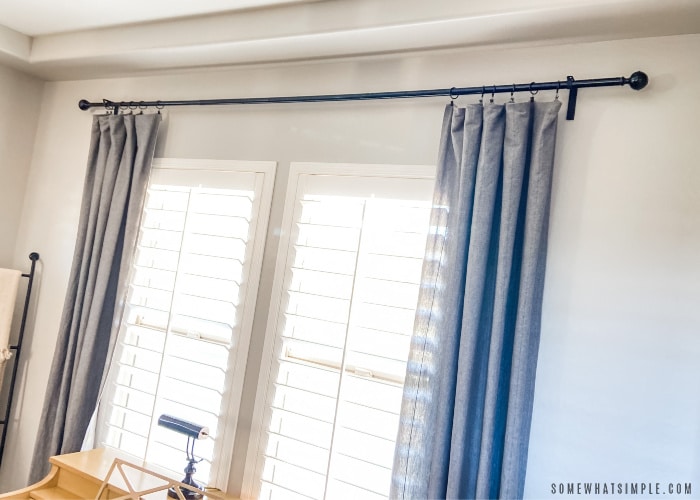 I painted our white curtain rod black and I love the way it pops against the gray walls! I also cut the tabs off our curtain panels and hung them with curtain hooks. What a difference a better window treatment makes! (Check out my Curtain Tab Trick on my IG Highlights here.)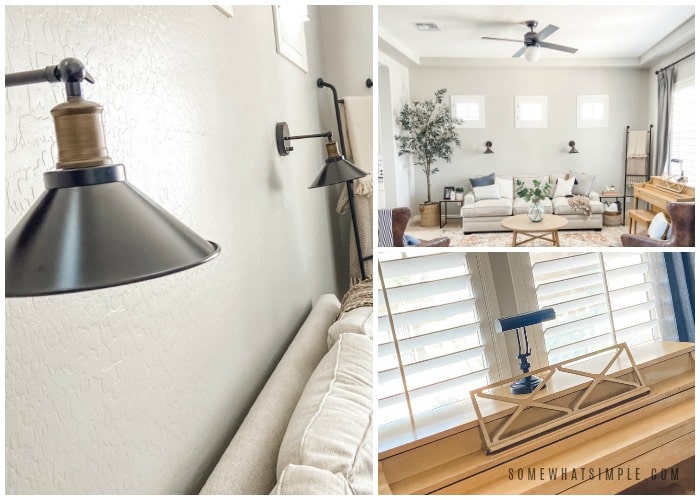 The LIGHTING in this room got a major upgrade! I added two sconces behind our couch WITHOUT TAPPING INTO OUR ELECTRICAL WIRES (DETAILS HERE). I also swapped out the builder-grade chandelier with a beautiful black ceiling fan, and I got rid of all the decor that was on the piano and replaced it with 1 simple piano lamp.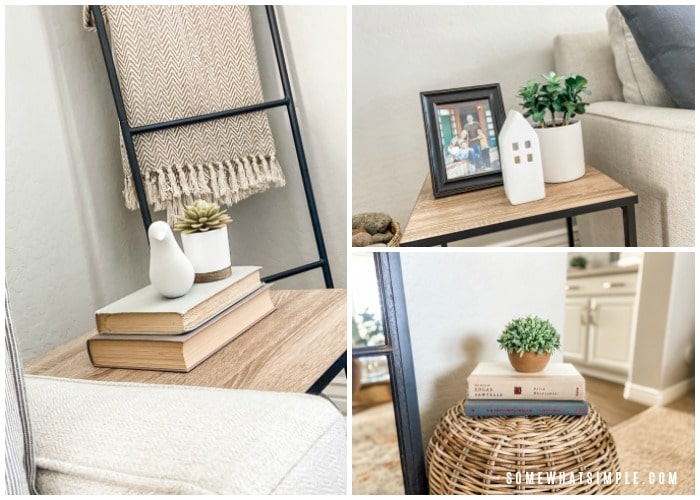 All the accessories are very simple. I didn't want to go overboard with this, and I definitely think LESS IS MORE!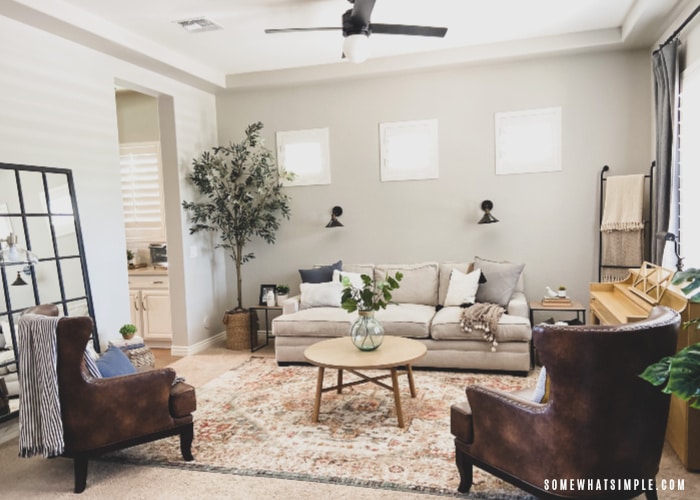 A few more updates –
Let's take one more peek at the before and after –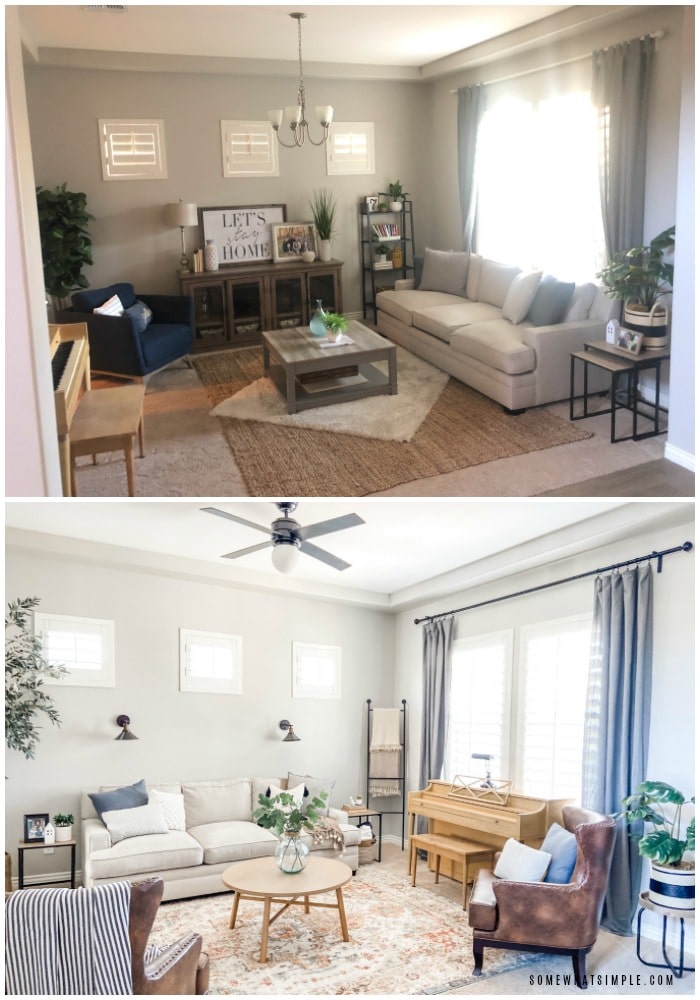 AHHHHHHH…… I love it!!!!!
What do you think?
Shop the products (or similar items) used in this post below –