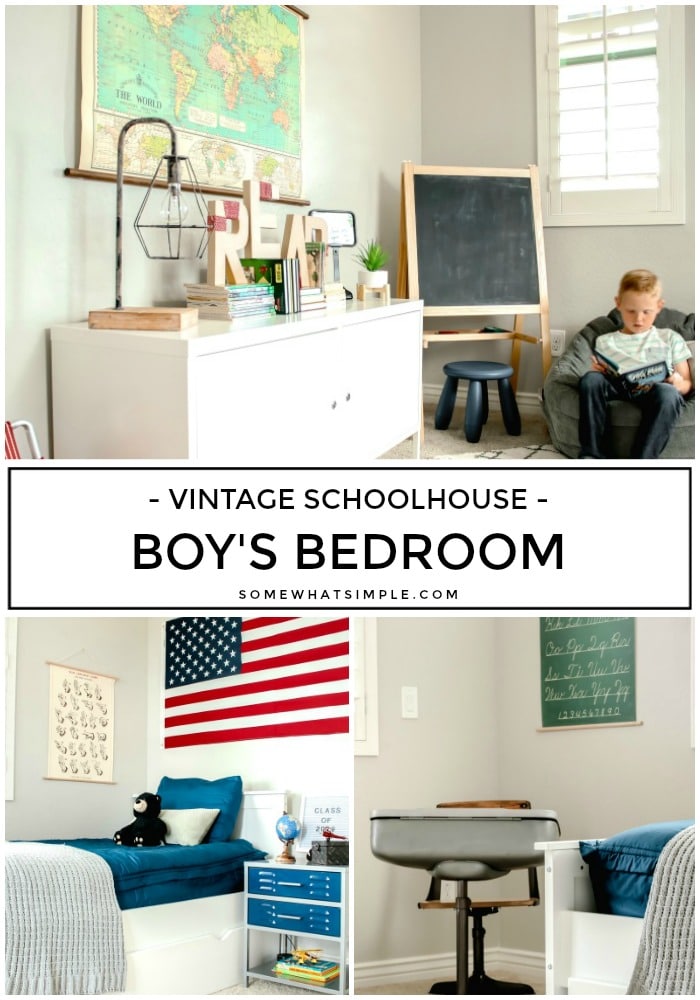 From a world map and American flag to a vintage desk and schoolhouse memorabilia, Mason's vintage bedroom is the perfect place for him to let loose and showcase his creative personality!
As a mom of 5 (3 being BOYS!), I've had plenty of experiences designing some fun boy's bedrooms. Our boy's shared hockey room, Ryan's industrial bedroom and Ethan's teen boy bedroom are still some of my favorite spaces! This month it was Mason's turn to get a space of his own, and this vintage schoolhouse bedroom couldn't be any more perfect for him!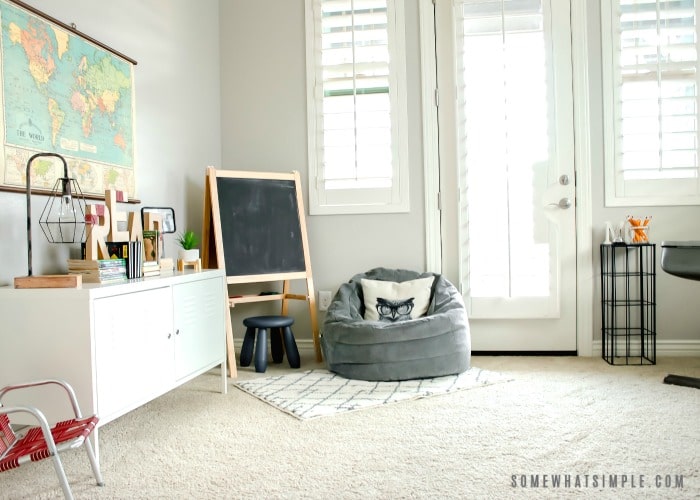 Vintage Bedroom
Can I just say I am so thrilled with how this space looks, but I am SO GLAD to be DONE with it?!?! It was hands-down the hardest room I've ever designed, and mostly because I have a 7 year old who not only has a strong opinion on how he wants everything to look, but also because this 7 year old changed his mind a billion times before finally deciding on a theme!
First he wanted a science room, then an art room, next a transportation room, then just an airplane room… he also asked if he could combine everything and decorate one room that had it all. He came to me almost every day with more ideas of things he wanted to incorporate – an American flag, a map of the world, his art easel, a locker to keep his little sister from getting into things, a letter board, the vintage red chair my husband had as a kid…. and the list grew day after day!
I racked my brain trying to come up with something that could encompass all.the.things. and that's when my friends suggested a Vintage Schoolhouse Bedroom. YES! I love that idea! Now I just had to convince Mason to love it too. 😉
I pitched it to him.
He had no idea what it even meant.
I explained how he could have all the things on his list and it would probably look awesome.
So he was sold.
… and then he started planning allllllllllll the details!
He came home every day with a list of items his teacher had, insisting that his bedroom have the same –
a tabletop bell – check!
books and a reading corner – check!
a jar of pencils – check!
a special desk just for the teacher – ok, check!
a bucket of sharpie markers…. not gonna happen!
We had to compromise on a handful of things, but this kid could not be happier with the result!
Here are all the details –
*Affiliate links for your shopping convenience are at the end of the post*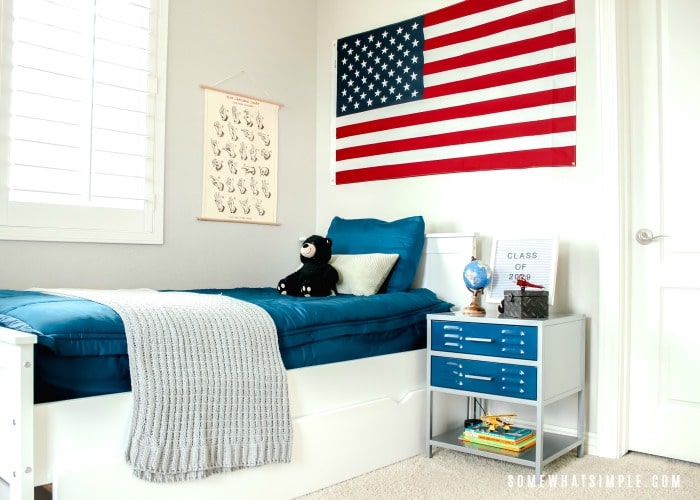 If you've been following our house progress for a while now, this room might look familiar! It used to be Leah's Tween Bedroom, but we've switched around some spaces in our home and now it belongs to Mason!
Let's start with the bed area!
This is the bed Mason has had his entire life and I still love it. It's just plain white with straight lines and a trundle bed underneath for sleepovers with siblings and cousins.
He chose the most comfortable bedding ever – Nautical Navy zip bedding from Beddy's.
4 of my 5 kids have been using Beddy's Zip Bedding for over 4 years now. They are soft, comfy and easy to wash and ours have held up so great!
Beddy's zipper design makes it incredibly easy for my kids to make their beds each morning, which means their rooms look clean and tidy without a lot of fuss! While they do cost more than I would normally spend on bedding for my kids, I've come to realize they are worth every penny!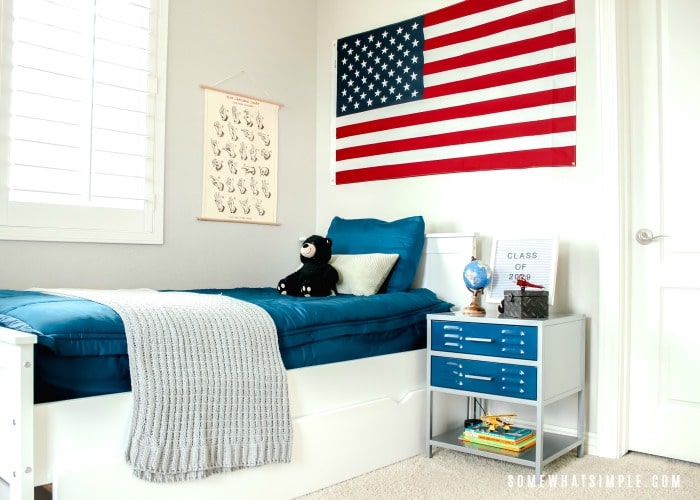 Mason chose his bedding when he was still planning a science room with a lot of navy and green colors for that space. When he changed his mind and we decided on something more vintage, I had a heck of a time pulling his bed area together since everything was so fresh and white. I felt like it was just clashing with all the rustic metals and vintage vibes in the room, but I figured out I could tone it down with a muted lumbar pillow and throw blanket. (I love how it looks!)
The vintage sign language poster compliments the handwriting chart (see below) and it brings a vintage vibe to this corner of his room.
I originally thought about using a more weathered-looking flag above his bed, but when trying out both the bright and one and the vintage-y one, the bright one just made such a bigger statement, so it was the clear winner.
His metal + navy side table fit perfectly by his bed where his prized letter board is! (He was seriously SO excited about this thing!) A couple vintage airplanes, some favorite children's books, and a small globe complete this space.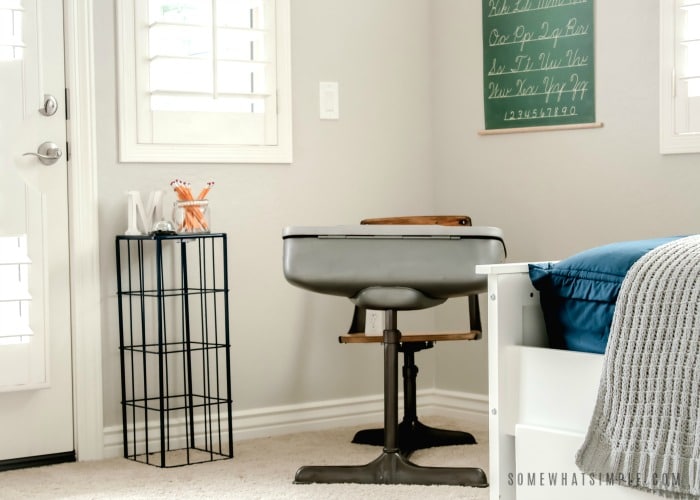 The vintage school desk in the corner of his room is one of my favorite finds. I found this desk on OfferUp for $50 and it is in fantastic condition! I looked at several online that needed work – new paint, missing hardware etc. – so I was thrilled to find this one ready to go – it is just perfect for this room!
Mason has his "jar of pencils" and "tabletop bell" on a metal plant stand that I spray painted navy.
The vintage handwriting poster pulls that corner together so nicely, don't you think??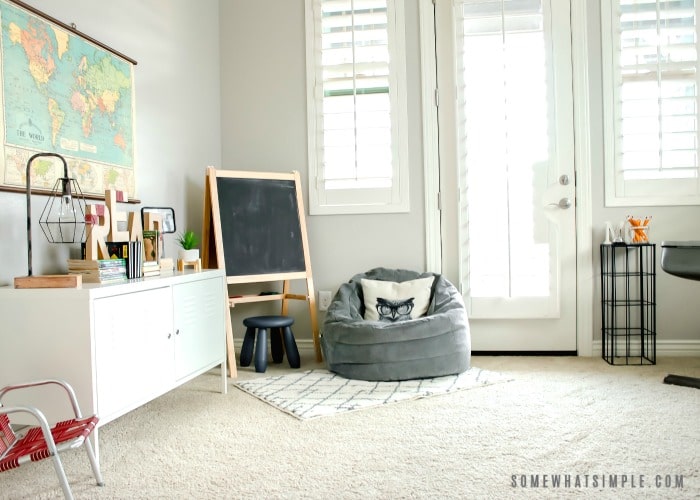 Across from the desk is such a fun focal point – his reading area!
We've had that easel and stool forever, but after we finished decorating our loft, it really didn't have a home. Mason's request to include it in here was perfect! I added a small rug and bean bag chair + a cute owl wearing spectacles pillow that I absolutely love!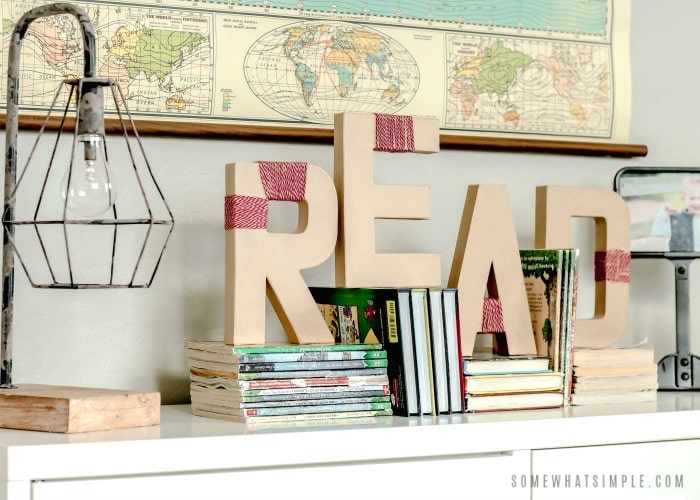 His "locker" is from IKEA, and I went with the bright white to try and pull in the bright white from his bed. He literally has all his things locked up and won't tell his siblings where he keeps the key. 😉
I added some of his favorite chapter books with some yarn-wrapped letters, an industrial-looking lamp, and one of my favorite pictures of Mason flexing his muscles in a tall metal frame.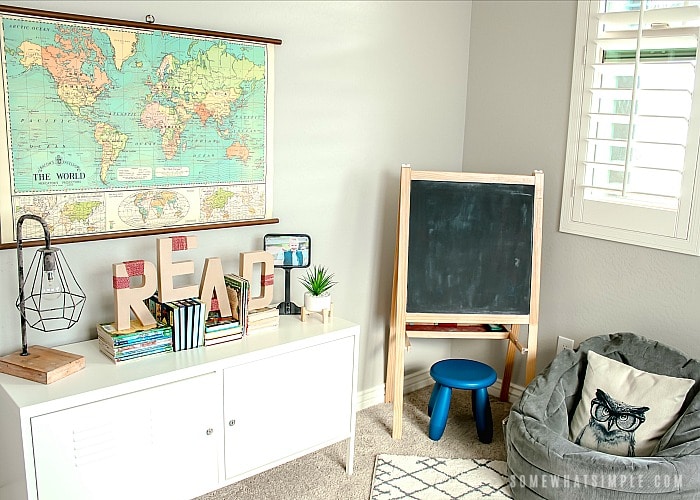 The large map was another great find and I love the color it adds to this room.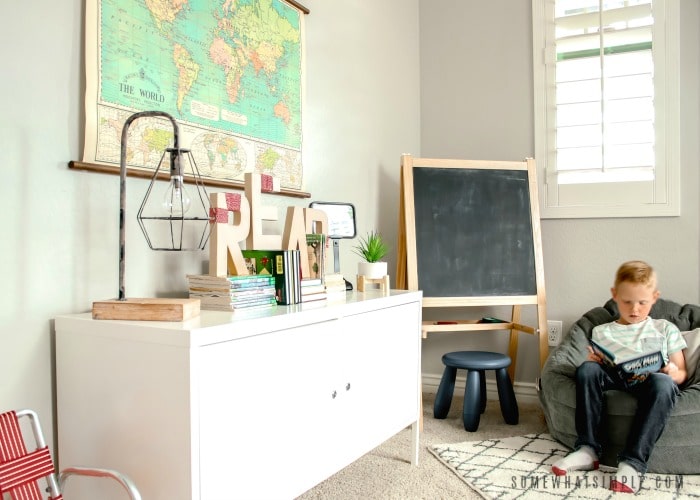 Mason is thrilled with how everything came together, and I am so happy to see him so happy!
Here is a recap of all the links if you'd like to recreate any part of this vintage bedroom –
World Map || Amazon – $50
Industrial Lamp || similar, Amazon – $25-$75
R-E-A-D Letters || Hobby Lobby – $15 project (Tutorial HERE!)
White Locker || IKEA + Amazon $99
Wood Easel || IKEA + Amazon – $20
Blue Stool || IKEA – $7.99
Cream/Gray Rug || mine was on clearance, but here is similar one, from Target
Gray Bean Bag Chair || Target – $49.99
Owl Pillow || American Furniture Warehouse – $9
Metal Plant Stand || similar, Amazon – $20-$100
Tabletop Bell || Amazon, $3
Vintage Desk || found on OfferUp, but I saw a lot on FB Marketplace
Handwriting Sign + Dowel Hanging Set || Amazon, $30 for the set
White Bed || similar, from Amazon – $384
Navy Bedding || Beddy's – $199
Sign Language Chart || sold out, but this one is way cool, from Amazon –
American Flag || Amazon, $6
Locker Night Stand || Target, $100
Letterboard || Amazon – $20
Vintage Airplanes || Amazon – $20
Small Globe || Amazon – $15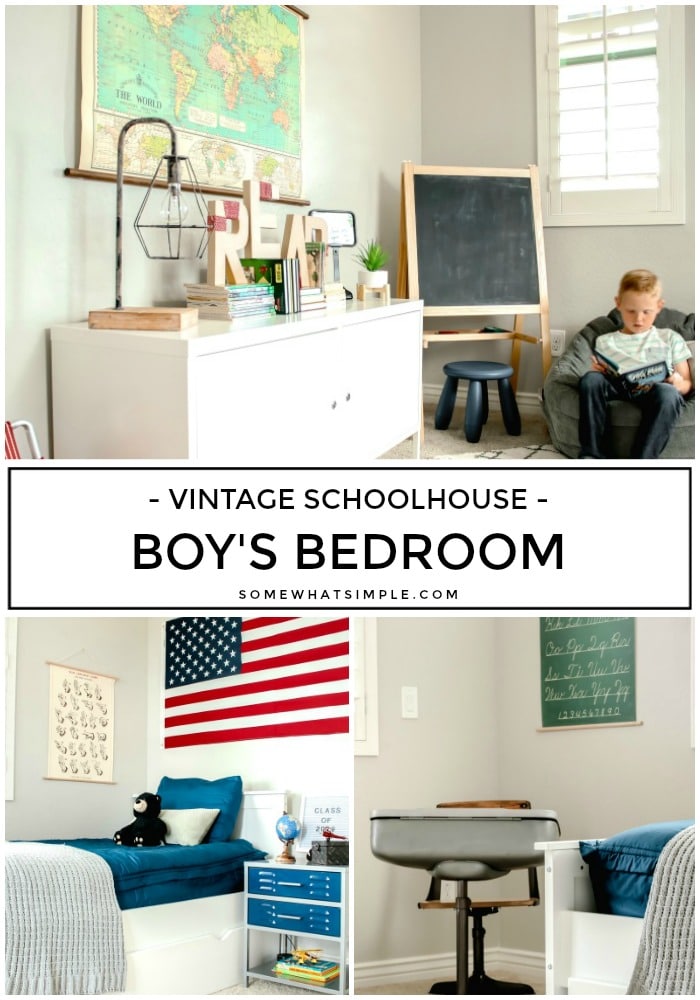 What do you think???
Special thanks to Beddy's for sponsoring this post! 🙂