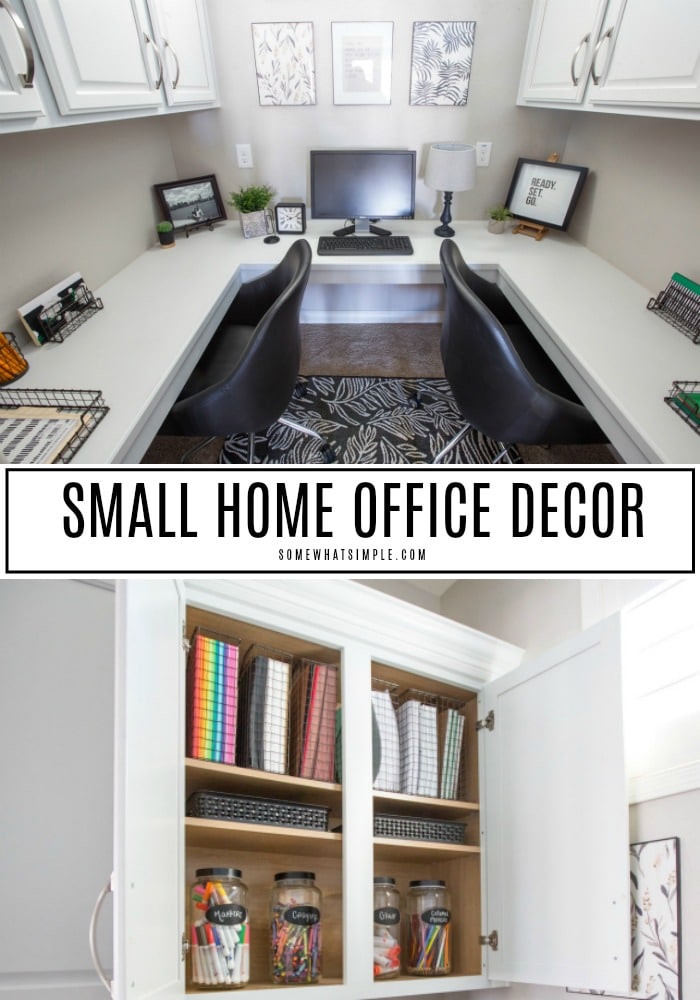 Functional, comfy, and free of clutter – Take a look at Our small office Space! It's the perfect place for homework, school projects, and late-night study sessions!….(Now I just have to convince my Teenagers to put it to good use!)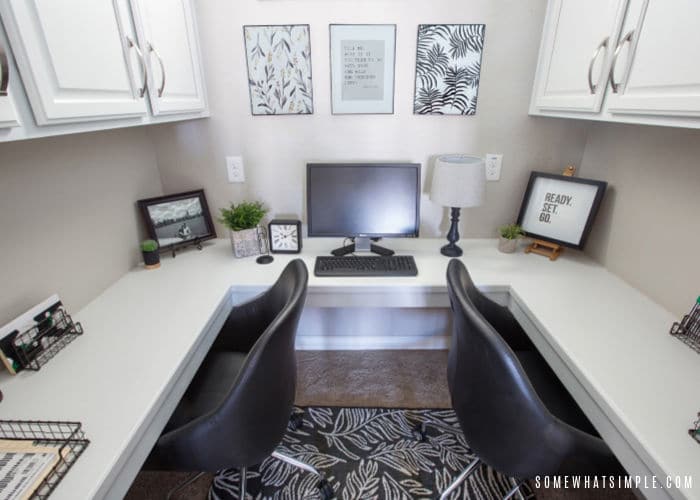 Small Office Reveal
If you follow me on Instagram, you've seen a sneak peek of my latest project – our upstairs pocket office. This space turned out even better than I had planned, and I'm so excited to share all the fun details with you!
We've partnered with our friends at Office Depot for the furniture and organizational tools for this space, as well as some accent accessories too!
First, let's take a look at the office "before" we started this project.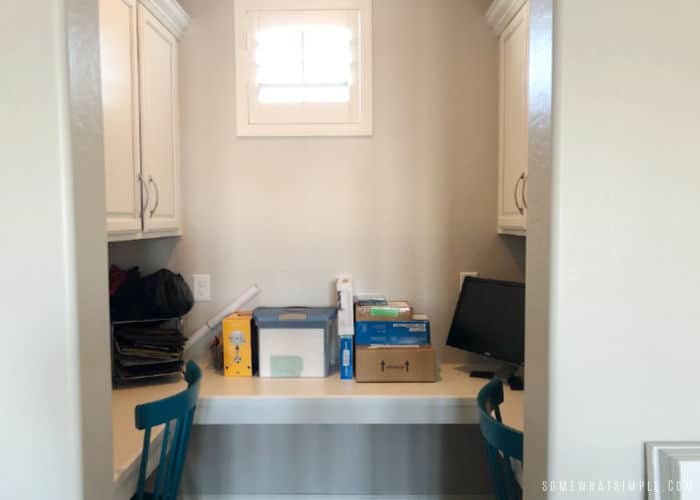 Sad, huh?! We've lived here for over 2 years and this space has been unorganized and unused. It was the landing spot for random things without a home, but it had so much potential!
I wanted to design a space for my older kids to do their projects and assignments. A place they could study. A place that was open enough for me to supervise what was being done on the family computer, but private enough for them to focus and concentrate.
With the help of my 12 year old (she loves a good organization project!) we decided what we wanted this space to look like.
Small Office Ideas:
Overall Feel: Classic and comfy with a black and white color scheme and texture from plants and metals.
Office Chairs: Comfy chairs that are both stylish and sleek.
Clean Desk Space: Room for 2 with an organizational system to keep the space tidy.
Office Supplies: Paper and supplies with easy access to complete projects and assignments.
Bins and File Boxes: A designated place to hide all of dad's junk important papers.
Floors: Add a fun rug for design and dimension.
Accessories: Use framed photos and prints + fun office decor to bring in color.
We browsed OfficeDepot.com and found the perfect pieces for our office from the See Jane Work and Elle Décor lines. The product selection is AMAZING!
Ready to see our new small office?!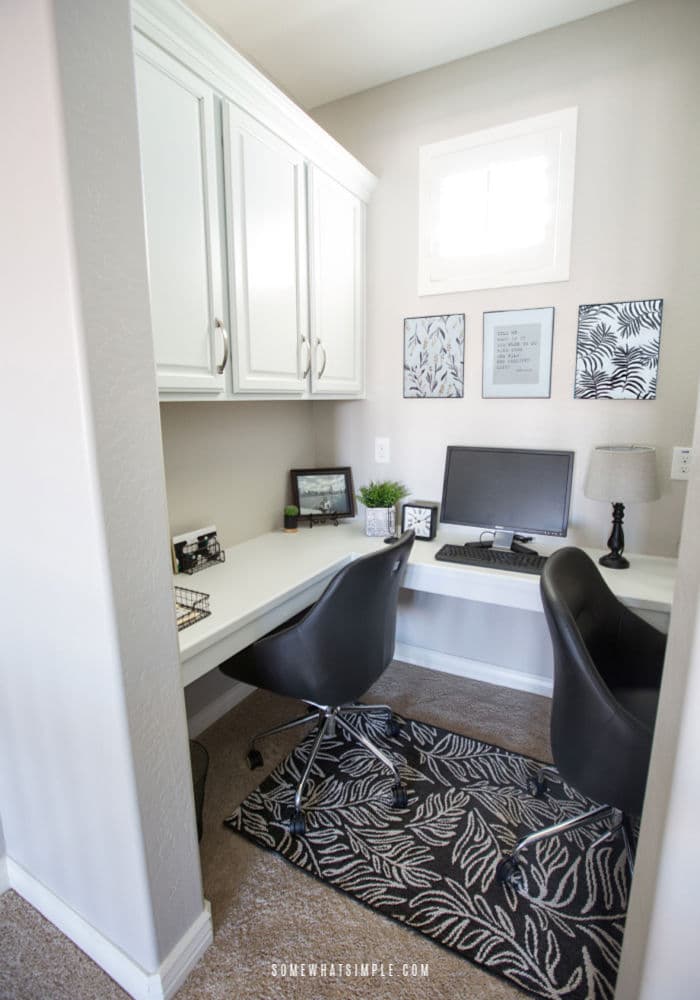 Do you love it?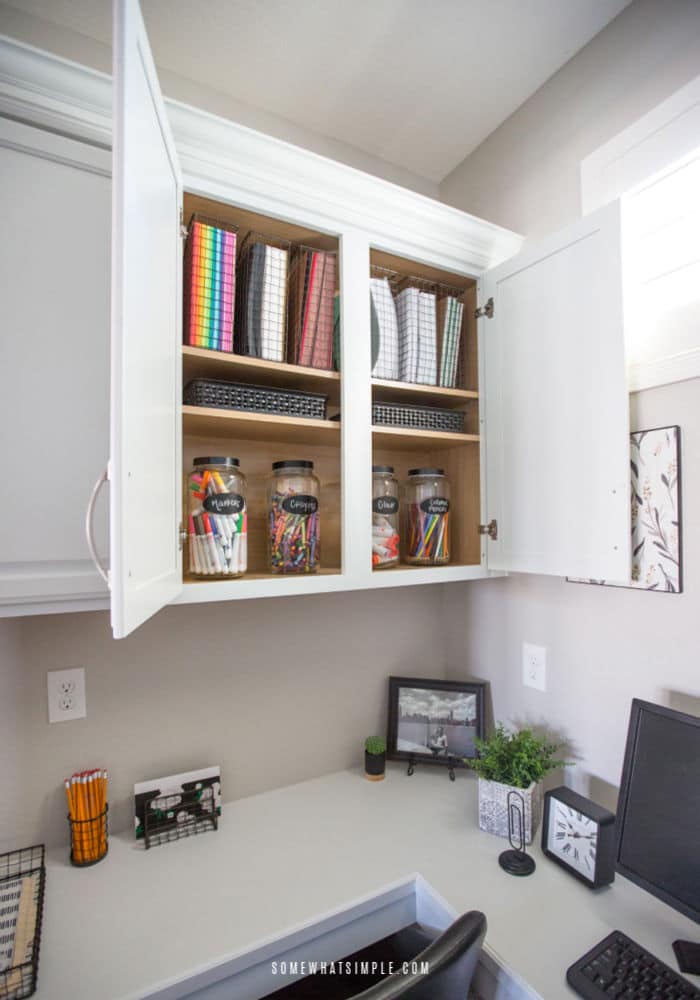 I honestly could not be happier with how this small home office turned out. Let's take a look at all the details –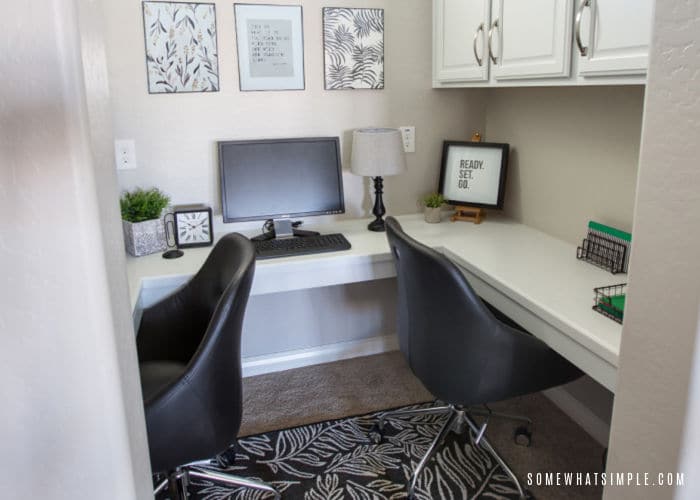 First, let's talk about the seating!
These are the Taissy Mid Back Chairs in Noir. They are sleek black leather that totally set the tone for the entire space! Unlike other office chairs, these aren't big and bulky – we could easily fit 2 chairs in this small space. Not only are they comfortable, they are easy to clean and I LOVE they way they look. They are adjustable in height and they smoothly swivel and roll to make movements easy, which was important for us since the computer is shared and needs to be accessible from both workstations.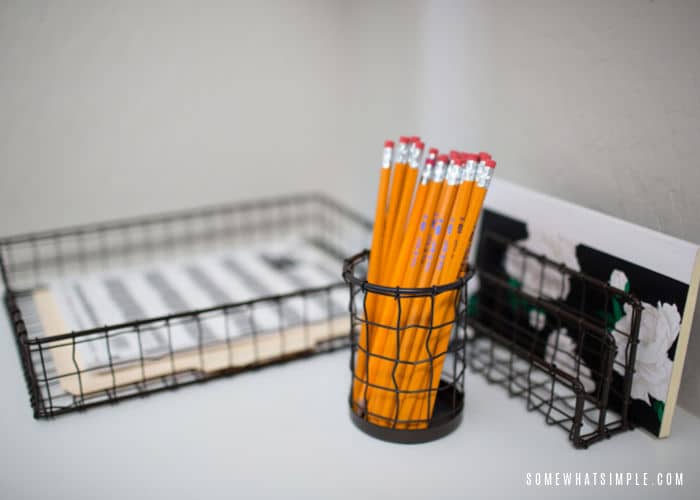 Small Office Deskspace
We wanted to keep this space clean and tidy, but we also want it functional! We added a Wire Letter Tray to each workspace that will easily wrangle loose papers and folders into one nice pile. We included a Wire Pencil Cup and Wire Letter Sorter that will hopefully help cut down clutter. (I'll let you know how this goes… wish me luck!) If nothing else, they look great, don't they?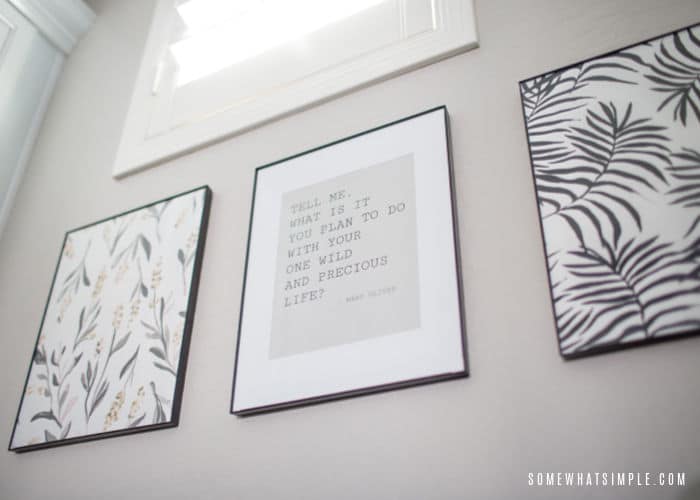 Family Computer + Office Prints
I'm a big advocate of keeping the family computer out in the open so I can easily see what my kids are doing online. On the wall above the computer, I added 2 prints that I found on clearance at Target, and then I made my own print of a quote I love from Mary Oliver –
Tell me, what is it you plan to do with your one wild and precious life? – Mary Oliver
Scroll to the end of this post for the free download of this quote.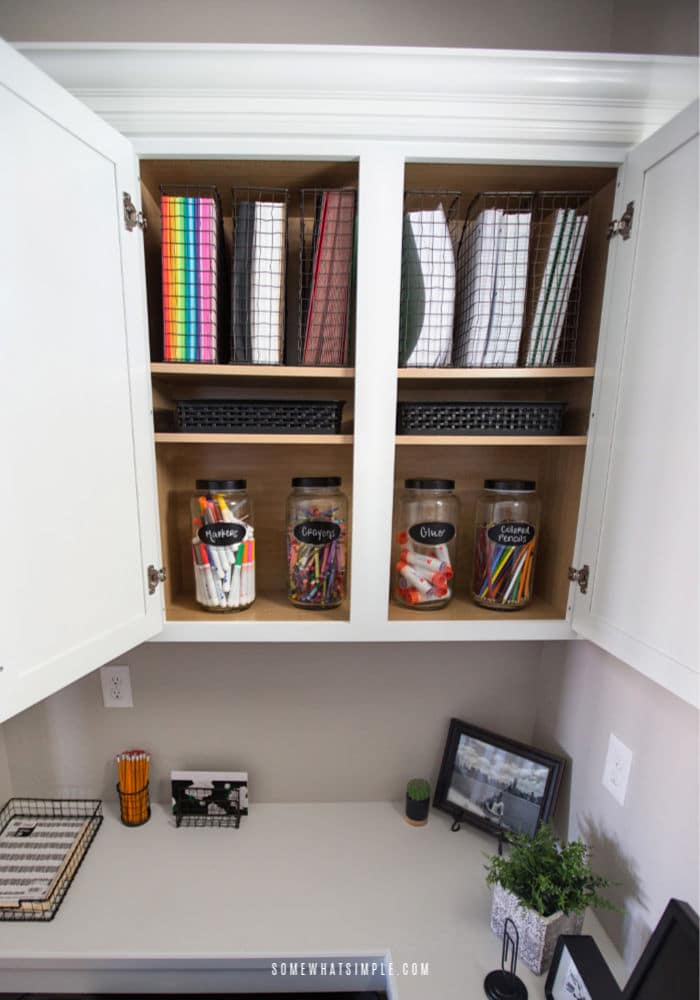 Give me all the office supplies!
This is my favorite cupboard in the entire house! Using 6 Rustic Bronze Wire Magazine Files, I displayed all the paper one could ever want!
The next shelf has tape, a stapler, scissors and more inside 2 Plastic Weave Bins.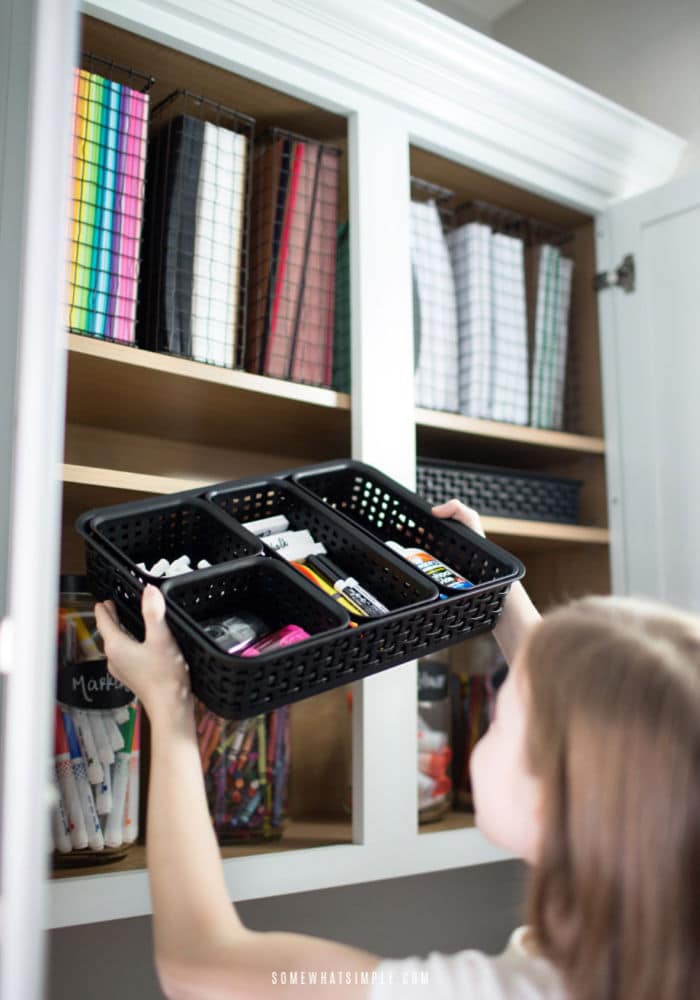 Is there anything cooler than seeing a rainbow of supplies in glass jars? Kinda makes me want to color something!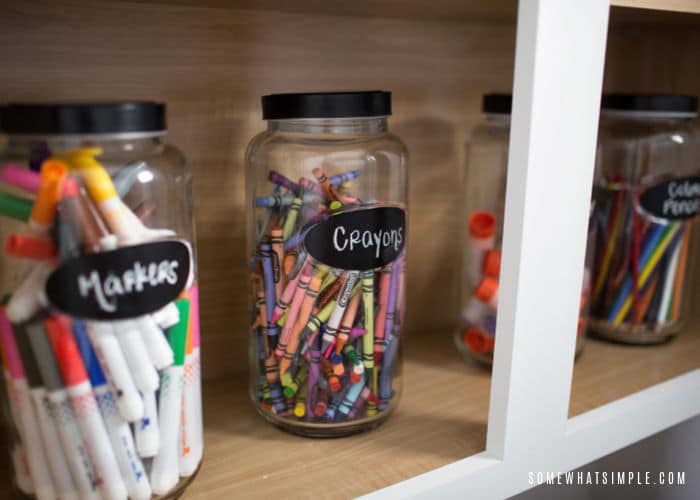 I found the glass jars at At Home in the kitchen section and knew they'd be perfect for our glue sticks and coloring utensils. Doesn't it look so fun?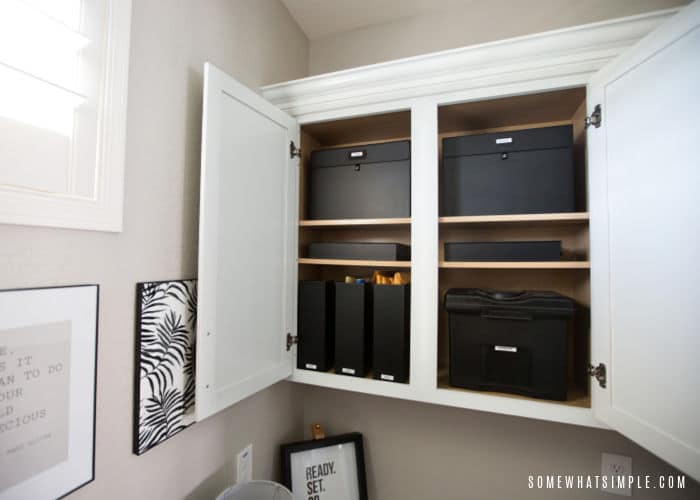 Organization
The cupboard on the opposite side isn't as colorful, but it is just as organized! I put all of our important documents in the See Jane Work® File Totes, black faux-leather magazine files, and Document Boxes. They are concealed, but look sleek and everything is organized!
The other 2 cupboards have plastic woven bins that conceal computer / technology necessities – cords, hardware, old discs. etc.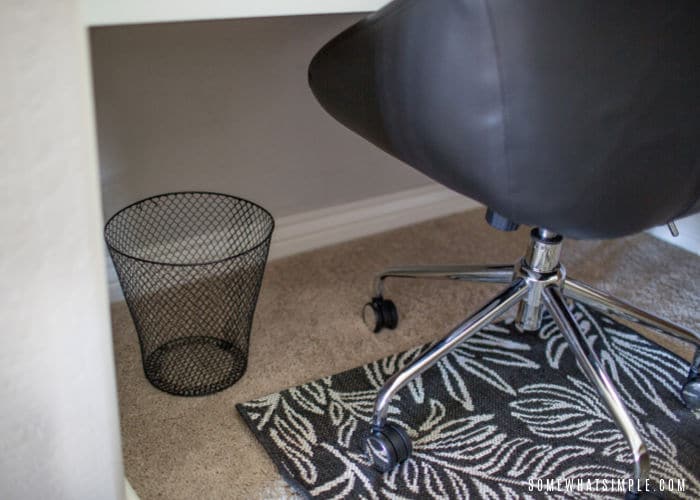 Patterned Area Rug
If you ask my husband, rugs are a waste. If you ask me, he is totally wrong! I bought this black and white rug on clearance at Target with the hopes that it would look good on my front porch, but it didn't. Before returning it, I tried it in the office and I was so excited to find that it looked perfect! Rugs are a great way to add color and dimension to a space… regardless of what my husband thinks!
(The wire wastebasket is from DollarTree.)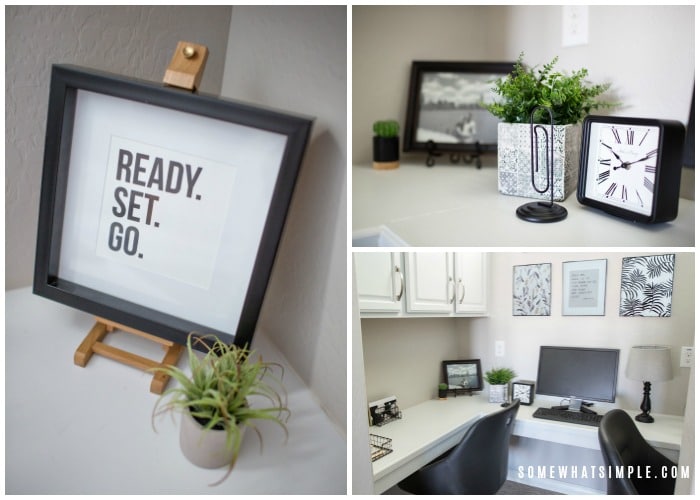 Accessories
I didn't go too overboard, but I wanted some fun elements that could bring in color and height. I added a couple of frames in each corner, and some faux plants. The lamp base I've had forever, but I bought a new lampshade at Target for $10. I added a paper clip holder that is both useful and cute, as well as some fun notepads that have cute colorful designs.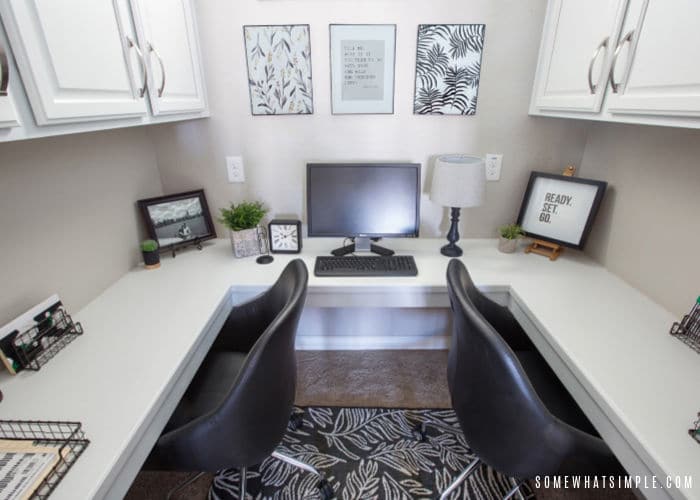 What do you think? Do you like our new home office?
If you're thinking about updating your office with new furniture or accessories, I highly recommend that you visit Office Depot. Their in-store and online selections are amazing, and I am so happy with how our home office looks!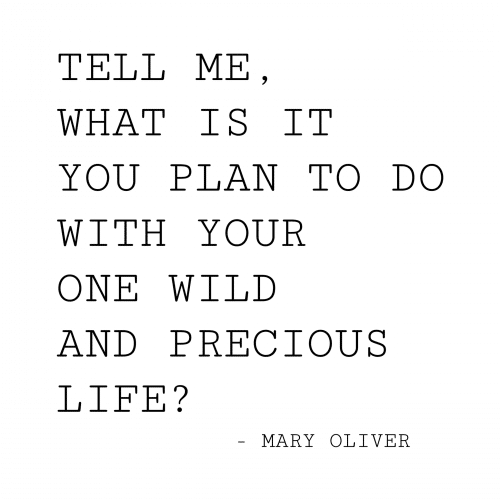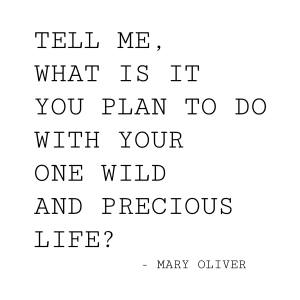 CLICK HERE TO DOWNLOAD THE OFFICE PRINT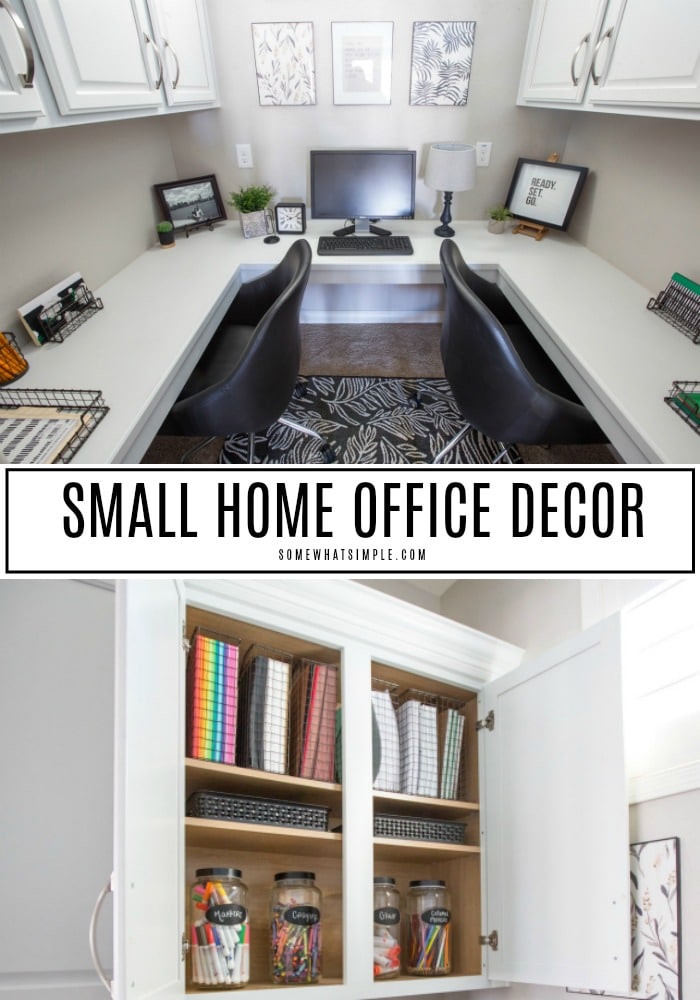 Styling / Design | Stephanie, from Somewhat Simple
Photography | Jessica Downey Photo
Sponsored by | Office Depot
Our small office reveal is in partnership with Office Depot. All opinions are 100% my own.