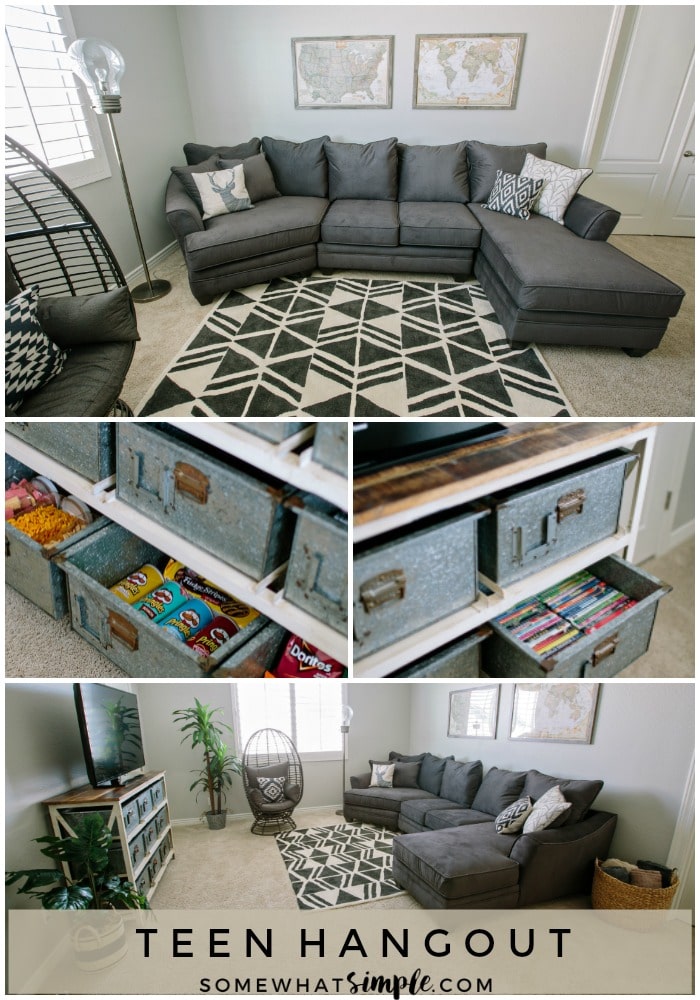 Our loft teen hangout room is in partnership with American Furniture Warehouse. All opinions are 100% my own.
Comfy, durable, and stocked with snacks – here is our home loft, which happens to be the perfect teen hangout!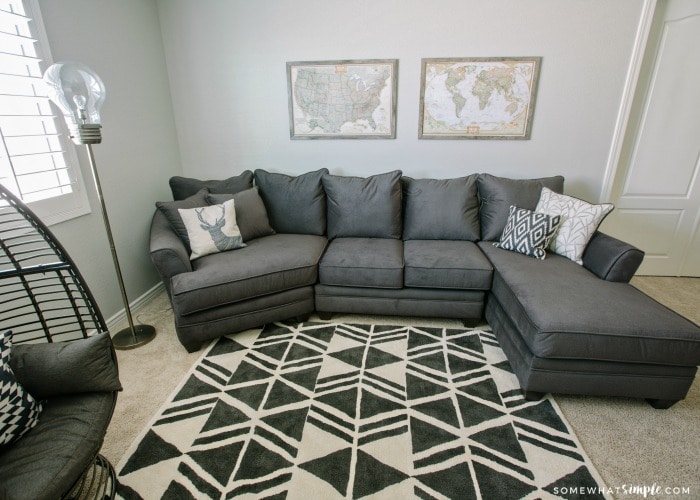 Teen Room
If you saw any of my Instagram stories over the past 2 months, you might be wondering what's happening with my latest room design – the upstairs loft. I've been terrible about showing the progress as we go because I didn't want to give too much away! With that said, I'm finally here to give the reveal of our new loft… the perfect teen hangout!
We've partnered with our friends at American Furniture Warehouse for the main pieces of furniture for this space, as well as some accent accessories too!
First, let's take a look at the loft "before" we started this project.
Yep. We've lived here for almost 2 years and this space has been totally empty… minus the occasional arrangement of toys and whatever else the kids felt like playing with that day!
But since all of our toys are downstairs in our playroom and the little ones already had a place of their own, I wanted to design a space for my older kids. A place they could relax with friends. A place that was open enough for me to supervise, but private enough for them to have fun!
With the help of my 15 year old (seriously, he was so excited to help with this project!) we decided what we wanted this space to look like.
Here are the teen room ideas and decisions we made for the loft:
Overall Feel: Traditional/Industrial – classic details, comfy furnishings and a neutral color scheme using natural wood and metals.
Couch: A relaxed piece that is both stylish and sleek, as well as warm and inviting.
Entertainment Center: A good, solid piece that ties in the industrial vibe + stores games and controllers neatly.
Other Seating: Ample seating for gathering with friends + chairs that are easy to move closer to the TV for video gaming.
Snack Bar: A designated place for food so they stay out of my pantry!
Flooring: Keep the carpet that runs through the entire upstairs, but add a fun area rug for dimension.
Accessories: Use plants, baskets and metals to bring in color. Add pictures and fun accessories + framed maps.
Open Shelving: A tall metal bookshelf to balance out the space on the open wall with accessories.
We stopped by American Furniture Warehouse to do some shopping, and the staff was suuuuuper friendly, the prices were totally affordable, and the product selection was AMAZING!
So without further ado, here is our new teen hangout room!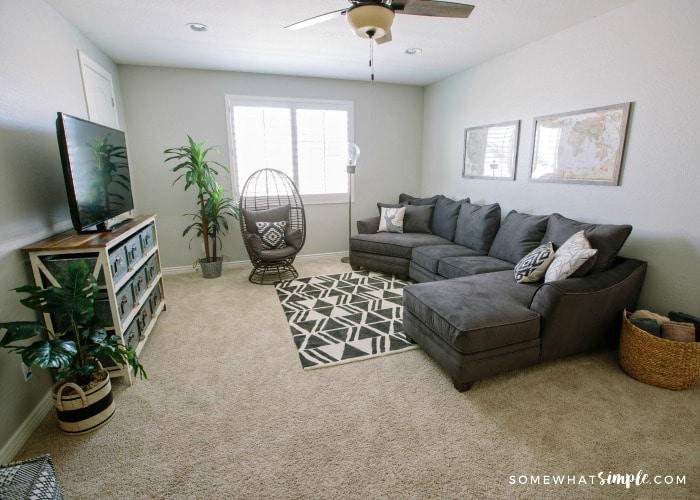 Such a fun teen lounge, right?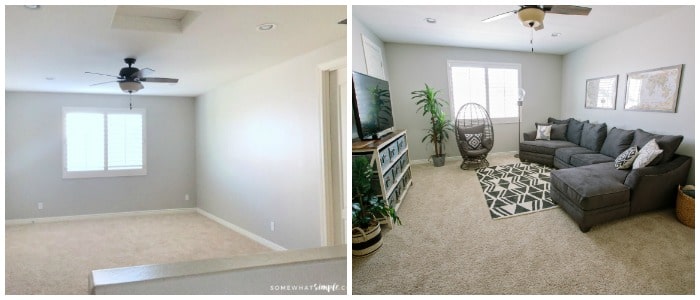 I honestly could not be happier with how this teen hangout turned out. Let's take a look at all the details –
First, let's talk about the couch!
I have a strong love for traditional leather couches. (like the ones I chose for our family room.) They are easy to clean and I love they way they look. I've never been a huge fan of sectionals because I feel like they limit you on ways to rearrange your space – and I love to move furniture around. But my son, who is a lot like my husband, really wanted a big cloth sectional. He's never loved the couches I put in our family room, which I guess makes us complete opposites!
Because this loft is essentially for him, I wanted him pick the couch he loved the most… and I am actually SUPER happy with his decision!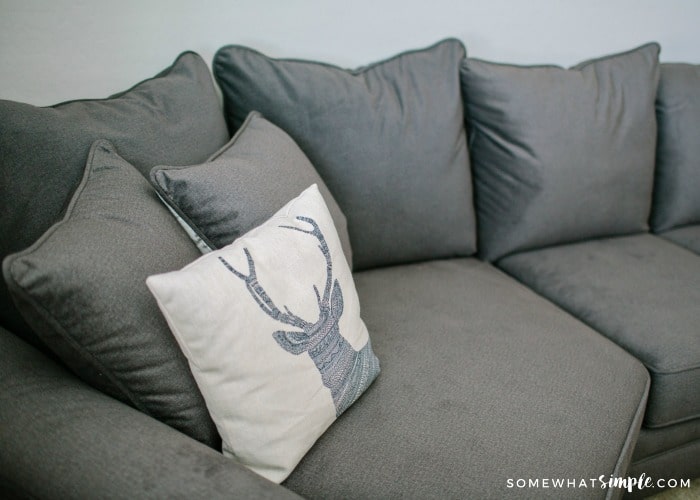 He chose the most comfortable couch ever, with the prettiest dark gray fabric (read: to hide all the dirt). And he chose the coolest configuration!
This is called the Flannel Seal Sofa. You can buy it in a traditional couch, loveseat, or chair. BUT you can also build your own sectional to fit your space – they have armless chairs, loveseats, chaise loungers and awesome end pieces called "cuddlers" – they are sooooo comfy to curl up on!
I added some decorative pillows to the couch (also from American Furniture Warehouse) and I seriously LOVE how everything looks!
Get more details about this couch (Scroll to the bottom to see each piece in the series.)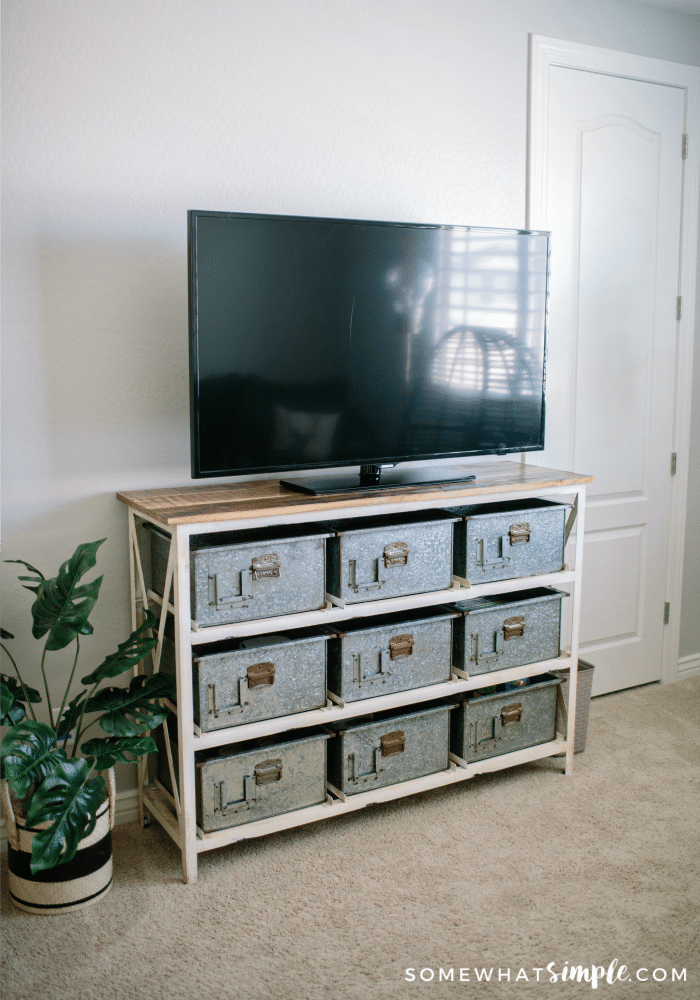 My Favorite Entertainment Center
Even though you don't get the full appreciation of this Vintage 9 Drawer Chest until you actually step into the room, I think this entertainment center is my favorite piece in the loft. I love how the metal frame works with the distressed wood top. It's big and substantial… and those galvanized metal drawers are seriously perfection!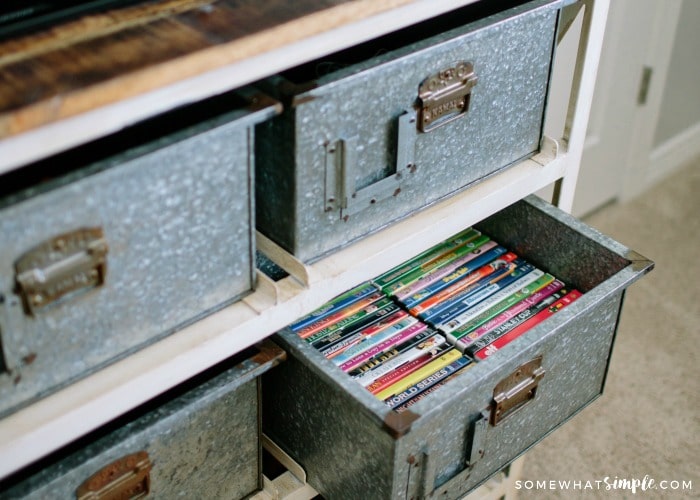 All the games, DVD, controllers and random cords now have a space that is hidden! (A mom's dream, I tell you!)
But the best part ever is this right here: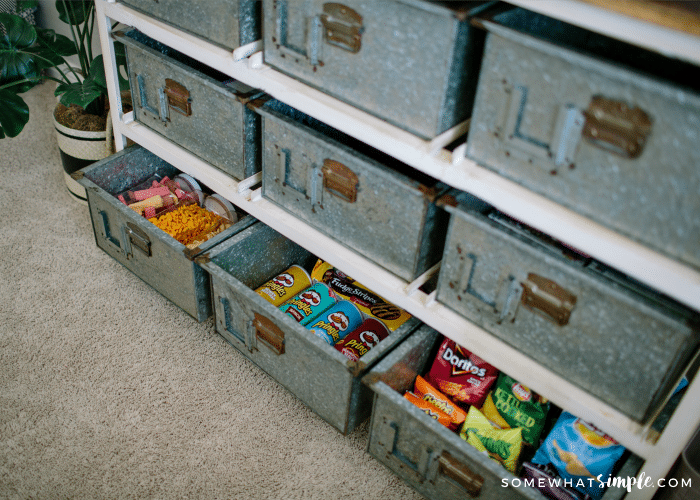 The Perfect Snack Bar
How awesome is this?!? I told my kids I was only going to restock these snacks once a month, so they needed to ration the food as necessary! But seriously, aren't these drawers amazing?!?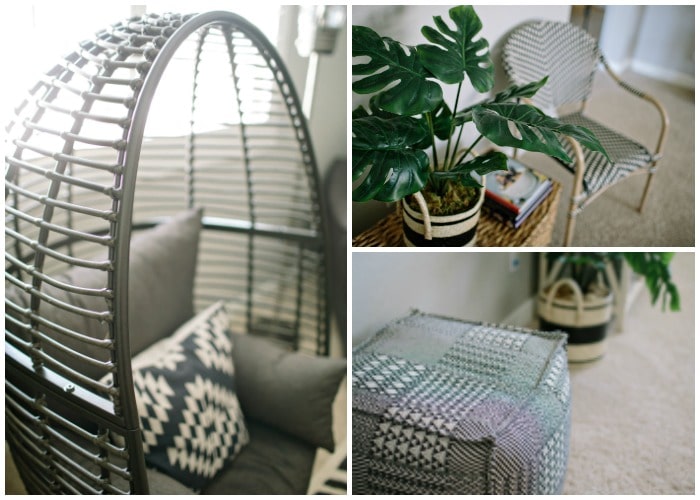 Fun Seating
The additional chairs in the room add the perfect texture and dimension. (Aren't they so fun?!)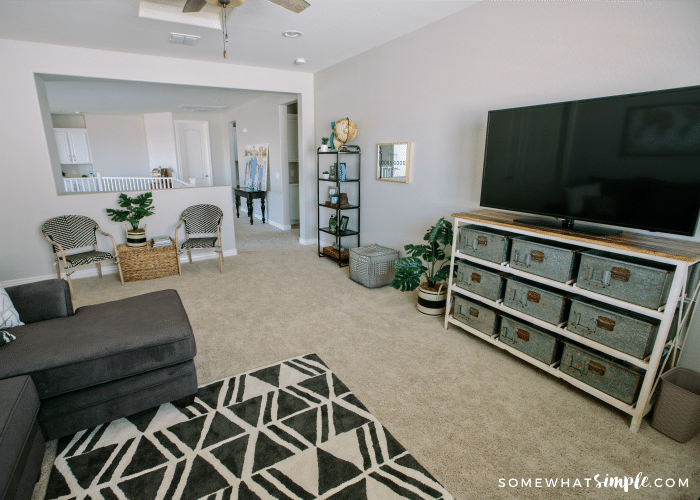 Patterned Area Rug
Super cozy and soft, but a fun eye-catching rug that really pulls the whole space together.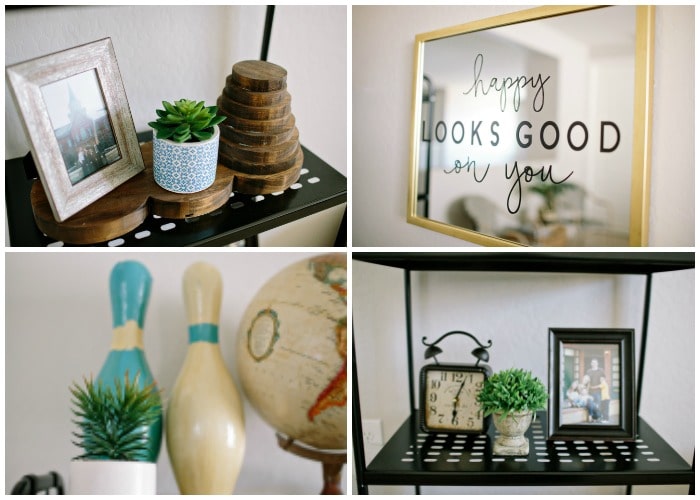 Accessories
I didn't go too overboard with this space, but I wanted some fun elements that could bring in some color and strike up conversation. The artwork behind the couch are a USA and world map I framed. It was Ethan's idea to frame these maps and then mark with a sharpie marker all the places we've been as a family. I LOVE this!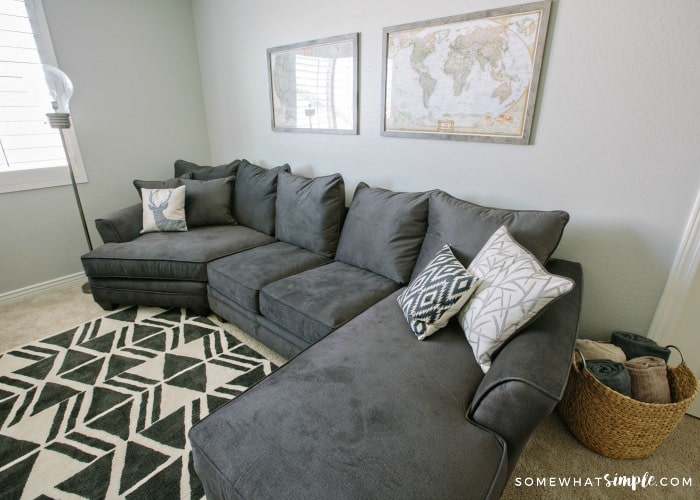 A few pieces I want to mention, all from American Furniture Warehouse-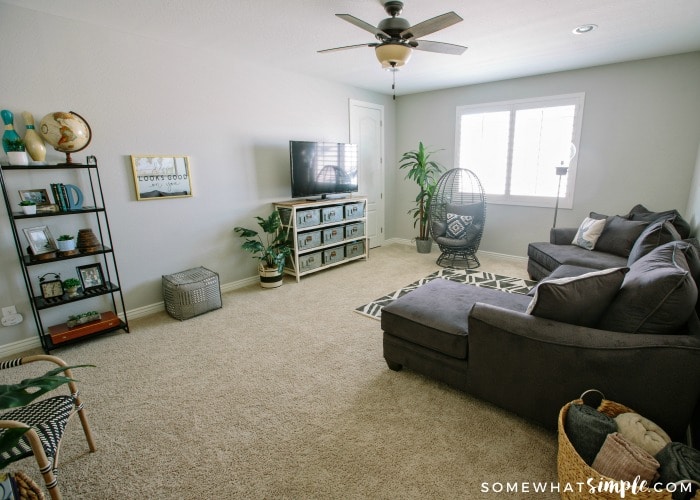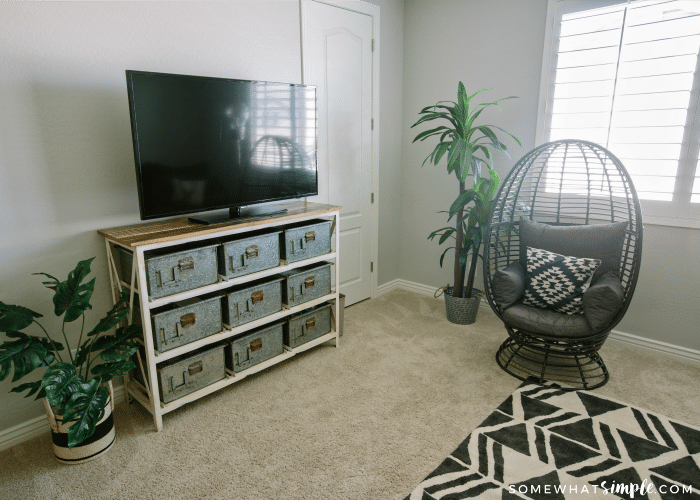 What do you think? Do you like our new teen hangout?
If you're thinking about updating any room in your home with new furniture or accessories, I highly recommend that you visit American Furniture Warehouse. American Furniture Warehouse delivers to most places within the continental United States and the product selection and prices cannot be beat!
Shop this Teen Room Decor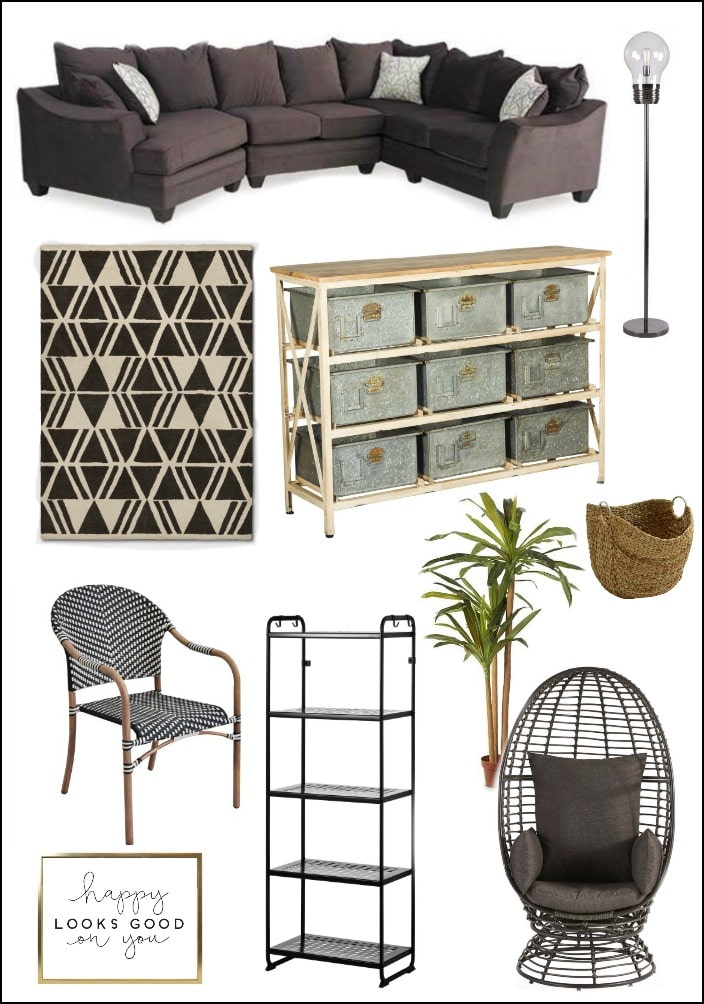 couch || entertainment center || rug || wicker swivel chair || seagrass basket || faux palm tree || Edison bulb floor lamp || metal shelf || bistro side chairs || happy mirror ||
Styling / Design | Stephanie, from Somewhat Simple
Photography | Jessica Downey Photo
Sponsored by | American Furniture Warehouse