I am excited to show you the project I've been working on the past month- my beautiful pantry!
I've never loved the location of my pantry- it is tucked on the wall behind our kitchen table so when someone is sitting at the head of the table, the pantry doors can't open all the way unless you tell them to "suck in".  Someday, (which means probably never!) I will have a big, walk-in pantry that is full of my favorite foods and I will invite all of you over for a nice home cooked meal.
In the meantime, I figured it was about time I turned this into a beautiful that made me smile.
I love all things organized, so about 5 or 6 years ago, I went a little crazy with some bins from IKEA and gave my pantry an organization overhaul.
Case and point:
The plan was to see how I liked this system and then eventually (which was turning out to be never!) re-do my pantry with some pretty baskets.
Aaaannd I ended up LOVING this system. Everything has a place and I like having everything grouped together (plus the bins totally help hide some of the disorganization that is pretty typical after a major grocery shopping trip- BONUS!)
…but I didn't love the look of the plastic bins.
So  when Lowes challenged their creative team to do something fantastic to their pantry this month, I was so excited to finally be able to tackle the pantry I had so long wanted to make beautiful! Here is what I did:
First I pulled everything off the shelves and wiped them down with some warm soapy water.
Then I painted the shelves white and the walls blue. No more tan-all-over-pantry! Once the blue paint was dry, I grabbed a can of tomato sauce and dipped the bottom into some white paint and stamped some circles side-by-side. I love the dimension this pattern gives!
And now for the fun part, baskets and labels:
I bought a bunch of these Allen + Roth Natural Arrow weave Water Hyacinth rectangular storage crate from Lowes.
The labels are made from scrolling wooden tags I bought from Pick Your Plum that I painted black, punched holes with my crop-a-dile, and added some vinyl letters to. I love the simple details these tags add!
Here is how my beautiful pantry looks now: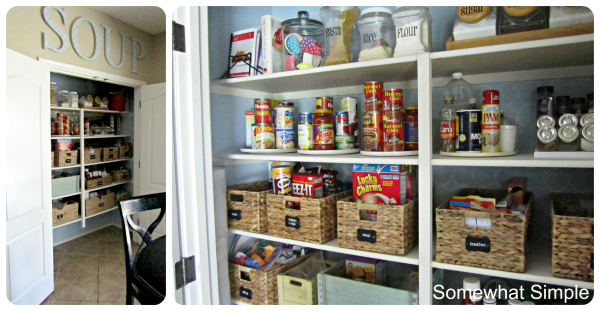 The best part about this beautiful pantry is that EVERYTHING has a place!
My aprons are hanging on a hook on the inside wall, my husband's BBQ "stuff" is still on the top shelf where he had it (or he'd kill me if I moved it!) and the big, bulky stuff is on the pantry floor, just pushed way back so it is out of sight.
My cookbooks are organized in something that came in my turkey roasting pan that I never knew how to use.  My cupcake liners are in a pretty glass jar and my cooking and baking ingredients that I use a lot are in containers with vinyl labels.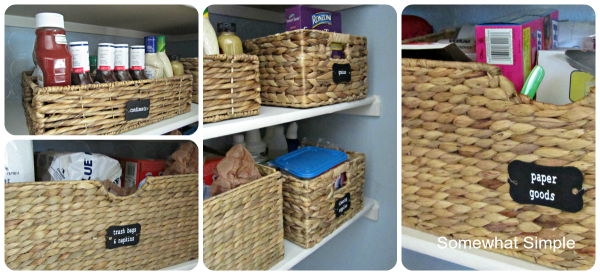 Everything is grouped together so it is easy to find.
You want cereal, you say?
Look for the cereal basket….
…pull it out, and take your pick!
The only items I don't recommend having in baskets are your canned goods or items that aren't labeled on the top. When you pull out your basket, the tops of cans all look the same, which is why I have my canned good and spices organized on a few lazy suzan's.
And you remember my Snack Bin post? My snack bin system is still in tact. I love the look of the bins and the color it adds, but it is also great to have something standing out for the kids who can't read so they know where to get their snacks.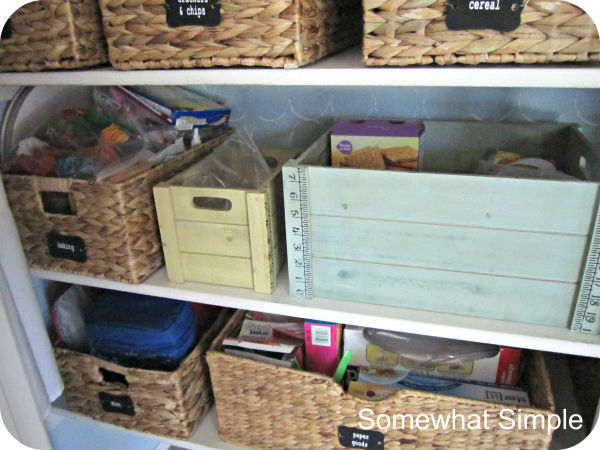 The giant "SOUP" letters will be featured on Somewhat Simple soon- stay tuned, that tutorial is AWESOME!
So how do you like it?
Special thanks to Lowes for providing me with a gift card to get supplies for this project.
For more creative ideas and inspiration, please visit Lowes and sign up to receive their free magazine!
DON'T MISS A THING!
Sign up for our newsletter to receive our FREE Home Organization Binder Printables + weekly updates filled with creative inspiration and exclusive freebies!
---