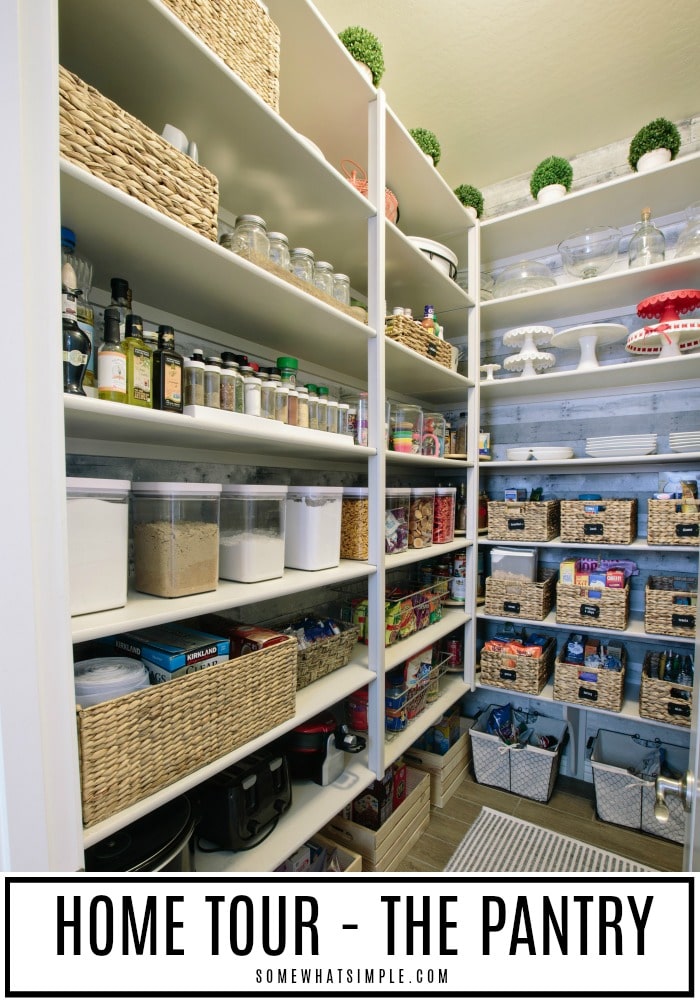 I am excited to show you one of the spaces that SOLD me on the floorplan of our new home almost as soon as I saw it – the pantry!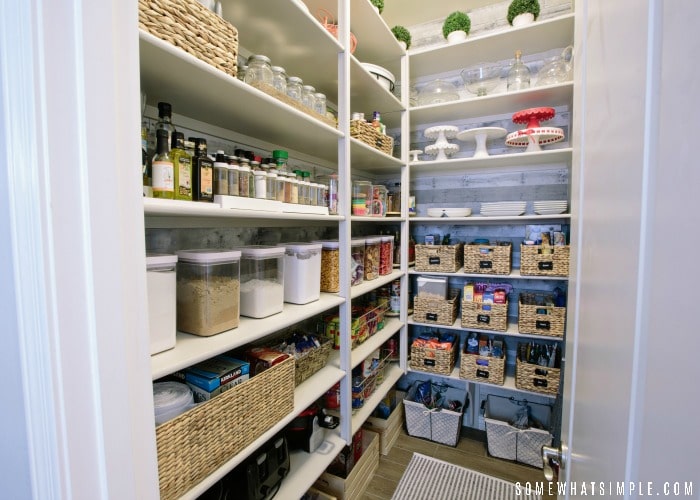 Food Pantry
I never loved the food pantry in my last home. It was a closet-style pantry tucked on the wall behind our kitchen table, and the entire space was just crowded.
Having a nice walk-in pantry was on my wish list for a really long time. Can you imagine how this big pantry made me feel when I walked through the model home for the first time?! I was in heaven!
Tall ceilings lined with shelves all the way to the top. Room for a small gathering, really! 🙂 Come on in and take a look –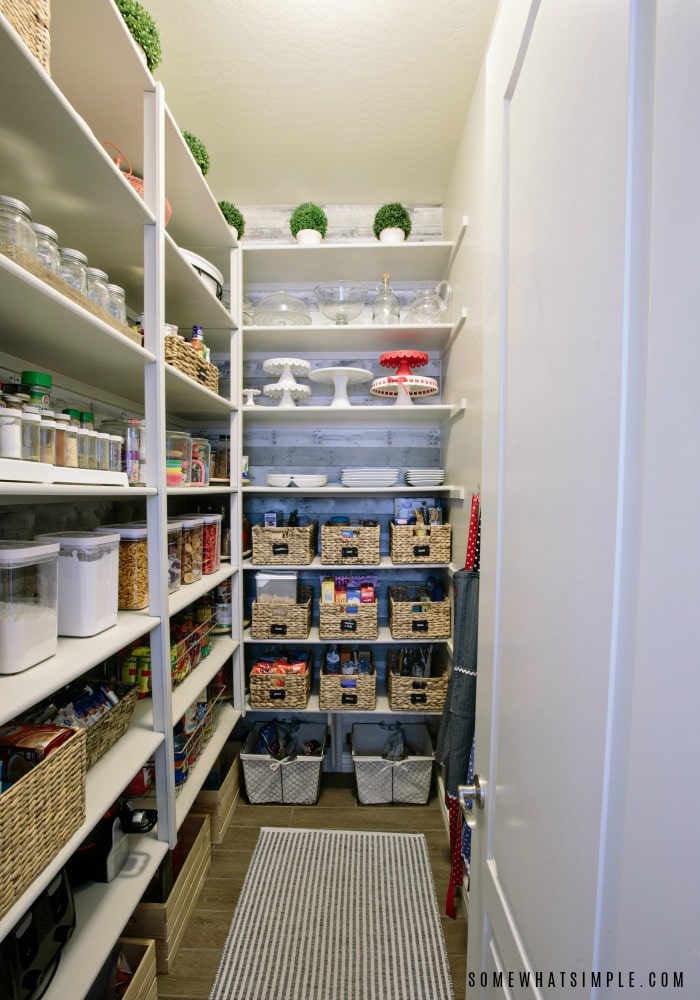 Pantry
I love all things organized, and I've been using this basket system for over 10 years! I like having everything grouped together, plus the baskets totally help hide some of the disorganization that is pretty typical after a major grocery shopping trip- BONUS!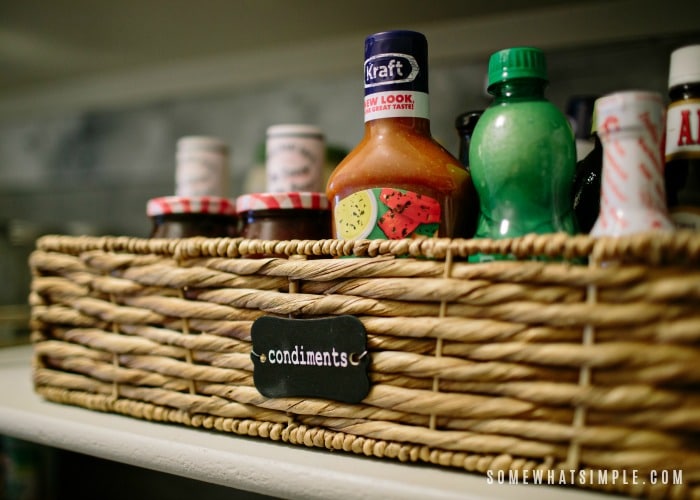 The best part about this beautiful pantry is that EVERYTHING has a place!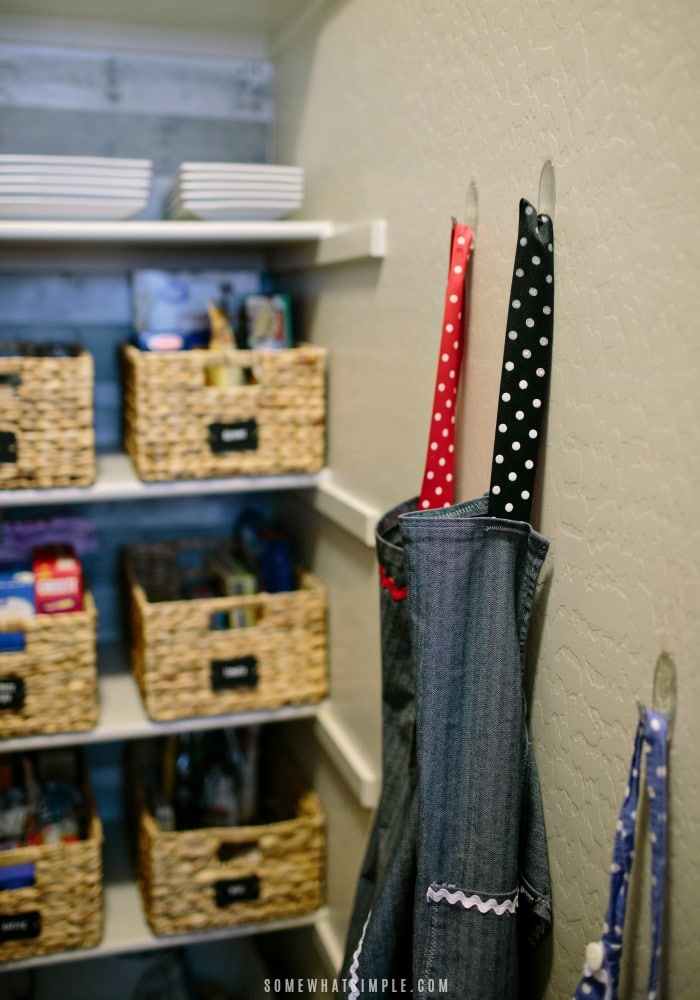 My aprons are hanging on a hook on the inside wall and the big, bulky stuff is on the pantry floor in pretty wood crates.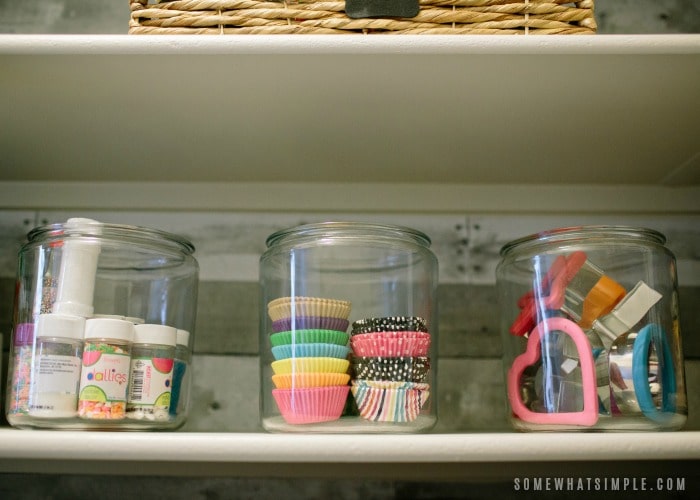 My cupcake liners, cookie cutters and sprinkles are in a pretty glass jars.
Everything is grouped together so it is easy to find.
You want cereal, you say? Look for the cereal basket, pull it out, and take your pick!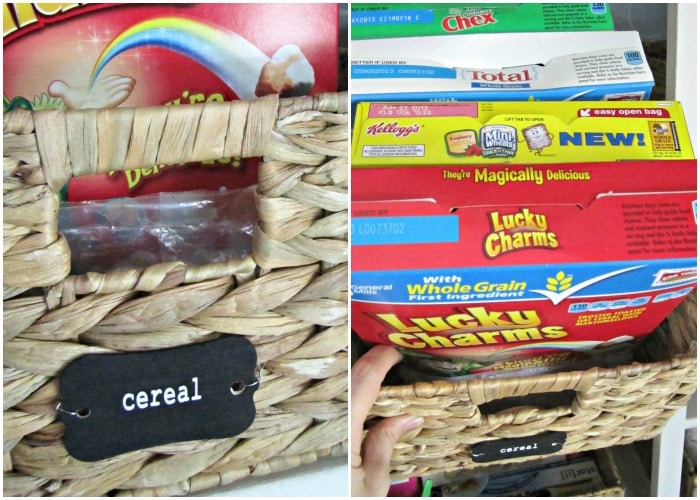 The only items I don't recommend having in baskets are your canned goods or items that aren't labeled on the top. When you pull out your basket, the tops of cans all look the same, which is why I have my canned goods and spices organized on spice shelves and a few Lazy Suzan's that are pushed back into the corners. (A total space saver, by the way!)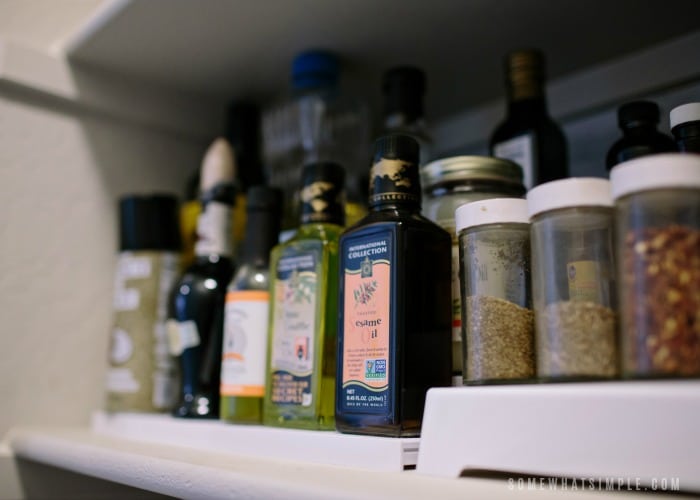 All of my baking ingredients that I use a lot are in air-tight containers, alongside my kids snacks.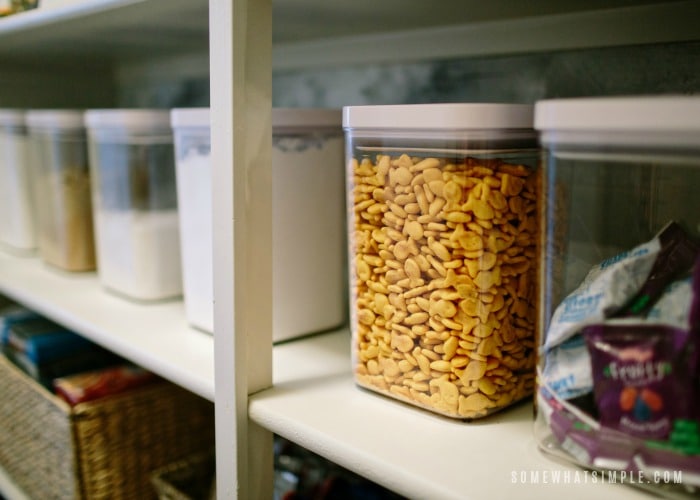 I love the look of these containers with the fun foods inside. I switch up the snack foods almost every shopping trip to surprise my kids with something new. I think it's great to have something that stands out for the kids so they can access their snacks easily.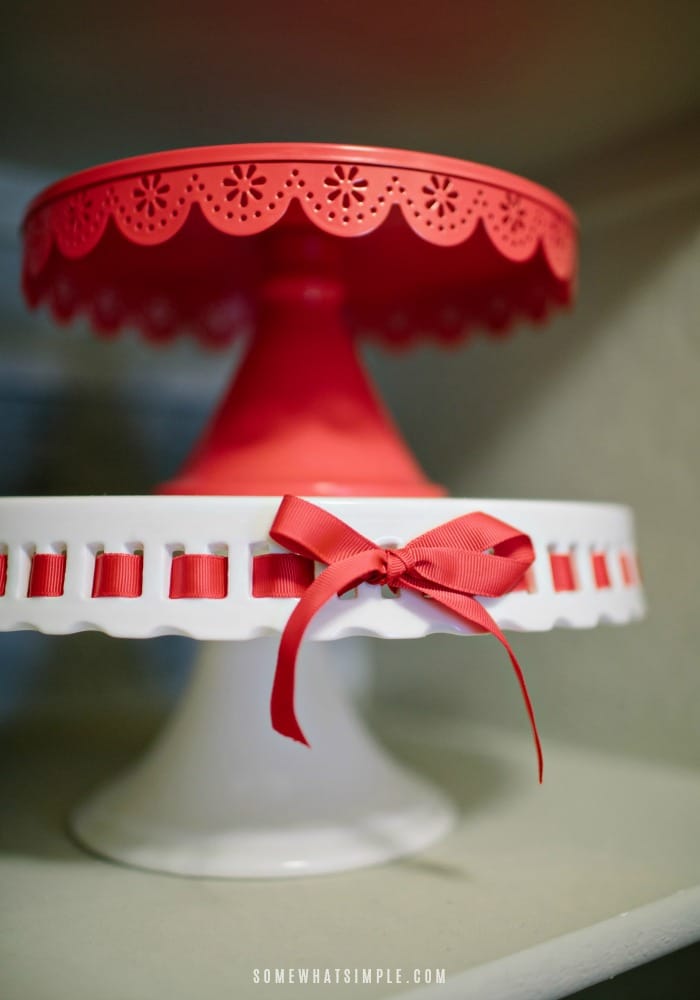 I have space in this pantry to store my cake stands and other dishes I use for entertaining.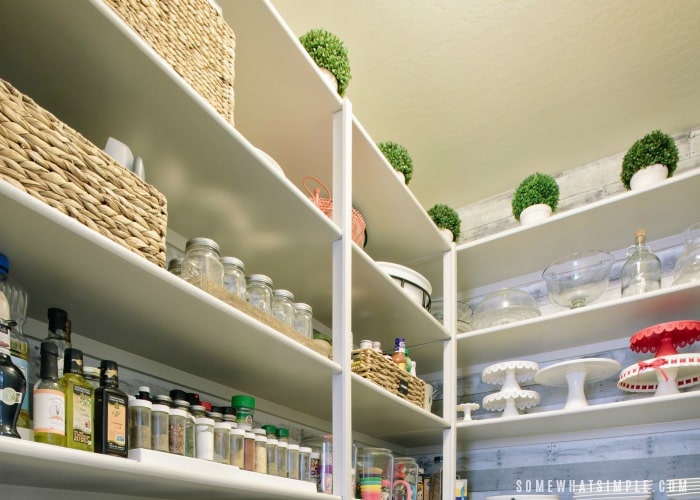 The top shelf is up so high, I can't even reach it with my step stool. Because I don't want to pull out our ladder to reach items stored at the top, I just added some small plants along the top.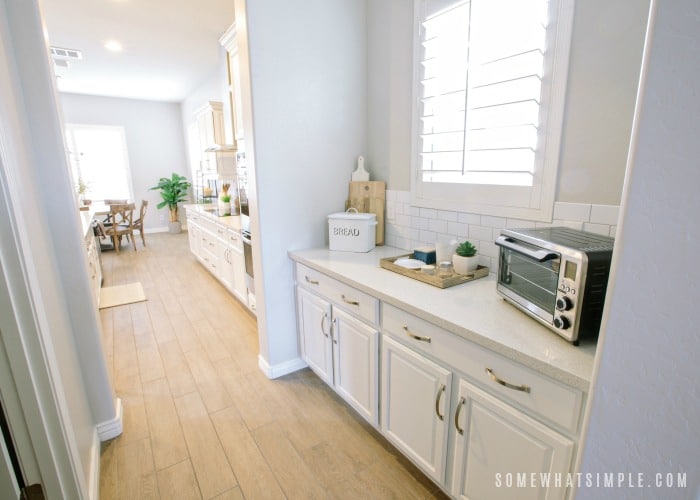 Butlers Pantry
Right across the way from our kitchen pantry is our fun butlers pantry. I keep all my small appliances in these cupboards so they are out of sight.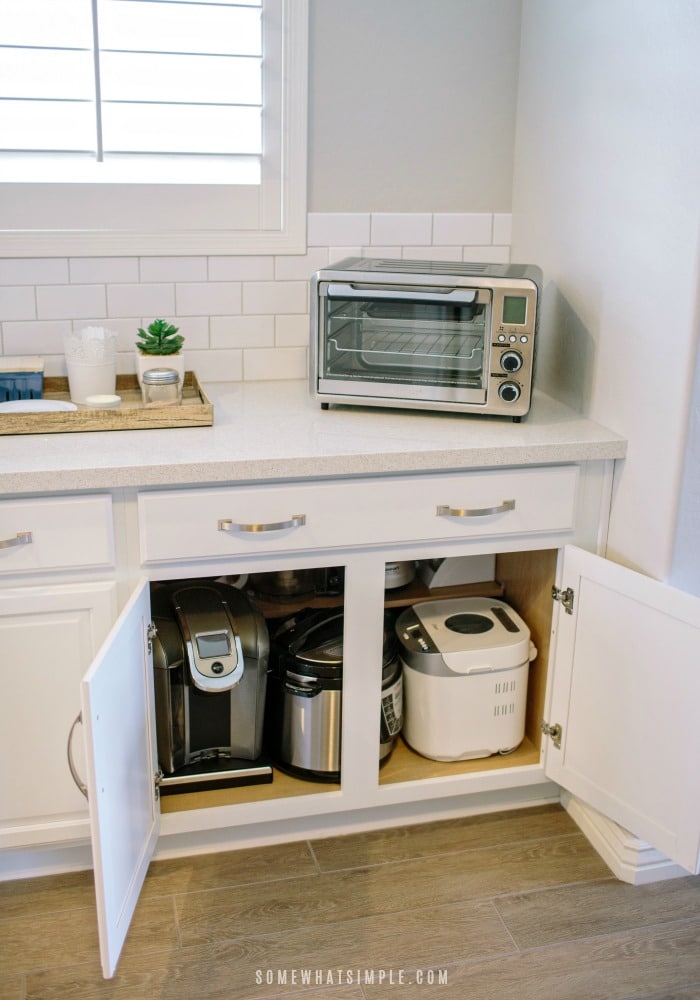 On the counter of my butlers pantry, I keep our toaster oven (because we use it all the time) and our bread box with a fun little toast station.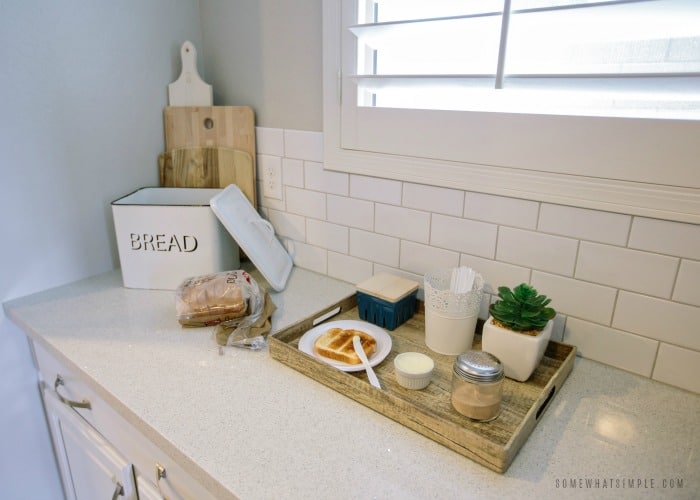 My kids make toast almost every morning, so it is nice to be able to contain all the crumbs in one spot. 🙂
I Love My Kitchen Pantry!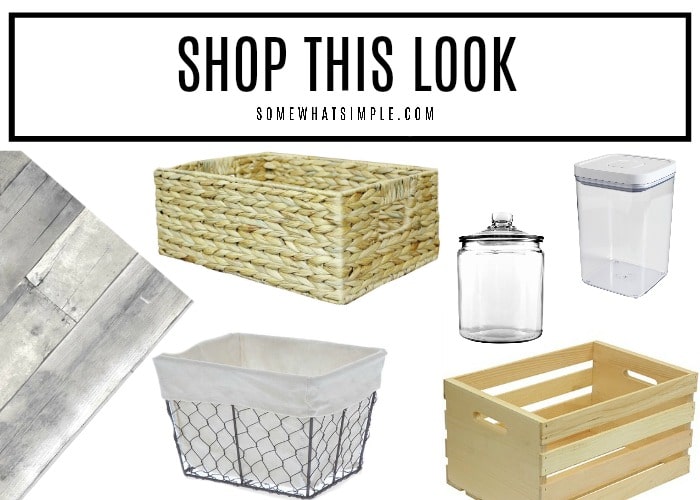 SHOP MY PANTRY –
Natural Baskets – Lowes $12
Wood Labels – Mine were from Pick Your Plum, but I found some similar ones on Amazon.
(If you buy wood tags without holes, or with only one hole, as mine had, I used my Crop-A-Dile to punch through the wood.)
Vinyl Letters – I made my own, but I found these to be similar on Amazon.
Wood Crates – Walmart $12 (used on the bottom shelf/floor)
Plastic Food Containers – Target $18 (for snacks and baking supplies)
Glass Jars – Walmart $6 (used to hold cupcake liners + sprinkles)
Peel-N-Stick Wallpaper – Target
Chicken Wire Basket – Similar one at Walmart (on pantry floor)
Expandable Spice Shelf – Target $13
Boxwood Topiaries – At Home $13
Bread Box – From a local shop, but on Amazon for $65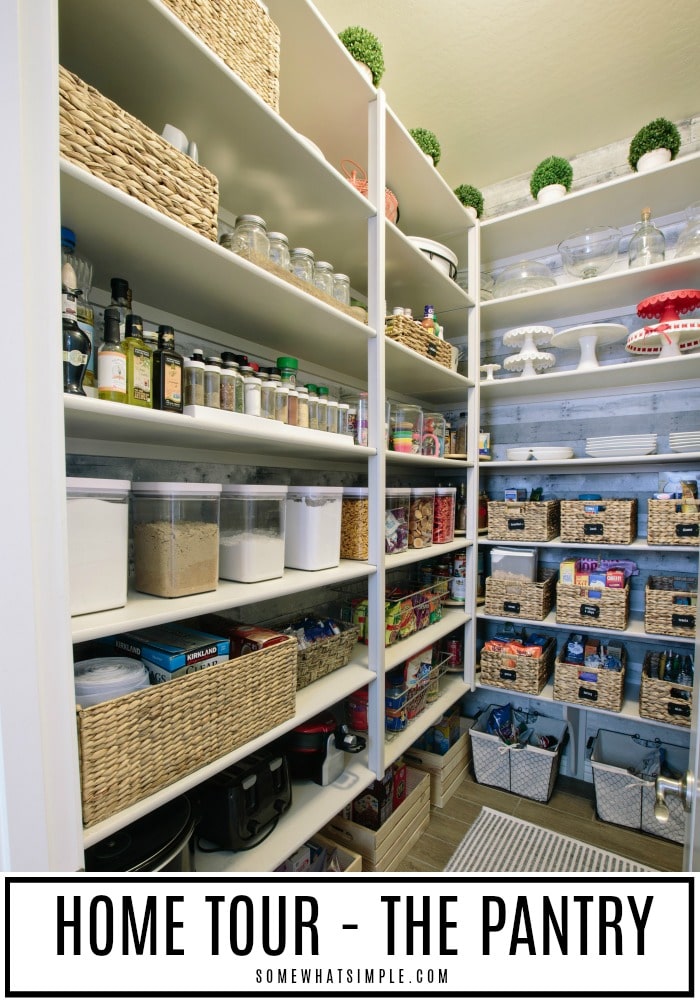 The Evolution of My Pantry –
If you've been following me for a while, you may remember the pantry in my last home –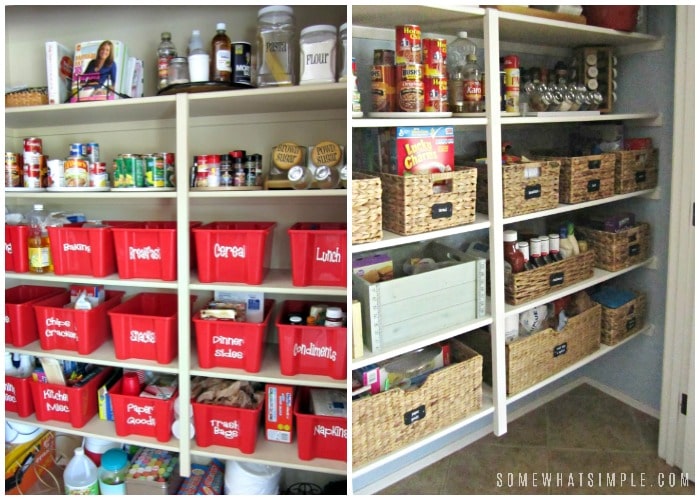 I started with red bins from IKEA. They were less than $2 each and I wanted to make sure I loved the basket system. A few years later, I updated this pantry with the baskets that I am still using now.
Special thanks to Lowes for providing me with a gift card to get my baskets for this project.
SaveSave
SaveSave
SaveSave
SaveSave
SaveSave
SaveSave
SaveSave
SaveSave
SaveSave
SaveSave