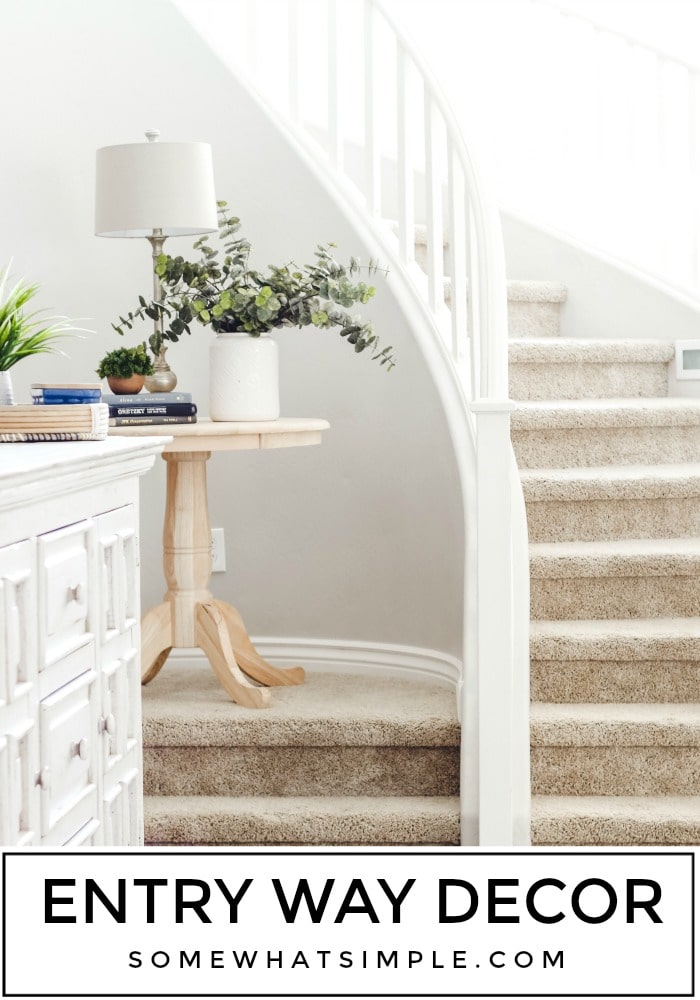 Today I'm excited to give you a tour of the entry way of our home!
Thanks to the fun #SimpleSpacesChallenge, I am just moving through my project list like nobody's business! I've finished Ethan's Teen Boy Bedroom, Ryan's Hockey Room, our Boy's Shared Bathroom, and now our Entry Way! (I am so excited to share all the details with you on this one!)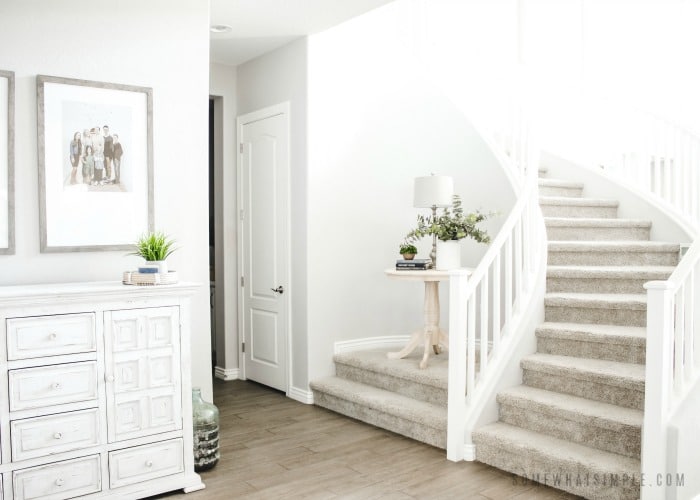 Entry Way Decorating
A pretty entryway was one of the things our last house was lacking, so naturally, it was pretty high on my "New Home Wishlist." The entryway in our new home is show-stopping. Even without the pictures on the walls or the furniture that I LOVE, this space is stunning.
I tried a few different designs in this space when we moved in, but I just couldn't make it work with the furniture and canvas pictures I had first envisioned using. You might remember this view –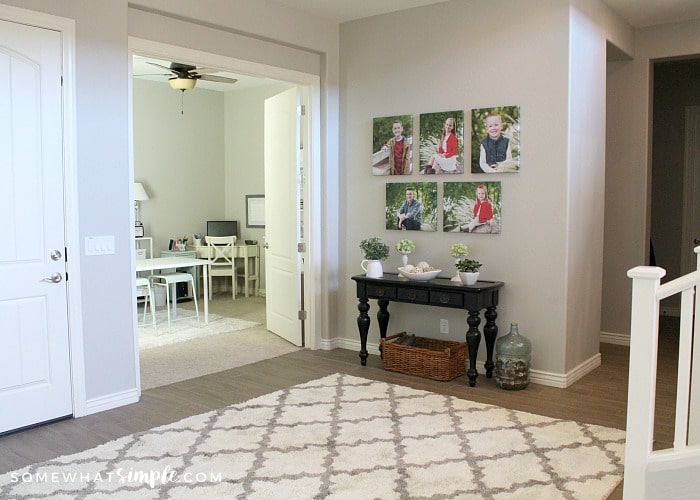 That wall is big and tall, and that black table just looked like a dwarf when placed on it! I tried filling the dead space with pictures of the kids, but the pictures were hung too high, and the coloring was off from the feel I was going for.
Last month my sister in law was in town and with her fresh eyes and amazing style, she helped me with a new design that not only looks great, it also "meshes" so much better with the rest of my home. Ready to take a little tour?
Entry Way Home Tour
*All products listed here will be linked at the end of this post.
As you enter our home, you'll immediately notice the round staircase.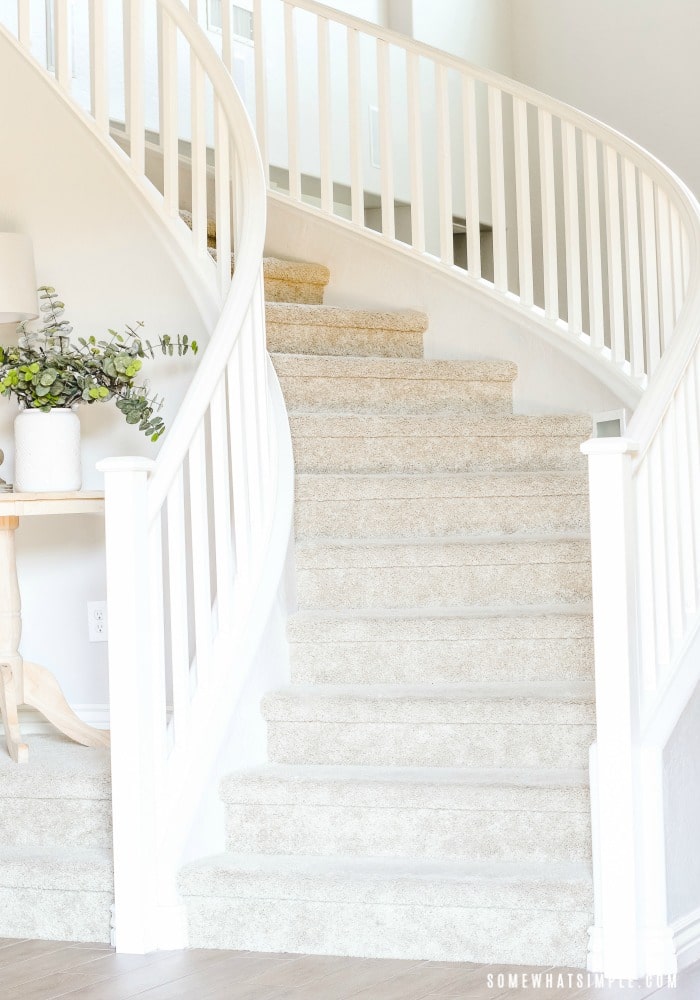 Most people mention 1 of 2 things when they see this staircase –
How much fun I'll have decorating for Christmas (And it's true. The garland on the railing is amazing, and my tree fits perfectly where that round table goes!)
How pretty my girls will look walking down those stairs when their prom dates come to pick them up. (But we still have a few years for that one – let's not speed up time, ok?)
Entry Way Table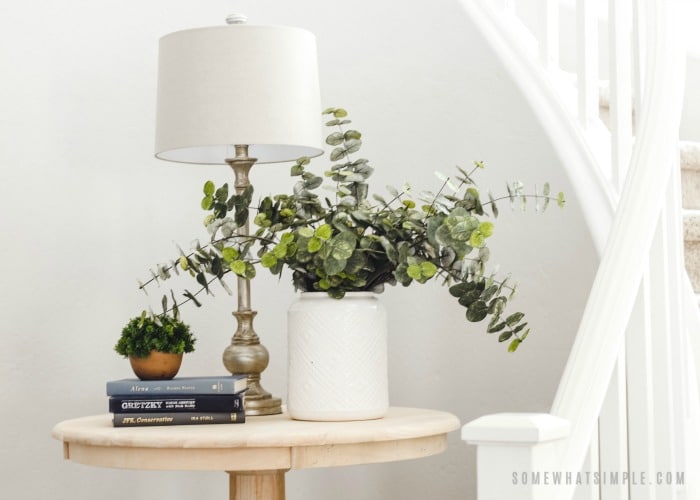 In the center of the staircase is what Addie likes to refer to as her "stage". Before I bought the round table, it was just a raised platform that held many impromptu performances from our kids. (Side note – Addie has a stage upstairs so the kids still get to play around and perform!) 🙂
The decor on the table can be changed out seasonally, but I just love how simple everything is.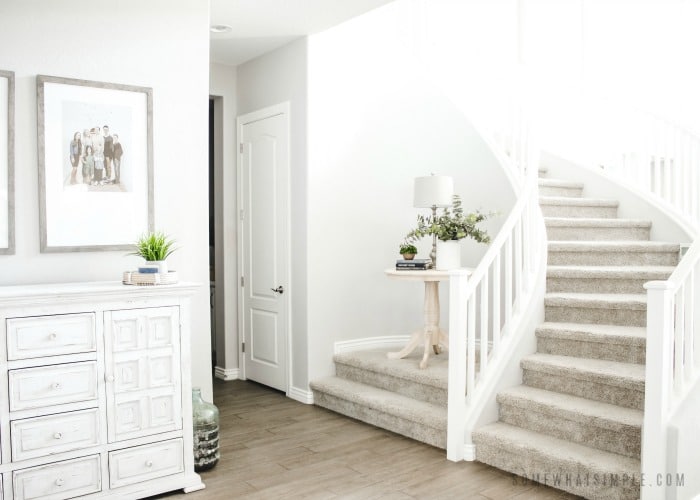 Entry Way Furniture
Besides the beautiful staircase, my favorite part of our entryway is the white cabinet and our new family pictures framed with off set mats.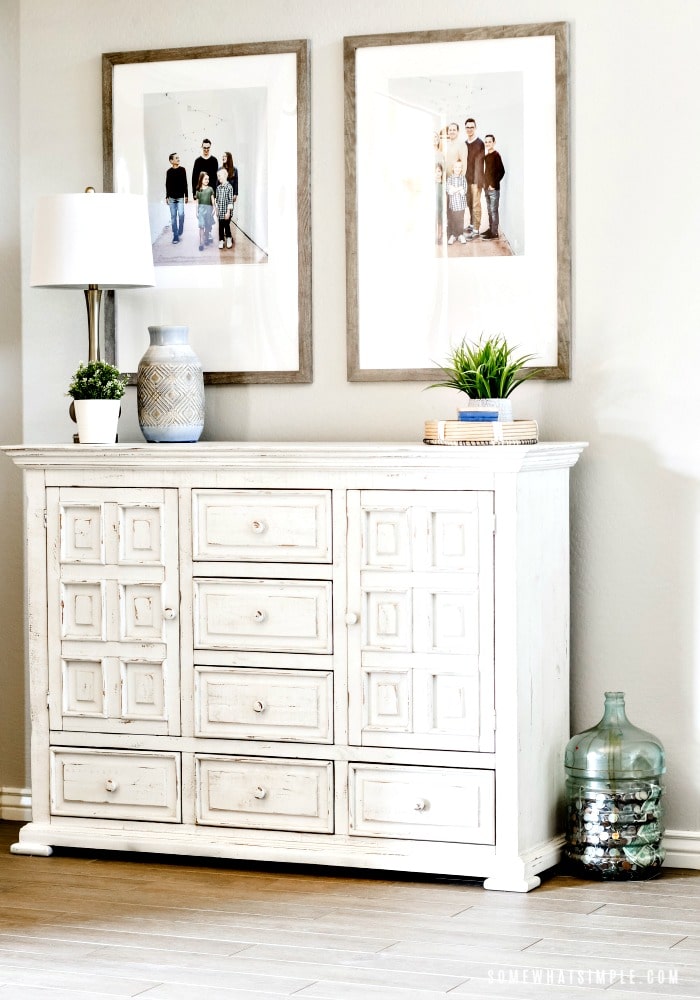 With this being one of the very first walls people see, a lot of thought went into this space! The white cabinet fills the wall perfectly, and the framed pictures of my family are warm and welcoming. My love of clean lines and subtle pops of color really shine in this corner of my house, and I am so thrilled with how it all came together!
Entry Way Table Decor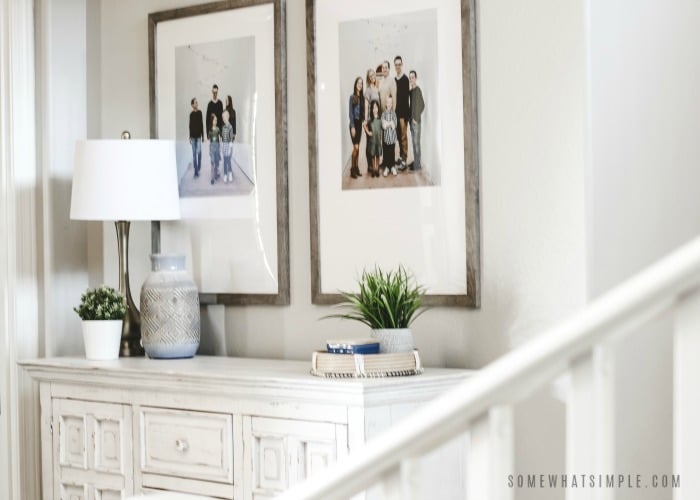 I kept the decor on the table really simple and plan to change it out with the seasons. But I like the neutral colors and the greenery, so I plan to keep a similar look and feel.
Entry Way Storage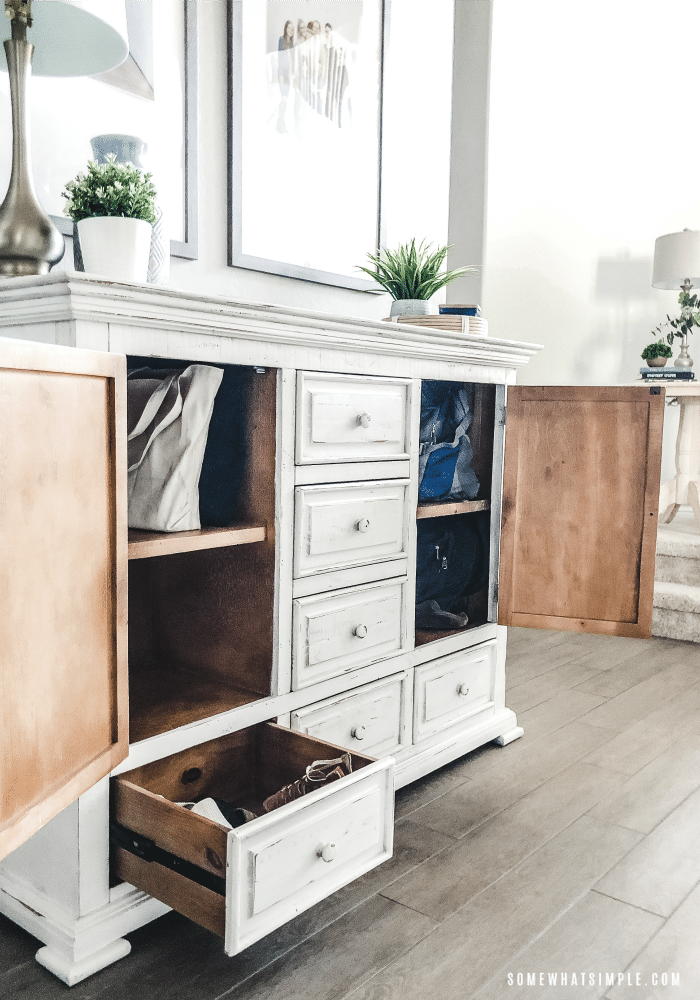 Inside the cabinet is where we keep our shoes and my kids backpacks. I love that it keeps our mess hidden so it always looks clean and tidy.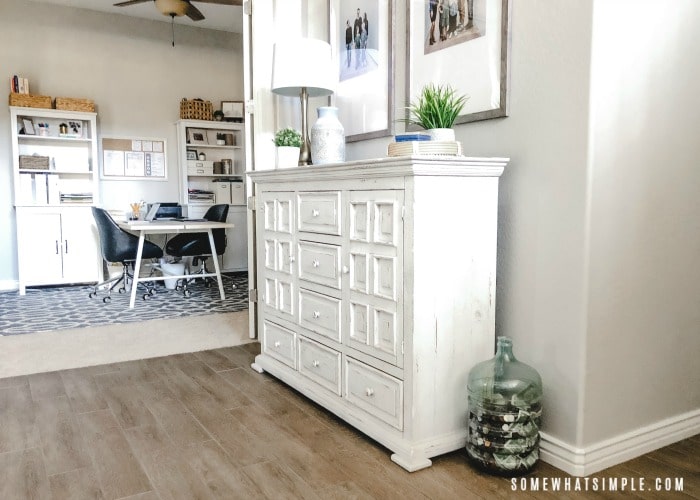 Next to the cabinet is our Mission Bank. This is the water jug that my husband's family had in their home when he was growing up and it held all their spare change. When my husband left on his mission, they used the money in the jar to help pay for some of it. We've continued the tradition with our family.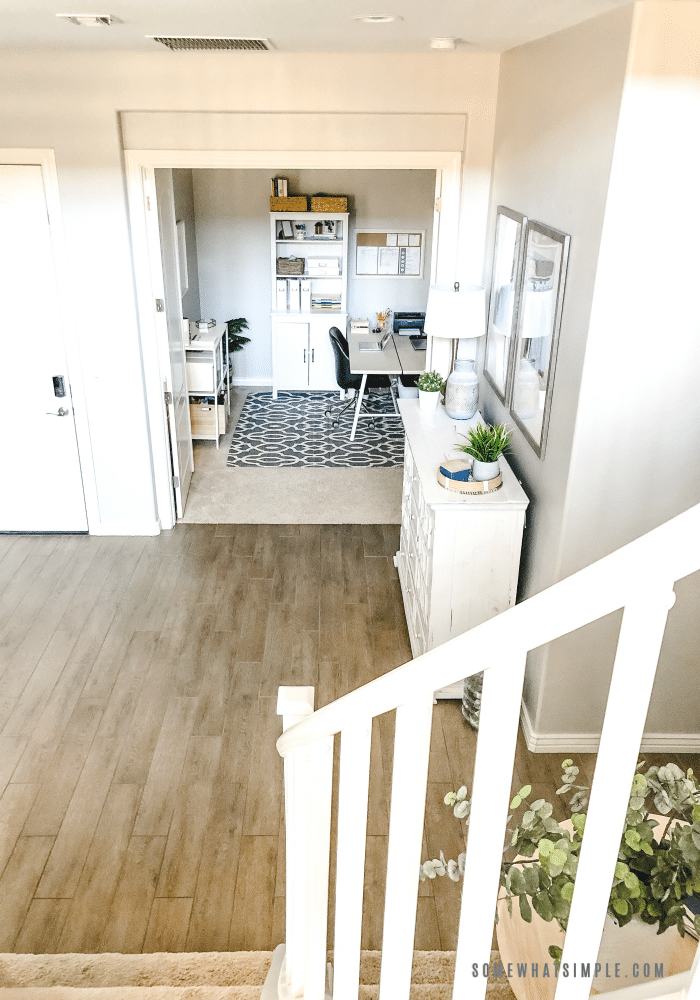 The rug situation in the entry way has been the hardest part of this process. I originally envisioned a big rug in this space, but after trying (and returning!) 8 different rugs, I decided I like the floors bare! (Which is strange, because I have an area rug in every room of our house – I love how they pull a space together.)
From the entry way you can see a sneak peek of our newly designed home office.
(Video tour of that room how it was originally is HERE.)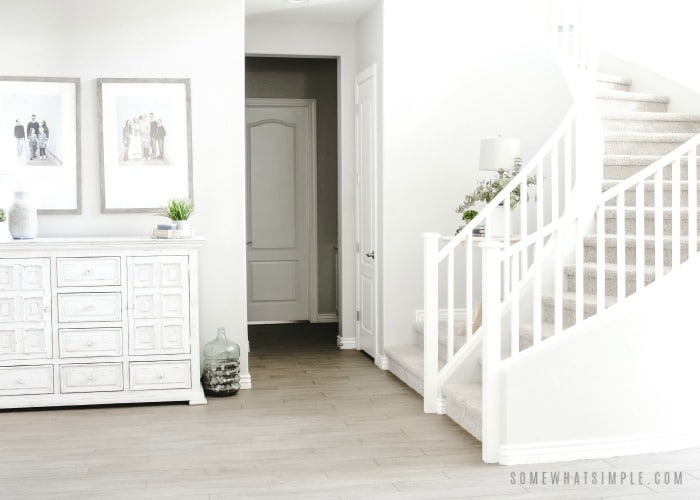 So what do you think? Beautiful entry way, right? Thanks so much for stopping by!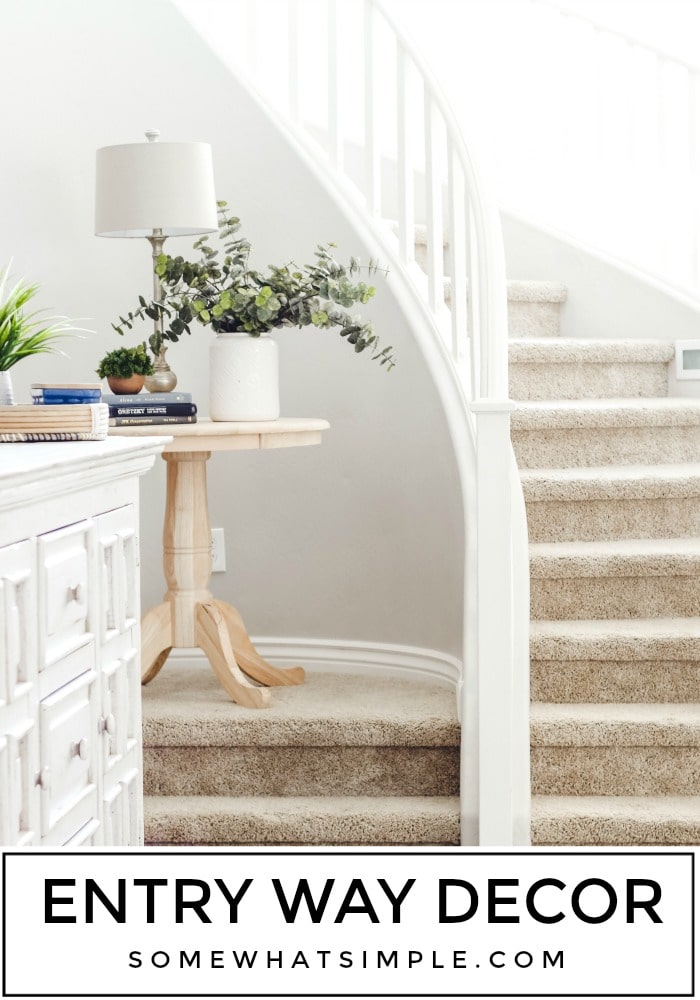 PRODUCTS USED IN THIS SPACE:
30″ Round Table
24 x 36 gray/brown frames from Michaels
White uncut mats from Michaels (you can cut the opening to be wherever you'd like it to be!)
Photography of My Family from Jacquelyn Avery
Isabella White Cabinet from American Furniture Warehouse
Best Gray Paint Wall Color – Miners Dust by Dunn Edwards
Light Wood Tile Floors – Brushed Oak Smoke 6 x 36 , 1/3 offset