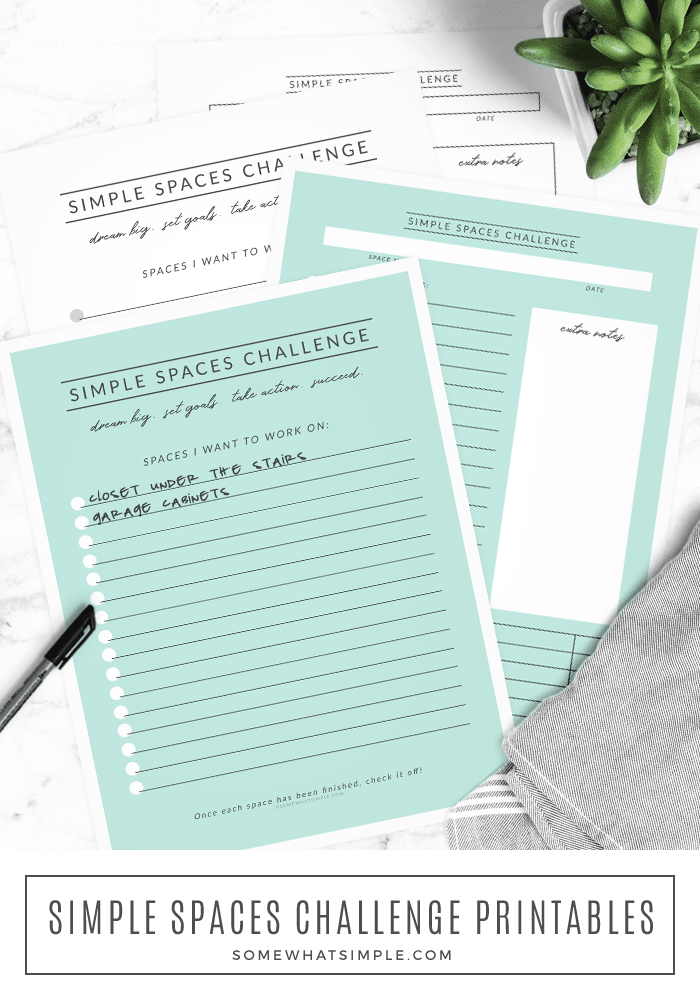 Tackle those house projects once and for all with our printable project checklist!
We're sharing all the details on our Simple Spaces Challenge and we want YOU to join! All the cool kids are doing it- wink, wink!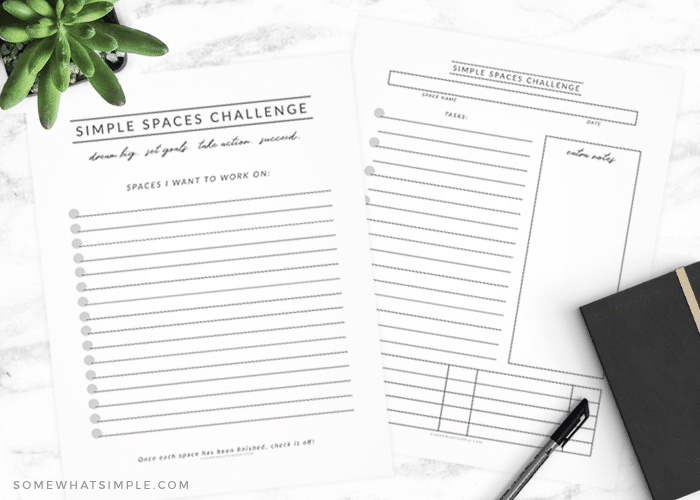 How to Finish Home Projects
When we first moved into our new home, I found myself both excited and overwhelmed with all the projects and new spaces that required my attention. I mean, I LOVE organizing and decorating – it is my very favorite hobby – and it didn't take me long to get each room put together enough to function properly.
But I quickly realized I have this thing called "PROJECT A.D.D" – I'd start on a space and before I could finish it, I would get distracted by another project. Pretty soon I had all these half-completed rooms in my home and nothing felt done. In addition to that, I still have a list of quick and easy projects that should take no time at all, but they are no where near completion because of all the "bigger spaces" that need my attention.
When I think about ALL the projects that need to be done in the whole house, it is almost paralyzing. But when I brake it down into individual rooms, I get excited again to finish each space. So here is what I decided to do about it –
I'm going to pick one space each month and work on that space ONLY.
I won't move onto the next room until I am totally done organizing and decorating and making each space awesome!
Some months I'll tackle a big project, other months I'll tackle the smaller, but each project will get 100% of my attention.
For example –
My 7 year old's room literally has a bed and dresser in it. Nothing on the walls, no decor, he doesn't even have his own bedspread. His room is going to take some planning, and definitely a bigger budget.
I also have a closet in my bathroom that is terribly unorganized, but it shouldn't take more than a couple days (or hours!) to make it look awesome, and it may not cost me a single penny to complete.
Each space is going on my project list and each space will get their own dedicated month to get finished!
Simple Spaces Challenge
After thinking about this for several weeks and mentioning it to some friends and family, a bunch of them said they wanted to do it too! So I decided to make this an official challenge and open it up for everyone!
Introducing, the
#SimpleSpacesChallenge
(Want to join me?)
Here is how it works –
Make a master list of all the spaces you want to finish.

Spaces can be big or small – full rooms, closets, cupboards, etc.

Choose one room to focus on for the month.

Commit to spending your time, effort, and money on one room at a time until that space is 100% complete.
Come up with a list of every task you want to complete in that space.
Optional – Come up with a projected budget.

Set your game plan!

Write out and plan whatever you need so you can get everything done in one month!

Get busy!

Organize, clean, design, and decorate your space.
Sharing your progress on social media using the hashtag #SimpleSpacesChallenges

Project Checklist
I came up with a project checklist so I have something to work off of until each room in the house is complete. Use it if you'd like! We have a black and white version – print whichever you'd like to use! (They are both FREE!)
I am excited to get started and share about my progress! And I can't wait to have a whole group of women working to make their homes even more amazing!!!
So, are you in?