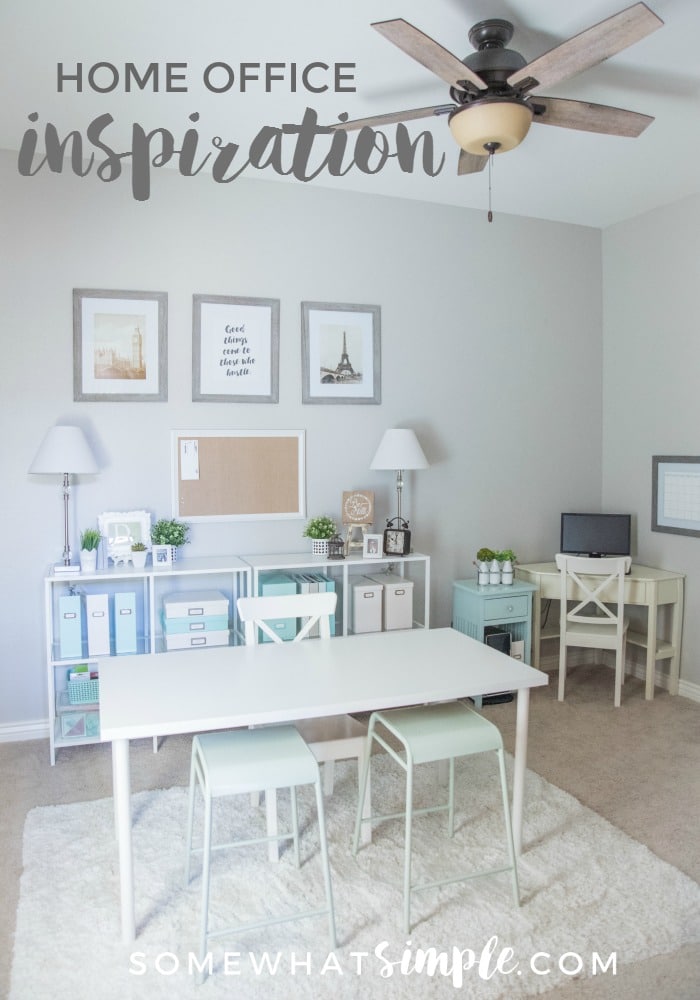 This post is in partnership with Staples. Keep reading to see how I organized my home office using the amazing products in the new Office by Martha Stewart line, exclusively at Staples.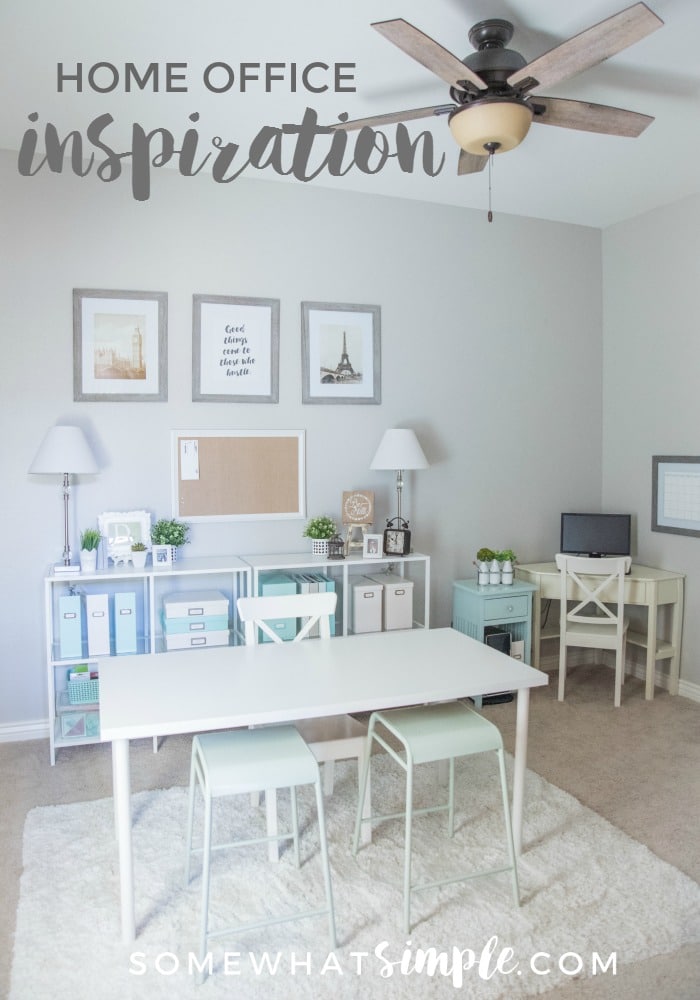 We've been in our home for 6 months now, and my home office is the only space furnished and put together. This space is used daily by practically everyone in the family, and I just love spending time being productive in a pretty place with people I love. I work in here, I create in here, I craft with the kids in here, and they do their homework in here. Sometimes we just hang out in this office and talk about our day. Its a nice, pretty, multi-functional room that seems to work well for our family.
Here is a peek inside my home office. I'll list links and sources at the end of the post so you can create a place you love too!
My Home Office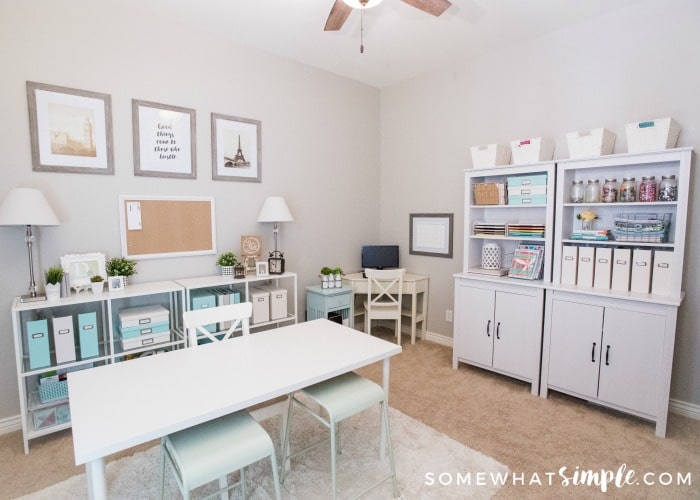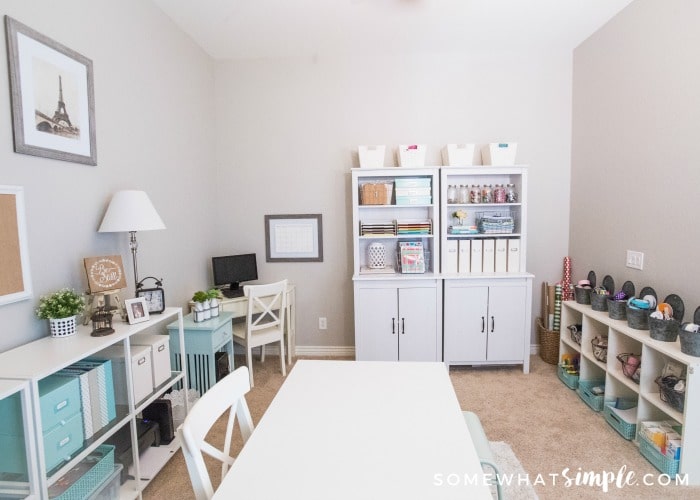 My desk faces the french doors, which opens up to my favorite view of the house: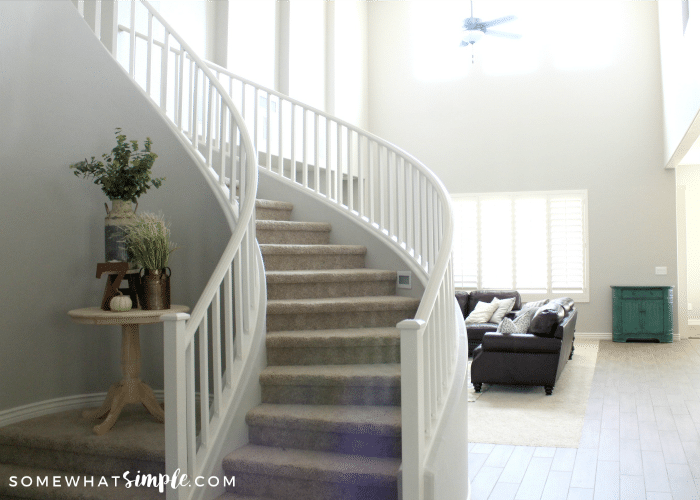 I love how open everything is, and it is easy for me to keep tabs on my kiddos!
Like this little girl…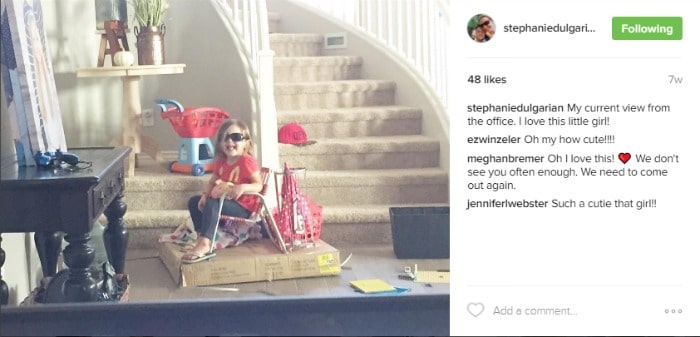 She pulls out her toys and plays right here all the time! I love this space!
I framed a favorite inspirational quote + a picture of Big Ben and The Eiffel Tower. Our family LOVES to travel, so it seemed fitting to add pictures with sentiment that are meaningful and inspiring. (Click HERE to download this and other office quotes.)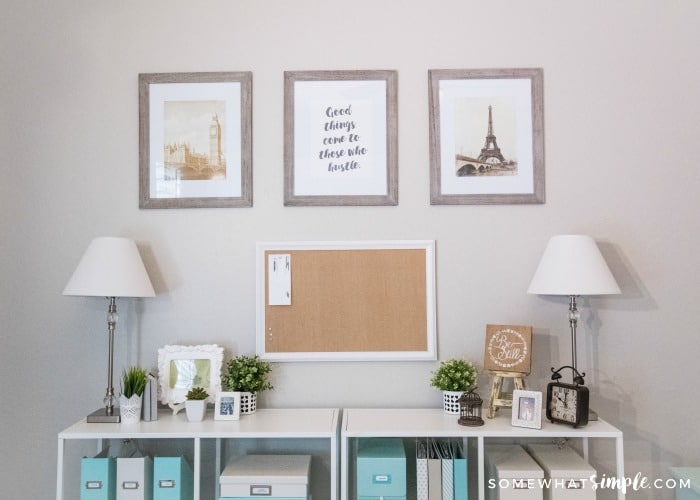 Behind my desk are all the things I use most! The top shelf is full of products from the Office by Martha Stewart Line from Staples. I L.O.V.E. this line. Not only is it so pretty, it is really functional too! (Look how well it matches the boxes and baskets I already had!)
This collection is completely customizable, so organizing you business, office or personal work space is so easy! You can mix and match items to fit any space and storage needs and they coordinate perfectly with the desktop organizers and customizable planners. This line of products is a great way to keep your home office stylish, and functional. Visit a Staples near you or shop online HERE.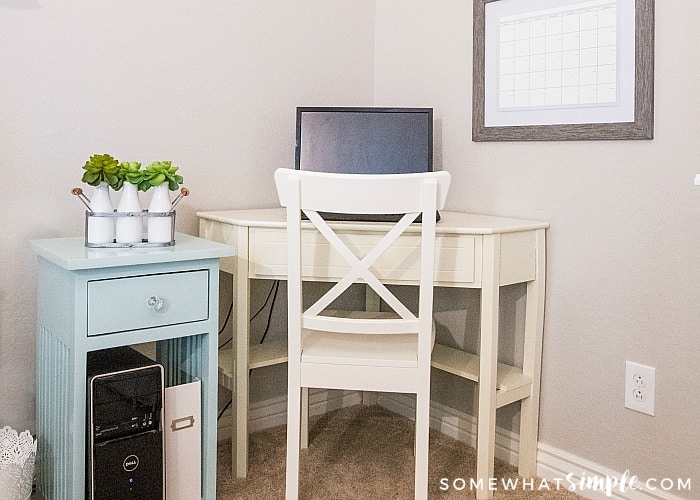 In the corner of the office is this perfect little desk for our family computer. I wanted to keep this computer out in the open so I could monitor my kids while they play and work on it. I love having them close to me, and I love that the screen faces the doorway so I can always see what they are working on or looking at.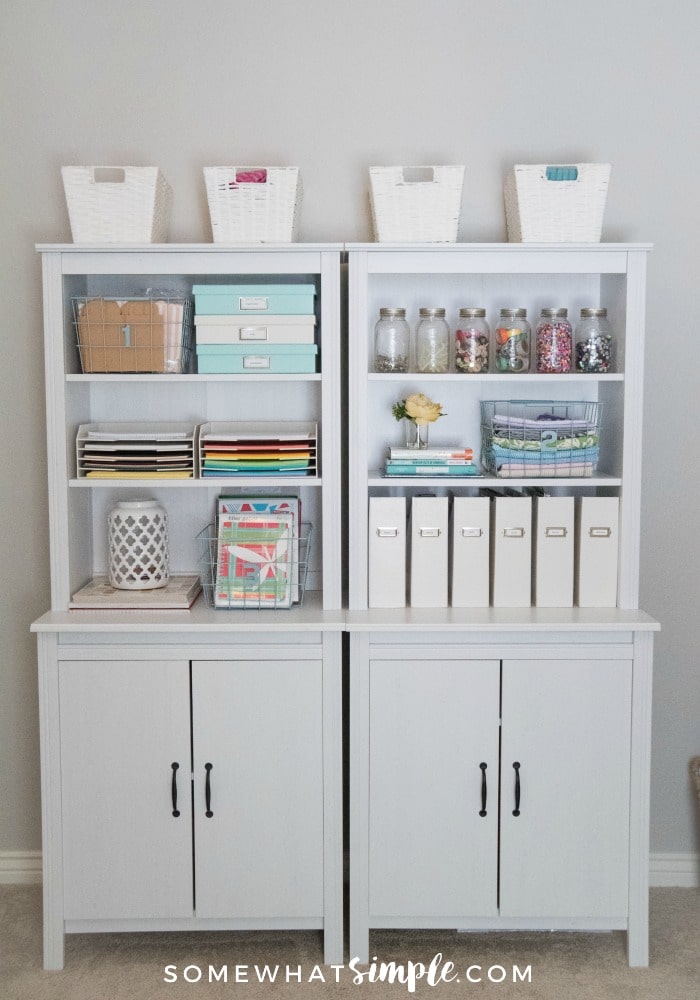 Both of these hutches are from IKEA to store allllll my craft stuff. Aren't they pretty?!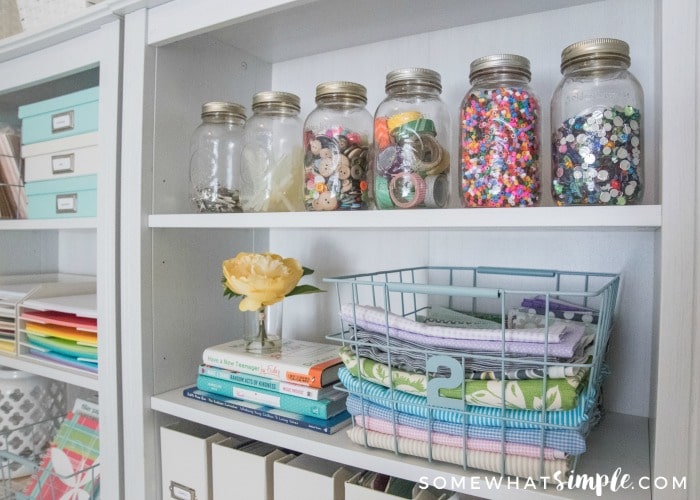 This 8-cube organizer holds the rest of my supplies: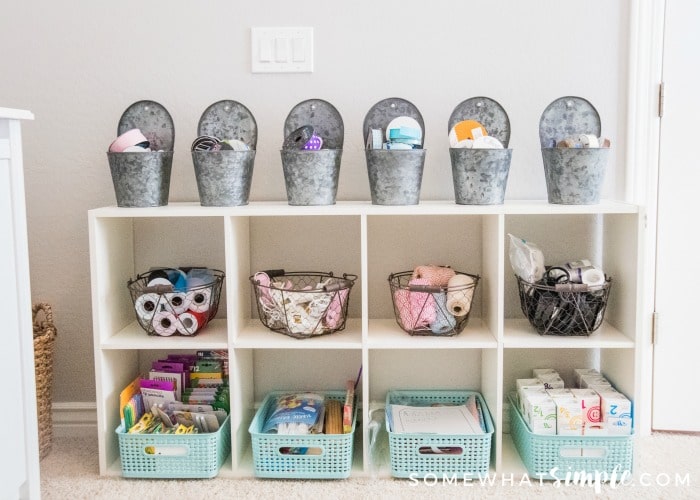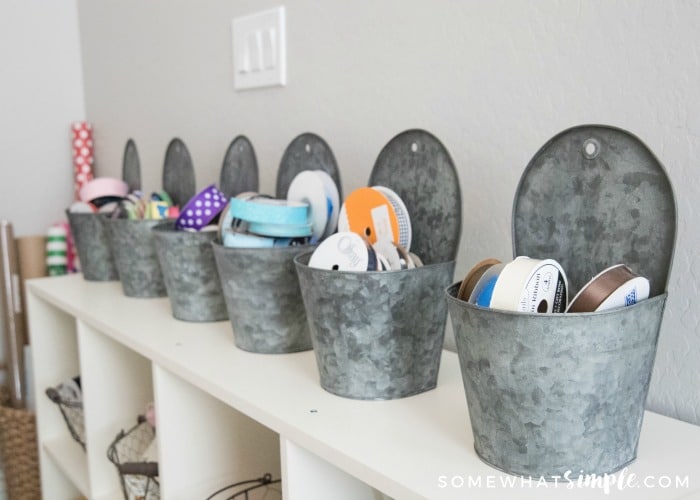 … and that concludes our little tour our my home office!
What do you think???
Sources –
Desk – IKEA: Linnmon Table with Adils legs || $45.99
Stools – Target: similar to Carlisle Stools || $80 for 2
White Chairs – IKEA: Ingolf || $49.00
White Rug – Lowes: similar to Sofia Ivory Rectangular Indoor Shag Area Rug || $168
Shelving Unit Behind Desk – IKEA: Vittsjo || $59.99
Organization Systems – Staples
Lamps – Lowes: allen + roth Brushed Nickel Lamp Base || $30
Burlap Cork Board – Target || $19.79
Frames – Ross: similar HERE || $23.99
Inspirational Quote – HERE on Somewhat Simple
Light Blue Computer Stand – Home Goods: similar HERE || $91.99
White Corner Desk – similar to Target || $279
White Cupboard/Hutch – IKEA: Brusali || $129
8-Cube Shelf – IKEA: similar to the Kallax || $69.99
Baskets and Bins – Pick Your Plum
Do you have a home office or place of your own that you love?
Tell me all about it in the comment section below!
This is a sponsored post written by me on behalf of Staples. I was given some of the products shown here in exchange for my review. All opinions are 100% my own.