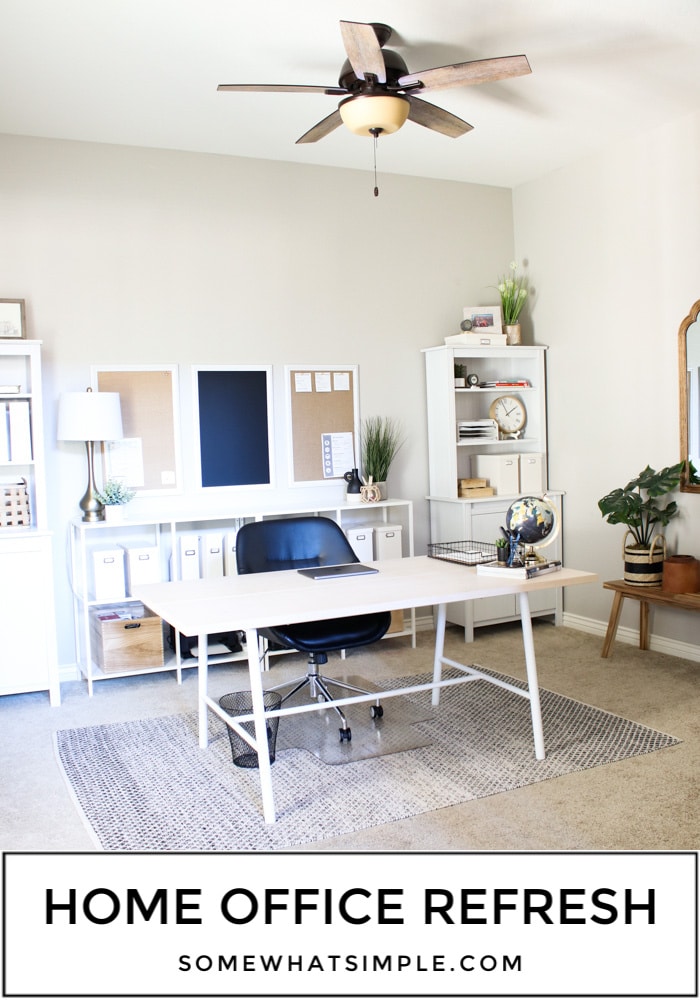 Our home office decor got a much-needed refresh to maximize space and creativity! A brand new layout and simple pieces of decor took this space from clutter and chaos to fresh and functional!
Looking for more office inspiration? Here are a couple more workspaces and ideas that we think you'll LOVE – Home Office + Craft Room, Small Upstairs Pocket Office and Printable Office Art.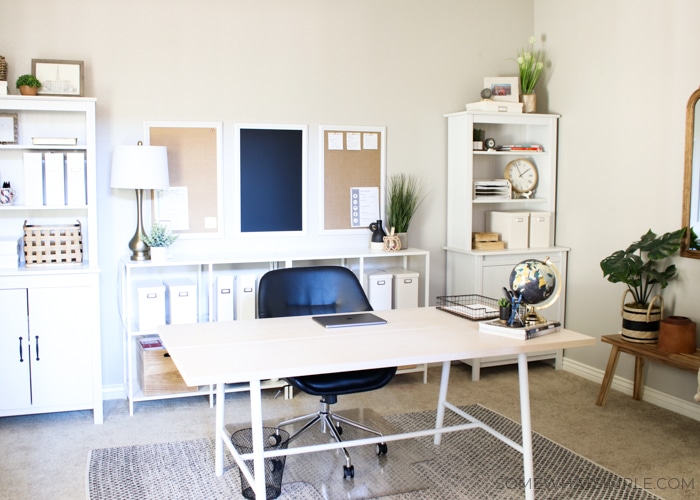 A Needed Change
If you follow me on Instagram, you've probably seen me talking about how our home office just hasn't been working for us. The layout out was not my favorite and it always felt cluttered and messy. Rob left his corporate job in October of 2018 and I wanted to make his transition to working at home more "official" with a less-feminine office space designed for two people to work comfortably in.
I had this picture-perfect idea of the two of us working hard, having meetings, and growing our business together in this space. And while we are definitely working hard and our business is doing fine, this office was totally lacking in the picture-perfect department!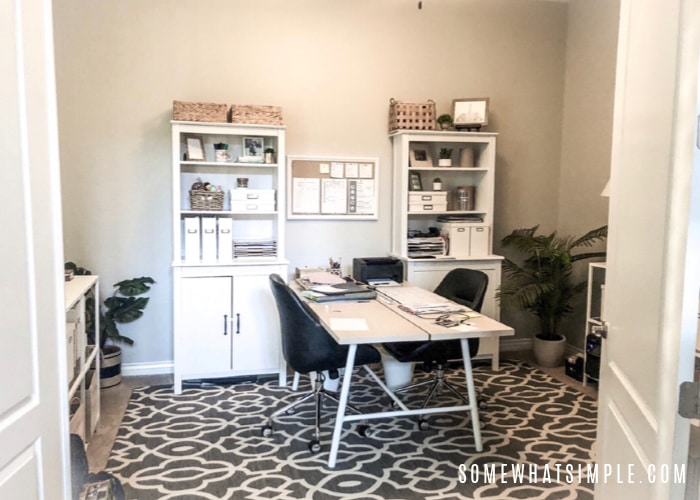 Home Office Inspiration
Our office is right at the front of our house, so anyone who stops by has a clear shot of it. When my office was nice and pretty, I didn't mind those doors being wide open all the time! But this new shared office seemed cluttered and busy no matter how much I tried to tidy it. I found myself shutting the office doors all the time before guests would come over, and that's not ok!
I browsed Pinterest day after day for "Shared Office Inspiration." I found a ton of ideas I loved, but I didn't want to spend a ton of money on new desks and credenzas, and I don't like the permanency (or price tag!) of a custom built-in.
As it turns out, Rob and I work very differently. He likes a quiet space to focus and be productive, and I like sitting in bed with my laptop on my lap and Netflix playing in the background. So for us, a shared office wasn't as necessary as I once thought it was. As soon as I was able to throw the double-desk concept out the window, I was able to make this space great again!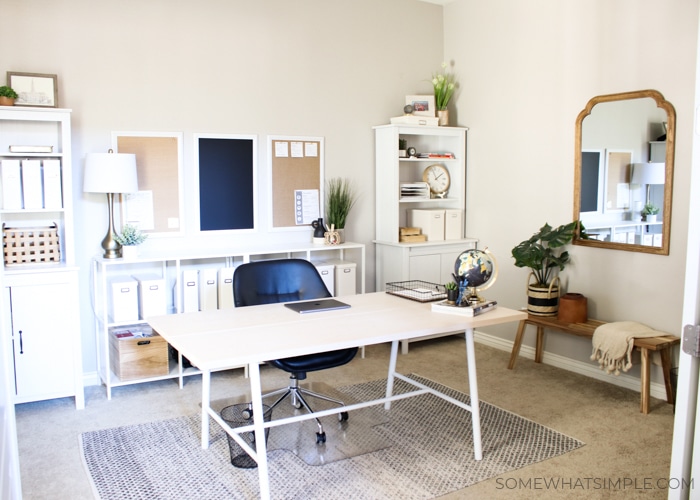 Our Home Office Decor 2.0
(All sources are at the bottom of this post.)
The Desk – We kept the desk we shared (it's actually a dining table) so we can still hold team meetings whenever we want to, but I turned the desk to face the door, I got rid of the extra chair, and I swapped the HUGE busy rug for a smaller more subtle design.
It's amazing what centering the desk did for this office. It feels welcoming and so much more open! When I saw how fresh and clean everything was looking, I was more determined to keep that look and feel in the rest of the space.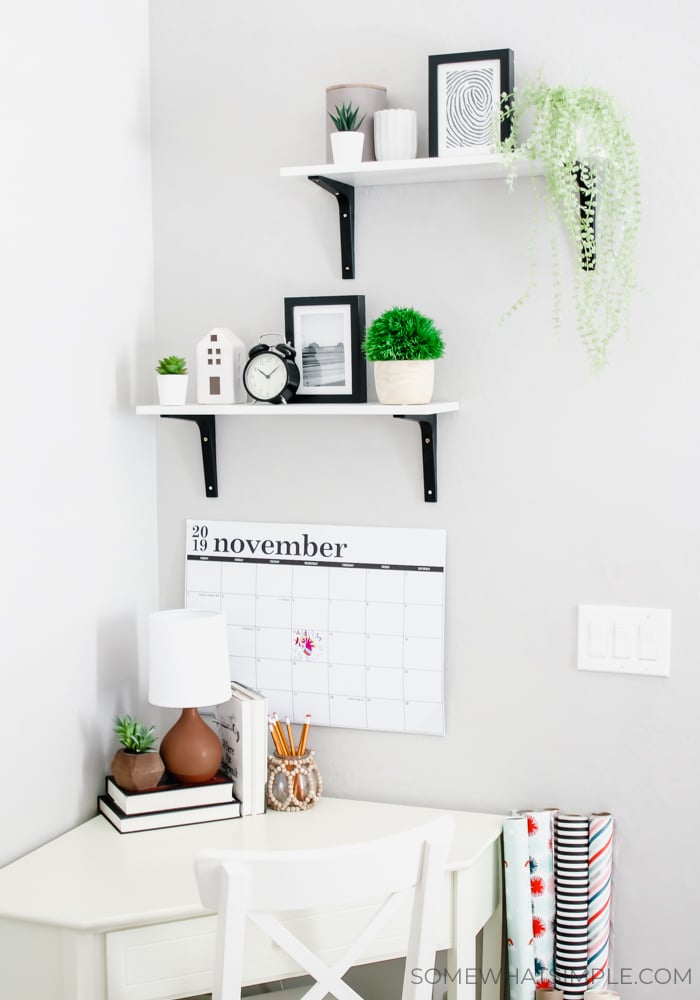 Corner Desk & Shelves – At first glance, you don't even see the little hidden gem of a desk in the corner! I added this desk as another workspace, either for me or the kids. (My daughter uses it almost every night!) The shelves above it on the wall give the space some dimension and design, and I love how it all came together!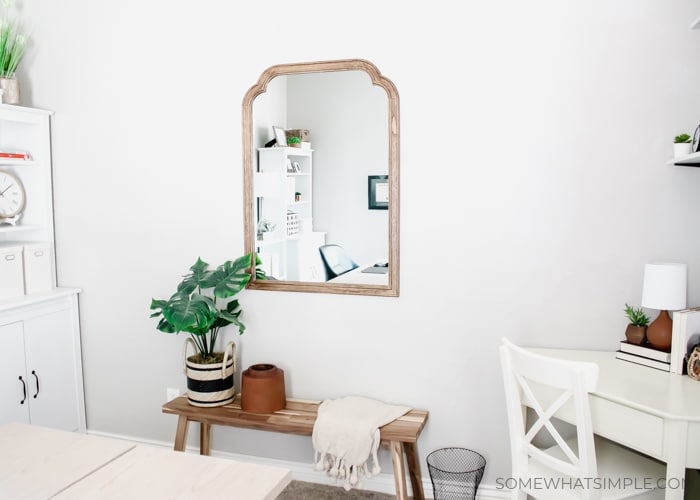 Mirror & Bench – On that same wall, I added a bench, a mirror, and a few pieces of decor. I didn't want anything to clutter this wall, but it definitely needed something. I think this arrangement works perfectly!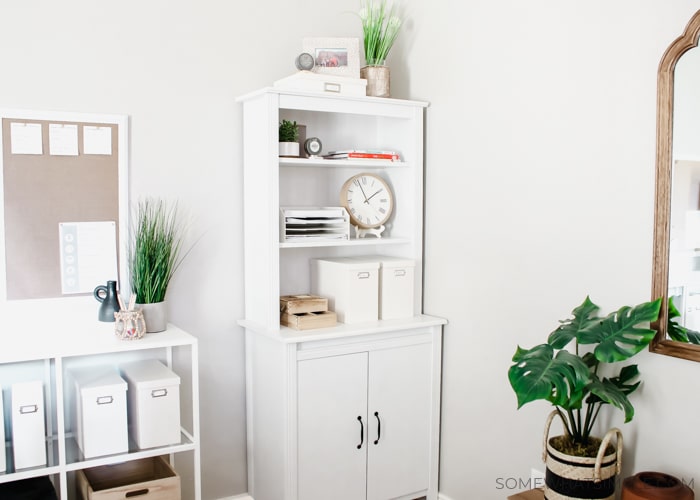 Shelving & Filing – All of our office supplies and equipment are concealed in 1 of 2 shelving units or filed away in the open shelving/magazine files. It is all perfectly accessible but out of sight.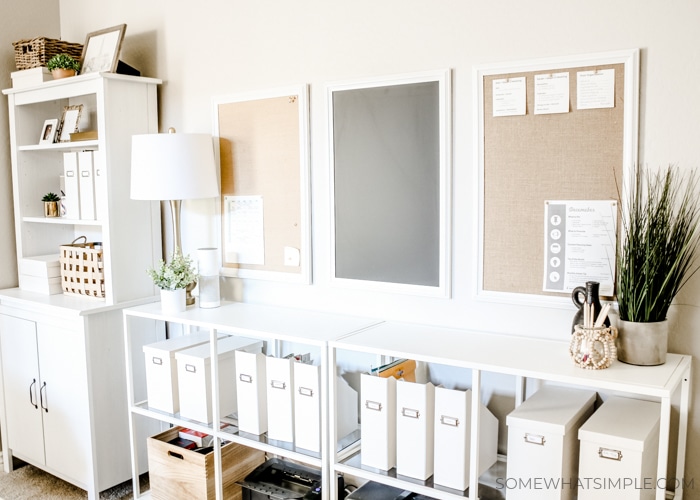 Behind the scenes, there are a lot of conference calls, interviews and Skype sessions with major brands and corporations where it feels necessary to have a place tucked away from everything, where we can shut the door. This room is really perfect for that right now.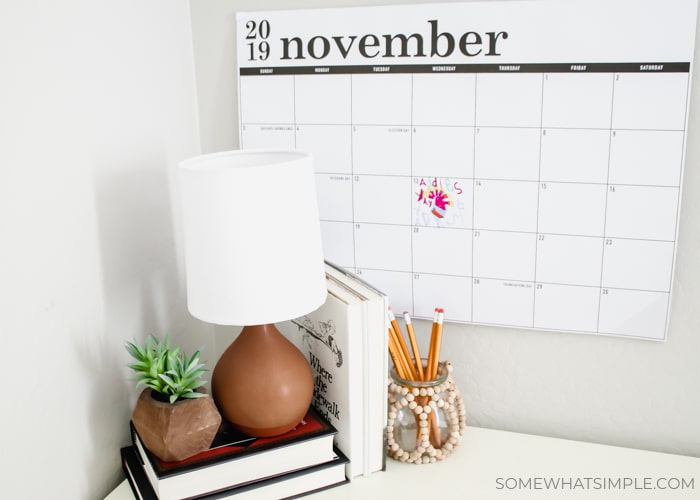 This Home Office 2.0 makes me smile every time I walk by. (And I don't ever want to take down my November Calendar where Addie marked her 6th birthday!) The fresh, open space is motivating and it just feels good. And while I do still prefer to work on my laptop in bed with Netflix on, I find myself inspired to create and grow our business like never before! It's time to get to work!
xoxo,
Stephanie
Shop This Space
Get The Look: If you want to make a very BIG impact on your home office decor on a very SMALL budget, here's where I found everything in this post.