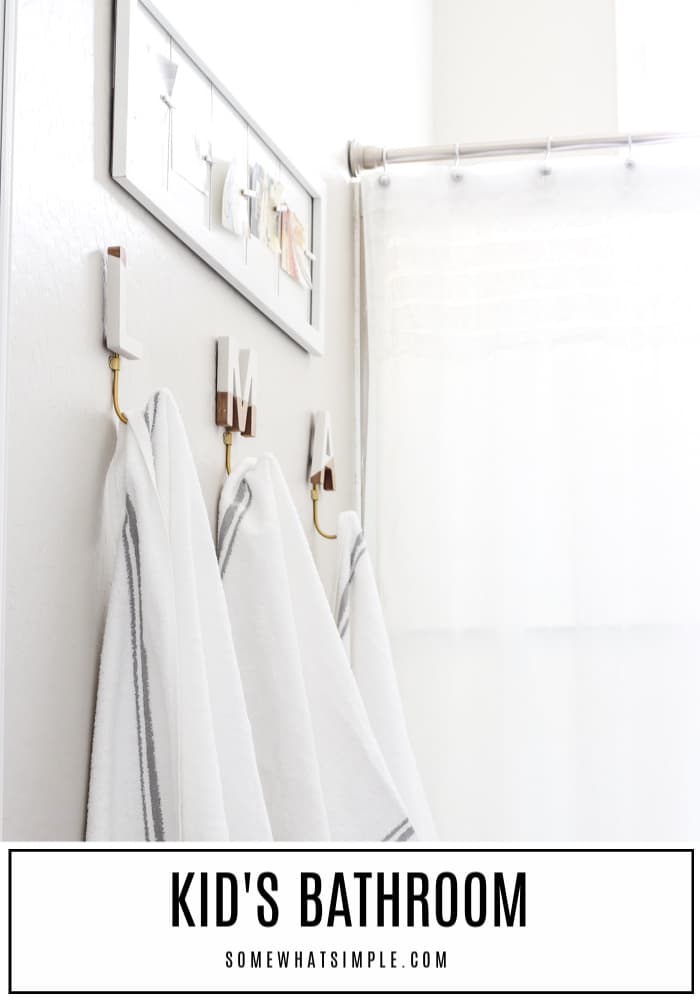 Our upstairs kid's bathroom gets a simple gray and white makeover that is clean, comfortable, fresh and fun! These decor ideas are an easy and inexpensive way to refresh your bathroom.
If you love a good bathroom makeover as much as we do, be sure to check out our Powder Room, our Boy's Beach-Themed Bathroom, and How to Frame Your Bathroom Mirror with Plastic Clips.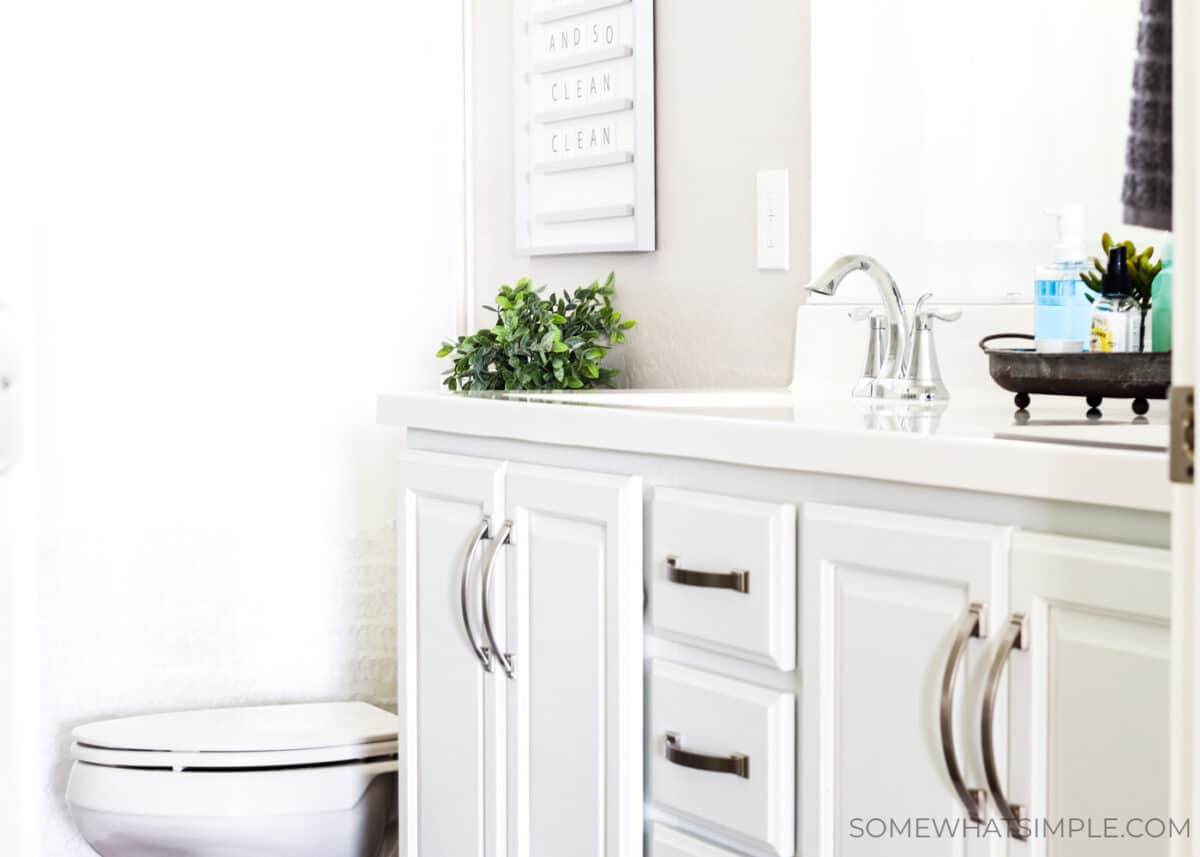 Kids Bathroom Decor Ideas
Last month for the #SimpleSpacesChallenge, I decided it was time to tackle our upstairs bathroom. Since our home is only 3 years old, I didn't need to tackle any HUGE projects, just some simple updates. This is the space that 3 of our 5 kids use, and it also doubles as our guest bathroom when company stays over.
Designing a bathroom that is both kid-friendly and welcoming to guests can be tough, but with some soft hand towels, thick rugs, and a fresh shower curtain, I created a bathroom that is fun, fresh, and inviting. This was a project that could be done in a day AND it cost me less than $100! Take a look –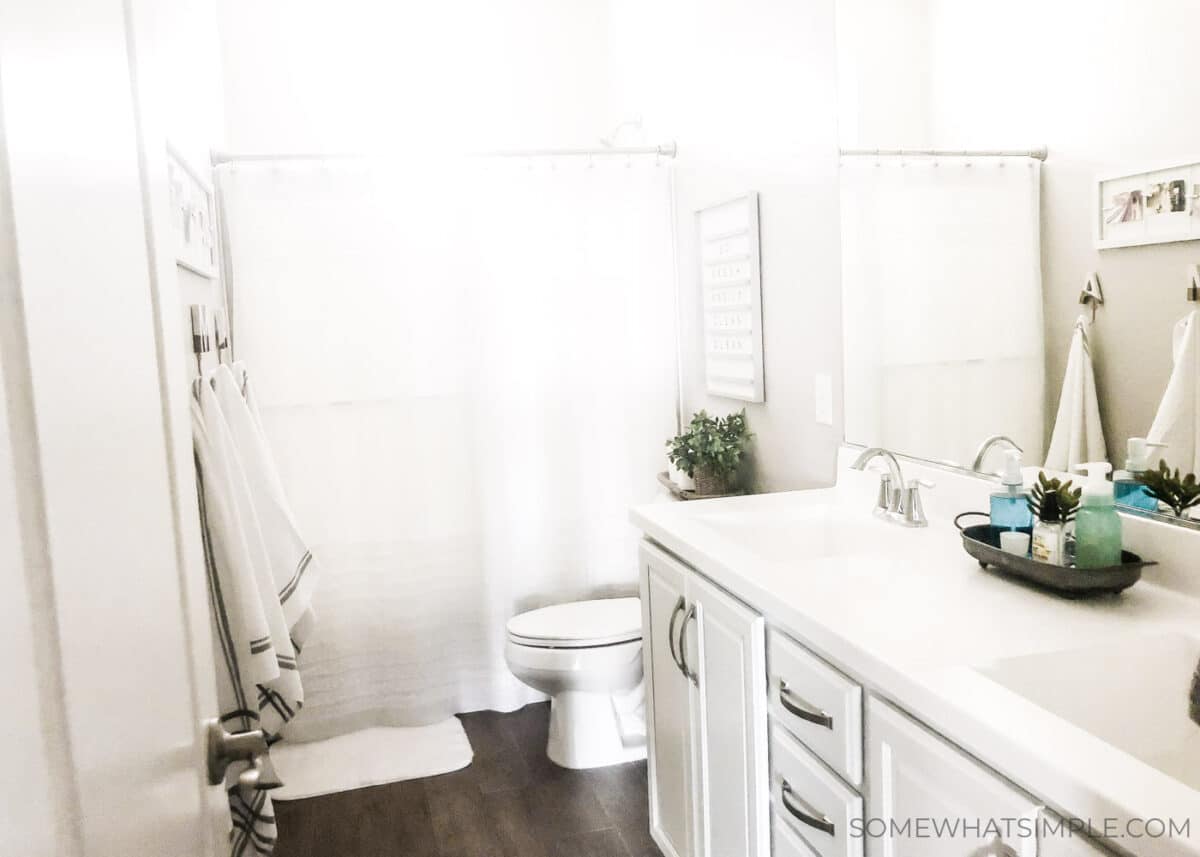 Kids Bathroom Decor
***All products used in this bathroom will be linked at the end of this post.
Wanting to keep things nice and simple, I chose to go with a white and gray color scheme. This neutral pallet was the perfect starting point and I love how fresh and clean it looks.
Kids Bathroom Accessories
I kept the bathroom accessories to a minimum because I like the look of a clean counter. There is a small tray with hand soap and air freshener in the middle of the two sinks, and everything else (toothbrushes, lotion, hair accessories etc.) are in the vanity drawers and cupboards.
I took down the towel bar and added some fun monogram hooks that not only look great, but they are so much easier for kids to use! I love the look of the white towels with gray borders, but I have to admit, these towels are not very soft! For kids who don't care and rarely dry off good anyway, they are totally sufficient, but our guests will use the nice fluffy ones in our Linen Closet.
Above the towels is a fun wall hanging I found at HomeGoods. I still haven't put our pictures on the clips – the ones in the image above are what came with the frame! 🙂
Above the toilet I found a fun frame at Hobby Lobby with wooden letters that you can swap out to make your own saying. The kids are having a blast with this!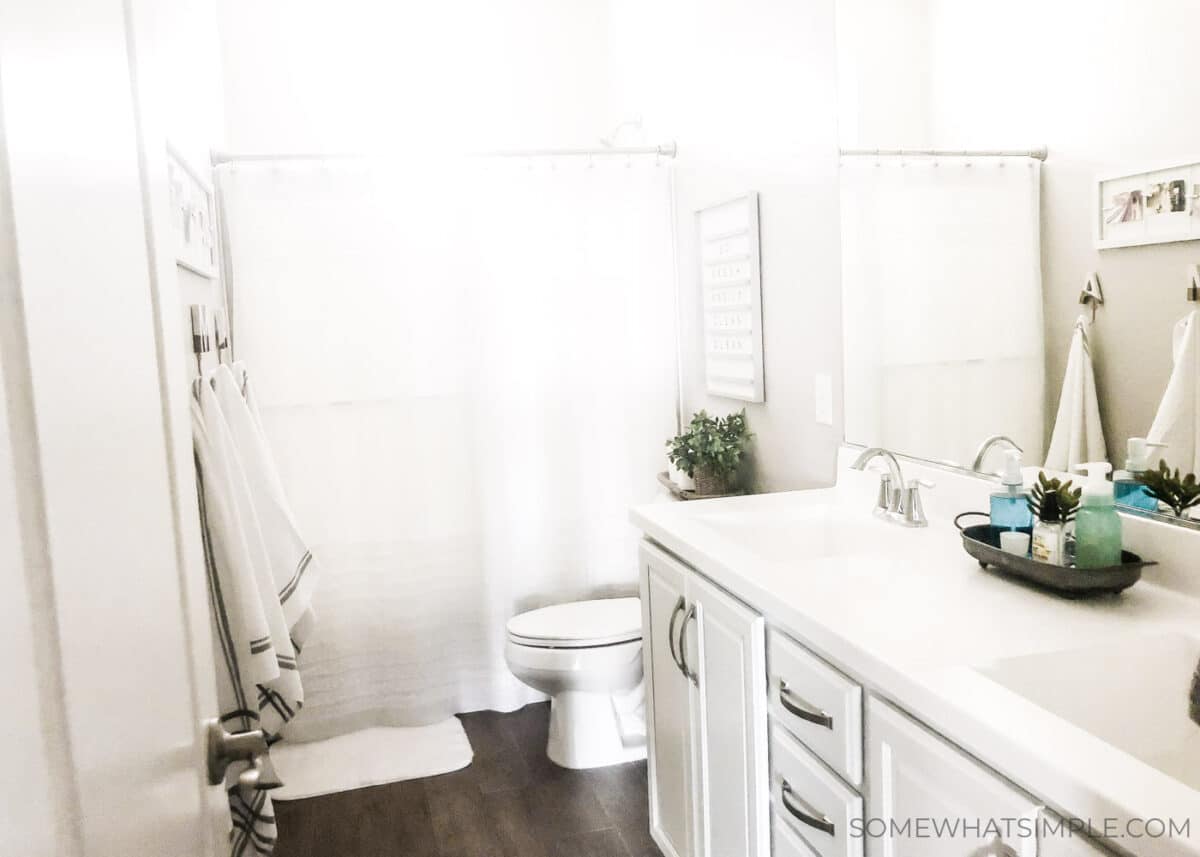 Kids Bathroom Shower Curtain + Bath Rugs
This white ruffled shower curtain is actually one I've had for years. I bought it in our last home and kept it for this bathroom because I love the look of a white fabric curtain with a little bit of a design element.
There are three simple bath rugs in this space – 1 by the bathtub, and 1 under each of the 2 sinks. I prefer white bathmats as they can get washed with the laundry as needed and when they are clean, they look so nice and fresh.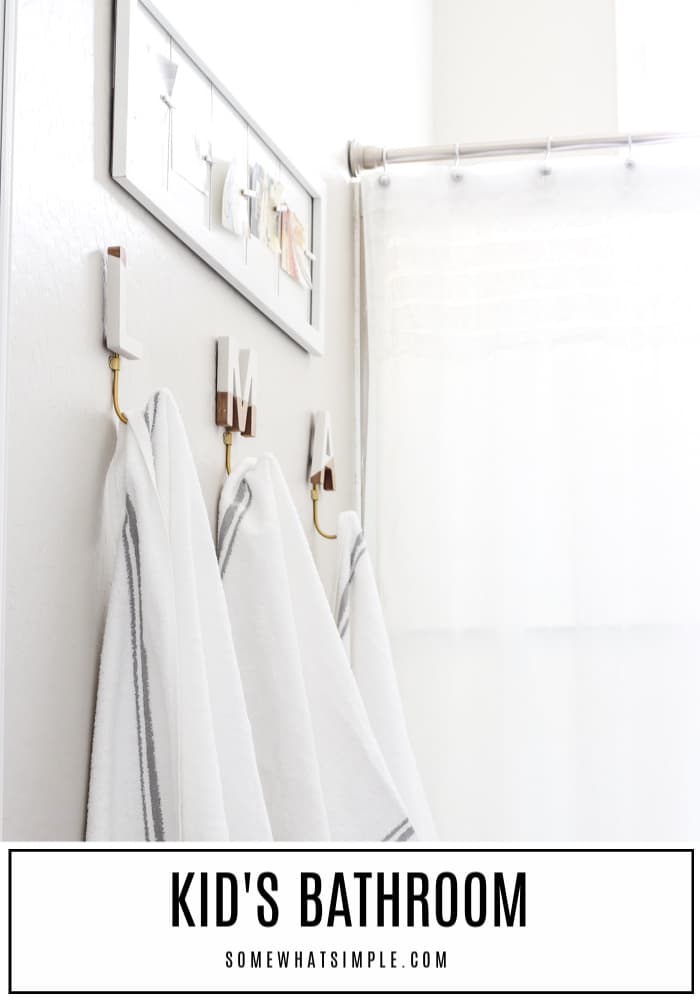 Isn't it perfect? I am in LOVE!
(Who knew a bathroom could bring me so much joy?)
Kids Bathroom Product List –
White Ruffled Shower Curtain || Amazon $20 (similar)
White and Gray Towels || Walmart $2.74
Monogram Towel Hooks || Hobby Lobby $4 (similar)
White Frame above Towels || Home Goods $15 (similar)
White Bathmats || Target $5.99
Gray Letter Board || Hobby Lobby $20 (similar)
*Other accessories were collected over the years.