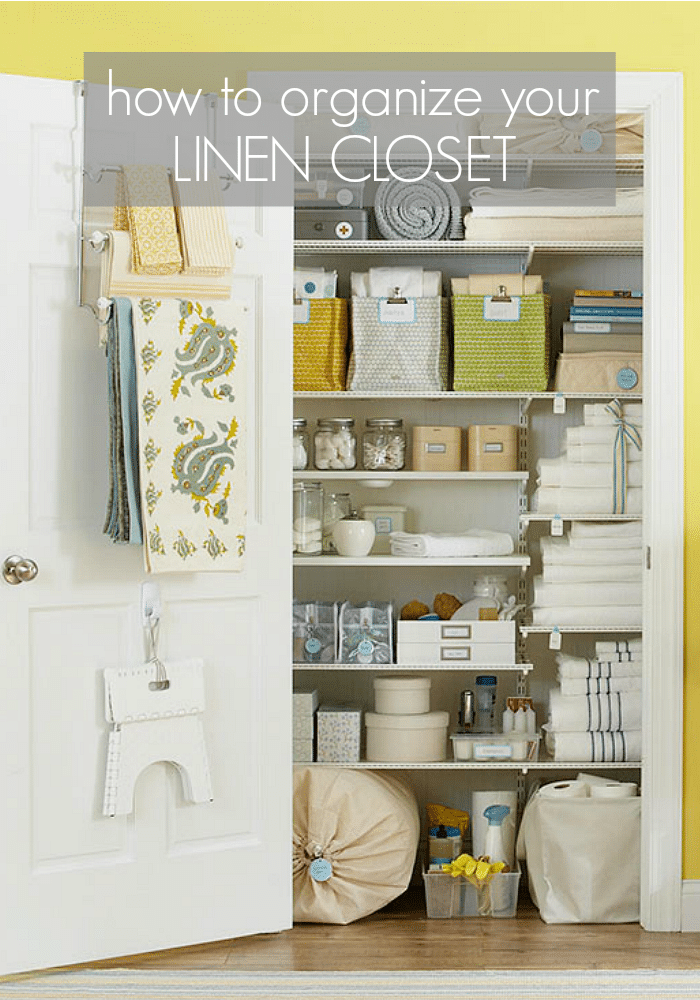 I was recently reading an article from Better Homes and Gardens all about organizing the linen closet. The beautiful pictures and organization tips inspired me to reorganize mine! Here is how I did it:
How to Organize Your Linen Closet
First, you will need some baskets.  Check Target, WalMart and your local dollar stores. They don't have to be fancy, just nice and functional!
Start by emptying out your linen closet. Make 3 piles of the items you take out:

Pile One- Items you plan to keep
Pile Two- Items you will donate
Pile Three- Items that are trash!

Wipe down the shelves to get it nice and clean.
Next categorize the items that came out of the closet: table linens, sheets, bath towels etc.
Once you have all of your items in the right categories, place them back into the closet together. You can decide which items you'd like to put in baskets. Consider putting items that you don't use that often behind the items you do.
Optional: Make it pretty! Make some labels for your baskets or tie up your guest towels with a pretty ribbon. Do something that makes this closet look nice!
AND THAT'S IT!
Now you can look forward to putting away the laundry… if that way of thinking even exists- HAHA!
(To read the full BHG article with more tips and trick, click HERE.)
This post originally published in January 2012. It was updated in August 2015.