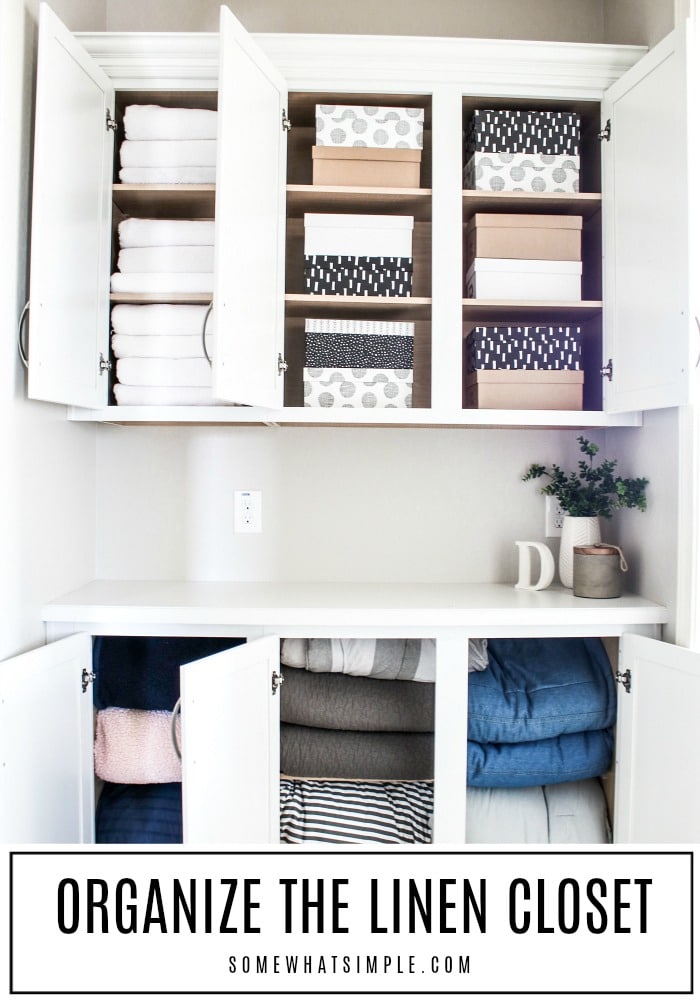 Today we are organizing the linen closet and it is going to be AMAZING! All you need is $30 cash and 2 hours of your time to make your linen closet gorgeous!
If you love organizing as much as we do, be sure to check out these organization ideas –30 Day Declutter Challenge Calendar, Organizing with Bins and Labels, and How To Organize Your Kid's School Papers.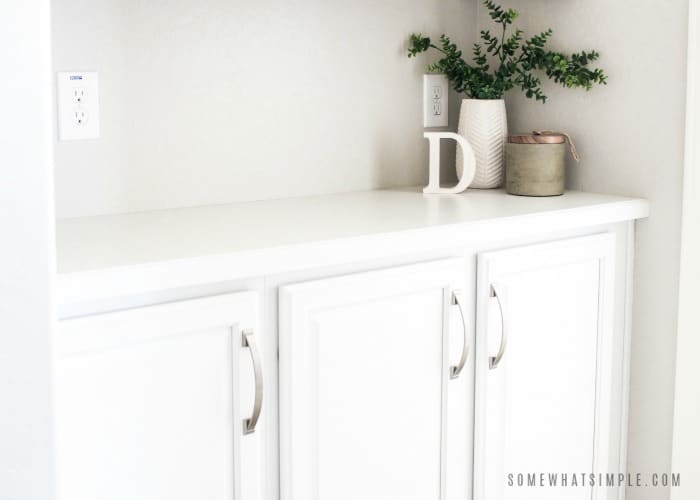 Organizing Your Linen Closet
This month's #SimpleSpacesChallenge brought me to my upstairs linen closet where we store all the extra sheets and bedding for our guests. We have an amazing cupboard area that should have been plenty of room for all of these things, but it lacked an organization system… BIG TIME. In fact, more and more "things" kept collecting in this area that there was almost no space to put the bedding back once our guests left. Want to see a before picture?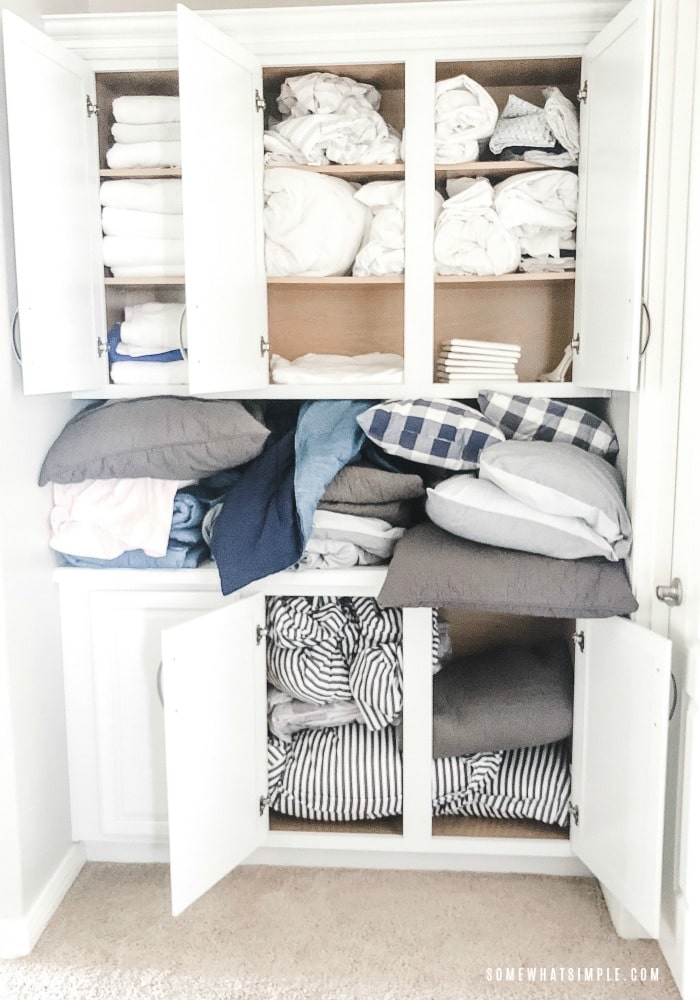 Such. a. MESS!
But I was able to organize my linen closet and turn this entire space into something that looks amazing in just a couple hours one afternoon, and the entire project only cost me about $16. Take a look at how it looks now –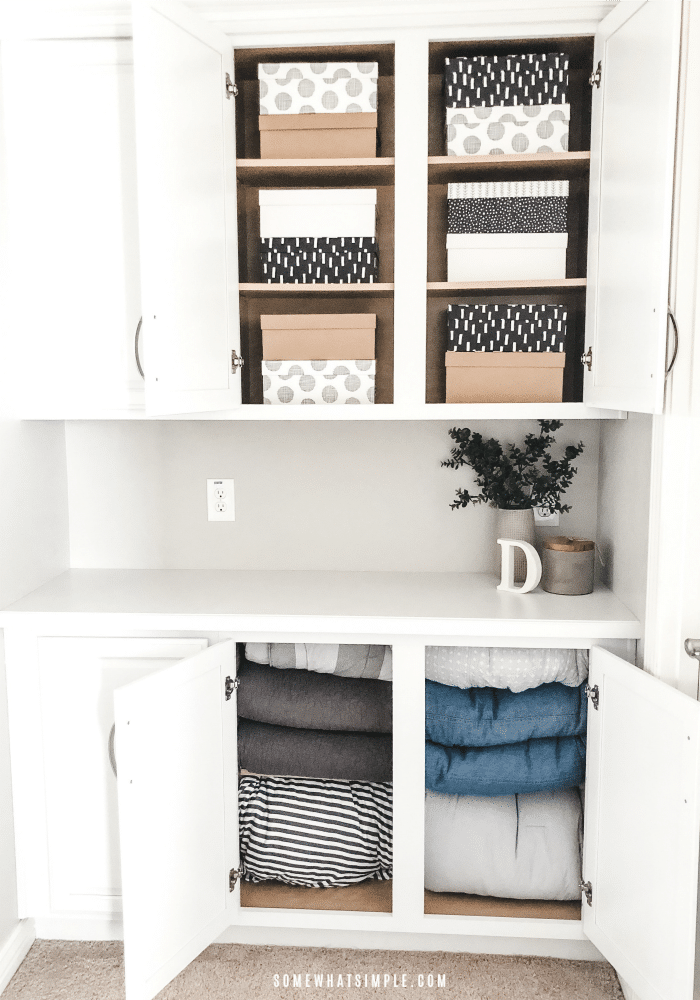 I could stare at this all day. Here are all the details on how I did it:
How to Organize Your Linen Closet
1. Grab some boxes or bins.
I used these photo boxes from Michaels that happened to be $2 the week I tackled this project. They are normally $6, but they go on sale all the time, and there are coupons quite often too, so they are definitely an affordable option for this project. You can also check Target, Walmart, Amazon, IKEA, and your local dollar stores. They don't have to be fancy, just functional!
Each box will fit either of the following-
An entire twin set: fitted, flat sheet + 1 pillowcase
Half of a queen or king set – use one box for the fitted sheet, then in another for the flat sheet + 2 pillowcases.
TIP – I also include a fresh dryer sheet in each box to keep the sheet sets from going stale.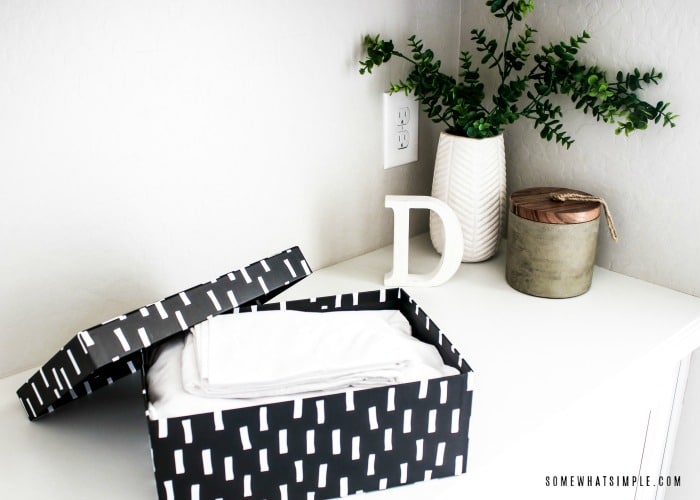 2. Empty out your linen closet.
Now is the chance to go through all your linens and get rid of anything you don't love, don't use, or wouldn't want your guests to use either. Old towels, stained linens, mismatched sheets, etc. Getting rid of the everything you don't use is huge step to organizing your linen closet.
As you pull everything out, make 3 piles of all the items you take out –
Pile One – Items you plan to keep
Pile Two- Items you will donate
Pile Three- Items that are trash
Things to consider – How many extra sheets and blankets do you really need?
Answer – One set to have on each bed and maybe one replacement set per bed.
Any more than this is excessive.
In fact, I think you're fine with one replacement set per bed size to use in an emergency when you don't have time to wash the bedding before you need to use it.
I use Beddy's on all my kid's beds with built-in sheets, but when guests come I make their beds with clean sheets and a comforter. In my linen closet now I have one sheet set for every bed and a cupboard of white towels that are only used by guests so they stay nice and pretty.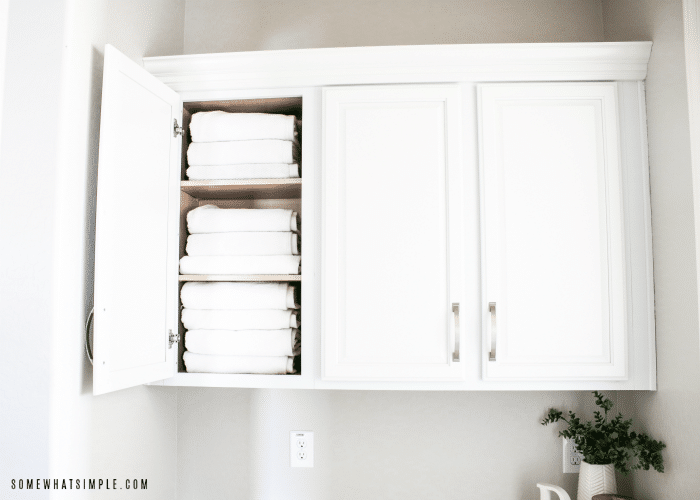 What to do with each pile –
Pile One – Put like items together: table linens, sheets, bath towels, wash cloths etc. Unfold and refold everything nicely. Place your sheet sets in your boxes.
Pile Two – Any items that are in decent condition but that you don't need or want, can be donated to a local thrift store (ie. mismatched sheets and towels etc.) Put all donation items in a big trash bag, then put the bag(s) in your car right away! (This will lessen the likelihood of anything being rescued.)
Pile Three – Any items that are not worth saving that cannot be donated (ie. linens with stains and holes) Put all trash items in bags, then take the trash bag(s) out to the trash immediately. Sometimes it is ok to keep old towels for rags, but just be careful with this. Nothing feels more freeing than getting rid of unused items!
3. Wipe down the shelves to get it nice and clean.
When was the last time this closet wash wiped down? Take the opportunity while everything is out of the linen closet to wash it down with some warm, soapy water.
4. Put everything back.
Once you have all of your items in the right categories, place them back into the closet together. If you have a really deep closet, consider putting items that you don't use that often behind the items you do. This will help you keep your linen closet organized.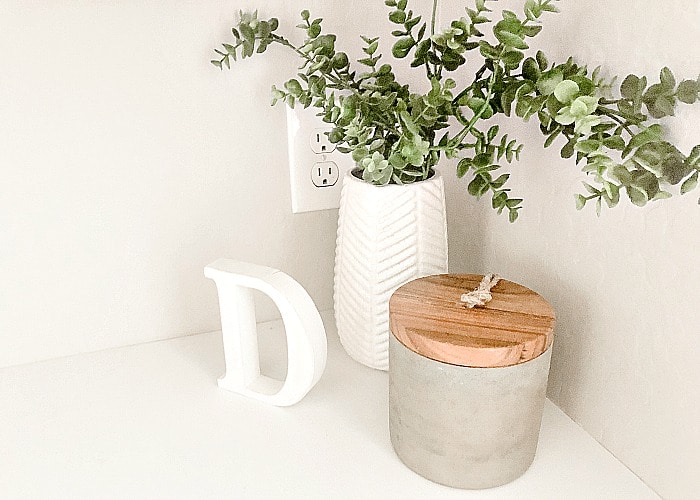 5. Make it pretty! (Optional)
One of my favorite things about organizing this linen closet was the presentation and making it look pretty. Make some labels for your boxes, add some decor to any counter spaces, tie up your guest towels with a pretty ribbon, etc. Do something that makes this closet look nice and something that makes you smile!
AND THAT'S IT!
Now you can look forward to putting away the laundry… if that way of thinking even exists- HAHA!
More Home Ideas