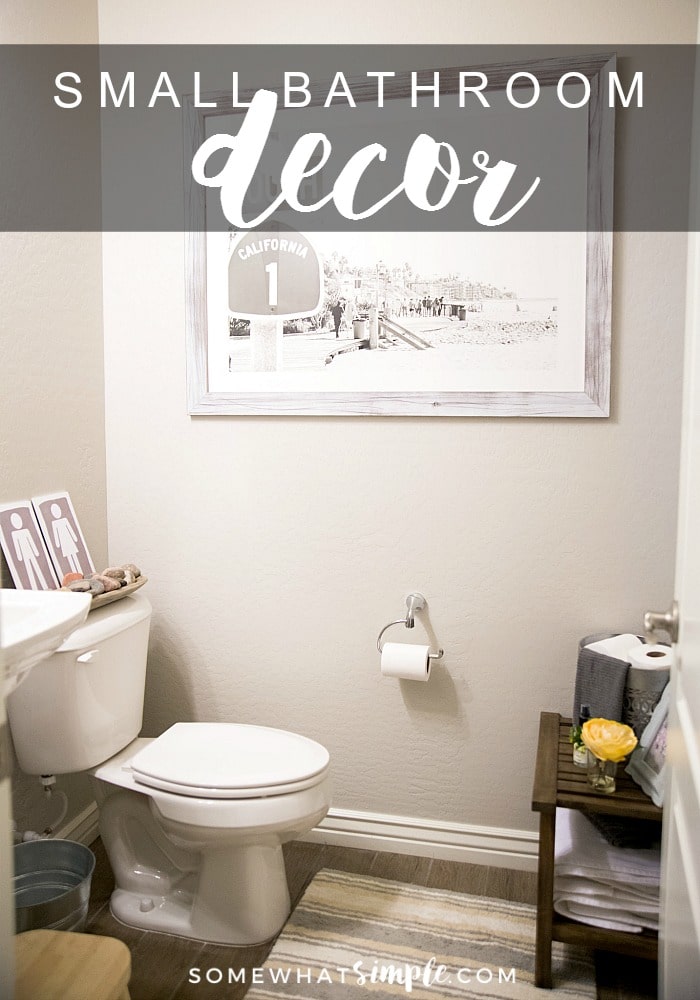 Just because it's a small space doesn't mean you can neglect it! Here are some simple tips on how to decorate a small bathroom.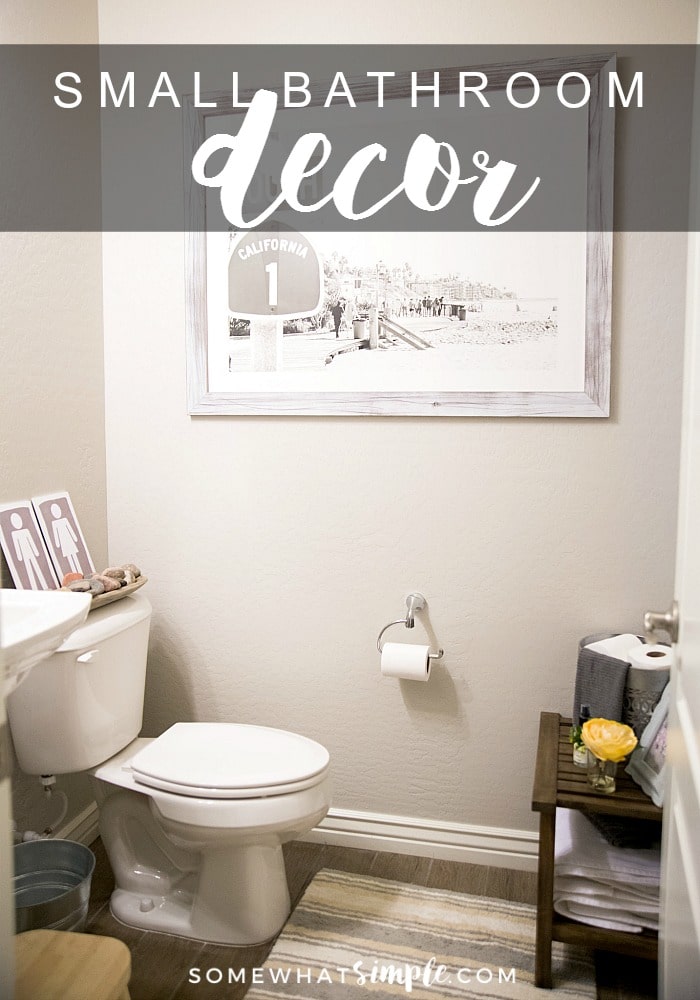 Our downstairs bathroom is not only the smallest bathroom in our house, it is also the most used bathroom! Since it sees a good amount of use by my kids and our guests, I wanted this room to look nice, yet still be kid-friendly and functional!
The simple design I came up with is both beautiful and budget-friendly, and I love how it turned out! Take a look at what it looks like now and take note of a few tips and suggestions I think you might find helpful.
How to Decorate a Small Bathroom
1 – Light, neutral paint can really open up the space.
Don't try and get fancy with the paint in this bathroom. Keep it neutral so you don't draw attention to how small the walls really are. Bright accent walls will make the space feel closed in. Wall treatments will do the same. Think simple. Think light.
2. Set a focal point.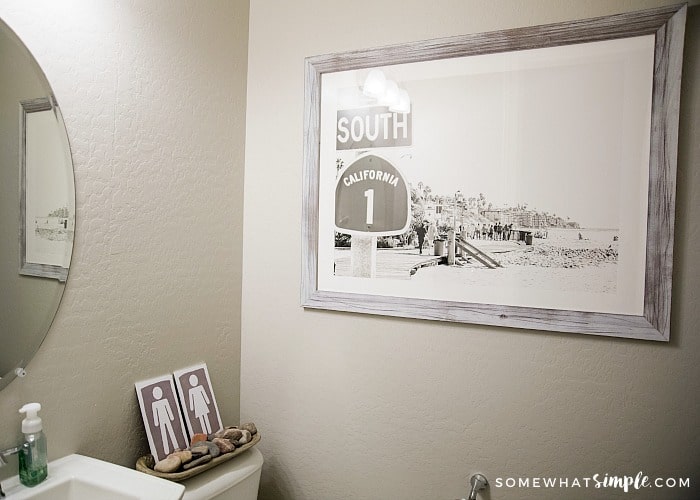 When I was first thinking about a focal point for this room, I was thinking I'd need a smaller piece of artwork, or even a cluster of small framed photography. In my head I thought, "It's a small room. I need small decor." I tried several smaller arrangements on my walls before I finally brought in this 24 x 18″ print from Minted and I immediately fell in LOVE! It is amazing how this BIG focal point opens the room. This space feels so much bigger than it did with the smaller pieces. And it totally makes sense when you think about it. Less is more. 1 big piece looks way less cluttered than 2, 3 or 4 little ones!
This Minted print is amazing, isn't it? I grew up in Southern California and that golden coast will always have a piece of my heart! When I saw this print, I knew it would be the perfect way to bring a piece of "home" to my new home in Arizona. I absolutely love it! It's a high-quality print in a super nice frame. Since it has been on display in my bathroom, I get compliments all.the.time.
If you're looking for a beautifully unique piece for your home, check out the Fine Art Prints from Minted.com. (You'll be glad you did!)
3. Accessories are Everything.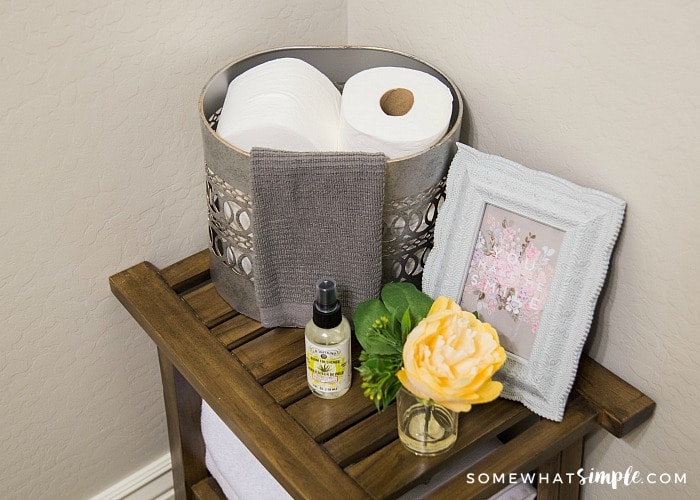 You'll need the basics – extra toilet paper, soap, hand towels, air freshener and a trash can. You don't need to spend a fortune on these, but you want them to look great since they could be the only design elements (aside from your focal point) that you'll have in the room.
I wanted to bring in some textures into our bathroom, so I used a wooden stool with soft white towels stacked on top. My extra toilet paper is in an aluminum basket, and I also have a metal bucket for our trash can. I added a small floral arrangement and light frame for some color, and then picked up some pretty air freshener and soap to round it all off! (Stay away from a boring can of Lysol and the industrial orange Dial soap dispenser, will ya?) 🙂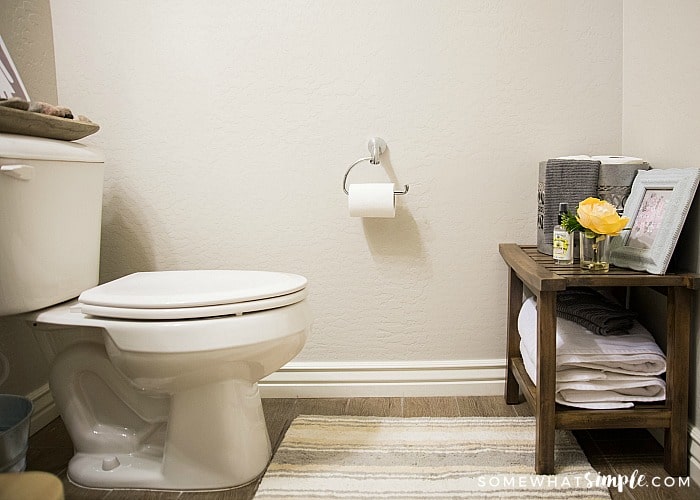 I'll be the first to admit, I am not a fan of having a rug next to a toilet. (Ew.) But this was the last thing I added to the space after I thought I was already finished. "It just needs something MORE", I kept telling myself. I reluctantly brought in this rug and suddenly my fear of a smelly, stained carpet by the toilet disappeared! Not only does the rug add some more color, it also grounds everything and makes this space feel complete and cozier. I've learned it isn't hard to toss a bathroom rug in the laundry, so we are getting along just fine!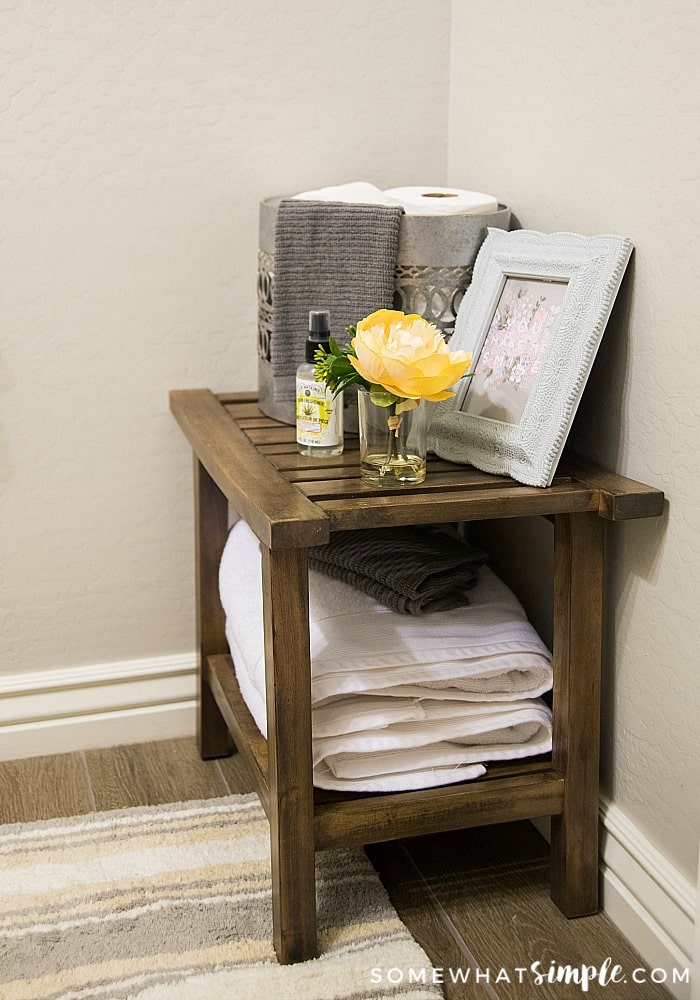 RUG TIP –
At first I thought this rug was just slightly too big because one of the legs from the brown bench sits on top of one of the rug's corners. But this actually helps hold the rug in place, making it easy to straighten out when it gets pushed around.
So there you have it! A beautifully decorated small bathroom.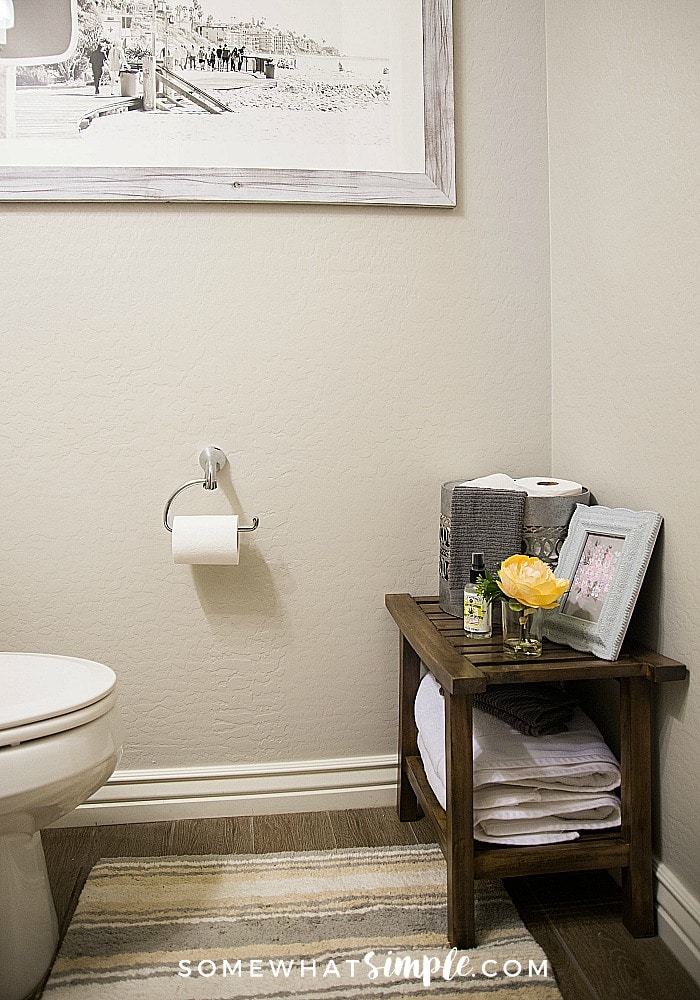 What do you think???
Links and Sources –
Paint Color – Miner's Dust from Dunn Edwards (details on that HERE)
Hwy 1 Framed Photography – from Minted
Wood Stool, metal toilet paper basket & frame – TJ Max
Yellow Flower and Air Freshener- Target
Striped Rug – TJ Max
Metal Waste Basket – Lowes
Step Stool – IKEA
Soap – Bath & Body Works
Men/Women Bathroom Signs – Hobby Lobby
Take a look at the rest of our home tour with these posts: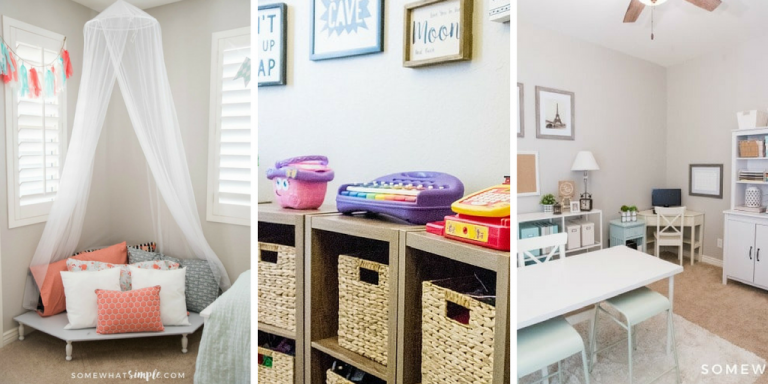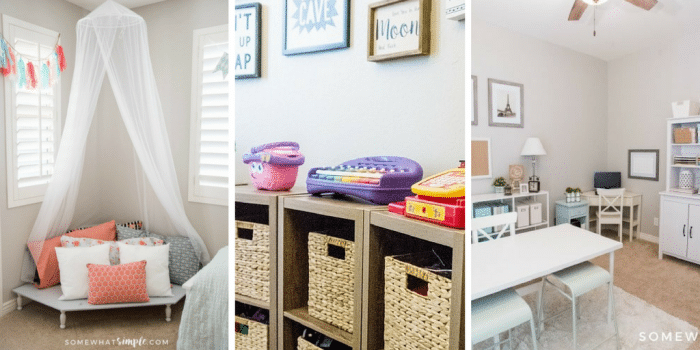 Tween Girl Bedroom // Playroom Under the Stairs // Home Office