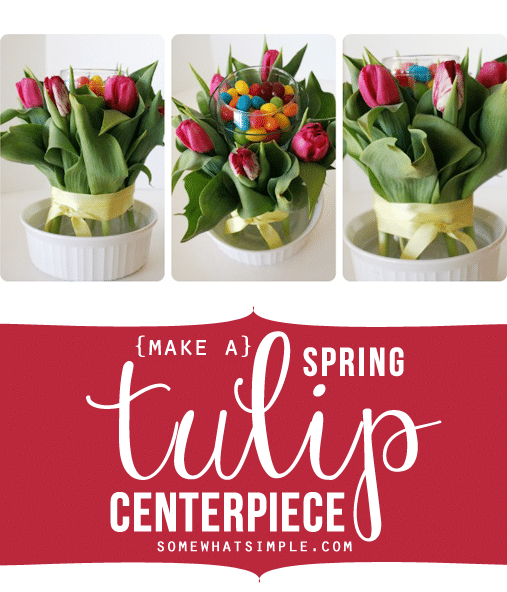 In high school my friends and I used to say:
If a guy gets your Carnations, it means he's cheap.

If he gets you roses, it means he is boring.

But if a guy gives you tulips, he's a keeper!"
I have always LOVED tulips! They are so bright and cheery, delicate and sweet!
To make this darling spring centerpiece, you will need some items that you probably already have laying around the house.
First, find 3 containers like these:
You will need a short dish, a taller vase that nests inside the dish, and a small vase that fits well inside the taller one.
Next, take your cut tulips and make sure the stems are all about the same length. (If you can't find any at your grocery store, check your florist- they may have an awesome variety of colors!)
Arrange the tulips around the vase and secure them with yarn. I then tied a pretty yellow ribbon around the vase a couple times to cover the yarn.
Then, assemble your vases.  Add some water to the bottom dish so the stems can drink and keep your tulips fresher longer and add some candy to the top dish.
Aren't the tulips so pretty!?
Seriously guys, {if there are any guys reading this!} your wife called- she wants tulips today, not roses. 🙂