This easy to make indoor herb garden is the perfect project to do with the kids. Add a touch of green to your kitchen and enjoy fresh herbs year round!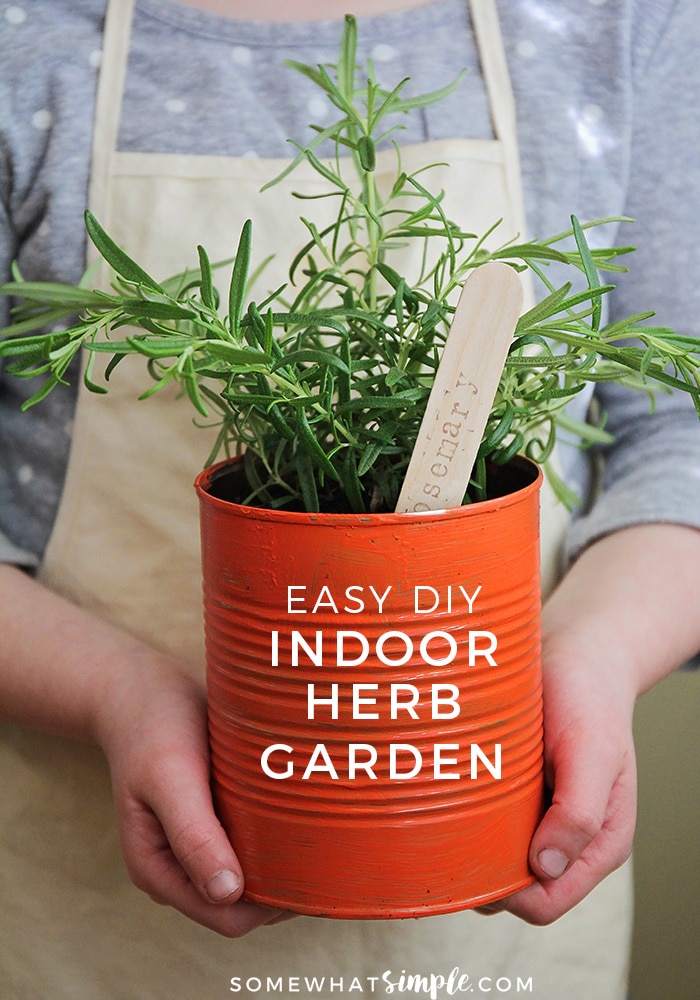 Who else grew up loving the Peter Rabbit books by Beatrix Potter? As a child, I owned a set of tiny Peter Rabbit books that I loved to read over and over. They fit right in my little hands, and I adored the illustrations and sweet little stories. When I was pregnant with my first child, some of the very first books I bought for the nursery were a new set of Peter Rabbit books. I've read them with my children many, many times. Even though they are a little dog-eared and tattered at this point, they are still some of our favorite books. Since we love Peter Rabbit so much, we were so excited to hear about the new PETER RABBIT movie, in theaters February 9. My kids can't wait to see their favorite mischievous rabbit in a new adventure on the big screen!
Easy DIY Indoor Herb Garden
To get excited about seeing Peter Rabbit in the theater, my daughter and I thought it would be fun to plant our own garden, just like Mr. McGregor's. Since it's still too cold to plant outside, we came up with the idea of an indoor herb garden. I use a lot of fresh herbs when I cook, and an indoor herb garden is the perfect way to brighten up our kitchen and make our meals tastier.
We started by carefully washing and drying some recycled cans, then painting them. I used an all-surface craft paint, and it adhered to the metal can nicely. We just did one coat of paint for a slightly rustic look. My six year old painted the can, then I did a few touch ups to make sure the paint was smooth and even.
While we waited for our cans to dry, we made labels for the herbs using craft sticks and alphabet stamps. I was able to find both of them at my local craft store, but you could easily print the names with a sharpie if you don't have alphabet stamps.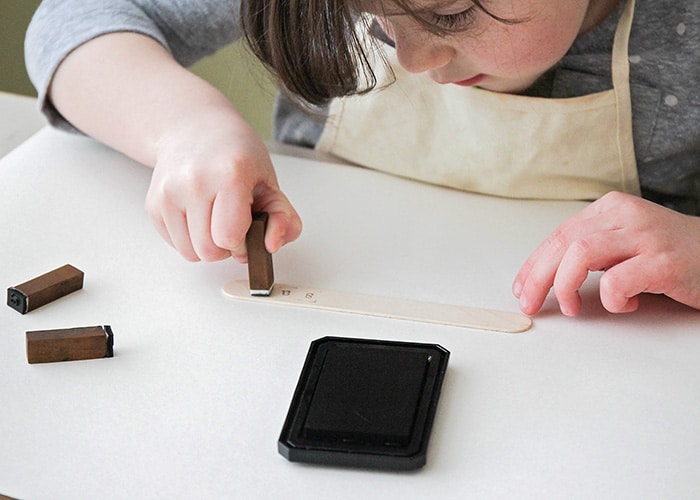 After the cans dried, I carefully punched some holes in the bottom of each can using an old-fashioned can opener (the kind with the pointed tip). You could also use a drill to make holes in the bottom, or punch holes with a hammer and nail. It's important to add drainage holes to prevent water from building up in the bottom of the cans and rotting the roots of the plants.
Next comes the fun and messy part: potting the herb plants!
We started by adding some potting soil to the bottom of each of our cans. My daughter loved breaking up the chunks of soil with her fingers.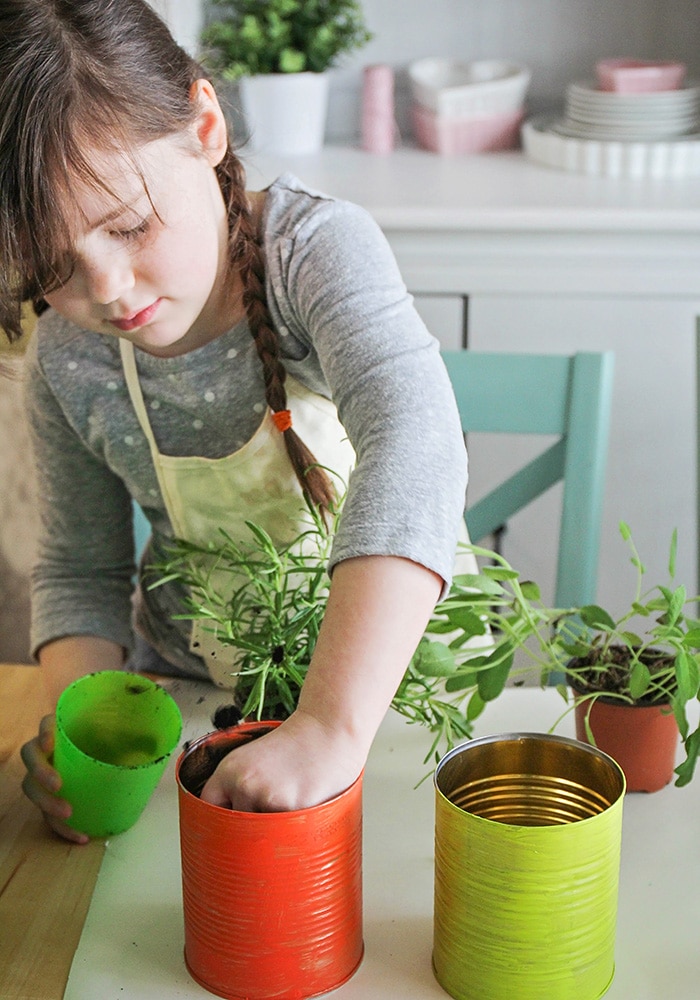 Next, we carefully added our herb plants to the cans. I found my herb plants at the grocery store, but they are usually available in hardware stores or big box stores as well. Be sure to be gentle with the delicate roots as you're pulling them from their containers and transplanting them into the cans.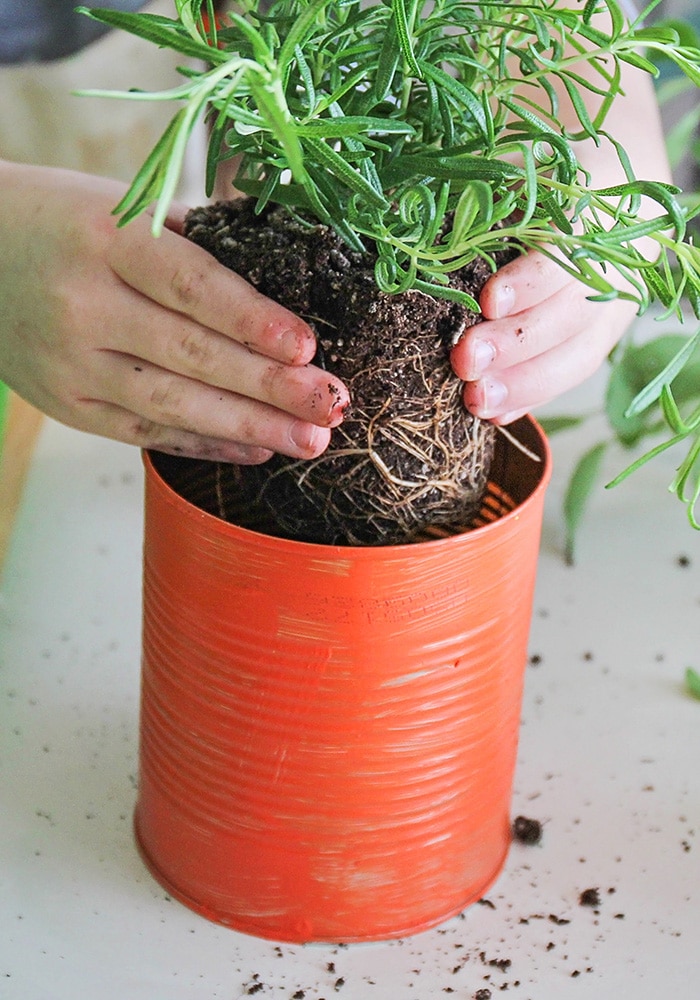 Finally, we packed some more potting soil around the plants to give them a nice cushy bed, then stuck in our labels. Our herb plants were pretty easy to tell apart, but the labels were a cute touch!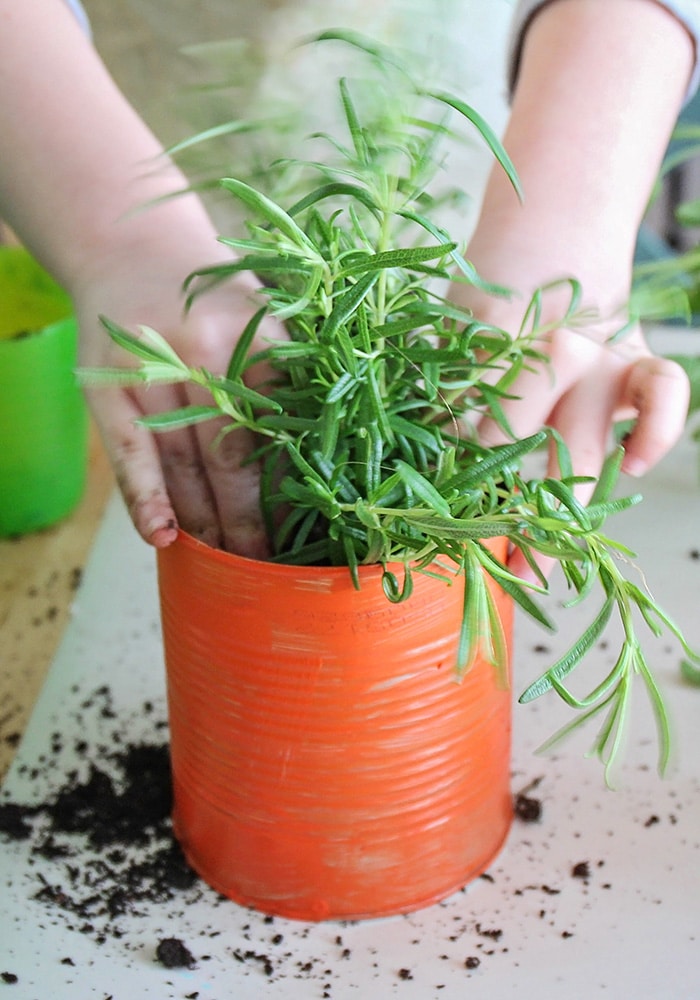 I put my plants in a wooden tray to make it easier to move them around if I need to, but I will be adding a plastic liner underneath them to catch any drainage when I water them.
HERB WATERING TIPS –
In the past, my herb plants have been pretty happy with watering once per week.
If they get droopy or wilt, it means they need to be watered
If their leaves start to turn yellow, you may be overwatering.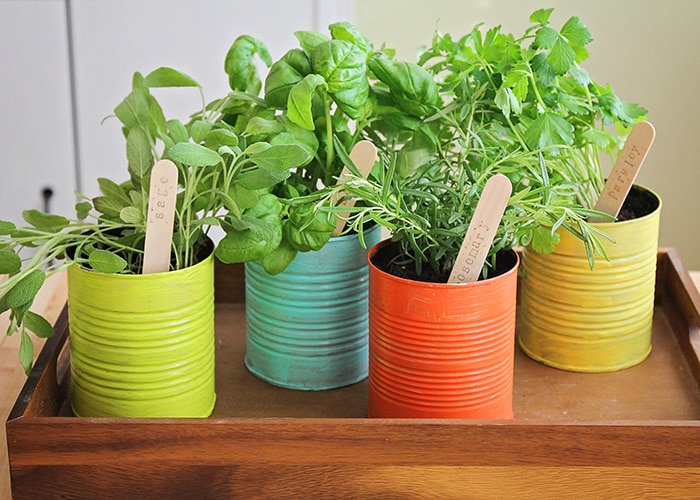 The finished herb garden turned out so adorable! I love the idea of having fresh herbs on hand, year round. This indoor herb garden is the perfect way to brighten up the kitchen, even in the middle of winter.
Indoor Herb Garden
Supplies needed –
recycled cans (I used 28 ounce tomato cans)
all-surface craft paint
foam brushes
old-fashioned can opener or drill (for making holes in the cans)
large craft sticks
alphabet stamps
stamp pad
live herb plants
potting soil
Directions –
Wash and dry the cans thoroughly. Paint the outside with craft paint and allow to dry completely. Using the can opener or drill, add drainage holes to the bottom of each can.
Using the alphabet stamps, stamp labels for each of the herb plants onto the large craft sticks.
Add potting soil to the bottom of each can, then carefully place the plants in the cans. Pack more potting soil around the plants to hold them in place. Add the label to the can to identify the herbs.
Water the herbs once per week (more often if they are drooping and/or wilting), and enjoy fresh herbs year round!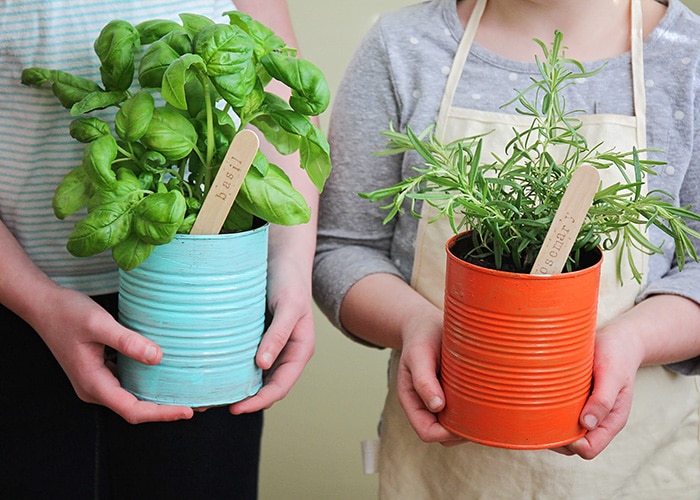 We don't need to worry about any mischievous rabbits raiding our indoor herb garden, but we're excited to watch all of Peter's adventures in the Peter Rabbit movie on February 9!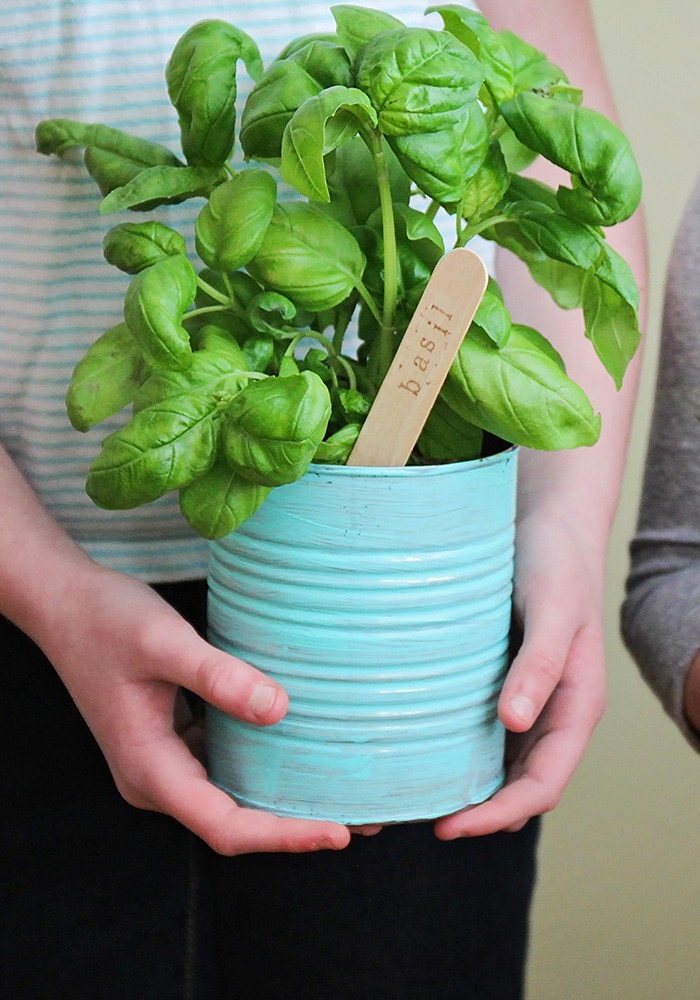 For more information about the Peter Rabbit movie, be sure to follow them on social media:
OFFICIAL SITE |FACEBOOK | PINTEREST | INSTAGRAM
This is a sponsored conversation written by me on behalf of the Peter Rabbit movie. The opinions and text are all mine.
Here are a few more posts we think you'll enjoy –
https://www.somewhatsimple.com/can-you-come-to-my-party/
https://www.somewhatsimple.com/silly-faces-pencil-holders/
https://www.somewhatsimple.com/craft-supply-organizer/