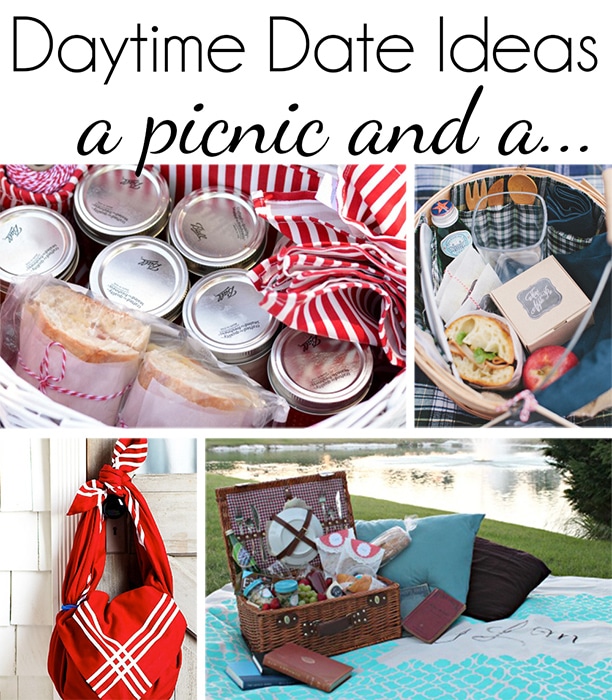 Hi there everyone, it's Anne from Circus Berry. It is "officially" summer for most of us, which means our schedules are probably packed full of things we want to do or have to do while the getting is good. Just because your schedule, or your kids' social calendar, is packed doesn't mean you can't enjoy the company of your significant other in the sunshine. The solution…what some friends of ours have dubbed…the DAYte. Put simply, it is the date that happens in the day time. That magical time of the day when the kids may still be in school, camp, daycare, at a friends…anywhere but home. And the best part? You don't need to pay for a baby sitter. At least that is the idea. Today I am sharing a roundup of some Daytime Date Ideas with the main feature being a sweet and simple picnic for just the two of you. All you need is a pretty location, your picnic basket, accompaniments, your partner, and half of an afternoon, sans children.
First you want to scope out your location. Think about what might be easy to get to so more time can be spent together. Some obvious favorites are the local park, the beach, or an open field. Then grab your basket. No basket? No worries. A tote, cooler, pails, or bucket will do the trick. You just need handles, really. I love these ideas for toting your picnic goodies–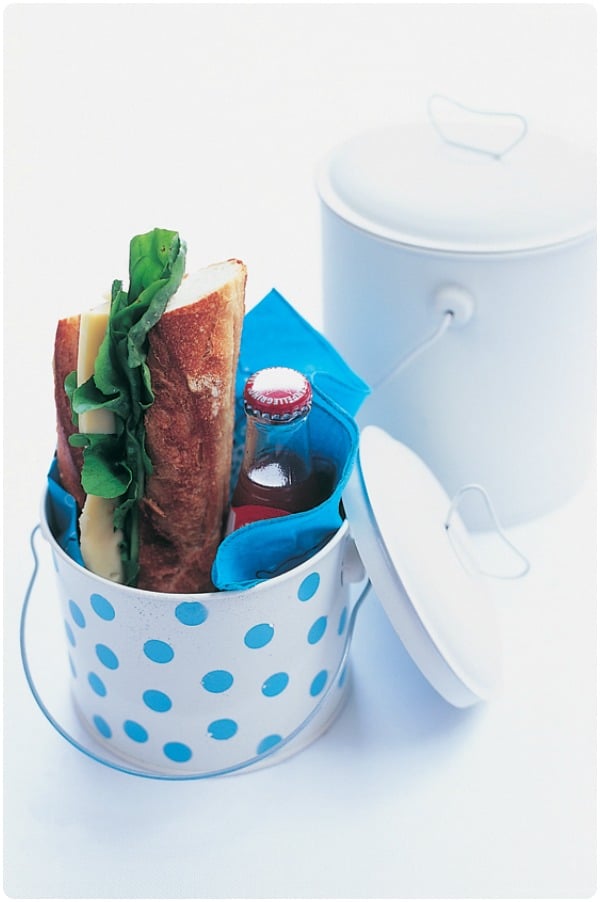 Picnic Pails via Donna Hay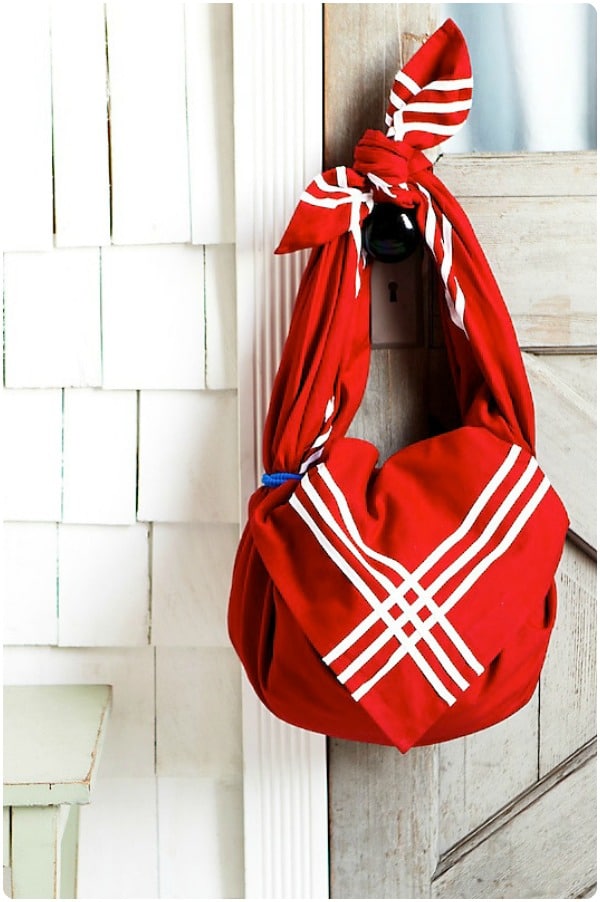 Tablecloth Tote via One Kings Lane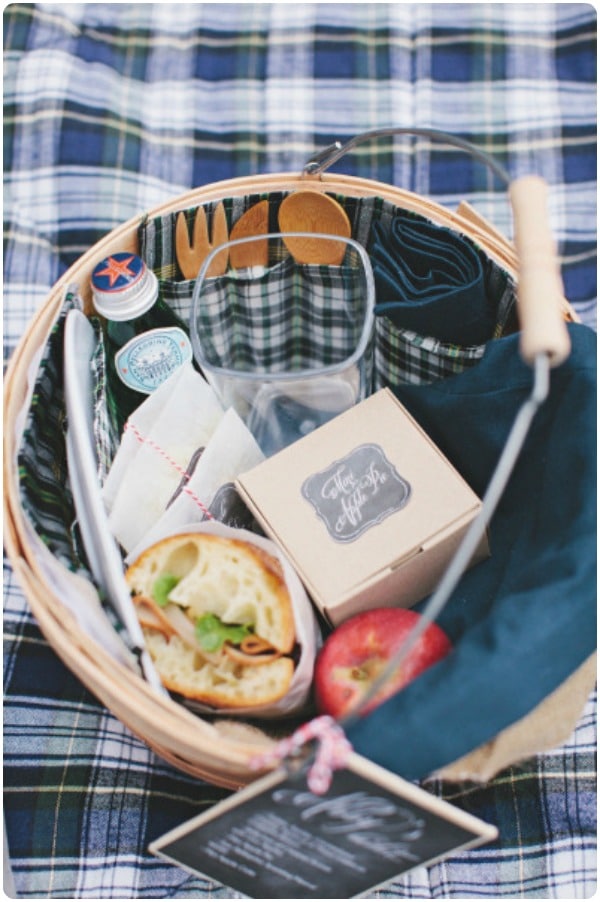 DIY Picnic Basket from an Apple Basket via Style Me Pretty
As far as the food for your picnic goes, there are lots of options. You can go as simple or as fancy as you would like, but how fantastic is packing your eats in mason jars? Individual servings, easy packing, easy clean up.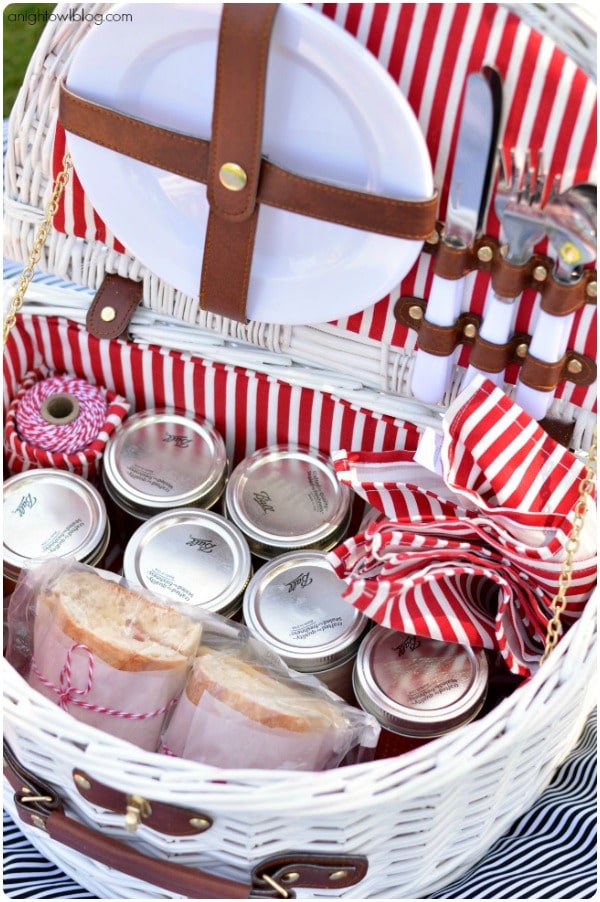 Picnic Ideas via A Night Owl Blog
If you are looking for some more inspiration for food you can put into your jars, check the 50 Different Foods you Can Put in a Jar by Under the Table & Dreaming. You will find every type of jarred food up there…desserts, drinks, and your main course! Drool worthy…
Don't forget t make your picnic setup as cozy as can be. A blanket, as well as some fluffy pillows, will do well to make you and your love comfy.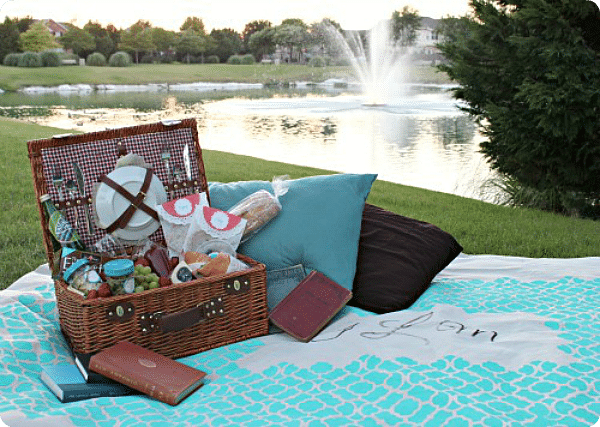 A Romantic Picnic Date via A Blissful Nest
Once the eating is done, here are some other things you can pair with your Picnic "Day"te:
Bring out a deck of cards, a frisbee, the baseball gloves, or any other totable game for some fun on site;
Go kayaking, canoeing, or boating (as long as it won't cause the two of you stress);
Go for a hike;
Visit a Farmer's Market and splurge on something you would't typically buy–fresh flowers, a loaf of artisan bread, a treat, or some produce that is new to you;
Visit a museum you may not have visited before;
Visit a garden, conservatory, the zoo, a nature reserve, or historical landmark…don't forget to bring your camera and snap some gorgeous shots of the sites (and each other);
Visit an antique shop;
Do a tasting at a brewery or winery;
Go to a chocolatier and sample the goods;
Act like kids–go to a fair, festival, amusement park or even a playground and go on a ride;
Find a beach, splash in the water and collect sea shells or pretty rocks–then display them in your home decor as a reminder of your romantic afternoon together;
Skip the dessert in the picnic basket and go for a fancy dessert in a favorite cafe.
I personally am having a hard time narrowing down the choices for our very own Daytime Date, complete with picnic. How about you? I think you should go ahead…take half of the day off (your partner has to do the same), gather the goods, meet up in your choice location, and let your DAYte begin. You both deserve it!