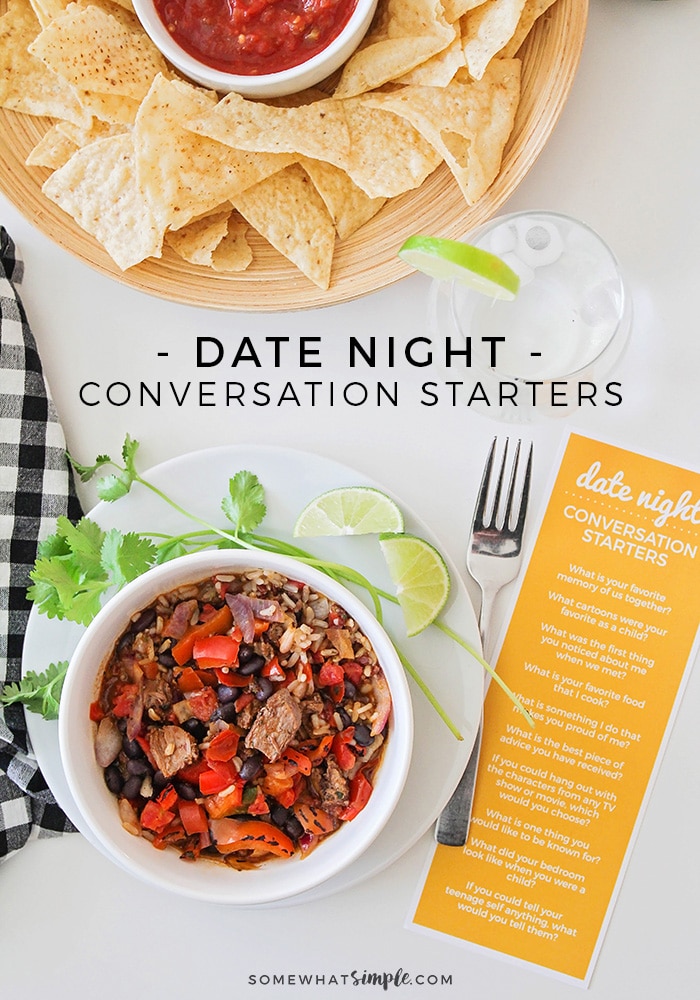 Enjoy a delicious dinner with some good conversation starters, and relax together at home with a simple date night in!
Date nights at home are kind of our jam. We love a good home pizza night, and having friends over for an adult game night is always so fun! But this dinner idea with a few conversation starters is so casual and relaxed, it is definitely one of our favorite ways to reconnect!
How to Plan the Perfect Date Night
The key to a successful date night at home is to keep everything simple! There's no need to arrange for a babysitter, no fighting traffic and no struggling to find parking at a busy restaurant. Simply dine on some delicious food and keep the conversation going with a few good conversation starters, and you are all set! My husband and I like to do our at home date nights after the kids are in bed to minimize interruptions and make it feel like our special time together. It's fun, relaxing, and stress-free!
Since Mexican food is our very favorite, we will usually make a delicious meal together or order take out. (My husband LOVES Chicken Enchiladas and Taco Bowls, so one of those is always his preference!) I like to add some chips and salsa, and ice water with fresh lime to round things out and in no time at all, we have a beautiful table set up for our date night in! Its just as fancy (and tasty) as eating out, but with way less effort! Who doesn't love an easy gourmet Mexican meal that you can make at home?!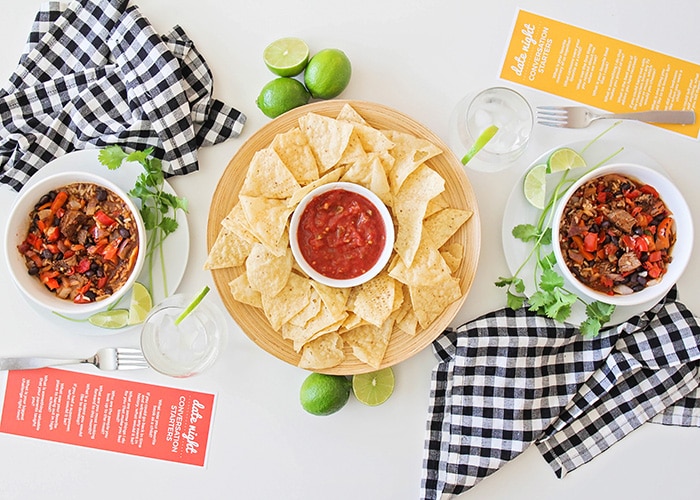 Date Night Conversation Starters
While you're enjoying your delicious dinner, use our Date Night Conversation Starters to add to the fun and simplicity of the night! Each list has ten questions to ask your spouse, and they are all great jumping off points for conversation. You can take turns asking each other questions, then switch lists for even more questions.
My husband and I have been married for over a decade, and I still learned lots of things about him that I didn't know previously just by asking these questions. (Like, who knew that he had a great love for purple sweatpants as a child?!?)
Conversation Starters Free Printable

A fun and relaxed date night at home is an awesome way to reconnect with your spouse, without all the stress of going out. Enjoying a delicious meal and laughing and talking together is a great way to build your relationship!