This Pizza Date Night is sponsored by Square Cash – an app we use and LOVE! Keep reading for details on how Square Cash makes it so easy to split the bill with friends on your next group date!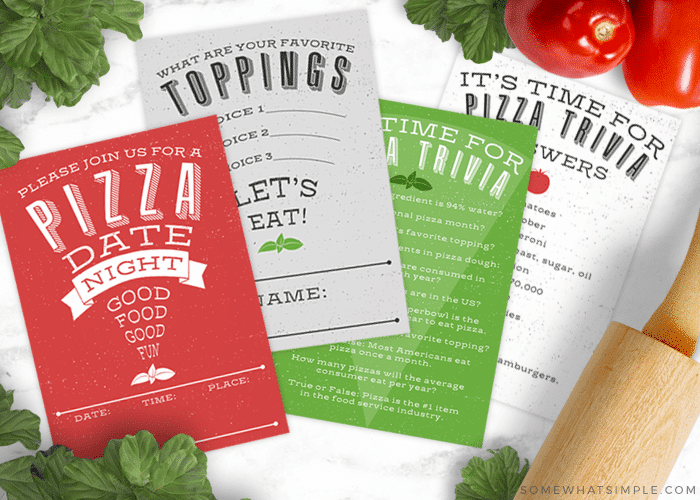 You deserve it. Take the kids to a sitter and have a fun and simple night in with friends! And it really doesn't take much work from you – simply print out our Pizza Date Night Printables (below), invite anyone that you'd like, and sit back and relax with your squad!
You can keep this Pizza Date Night simple and low-key, share the evening with friends, or opt for a night in with just the two of you!
Pizza Date Night Ideas
Low-key:
Fill out the invite, and deliver (or mail) to friends.
When guests arrive, have them fill out their favorite toppings page to figure out what pizzas you'll need to order.
While waiting for the pizza to arrive, fill out the pizza trivia page, play some other games, or start a movie.
Enjoy a simple, yet fun night in!
Step it up a notch:
Fill out the invite and send to friends.
Prepare pizza dough and toppings.
When guests arrive, enjoy a fun evening as you build your own pizzas.
While the pizzas are cooking, answer the pizza trivia questions.
Enjoy your pizzas while visiting with friends, or watching a movie.
Just the two of you:
Fill out the invite (i.e. Date: Tonight, Time: After the kids are asleep, Where: the living room) and place it, along with the favorite toppings page, somewhere your sweetheart will find it.
Once they fill it out, order the pizza before the 'date' starts, and get ready for a relaxing Pizza Date Night for just the two of you! Throw on a movie, or just talk about your day. And I strongly suggest jammies and slippers with this one. 😉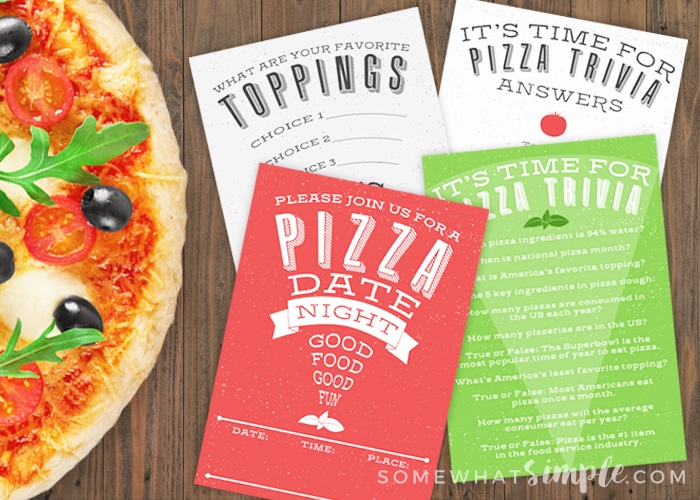 But wait.
What if you really can't fork over the cash to pay for pizza for everyone, or maybe you are looking to have one sitter for all the kids? That's gonna end up being quite an expensive evening, and we totally get it.  So we've teamed up with Square Cash for the perfect solution to this little dilemma!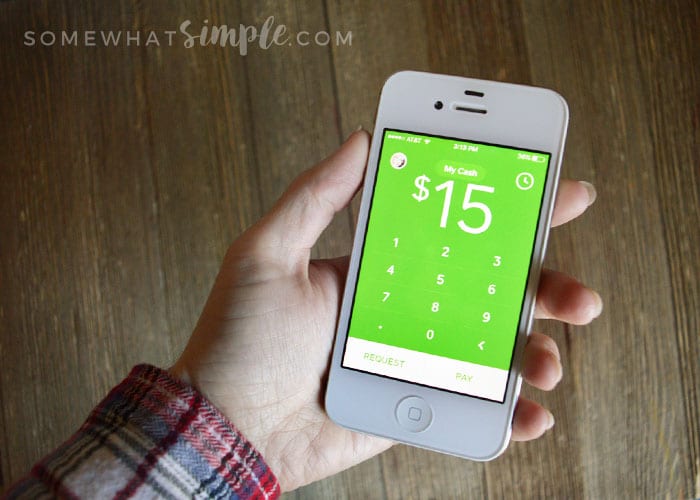 Square Cash is one of the best apps for paying back friends and family- simply type out a dollar amount and then press send! And if your BFF's want to pitch in for pizza, but aren't quite sure how much to pay you, you can simply send a dollar amount request. And what about paying the babysitter? It's as easy as texting.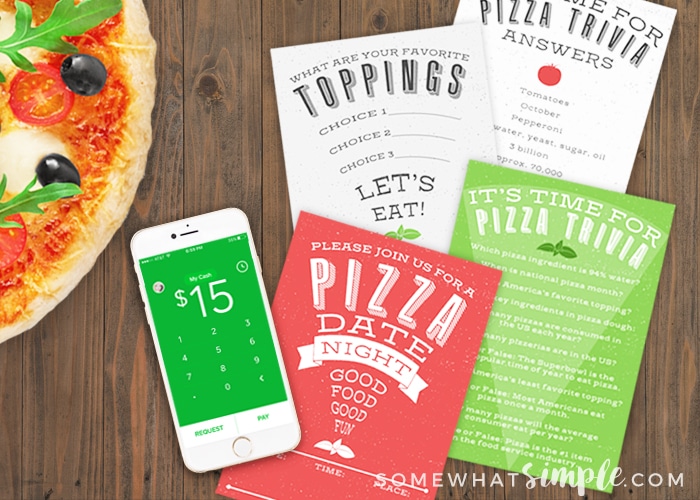 Downloading and setting up the app takes just a few minutes, but it will end up saving so much time! As someone who hates complicated things, this app is my jam!
Want to send some birthday money to your sister 5 states away? Type in the amount and hit pay. No filling out checks, no paying for postage, no worrying if it got lost in the mail, or if it will get to her on time. Even if she doesn't have  a Square Cash account.
We're all about simplicity over here, folks. 😉
Guys, this is definitely an app you need to try! Download the app from iTunes or Google Play and then start having fun with it! It's fast, easy, it's free, and it's also secure. And you won't be breaking the bank when you plan your next Pizza Date Night with friends!
This is a sponsored conversation written by me on behalf of Square, Inc. but the opinions and text are all mine.