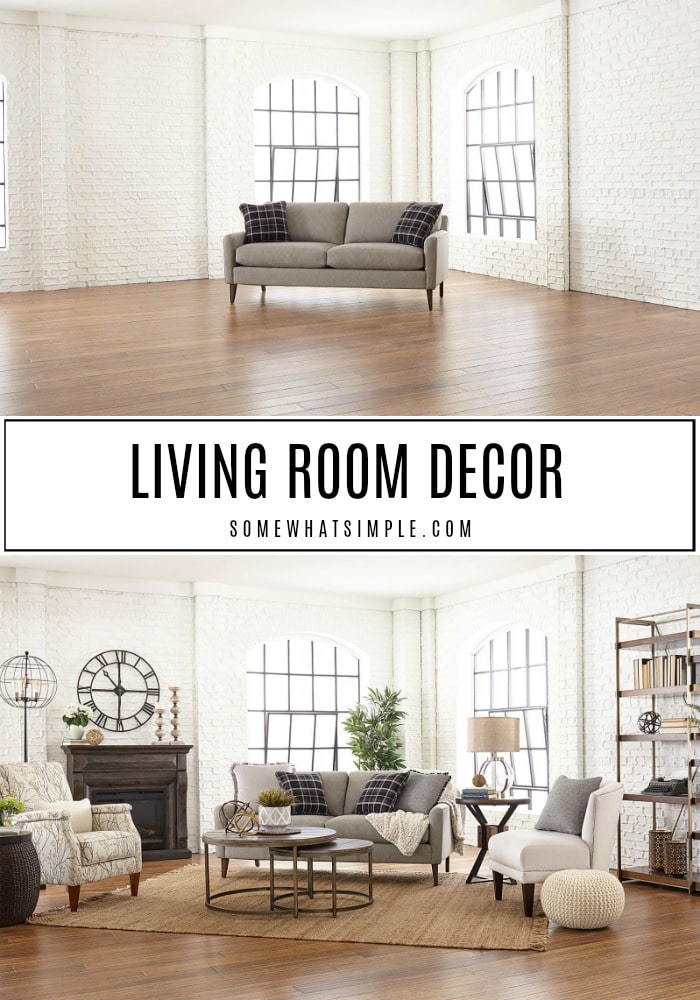 Simple, gorgeous living room decor and a friendly competition among bloggers! Take a look at the space I decorated for the La-Z-Boy Design Dash, plus enter to win $15,000 in furniture for your home!
This post is sponsored by La-Z-Boy. All opinions are 100% my own.

La-Z-Boy Design Dash
Several weeks ago, I was invited to attend the La-Z-Boy Design Dash in High Point, North Carolina. La-Z-Boy challenged me and 7 other bloggers to create the perfect room using one of their new Urban Attitudes sofas. We had only 30 minutes to collect additional pieces from the La-Z-Boy showroom and then we had to put it all together in just 4 hours!
I've had a few friends take part in this challenge over the years, and while it certainly looked a bit stressful and intimidating, it definitely seemed like a lot of fun. I mean, what's not to love about creating the living room of your dreams without a budget? (It's what dreams are made of!) And while I'm not one who usually finishes a room in a few days – let alone a few hours, I was thrilled to be invited!!
Design Dash, Day 1
On Day 1 of the dash, we shopped through two stories of a HUGE La-Z-Boy showroom. Each blogger had a cart and 50 colored tags with our names, plus two amazing staff members who were with us the whole time. We had 30 minutes to grab anything we could possibly need or want in our space, and if another blogger tagged and item before you did, you were out of luck!
I totally came prepared with a list of favorites from my local showroom, but even still, it was a mad dash to get it all and not have it stolen before someone else tagged it! I was able to grab most of the furniture pieces I loved, but I missed out on grabbing my favorite accent chairs and a few more throw pillows. All the ones I really wanted were snagged by other bloggers. (No worries. We are still friends!)
Design Dash, Day 2
The next day we were taken to a huge studio where they had a living room set assigned to everyone. The couches we designed were all ready and waiting for us, as well as every object we tagged the day before at the showroom. Literally every single set was gorgeous and totally unique! Some had amazing tall ceilings, others had gorgeous trims and cozy fireplaces – they were seriously amazing!
When I finally saw my room I was more than just a little scared. While other bloggers had warm paint colors for their walls that they selected before the dash, my room was wall to wall white brick – it looked like something you'd see in a New York high rise. It was an amazing space, don't get me wrong, but I started to worry about how I would be able to use my traditional/cozy style in such an urban-like setting.
Here's my room to start –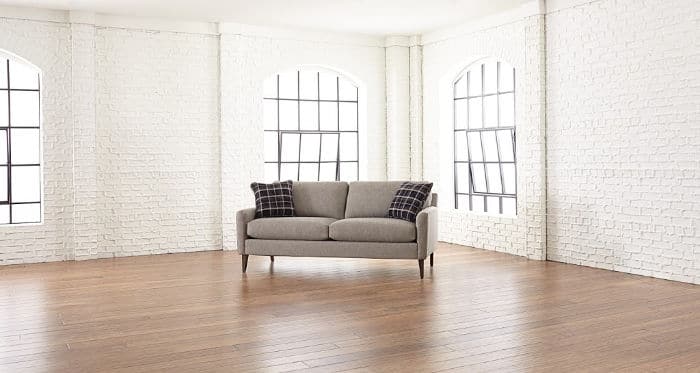 I took a deep breath and got to work and I immediately fell in LOVE with everything about this space. The furnishings from La-Z-Boy are so stinking versatile. It wasn't hard at all to make this space my own!
Here is the design I came up with –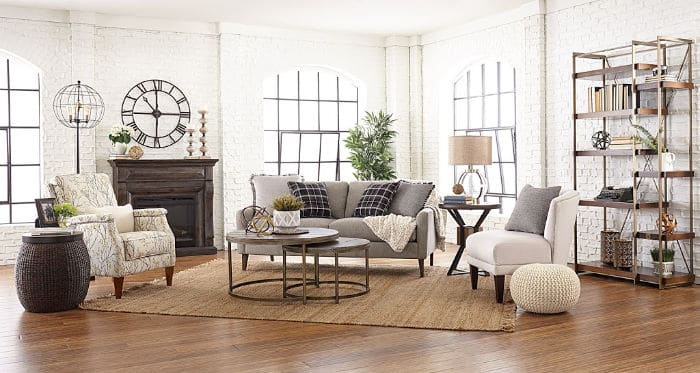 Do you love it? I LOVE it!!!!!!!
Living Room Decor
Just as I do in my home, I kept things very simple. I started with a neutral pallet and added color with plants and accessories. I love to bring in textures and dimension using a combination of woods and metals, so the overall feel is comfy, but elegant. And I'll be honest, I had no idea how much I would LOVE so many pieces of La-Z-Boy furniture! The coffee table, the industrial shelf, the clock on the wall – I would love to take everything I used in this space and drop it in the living room of my home – it would look perfect!
With the exception of the books and smaller items from the massive prop room that we had access to, all of the lamps and accessories are also from La-Z-Boy. Did you know they sell fireplaces? I didn't! But that gorgeous fireplace is from their showroom and it is seriously stunning! The beautiful pieces of furniture and all the fun accessories made the entire Design Dash so much fun and I'm thrilled to have been able to bring my personal style to life!
I simply adore my room!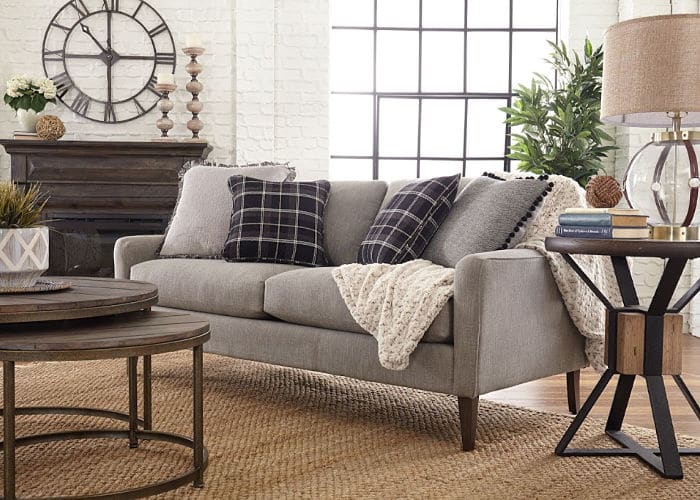 Design Dash Giveaway!!!!
Here's a fun video they created of me and my room –
Design Dash is a friendly competition among the bloggers, and I don't love begging for anything in life, especially votes for a competition! But if you are feeling generous, I'd love your vote for my room here.
AND HERE IS THE BEST PART –
If you vote, you will be entered to win $15,000 in La-Z-Boy furniture of your own!!!
(Seriously guys, how amazing would that be??)
Vote every day for the next 6 weeks – each vote is another entry!!!
I'd LOVE to see one of my readers win – I would seriously be so, so happy!
So vote for my room here and please let the winner be one of you!
Voting ends on December 16, 2018. See official rules here.
SHOP THIS LIVING ROOM DECOR
This entire process was one of my very favorite experiences I've ever had as a blogger. The La-Z-Boy team was so friendly, and the entire event was so well planned. It was such a great experience!
This post is sponsored by La-Z-Boy. All opinions are 100% my own.