Sponsored by Walmart and SheKnows Media.
The hottest deals on our favorite gifts for teens at Walmart.com
This holiday gift guide is in partnership with Walmart. I was given an exclusive sneak peek at Walmart's 2018 Black Friday deals and I will be compensated for my time in writing this post. All opinions are 100% my own.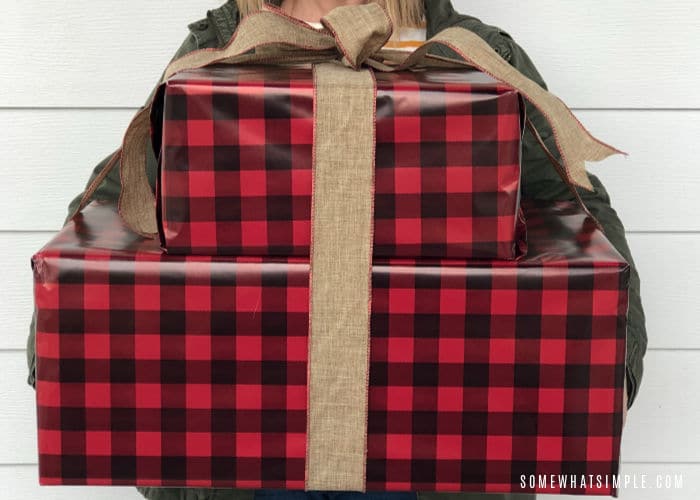 Walmart Black Friday
Christmas shopping for little kids is the easy part, right? But if you're struggling to find the perfect gifts for teens, I'm here to help. 😉
Last month I was invited to Bentonville, Arkansas for a sneak peek of the deals that Walmart is running this year for Black Friday. Today I'm sharing all the must-have gifts for teens that that you can find at Walmart and Walmart.com – all on sale at AMAZING PRICES for Black Friday! Take a look –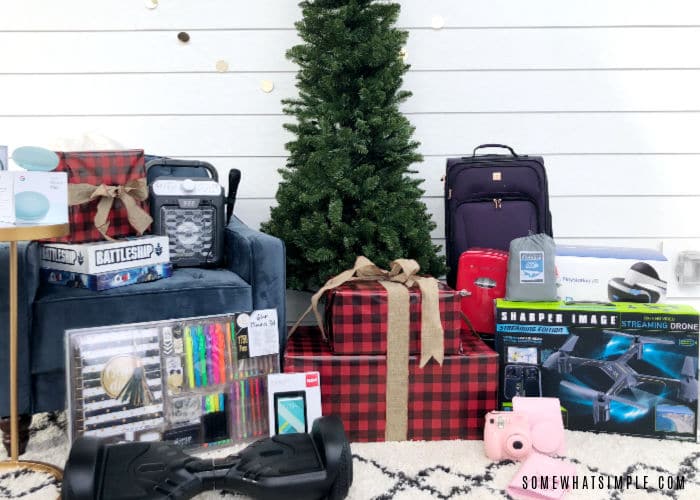 Top 10 Gifts for Teens
1. Google Home Mini || $25 – It's a gift for them that's really for you! 😉 We have one of these in each of our kids rooms, and it serves as the perfect home intercom. I'll say something like, "Hey Google, announce to the kids that dinner is ready and I need the table set." or "Hey Google, drop in on Ethan" and it then becomes a two-way speaker to chat with my 15 year old while he is in his room and I am in the kitchen. It's powered by the Google Assistant, so you can ask it questions, tell it to do things, play music and more!
2. Karaoke Singing Machine || $39 This Karaoke Machine will make for some fun nights at home with friends and family! And did you see that price?! This is an amazing deal!
3. Protégé 5-piece Luggage Set || $48 – Whether they are traveling with their friends on a school trip, or leaving the home as they go off to college, the Black Friday pricing on this luggage set makes this a must-have gift for teens! What I love most about this luggage set is that 3 of the 5 pieces are on rollers! Usually you get a big one or a little one and then an assortment of duffle bags that don't get used as much. This set is so much more practical!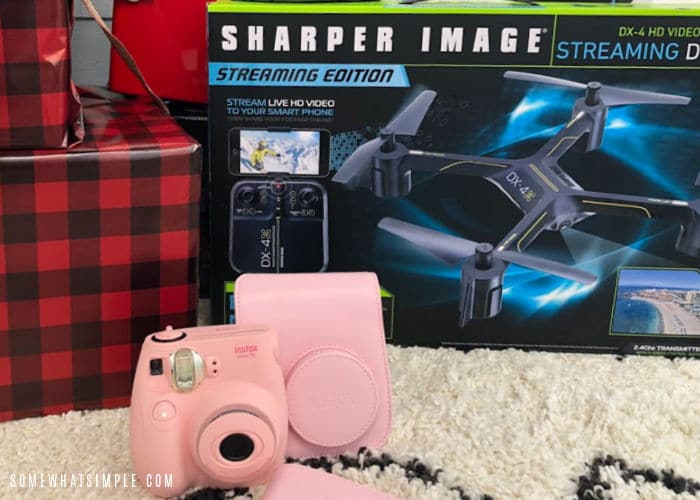 4. Fujifilm Instax Mini 7S Camera Bundle || $55 – One of my favorite gifts for teens! Last Christmas I gifted my daughter the camera and case and she uses them all the time. This Black Friday, Walmart has a fun bundle of the Instax Camera, complete with a carrying case, film, a photo album and photo embellishments!
5. Sharper Image Streaming Drone || $39 – This is the latest "it" gadget for guys of all ages! This Drone features a video camera with still shot photo capabilities and three-speed control.
6. Gaming Systems || $199 & up – Black Friday is the perfect time to invest in a new gaming system, controllers, and games for your family! With the lowest prices we see all year, pick up a new Sony Playstation 4 1TB Spider-Man Bundle, Xbox One S 1TB Minecraft Creators Bundle, or Nintendo Switch Bundle with all the must-have accessories!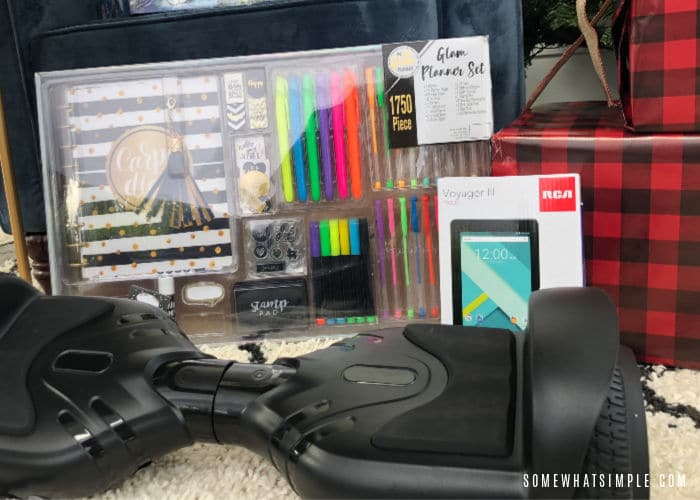 7. DIY Planner Kit || $15 – My daughter would LOVE this! Bullet journaling is a hot trend these days, and this set comes with everything she'll need to get started! A journal, pens, embellishments and more!
8. RCA Voyager III Tablet || $28 – Whether they use it for the camera, to play a favorite game, or if they are simply surfing the Web, the RCA tablet surely won't disappoint. The perfect gifts for teens at an amazing Black Friday price!
9. Hover-1 Liberty Hoverboard || $99 – This is another one of those gifts that I want to buy my son just so I can use it! 🙂 Hoverboards are all the rage right now, and rightfully so – they are SO.MUCH.FUN! I've wanted one of these for a while now (for my son, ahem.)
10. Retro Arcade Machine || $249 – Turn their space into a fun party zone! When I was designing my Teen Hangout in our loft, I wanted s few of these arcade games so bad! But I couldn't justify the price and I had no desire to carry the giant box up my stairs or spend all day assembling it. With these 6 different arcade games, you won't have to! Walmart literally thought of all those parents up all night on Christmas Eve assembling presents when they thought up this one – it could not be any easier to assemble! The PacMan game is a Walmart exclusive, so you won't find it anywhere else!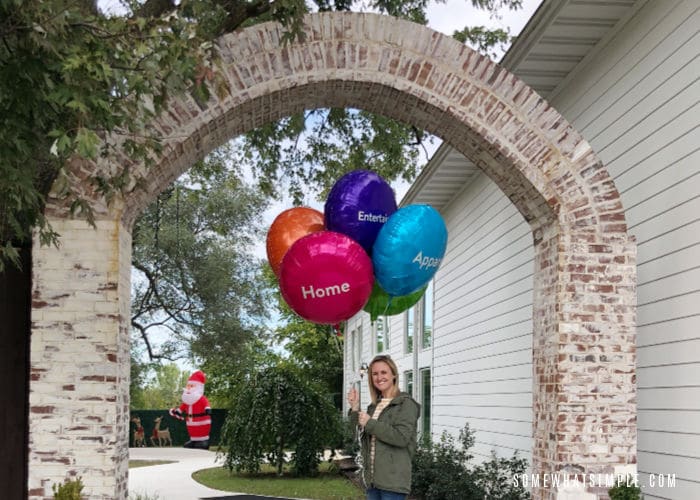 Shopping for Your Teens this Black Friday at Walmart has never been easier!
First – Get the Walmart App to easily find your Black Friday items in store.
Download and open the Walmart App
Click on Map Your Deals
Find the locations of your items
Second – Each department has been assigned a color to make Black Friday shopping easy-
Toys =

Green

Entertainment =

Purple

Home =

Pink

Apparel =

Blue

…etc!
Simply use your store's map to find all your go-to locations in a flash! Plus look for color-coded balloons when you arrive to help spot department locations and easily navigate your way through the store.
Finally – Check Out With Me is a handheld mobile register that allows associates to check customers out anywhere in the store.
Associates will wear color-coded vests and will assist customers and provide on the spot checkout service.

For example, if an associate is in the Entertainment area, the associate will wear the designated purple vest along with a lightweight Checkout with Me yellow sash and device carrier to keep them hands free.
Black Friday begins in store at 6pm on Thursday, November 22nd, except where prohibited by law. Check your local store for hours.
You can shop even earlier on Walmart.com
Happy Shopping!
Cheers!