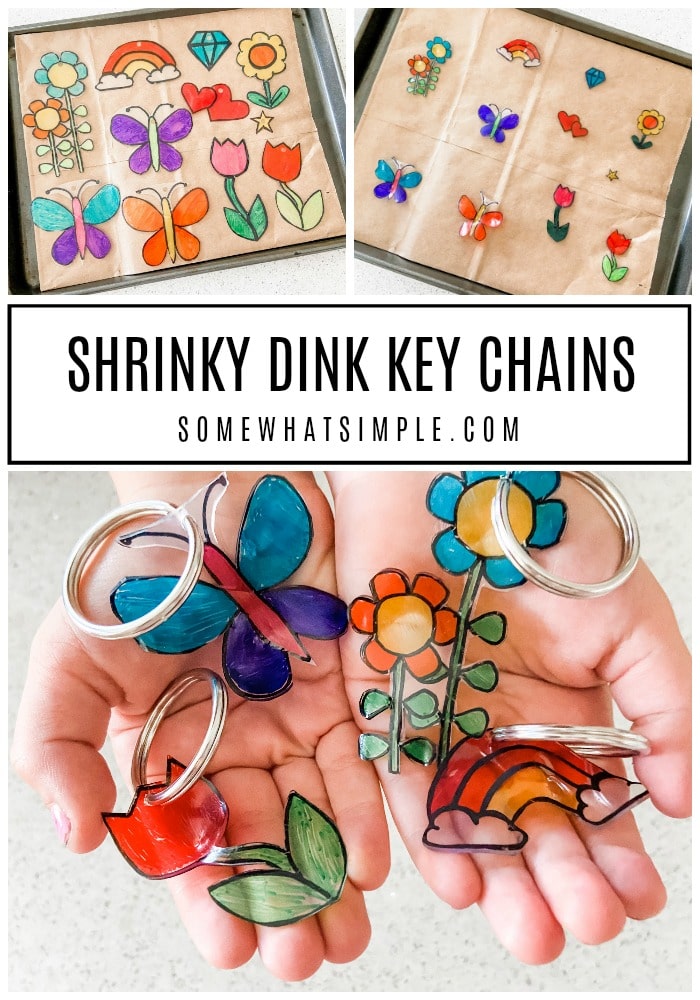 Our Shrinky Dink Key Chains are in partnership with Michaels. All opinions are 100% our own.
Grab the kids and get ready for an afternoon of creative fun! Shrinky Dink Key Chains are a simple craft that kids (and adults!) love to make!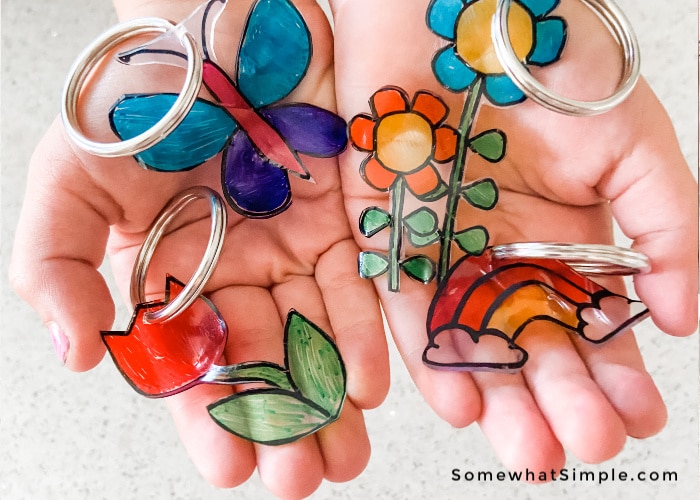 Do you guys remember making Shrinky Dinks as a kid? These little crafts start with a simple sheet of plastic paper that "magically" shrinks up and hardens in the oven, resulting in cute pocket-sized treasures!
In an effort to bring some "magic" into my home while we practice social distancing, the kids and I spent the day making our own Shrinky Dink Key chains. This project was simple, fun, and virtually mess-free! Each key chain takes just a few minutes from start to finish, but my kids made batch after batch and were kept busy for the better part of the afternoon!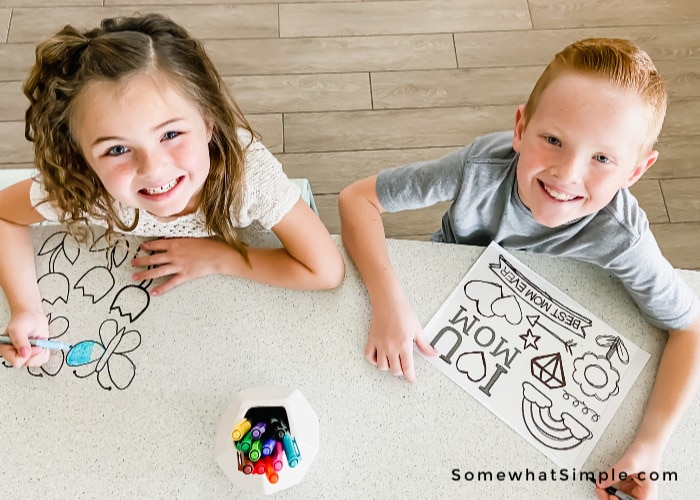 Being at home during the day has me and the kids itching for creative projects and crafty ideas, and it looks like we aren't the only ones! New data uncovered by Michaels reveals that nearly 138 million Americans have looked to a creative project to stay busy right now!
If you find yourself wanting to make projects with your kids but you don't have all the materials you need, Michaels has you covered!! Available every day until 6 p.m., you can place an order online at Michaels.com and get all your supplies delivered that same day, or you can pick up your supplies curbside at your local Michaels store.
Contactless same-day delivery is available on orders placed before 1 p.m. and to delivery locations within 10 miles of a Michaels store. Delivery costs $14.99 for orders less than $100 and $7.99 for orders $100 or higher. Curbside pickup is FREE! Here's how it works –
Place your order online.
When your order is ready for pickup, you will receive an email with the store's phone number.
When you arrive and park your car, call the store number, press 3, and provide your name and order number.
A nice Michaels employee will bring everything out to you, ensuring a contactless pickup experience!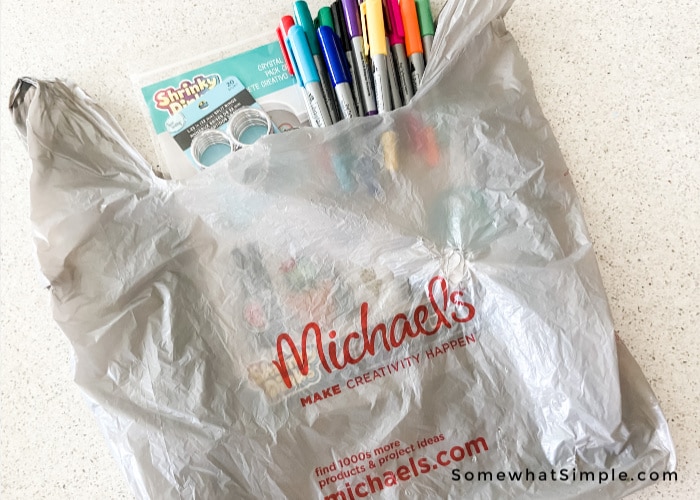 How to Make Shrinky Dink Key Chains
I love browsing Michaels.com for craft ideas, and I was so excited to find that they sold Shrinky Dink paper online, along with everything else I needed to make Shrinky Dink Key Chains with the kids! Here is how we did it –
MATERIALS NEEDED –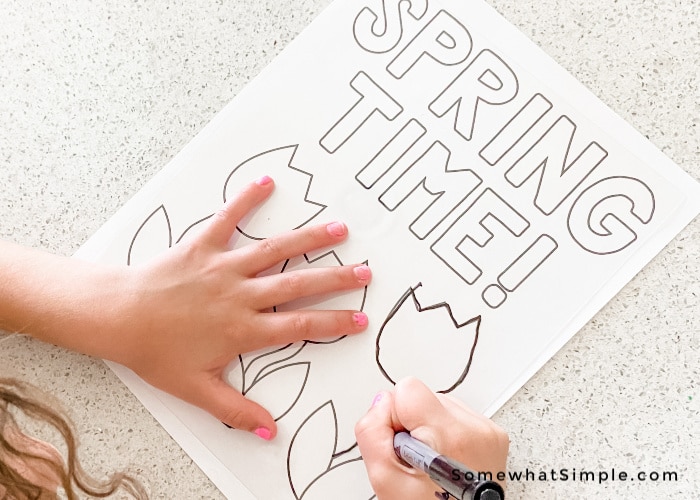 1. Begin by outlining the desired shape onto Shrinky Dink paper with a black permanent marker.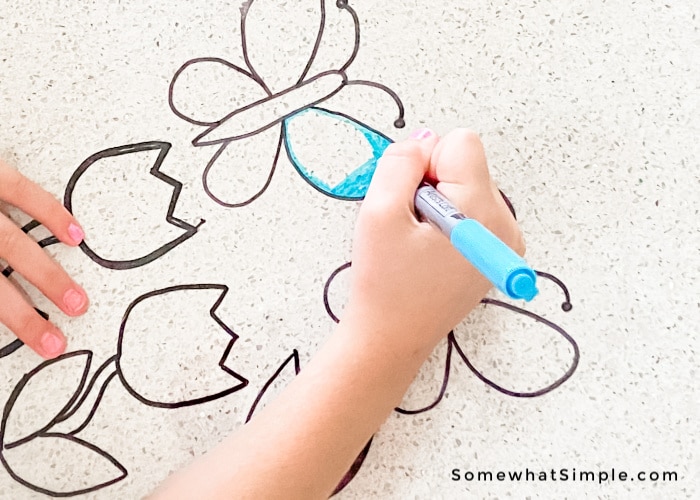 2. Flip the paper over and use colored permanent markers to color inside the design.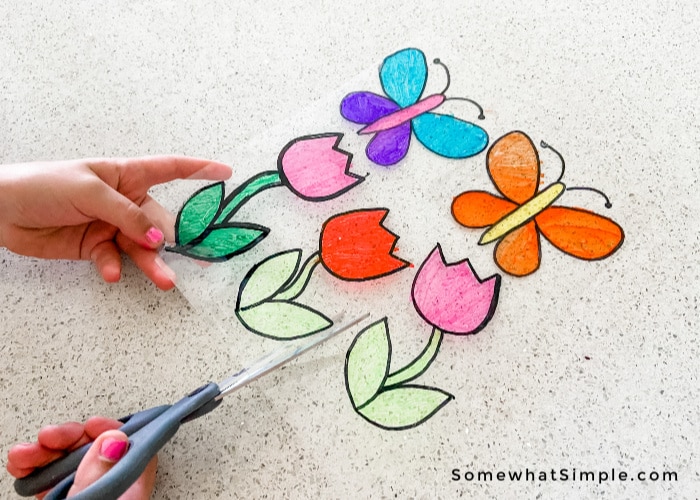 3. Cut out your creation.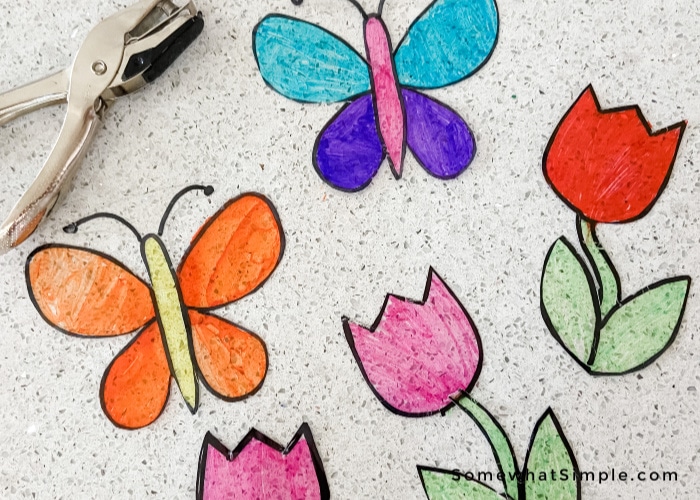 4. Punch a hole where the key chain ring will go.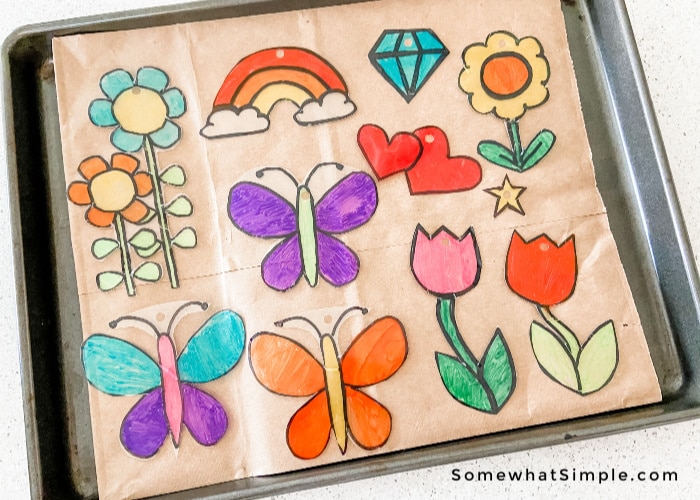 5. Line your baking sheet with a brown paper bag, then lay your creations on top of the paper bag with the colored side facing up.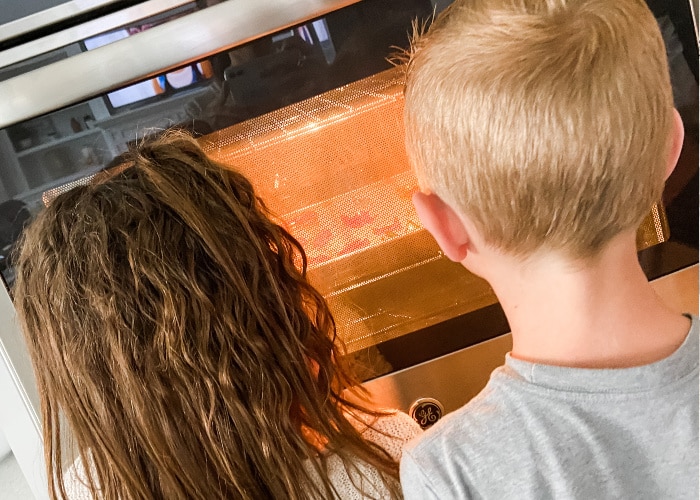 6. With your oven set to 325°, insert your baking sheet of creations for 1-3 minutes, or until your designs have curled up and flatten thenselves for at least 30 seconds. We were a bit too quick with our first batch and didn't wait long enough for them to lay flat in the oven so some of our designs dried kind of curly.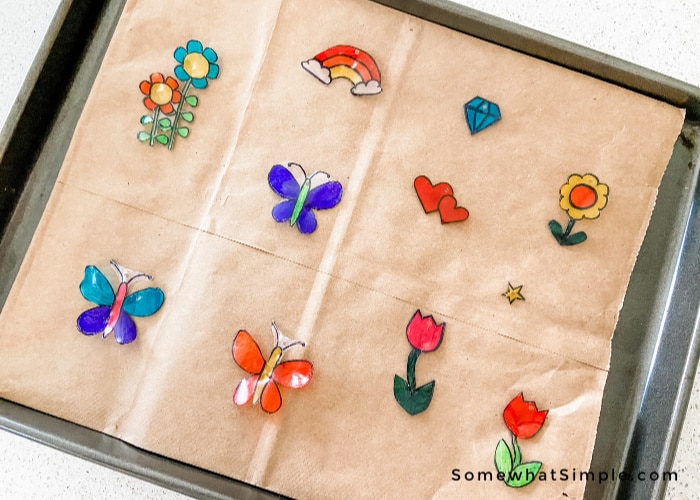 7. Remove from the oven and let them cool for 10-15 seconds.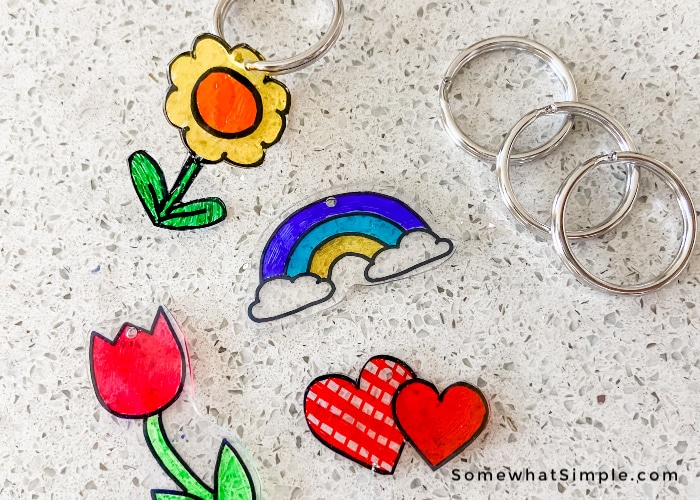 8. Once your creations have cooled, add a key chain ring.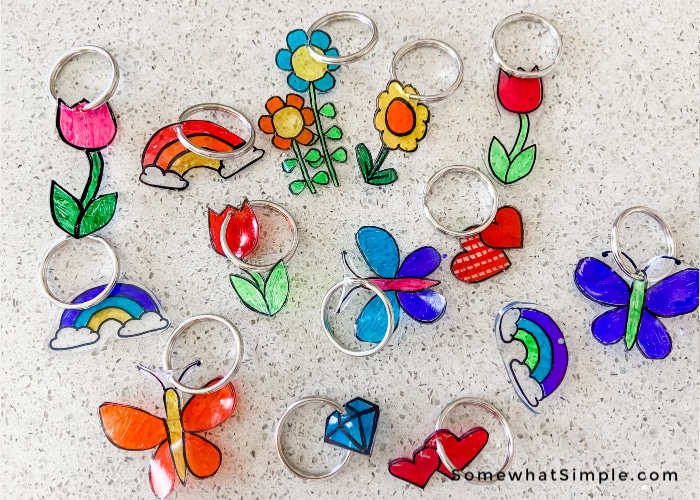 And that's it! So simple, and SO FUN!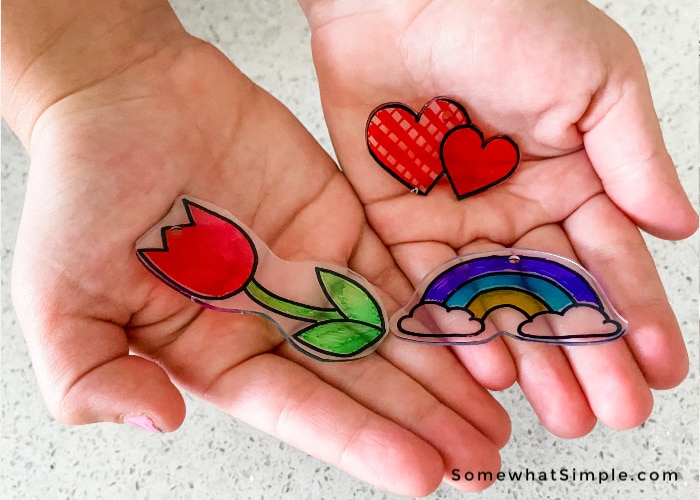 These keychains would make great gifts for Mother's Day or Father's Day too!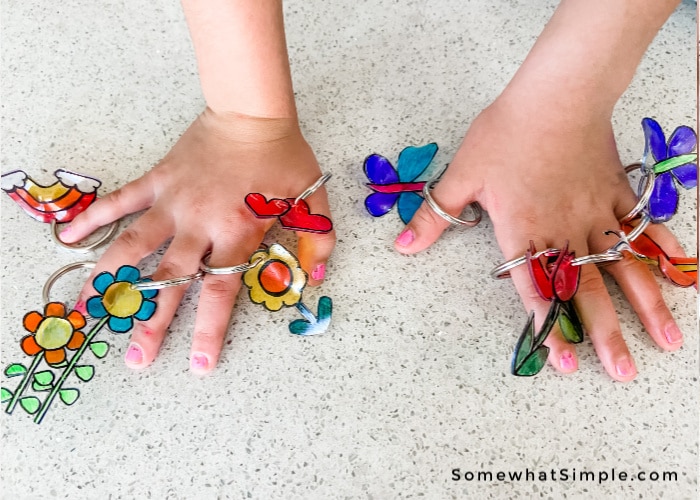 My 6- year old wanted one for every finger. (Maybe we'll make her some jewelry tomorrow!)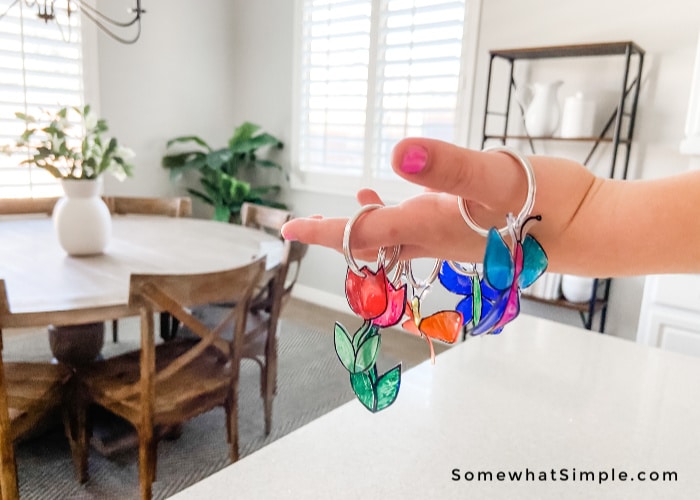 Michael's new Same Day Delivery and Curbside PickUp sure make crafting easy and accessible!
Give it a try and let me know how you like it!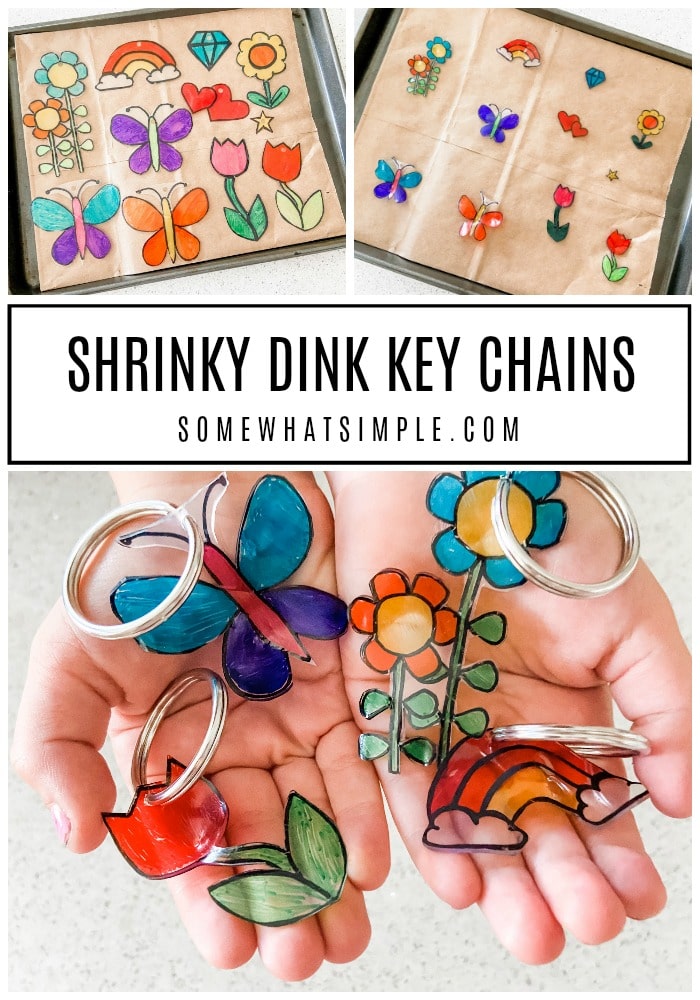 This post is in partnership with Michaels. All opinions are 100% my own.