These black and white brownie cookies are bursting with chocolate flavor and so rich and decadent.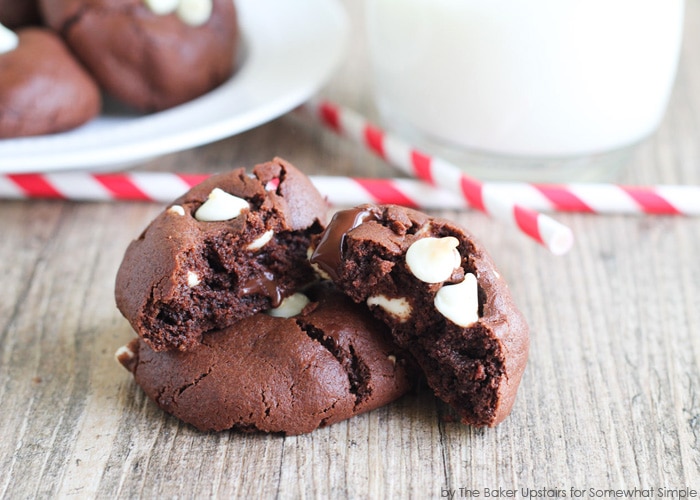 When I'm having a rough day, the one thing that can pretty much always get me out of my funk is chocolate, and the more the better! I made these delicious brownie cookies last week after a particularly rough day in which my four year old colored all over her bed with markers. I sent the four year old to her room (without markers!) and sat down in the kitchen to eat a cookie by myself. It was almost like a mini vacation!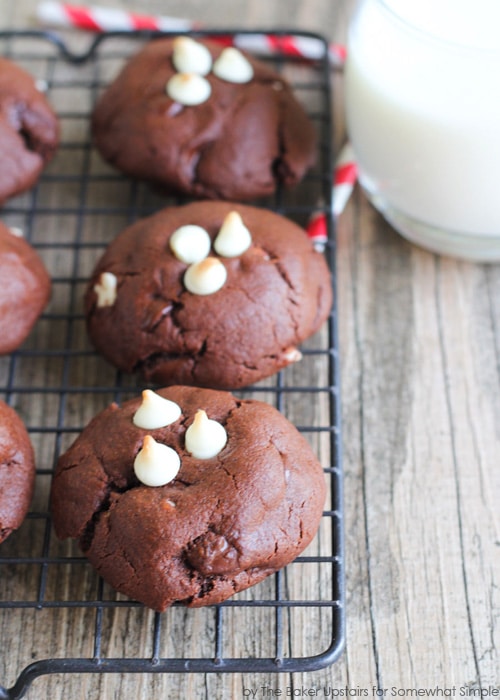 These cookies have a rich and buttery dark chocolate base , and are filled with white chocolate and dark chocolate chips. The dough is so thick that the cookies stay domed after baking, which means the inside is warm and soft and the outside is just slightly crisp. I definitely recommend using good quality chocolate chips so their flavor can really shine. I used Ghirardelli 60% cacao chips, and they were deliciously gooey and perfect in these cookies.
Black and White Brownie Cookies
INGREDIENTS:
8 tablespoons butter, softened
3/4 cup sugar
1 large egg
1 teaspoon vanilla
1 cup flour
1/2 cup cocoa powder
1/4 teaspoon salt
1 teaspoon baking powder
1/2 teaspoon baking soda
1 teaspoon cream of tartar
3/4 cup white chocolate chips
3/4 cup dark chocolate chips
DIRECTIONS:
Preheat the oven to 350. Line two baking sheets with parchment paper or spray with cooking spray.
In a large bowl or the bowl of a stand mixer, cream together the butter and sugar until light and fluffy. Add the egg and vanilla and mix well to combine. In a medium bowl, whisk together the flour, cocoa powder, salt, baking powder, baking soda, and cream of tartar. Add the dry ingredients to the wet ingredients and mix to combine. Fold in the white and dark chocolate chips.
Roll the dough into one inch balls and place 1 1/2 – 2 inches apart on the baking sheet. Sprinkle each ball of dough with a few extra white chocolate chips. Bake 8 minutes, then remove and let cool on the baking sheet for 10 minutes before removing to a cooling rack. These cookies are my favorite when they are still a little warm and the chocolate chips are slightly melted. Enjoy!