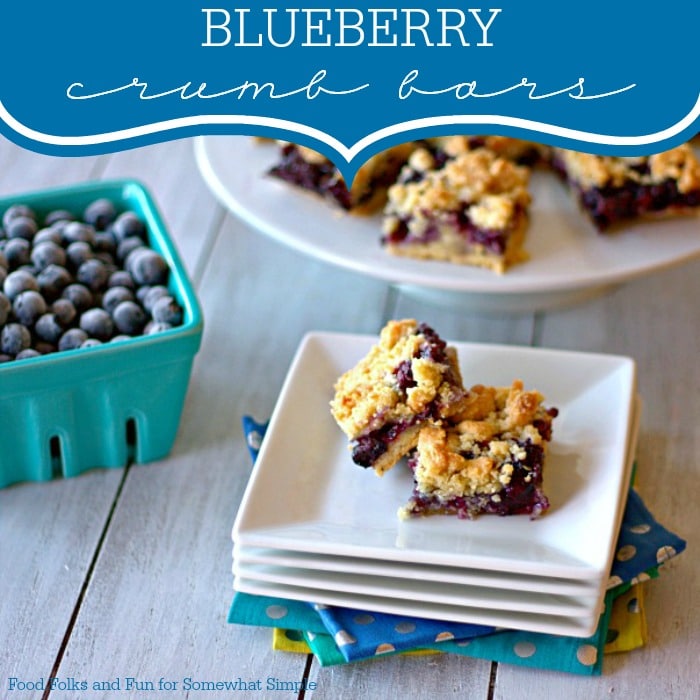 I love adding blueberries to my pancakes, on top of my cereal and yogurt, but I especially love them in baked goods. This recipe for Blueberry Crumb Bars is something I make at least once every blueberry season. This recipe is quick & easy to throw together and it is a great recipe to get your kiddos involved. My little one loved helping me press the crust into the pan and crumble the topping over the blueberries.
Blueberry Crumb Bars
INGREDIENTS:
For the Crust & Crumble Topping
1 cup granulated sugar
1 teaspoon baking powder
3 cups all-purpose flour
1 cup cold butter (cut into 16 pieces)
1 Large egg
1/4 teaspoon table salt
1 tablespoon grated fresh ginger
1 Large lemon (zested and juiced, separated)
For the Blueberry Filling
4 cups fresh blueberries
1/2 cup granulated sugar
1 1/2 teaspoon cornstarch
Cook's Notes:
While this recipe uses fresh blueberries, you could use frozen ones as well. Do not thaw the berries, just increase the cooking time by 5-10 minutes.
Bars can be kept in an air-tight container at room temperature for up to 3 days, or in the refrigerator for up to 6 days. But trust me, they won't last that long.
DIRECTIONS:   
Adjust rack to middle position and heat oven to 375 degrees F. Line 9 x 13-inch baking pan with aluminum foil, leaving overhang on all sides. Lightly spray foil with non-stick cooking spray (this will help immensely when it comes time to cut the bars).

For the Crust & Crumble Topping Dough:

In the bowl of a stand mixer, add 1 cup sugar, 3 cups flour, and baking powder; and give it a few pulses on low to combine. Stir in salt, grated ginger, and lemon zest. Add the butter and egg and mix on medium-low speed until the butter is well cut in and the dough resembles crumbly sand. Pat half of dough into the prepared pan.

For the Blueberry Filling:

In a small bowl, stir together the ½ cup of sugar, cornstarch and lemon juice. Gingerly fold in the blueberries. Distribute the blueberry mixture evenly over the crust.

To Finish:

Crumble remaining dough over the berries. Bake for 45-55 minutes, or until top is golden brown. Cool completely, about 2 hours. Then lift the bars out of the pan using the foil overhang and cut into squares (I cut mine into 18 squares/rectangles).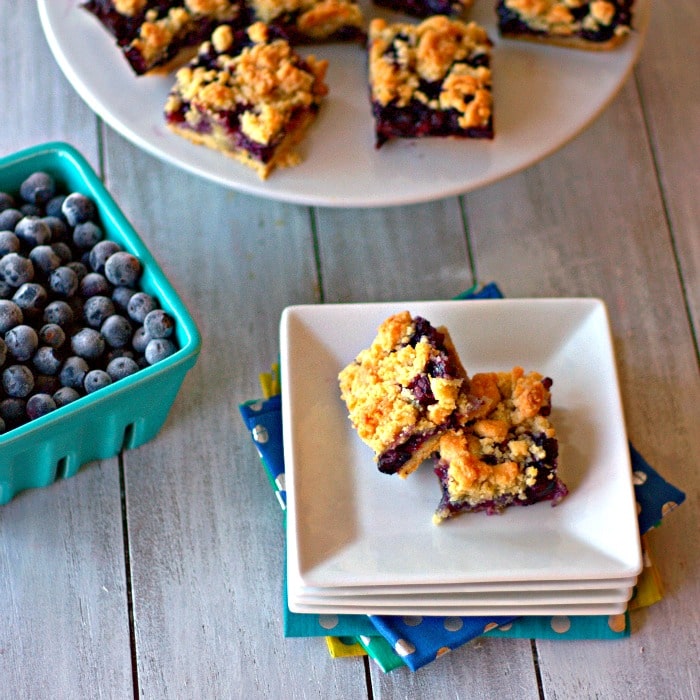 These bars would be great for summer picnics, potlucks, and celebrations- ENJOY!!
. . . . .
ABOUT THE AUTHOR: Jillian is the creative author of the site Food, Folks and Fun. She spent 2014-2015 contributing to Somewhat Simple as part of our creative team.