Chocolate Covered Strawberry Heart Pops are festive and delicious, and easy to make for the people you love!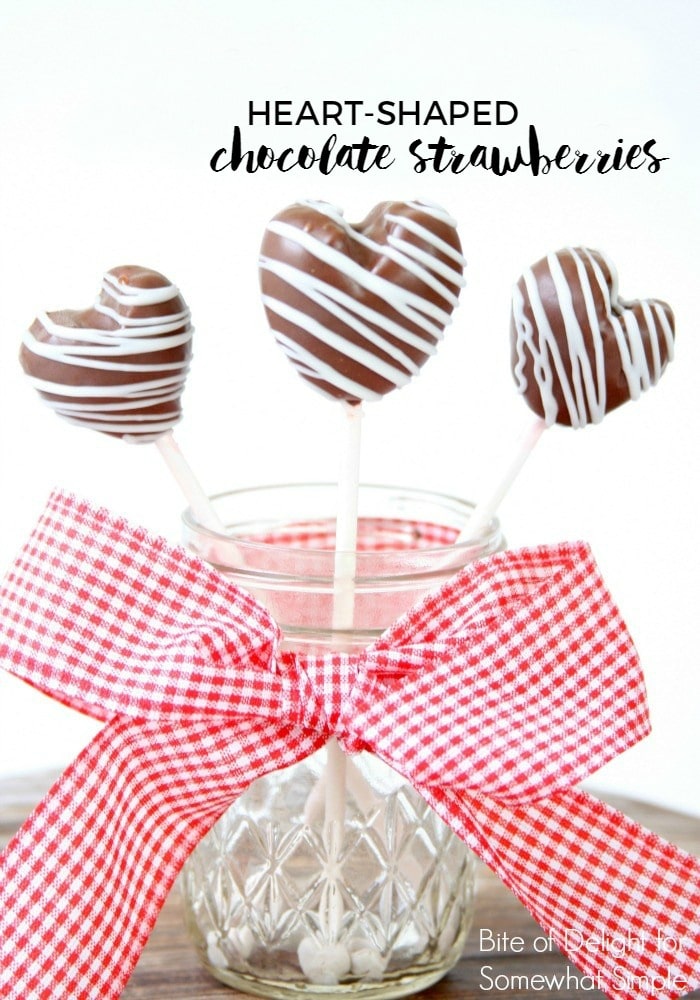 Chocolate Covered Strawberry Heart Pops are the perfect way to show someone you're thinking of them!  Everyone loves chocolate covered strawberries, but I've upped the ante for Valentine's Day by shaping the strawberries into hearts and putting them on a stick!  Not only are they adorable, but they're delicious too.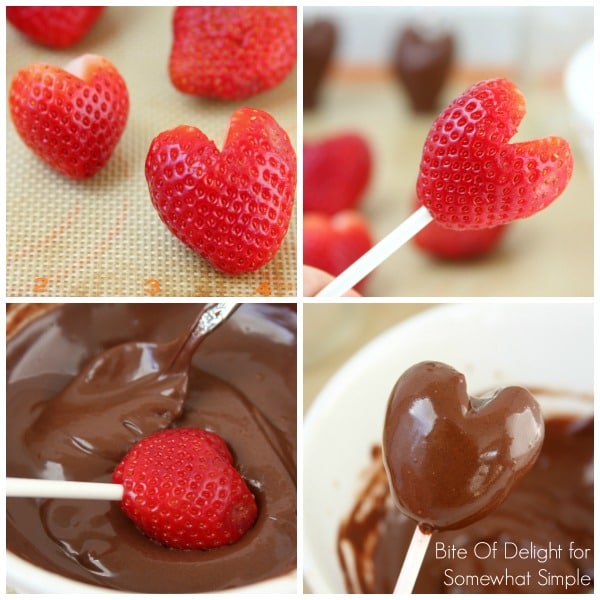 No special equipment is necessary, simply use a paring knife to trim the top of the strawberry into a heart shape, slip a lollipop stick into the bottom of the strawberry, and dip it into melted chocolate!  Easy peasy.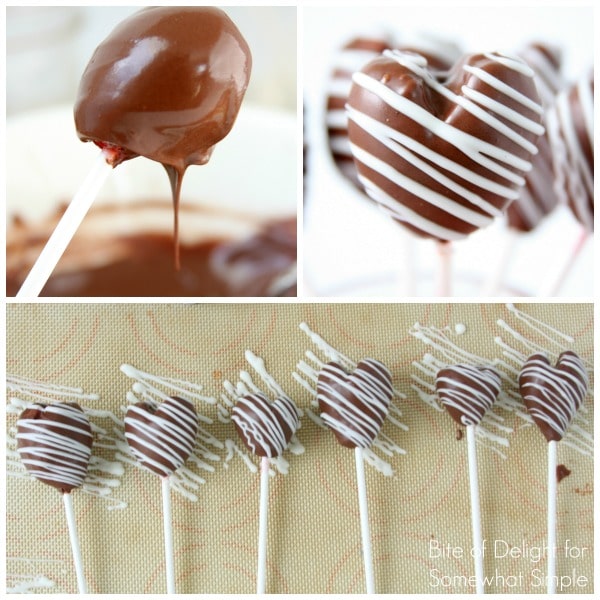 Be sure to remove any chocolate drips and smooth out the chocolate by tapping it while you slowly turn the berry.  Once the chocolate has hardened (I like to stand them up in a pint sized jar so the back isn't flat), drizzle them with some white chocolate and they are ready to share with the people you love!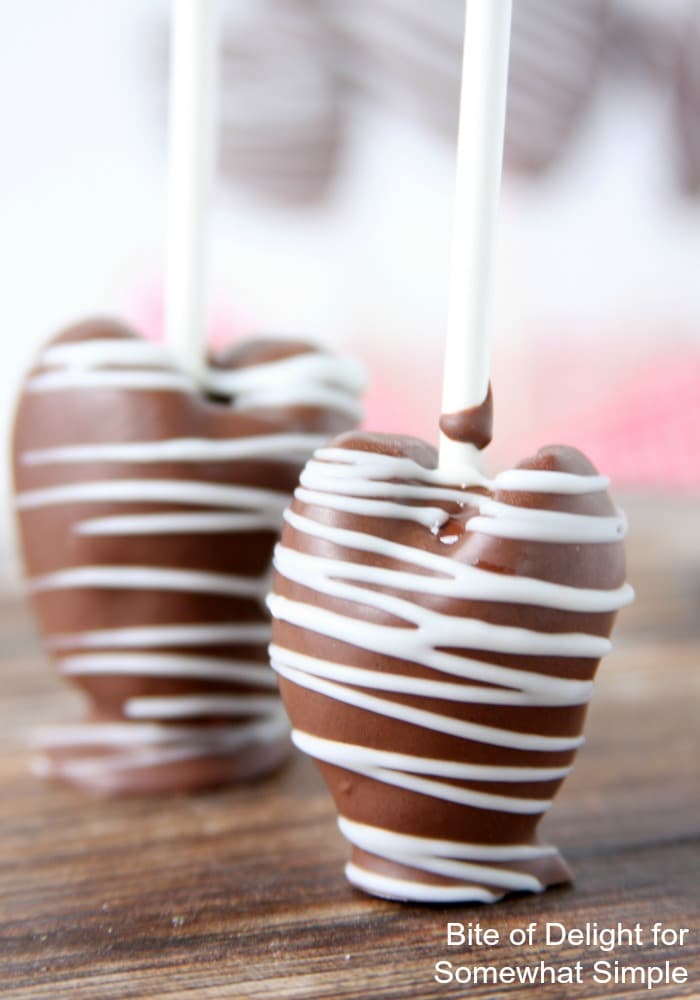 Another option for dipping these cute strawberry hearts to put the stick in the top of the heart for an upside-down pop.  They are easy to display this way because they stand on their own…once they are dry and hardened.  I had to lean something up against the sticks while the chocolate was drying because they couldn't stand alone.  It also takes a little more chocolate because you need to have a small base under your strawberry.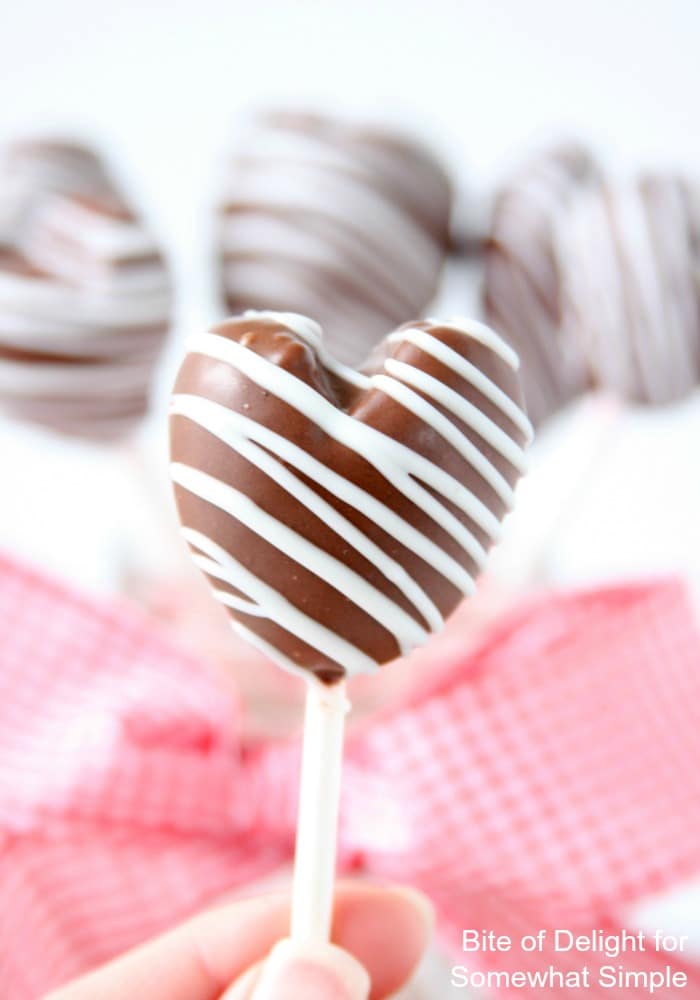 Chocolate Covered Strawberry Heart Pops
Ingredients:
12 medium strawberries
1/2 cup chocolate chips
2 oz (1 square) chocolate almond bark
1 oz (1/2 square) vanilla almond bark
Directions:
Wash strawberries and dry thoroughly.
Using a sharp paring knife, remove the leaves and cut a V shape into the top of the berry.  Gently round out the angles with the paring knife, being careful not to remove too much.
Melt the chocolate chips and chocolate almond bark together, according to package directions.
Blot berries with a paper towel just before dipping, to remove any moisture.
Insert a lollipop stick through the bottom of the berry and dip it into the chocolate.  Gently tap the stick against the rim of the bowl to remove excess chocolate.  Place (berry-end up!) in a pint jar while chocolate hardens.
Once all the berries are dipped, melt the vanilla almond bark according to package directions.  Lay the heart pops on a baking sheet lined with a silicone mat.  Spoon almond bark into a sandwich bag, make a small snip in one corner, and drizzle over the heart pops.  Let dry.
Enjoy these the same day you make them.
Notes:
Dry strawberries are the key to great dipped berries.  Get them as dry as possible!  I blot mine several times with a paper towel to make sure there is no moisture hiding anywhere.
You can use semi-sweet or milk chocolate…whatever you prefer!
I found it was easiest to dip the berries when they were cold, straight from the fridge.  The warmer they got the softer they got, making them more difficult to dip.
The berries must be as dry as possible, but because they are cut, there is no avoiding some moisture.  Make these on the day you want to eat them or give them away.  The moisture will weep through any small holes or cracks in the chocolate, and they simply won't last as long.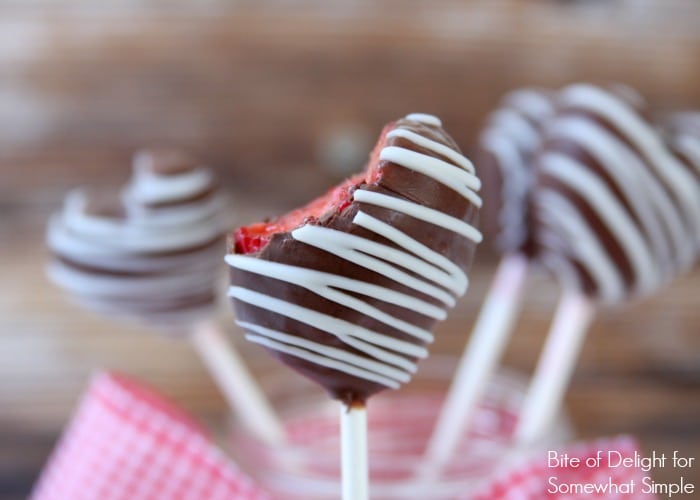 Here are a few more of my favorite treats to share with my favorite people:

Chocolate Covered Strawberries // Congo Squares // Oreo Truffles
Hack Your Routine!
FREE E-COURSE
5 Time-Saving Tips for Crazy Busy Moms