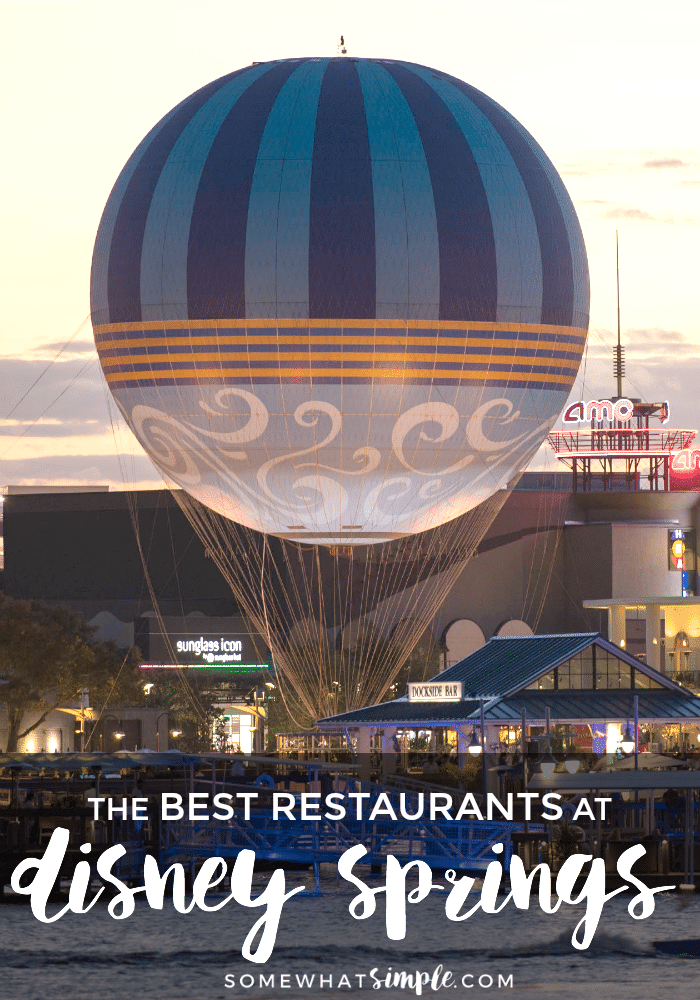 There are plenty of guides on what to eat at Disney, but not as many for Disney Springs Restaurants. We're going to help change that!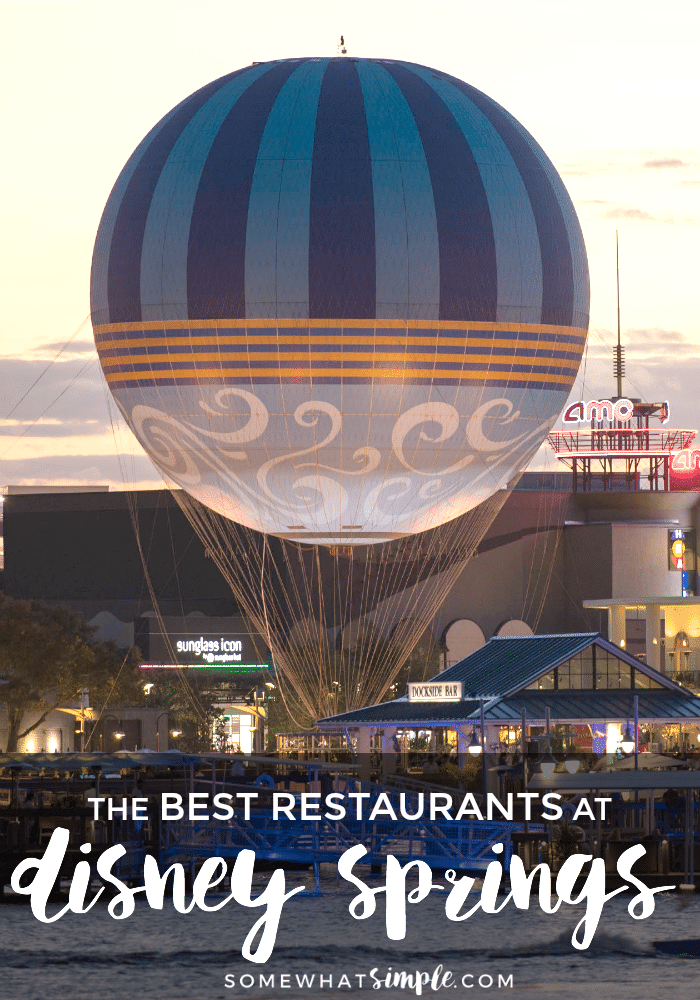 Originally called Downtown Disney, Disney Springs is situated on the Lake Buena Vista and has some beautiful water views! You can shop at some high-end stores and browse a HUGE Disney store. They have a one of the most state of the art movie theaters and a lot of activities, including a place that is dedicated to just gaming. Of course they also have a lot of food. There are many restaurants and eateries to choose from.
Before making a reservation or just walking up, there are a few things you need to know. Like the restaurants in the parks, Disney Springs restaurants go above and beyond to have amazing food mixed with a really good time. If you are looking for a great meal and live music, you may want to check out Raglan Road. If you are just wanting a great dessert, Ghirardelli is AMAZING! The best part about Disney Springs is that they have something for everyone. PLUS, a lot of the restaurant's can be used with your dining plan. (Some restrictions apply, so make sure you research everything thoroughly!) Below is a list of some of the best restaurant's in Disney Springs! So pull up a seat, grab a menu, and relax! You are on vacation after all.
Disney Springs Restaurants
Paddlefish
The Paddlefish is located in a real paddleboat situated on the Lake Buena Vista. After you board and are seated, order the Lobster Guacamole. Not only is it to die for, but it is also made right before your eyes! If lobster is not your thing, try the Bacon and Egg. It is Braised Kurobuta pork belly with a panko-crusted 5 minute egg. And let's talk about their entree's, shall we? They have some of the most creative entrees I have ever seen! The most popular is the Build-Your-Own Seafood Boil. Simply choose two items from several seafood selections – shrimp, king crab, lobster etc – and then pair it with your favorite sides – potatoes, corn, jalapeno cornbread… it is ALL delicious! And make sure to save room for dessert! The Chocolate Bourbon Pecan Tart is the toast of the town! Most dining plans are accepted at Paddlefish.
The Polite Pig
The Polite Pig is where you go for lip smacking, finger licking, good old fashioned BBQ. Two appetizers I highly recommend are the BBQ Cracklins (melt-in-your-mouth deliciousness) and the Hop Salt Pretzel. For your main course, simply order one of two things: the Brisket or the Southern Pig. Both meals are amazing!! For dessert try the Key Lime Pie. (Your taste buds will thank you! Most dining plans are accepted at The Polite Pig.
Splitsville
Splitsville is a two story bowling alley that has some of the best food in all of Disney Springs. This is not your usual bowling alley fare. With everything from Pizza to Sushi, you are sure to find something for everyone. And the Disney magic doesn't stop just because you are off property. The bowling balls are Disney themed and the lanes light up at night. Just a note, it gets very crowded and busy. Wait times may be long, which may be hard for little kids. But if you can swing it, I promise it will be an experience you will always remember! Splitsville does not take reservations and they do not accept any of the Disney dining plans.
Raglan Road
Disclaimer – If you have anyone in your party that is sensitive to a lot of noises, you may want to skip this one. Raglan Road is LOUD. But if you can take the noise and want a really good ole' Irish time, GO! The menu is crafted by famous Irish chef, Kevin Dundon, and features fare like shepherd's pie, bangers and mash, and ham schnitzel. Want the most delectable chocolate dessert in the world? Try the Dunbrody Kiss. It's chocolate, more chocolate, and even more chocolate! If the delicious food wasn't enough to make your night amazing (and we know it will be!) the live entertainment will! The house band plays some Irish tunes and the dancers jig to the beat. The entertainment is only available during dinner but it is worth every penny! Prices range from $15-$34.99 and reservations are a must. Raglan Road accepts most dining plans.
Chef Art Smith's Homecomin'
Chef Art Smith's southern cuisine will transport you to a magical place. Their dishes are incredibly fresh – from the farm to the fork! You can eat inside and watch all the cooking, or you can grab a spot on the covered porch and feel like you are visiting your southern Grandma! Some menu offerings include: Church Lady Deviled Eggs, Thigh High Chicken Biscuits, Shrimp and Grits, and Chef Art's Famous Fried Chicken. The majority of the ingredients are sourced from local farms, ranches, and fisheries, so you know you are eating fresh! Chef Art Smith's is great for the whole family, with prices from $15-$34.99. Reservations are a must and most dining plans are accepted.
STK
This chic, modern steakhouse is a little more geared for adults and would make the perfect location for a date night or celebration! STK is a two-story restaurant with a super energetic vibe. For a really great experience, head to the outdoor patio – the views are gorgeous! Looking for the best appetizer? Order the crispy rock shrimp served with a spicy chili remoulade. (My mouth is watering just thinking about it!) But don't fill up on appetizers – the main attraction here is the steak. The 16 oz sirloin with the truffle butter topping is amazing! If you really want to splurge, the Dry-Aged 28 oz Porterhouse will serve two people and is one of the most incredible steaks ever. My favorite sides are the truffle parmesan fries and the wild mushrooms. Please note that toppings and sauces cost extra. STK accepts the Disney dining plan.
Earl of Sandwich
This place is amazing for lunch. It is quick, cheap and super filling! Order at the window and then grab a table. No waiting to be seated and no servers! Earl of Sandwich has hot sandwiches, cold sandwiches, salads, soups, and wraps. Our hot sandwich recommendation is the original 1762. It's piled high with roast beef, cheddar, and horseradish, served on a warm artisan-bread roll. This sandwich is so big that it could feed two people, and at only $6.99, it is a bargain. If it is a really hot day and you want something cold, we recommend the chicken avocado bacon wrap. It has grilled chicken, bacon, avocado, lettuce, tomato, cucumber and balsamic vinaigrette stuffed in a flour tortilla. (This also could feed two people!) If you're still hungry, try the potato salad or the pasta salad, -both are delish! Earl of Sandwich accepts the Disney dining plan.
T-Rex
If you have children, eat here! The restaurant features quite a few animatronic creatures, including a 15 ft tall T-Rex. Every 20 minutes you are treated to a meteor shower where all the creatures come to life! While the food is more like what you would find at your local chain restaurants, there are few stand outs: Mastadon Chicken has a lot of fresh flavors and seems a little more gourmet. The Mushroom Ravioli has a great woodsy-style flavor that is delicious. If your kids are like mine, they will probably enjoy feasting on the mini Mes'o Bones or the Jurassic Chicken Bits. Even though it is listed as a kids dessert, we suggest everyone try the Saber-Tooth Sundae for dessert. It is out of this world! T-Rex accepts the Disney dining plan.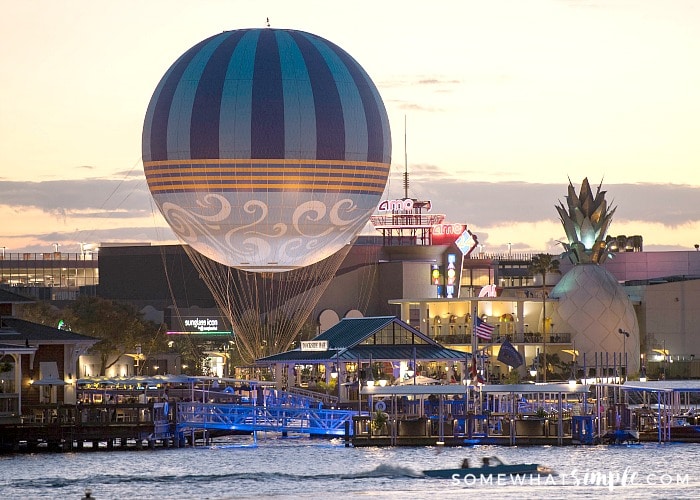 Disney Springs is just as magical as Disney! You can shop, take a balloon ride, and visit some amazing restaurants! There are so many things to see and delicious places to eat – we hope you take a day to experience it all. Have fun!