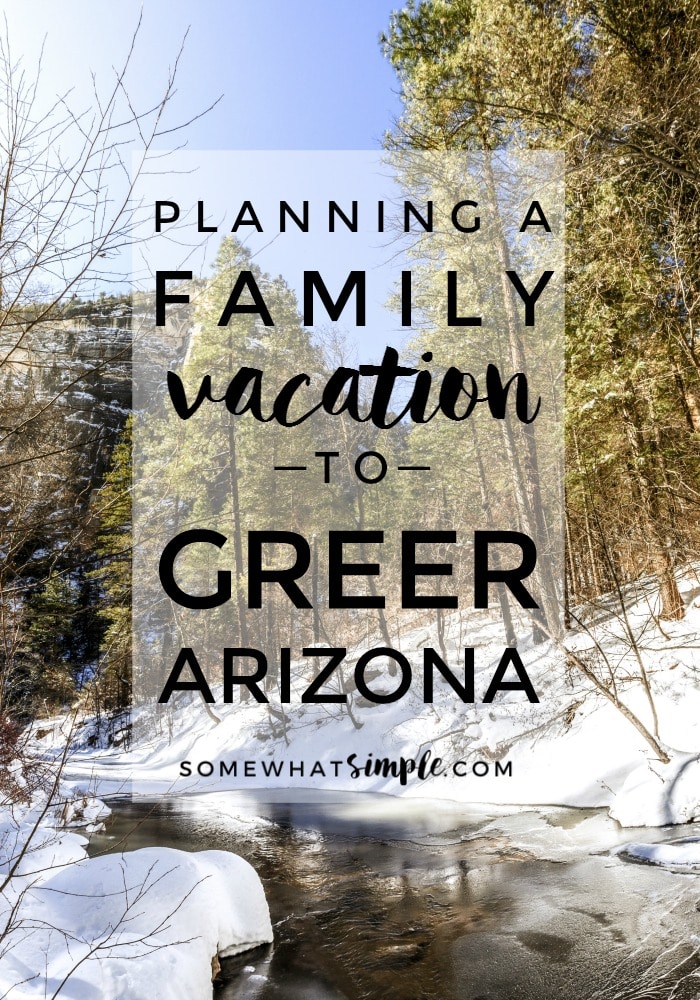 A family vacation to Greer, AZ is the perfect way to escape the crowded cities and the heat of the valley + enjoy the beautiful White Mountains of Arizona!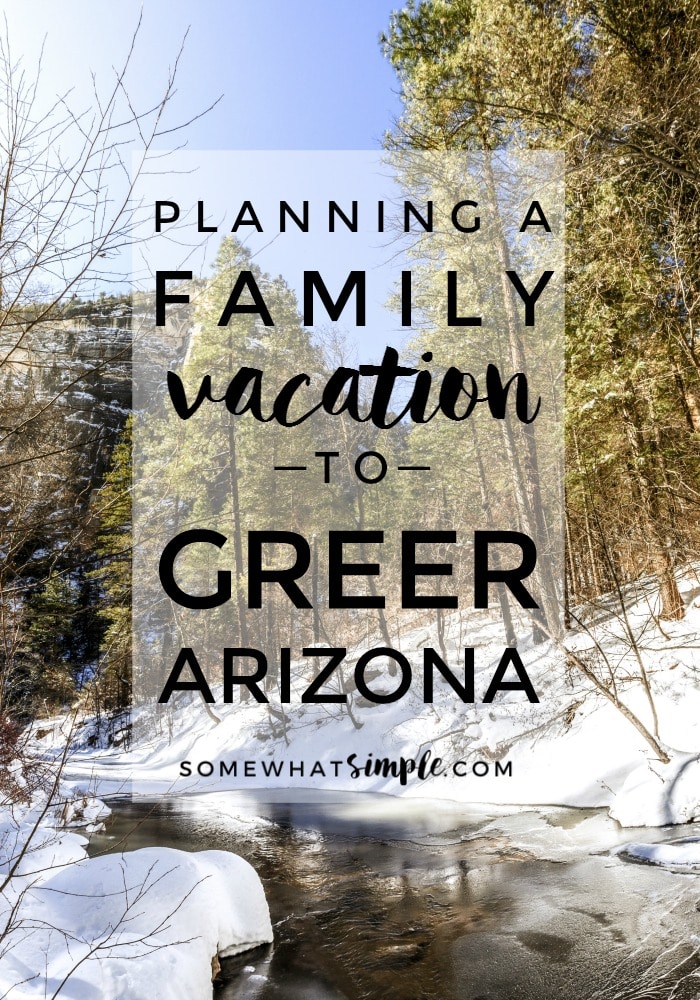 Greer, Arizona is a quaint and cozy town that offers fun things to do and see in the gorgeous White Mountains of Arizona. This rural village features a beautiful forest backdrop with blue skies, crystal clear rivers and lakes, and a small-town feel that will surely make you smile!
Family Vacation to Greer, AZ
With a stayed at Greer Lodge Resort & Cabins!
Who, What, Where, When & Why-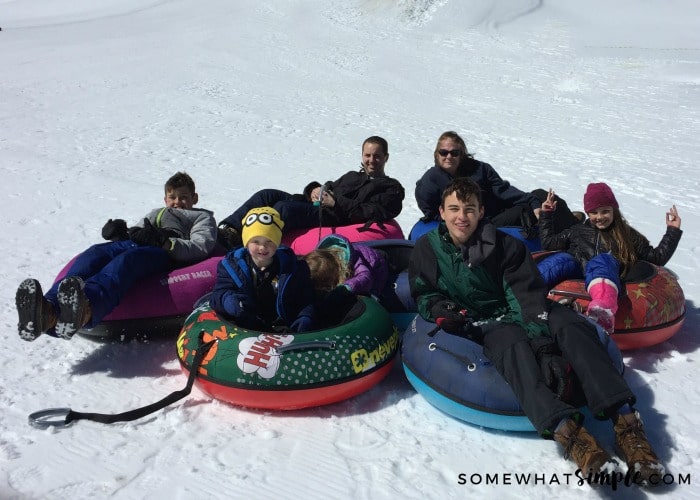 WHO

Went–
We took the whole family! Me, my husband, grandma and 5 kids, ranging in age from 3 – 14 years.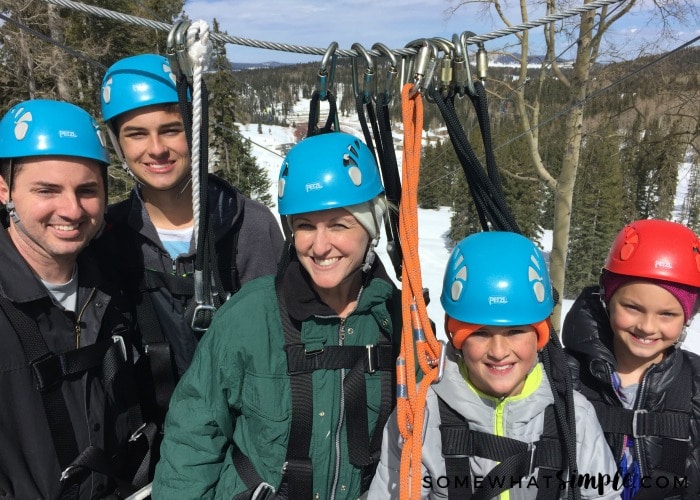 WHAT

We Did–
We played in the snow, we enjoyed cozy nights in an awesome Greer Lodge Resort & Cabins with a bon fire + s'mores, we went tubing at Sunrise Resort and we even convinced our 3 oldest kids into trying the winter zip line experience! It was an amazing weekend!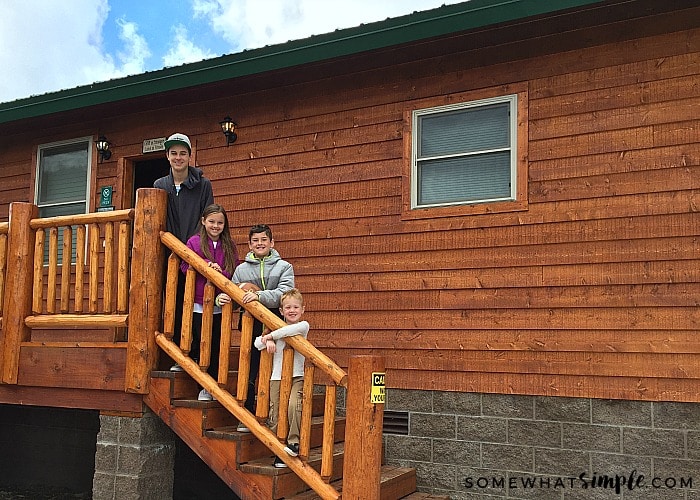 WHERE

We Stayed-
Greer Lodge Resort & Cabins. My family received a free 2-night's stay and we couldn't have been happier with the accommodations! Our cabin was literally 30 steps from the lake, and my kids fell in love with the resident ducks that greeted us each morning and afternoon! All 8 of us slept very comfortably – there were 3 bedrooms and 2 bathrooms + a big kitchen, dining room and living room that was clean and furnished nicely! Our cabin provided a great space to relax, with cable TV and wi-fi for optional entertainment. It is truly was mountain-side oasis!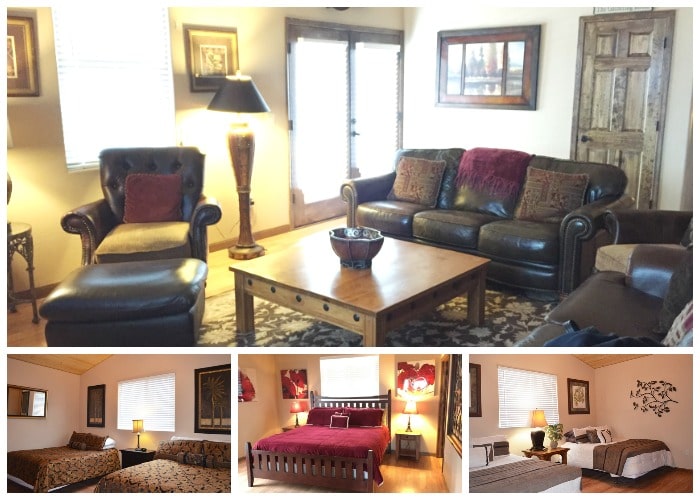 Greer Lodge Resort & Cabins offered complimentary board games that my kids absolutely LOVED, and they have an abundance of activities for guests to enjoy – fishing, hiking, bon fires etc. depending on what time of year you are there!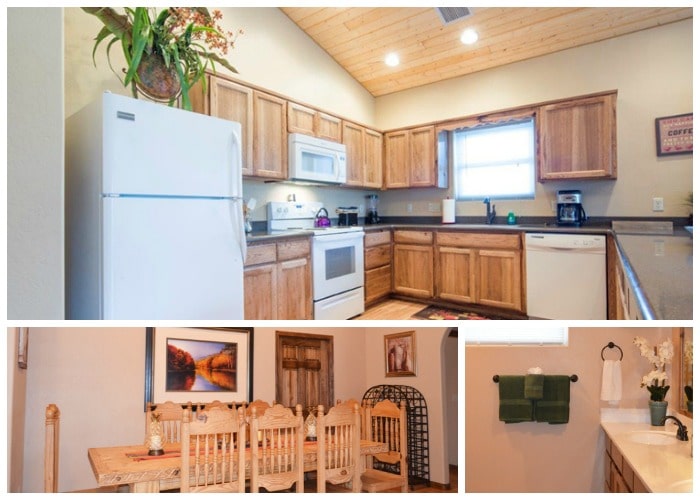 We were walking distance to a couple delicious restaurants – Molly Butlers and Rendezvous Cafe.
Molly's had the most welcoming hostess and friendliest staff, not to mention their food was pure comfort! Try their Clam Chowder and Vegetable Beef with Barley soup – you will not be disappointed! Their hamburger was amazing and the homemade mac and cheese got rave reviews from my kids. (Just thinking about it makes me hungry!) Don't forget to save room for dessert 'cause their pie is worth any and all vacation weight-gain, I promise! We tried their Brownie Sundae on night one and their Fruits of the Forest Pie on night two – both were fantastic, I can't pick a favorite!
Rendezvous had the most charming setting with vintage soda bottles and memorabilia covering nearly every inch of the restaurant. My family unanimously voted their homemade muffins as the best items on the menu! Rendezvous Diner was also the restaurant where I may have ordered Peach Cobbler for breakfast our second morning there. (I couldn't pass it up, and I am the mom so I can totally get away with eating what I want!)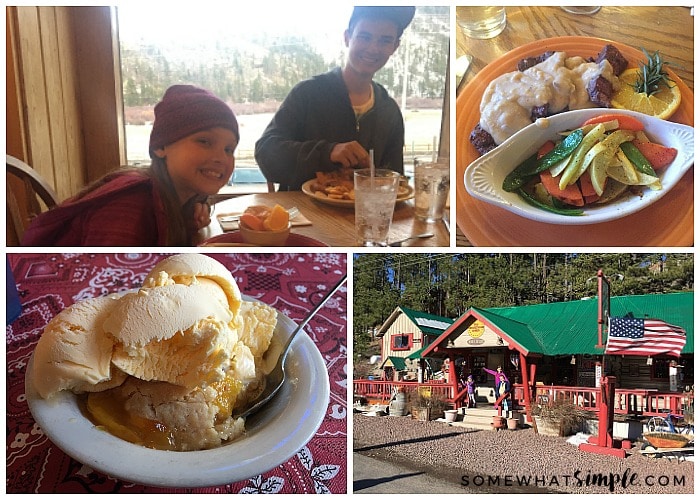 If you'd like to book a stay at the Greer Lodge Resort & Cabins (and you totally should!) call the resort directly at 1-928-735-2304. Please mention "Stephanie Loves Greer" and receive 20% off your stay!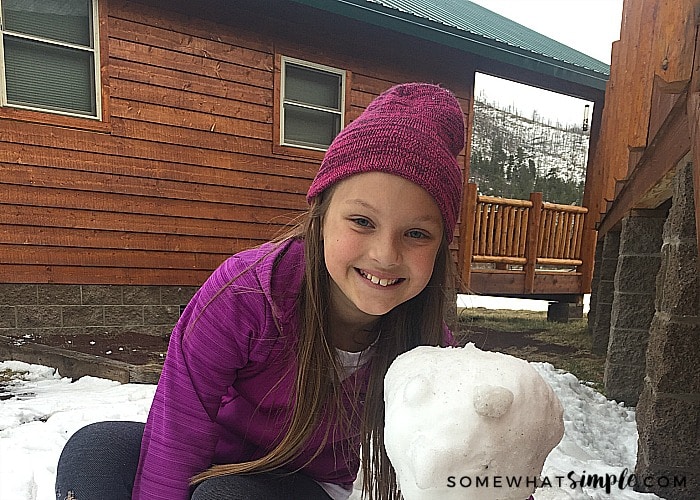 WHEN

We Went-
The first weekend in March. The weather was a bit cold for our Phoenix blood, but the sun was shining and I think it was perfect – especially for my kids who were dying to play in the snow! (They didn't seem fazed by the cooler temperatures at all!) We stayed two days and two nights- which seemed perfect, though if we were there during warmer weather I could have easily spent a couple more days hiking and exploring!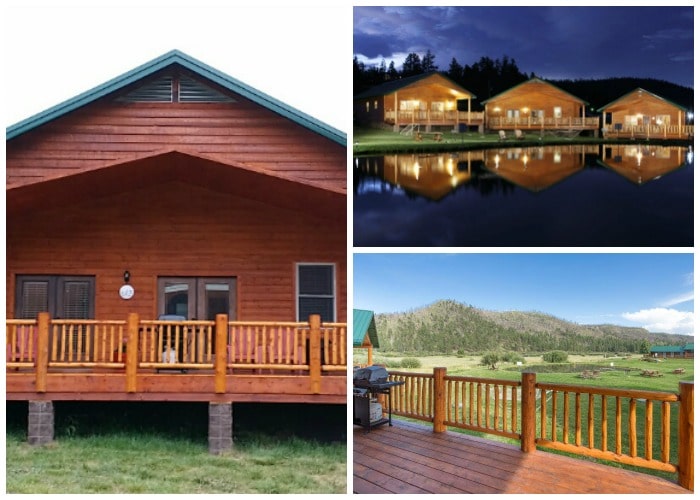 Take a look at the beautiful scenery surrounding the lodge! I thought the winter was gorgeous, but I think I need to make another trip during the summer! (Isn't it dreamy?!) Pass the time on a hike, going fishing, taking the kids on a nature walk and more, all at Greer Lodge Resort & Cabins!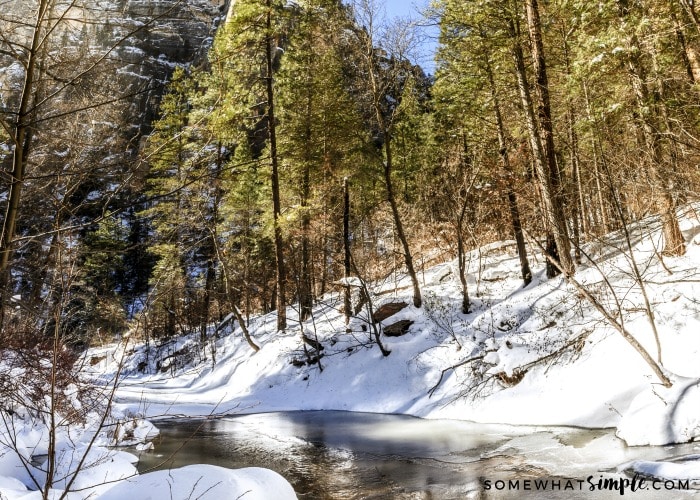 WHY

YOU Should Go-
Greer Lodge Resort & Cabins is like a hidden gem in the White Mountains of Eastern Arizona. I've lived in Phoenix for over 10 years and I had no idea what fun awaited in Greer. Unlike your typical hotel/resort vacation spots, Greer is a quiet mountain town with everything you need in walking distance. We absolutely LOVED our stay!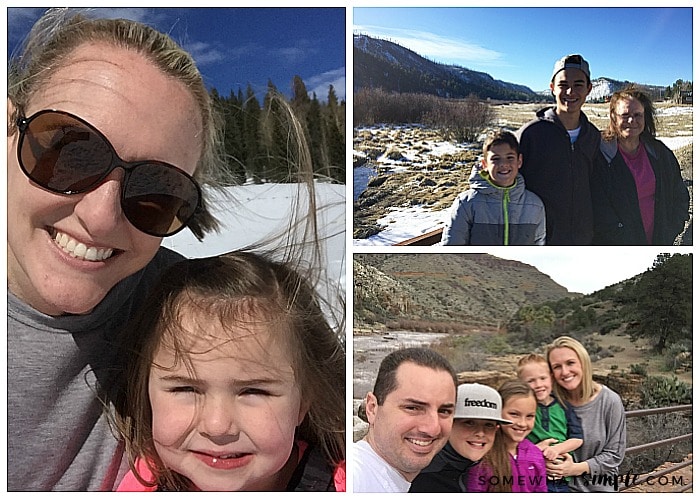 Have I convinced you to book your getaway to Greer, AZ yet??? What are you waiting for? Call Greer Lodge Resort & Cabins NOW and make your vacation plans today! Don't forget to mention "Stephanie Loves Greer" to receive 20% off your stay!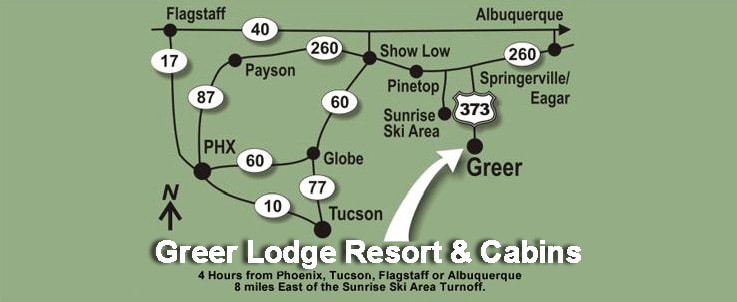 Visit Greer Lodge Resort & Cabins online for more details and information:
Website || Facebook || Twitter || Instagram
Have fun!
This is a sponsored post written by me on behalf of the Greer Lodge. I was compensated with free lodging + money for my time and travel expenses in exchange for my review. All thoughts and opinions are 100% my own.
For more fun travel posts, check out these fun trips we've taken: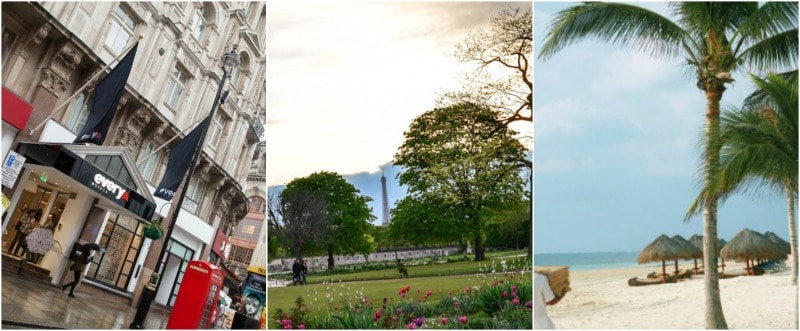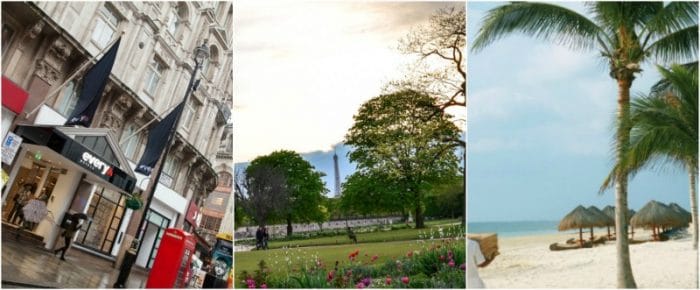 Travel to London // France Travel Tips // All-Inclusive Mexico