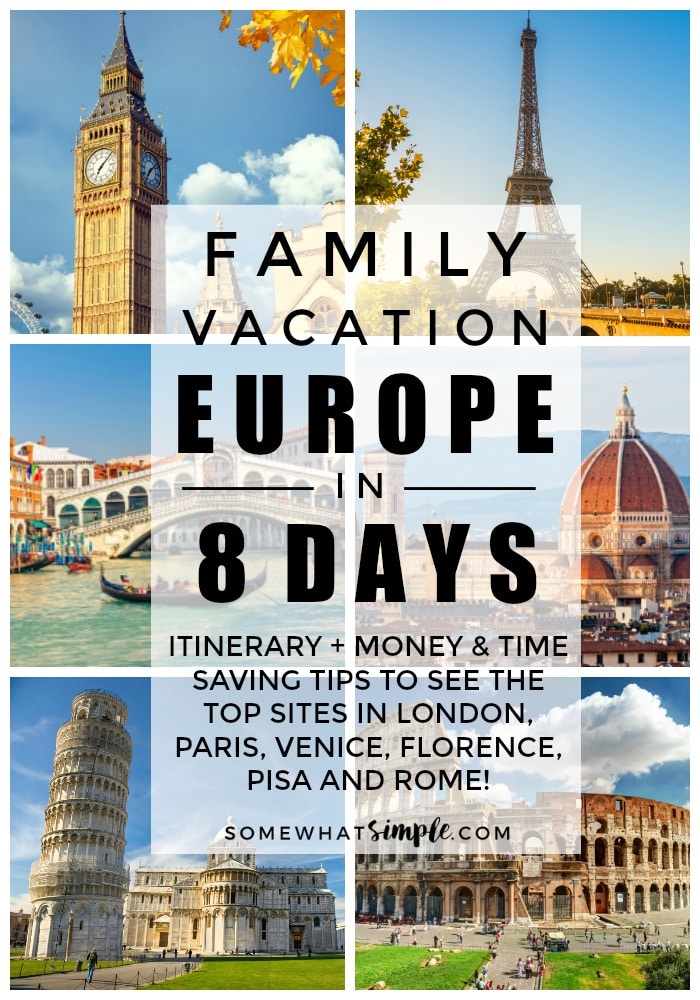 Call us crazy, but we love to travel and we love taking our kids with us! Today we're sharing details of our family's European vacation – 6 cities in 8 days! The best itinerary and all of the resources you'll need to plan your trip to Europe.
Whether you're visiting Amsterdam, Lauterbrunnen, Switzerland or Ireland, we have travel tips and itinerary suggestions that will help make your next European vacation a trip of a lifetime.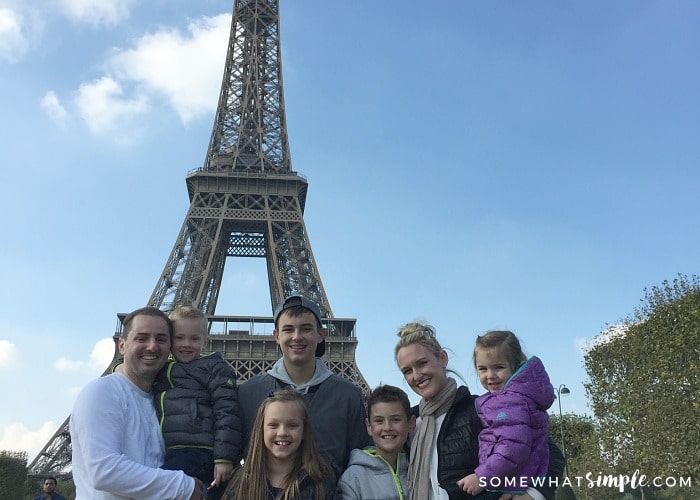 Somewhat Simple has partnered with CardRatings for our coverage of credit card products. Somewhat Simple and CardRatings may receive a commission from card issuers. Opinions, reviews, analyses & recommendations are the author's alone, and have not been reviewed, endorsed or approved by any of these entities.
European Vacation Itinerary
After sharing my top 6 reasons on why you should travel by train through Europe, I received several comments and emails about how we were able to see so much in so little time. To recap, we took our 5 children on a family vacation to Europe last fall. We visited London, Paris, Venice, Florence, Pisa and Rome and we did it all in just 8 days!!! You read that correctly. We did all of this in 8 days and we saw ALL of the popular sites. Today I'll share how we did it + give you some great time and money saving tips.
European Vacation Travel Tips
Traveling to Europe is a lot of fun but takes a little more planning than a weekend getaway. Here are a couple of general tips that will save you some money and help keep your sanity during the flights and train rides.
For the flight we bought our kids each a Kindle Fire tablet. They're inexpensive and were a life saver for the long flights and train rides. If you can wait until Christmastime or during Prime Day in July, you can usually find the entry level tablet for less than $30 each.
I always try and use points or miles for my flights and hotels to save money. One great way to earn points and miles is through the use of credit cards.
I almost always book my hotels through Hotels.com* when I'm traveling at home and abroad. I do this because their prices are almost always identical or lower than the hotel's site and because of their rewards program that gives you one free night after booking ten nights on their site. Since there aren't a lot of locations for the big US hotel chains, you can still get rewarded for stays at European hotel chains. Also, I don't travel enough to earn any type of elite status, so it's nice to earn something even though I'm not a road warrior.
*This post may contain affiliate links which won't change your price but will share some commission.
Start Your European Vacation In London
There are a few reasons why you should start your family's European vacation in London:
It is one of the busiest airports in the world. You'll be able to find a lot of flight options no matter where you live.
Traveling from the United States, London is the closest major city. Your flight will be the shortest and you can get moving sooner. When you only have 8 days, every hour counts.
There are minimal airport taxes to fly into London but the taxes are twice as much to fly out of there, so it'll save you at least $100 per person to fly home from another city.
Day 1 – Travel to London
Try and arrive as early into London as you can. We arrived around 1 pm and we were a little rushed when we got in because a lot of the places you'll want to visit close in the early evening. The year before we did a similar trip and we arrived at 6 am and had plenty of time the first day.
From the airport take the tube into the city. It's cheap and you can get virtually anywhere in about an hour. Its also a great way to avoid the horrendous traffic from the airport. If you book a few weeks in advance, there's a discount on the express train from the airport that makes it pretty affordable and can save you at least 30 minutes on the tub.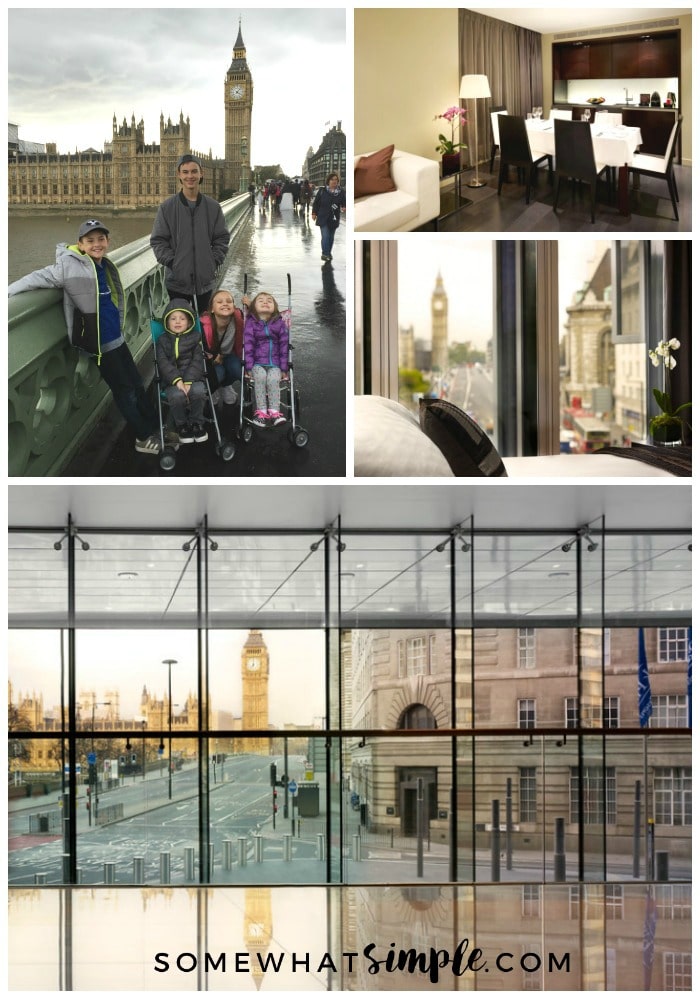 Where To Stay In London
I can't say enough about how fantastic this the Park Plaza Westminster hotel was! The rooms are gorgeous and clean and it's right across the bridge from Big Ben, so the location is perfect. An added bonus of staying here is you take the tube to the Westminster station which is across the street from Big Ben.
When you exit the station you come face to face with the beautiful and iconic Parliament building. We didn't tell the kids about this, so when we exited the station they were completely surprised and absolutely amazed!
Things to See and Do in London
I highly recommend purchasing the London Pass. It's a pass that allows you visit many of London's most popular tourist sites for a flat fee depending on the number of days you're visiting. Depending on what you plan on seeing you can easily save some money on the entrance fees. In addition, at most of the sites there's a different line for those with the London Pass that is usually a lot shorter than the line for those without the pass.
The first night we walked over and visited the Churchill War Rooms. What an incredible place to be in and get a glimpse into such a historical event. After that we walked through St. James' Park to Buckingham Palace and see the iconic guards on duty. We had dinner by Trafalgar square at one of the many little restaurants and spent the rest of the night wandering the city. I used my Chase Sapphire Preferred card every time we ate out because there's no foreign transaction fees and you can 2 points for every dollar spent at restaurants.
Day 2 – London To Paris
In the morning we walked over and were in line at the Westminster Abbey right when it opened. From there we rode one of the double decker tour buses down to the Tower Bridge. We went up to the top of the Tower Bridge and walked across the glass bottom floor which was really neat! We then walked over and explored the Tower of London and saw the Crown Jewels and was definitely the highlight of London.
If you're looking for the best fish and chips in London, you'll find them just north of the entrance to the Tower of London on the corner of a little strip of shops.
We then took a river cruise up the River Thames back to the Westminster Bridge. Our train to Paris left around 4 pm so we headed to the hotel to grab our things from the bellman and took the tube to the train station.
Having the kids with us, we didn't want to arrive in Paris too late, but if you want a couple of extra hours in London just book a later train to Paris.
More Family Vacation Ideas
If nothing else, I hope reading this inspires you to go to that place you've always wanted to see. Whether it's a European family vacation, or anywhere else you've wanted to go, you'll be glad you did. If you need other family vacation ideas, here are a few of our favorites: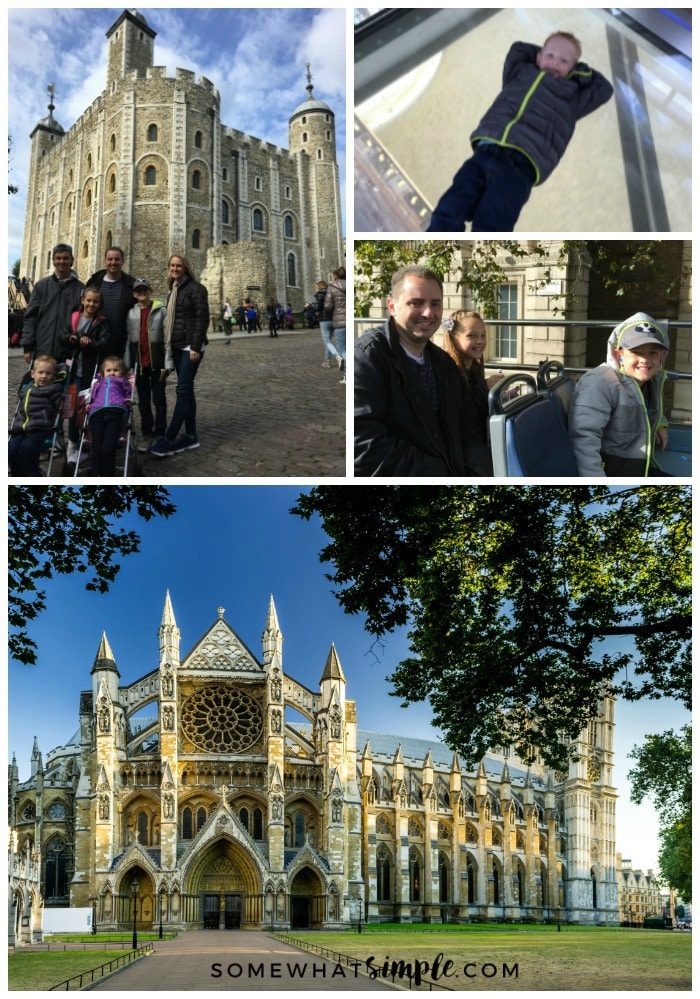 Where To Stay In Paris
We took the Eurostar over to Paris and then the metro to our hotel. The metro network in Paris is the best I've ever seen. You will have no problem taking it anywhere you want to go. Don't forget to use a credit card that doesn't charge you a foreign transaction fee like the Chase Sapphire Preferred, plus you'll also get 2 points for every dollar spent on travel purchases.
We stayed at the Citadines Les Halles which is about a mile from the Louvre and close to a bunch of fun restaurants and shops. Paris can be an expensive place to stay as a family so we decided to stay at this apartment hotel which was in a safe part of the city and very clean.
We dropped our bags at the hotel and spent the evening walking around and ate dinner at a nearby restaurant. If you happen to be in this area there's a fantastic bakery just one street over called La Parisienne. Their croissants were voted the best in Paris that year, so of course we had to eat breakfast there both days and took a few extra croissants with us for breakfast on the night train.
Things To Do In Paris
Day 3 – Paris
This was the busiest day of sightseeing during our trip so make sure you wear a comfortable pair of shoes.
I would also suggest purchasing the Paris Museum Pass for your visit. Like the London Pass, buying this saved us some money on admission. Plus we stopped at a couple of places we wouldn't have seen if we didn't have the pass. However, the biggest benefit was that you didn't have to wait in line to buy tickets and a lot of the museums had a special entrance for pass holders which will save you time, especially at the Louvre.
Have the passes shipped to you so you don't have to waste time picking them up at the local office. The purchase will be charged in Euros so make sure you use a credit card that doesn't charge foreign transaction fees.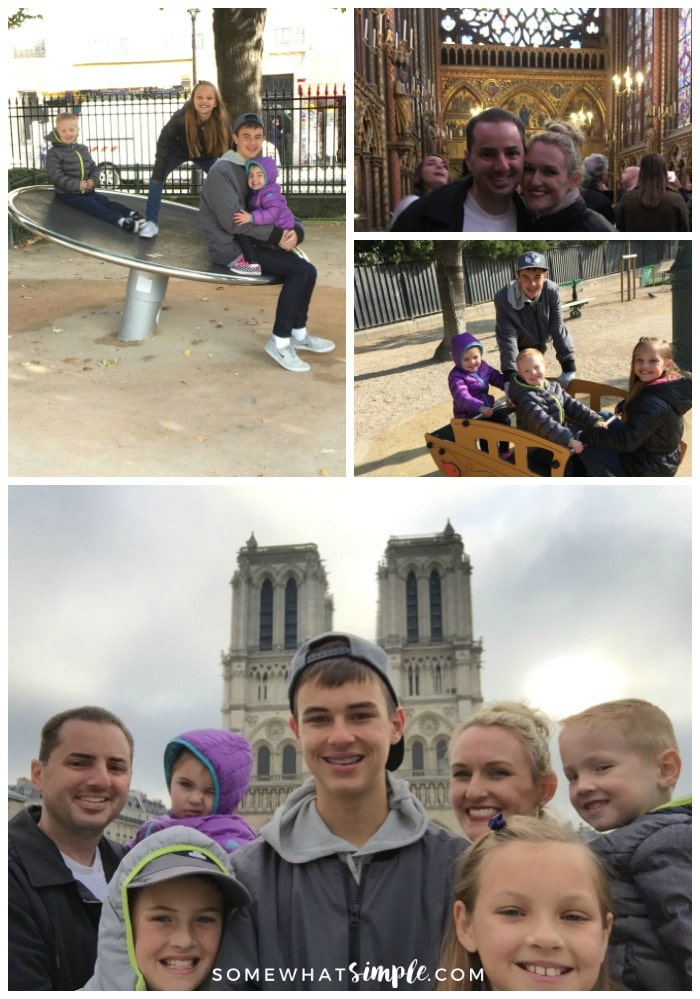 We started the day by visiting Sainte-Chapelle and seeing the amazing stained glass windows upstairs. We then went over and walked through the beautiful Notre-Dame Cathedral. I am truly in awe when I visit places like this as I try to imagine how such a magnificent building could be constructed so long ago.
If you need a quick break, there's a fun little park behind the cathedral to sit down in. The kids really wanted to see a crypt so we went up the street to the Pantheon where some famous Parisians are buried and the kids thought it was the coolest thing!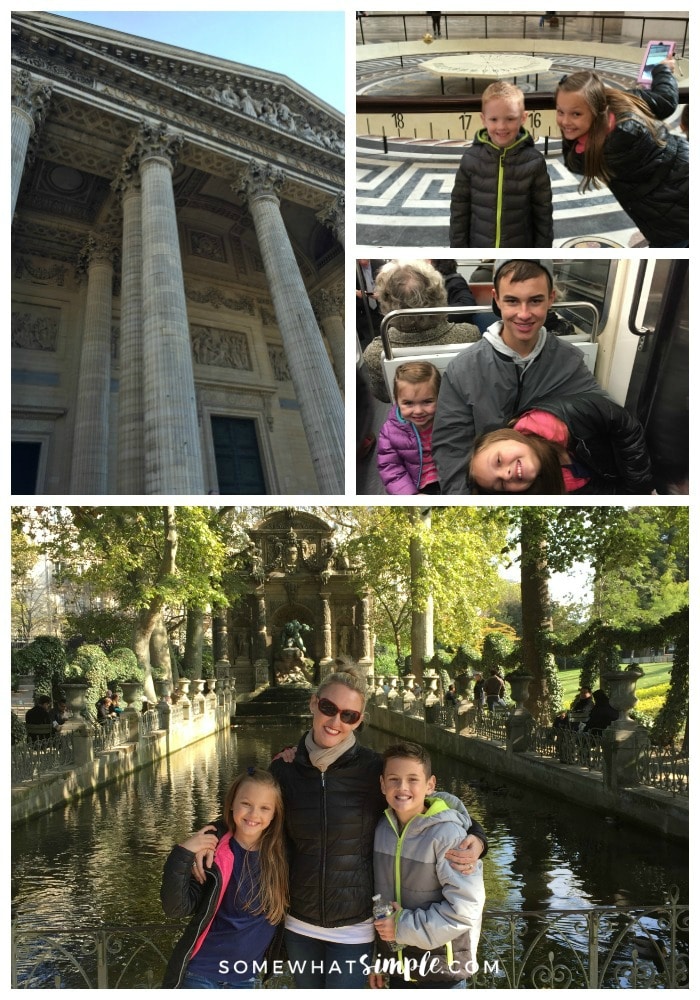 Where To Relax In Paris
We then headed about 2 blocks directly east from the Pantheon to the Luxembourg Garden. This is a huge beautiful park where we just sat and relaxed while the kids ran around and played. During certain times of the year you'll find the fountain in the center filled with little toy sailboats.
After some much needed rest we went down to the Latin Quarter for lunch. This is such a fun place to go and get a quick bite to eat. We found the best crepes here! If you're in the area at night, I would definitely recommend an evening stroll when the streets are a lot more vibrant.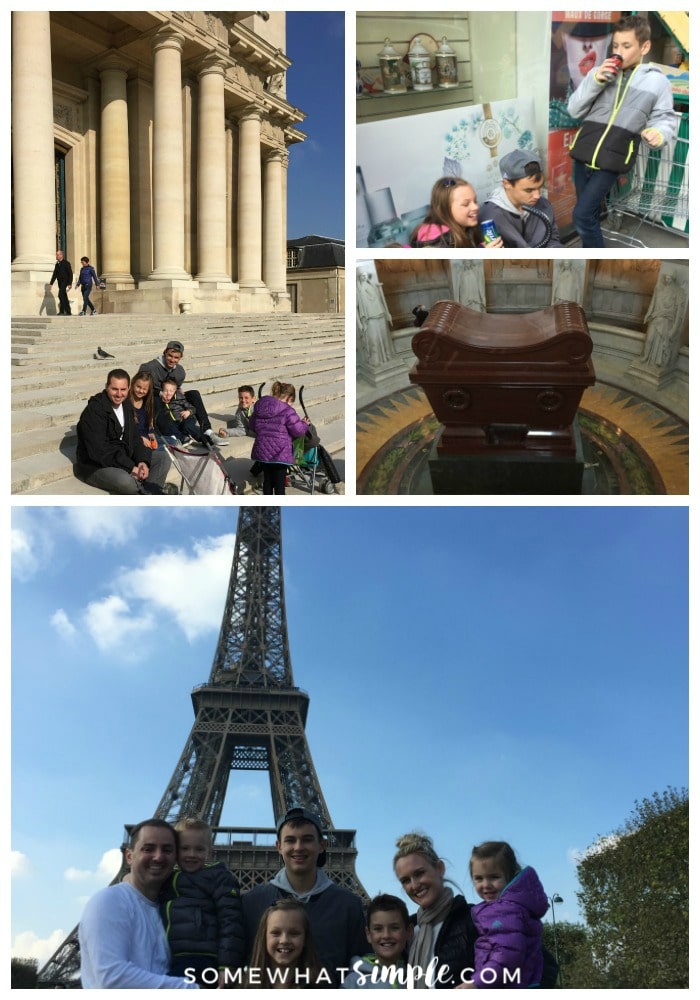 Next we headed over to see Napoleon's Tomb. This is one of those places that was neat to see but we probably wouldn't have stopped if we didn't have the Museum Pass. We then made our way to the Eiffel Tower but on the way there we walked down the Rue Cler to experience a Parisian street market. Let me just say, the fruit there was amazing! I've never seen strawberries so red or blueberries so blue! They looked like they were taken right out of a painting.
Eiffel Tower Tickets
Our tickets to go to the top of the Eiffel tower weren't until later that night so we just took a few pictures before moving on. We have been to the Eiffel tower during the day, as well as at night. There really isn't a bad time to visit the Eiffel tower. If you'd like to try and get a coveted time slot around sunset so you can be up there during the day and at night, you'll need to buy your tickets as soon as you know when you'll be there.
There is now a security check point that you'll have to go through before you can go up the Eiffel tower. If you're going to be in Paris during a busy time of year, I would recommend getting there in plenty of time to clear security so you don't miss your entrance time.
The best advice I could give when you visit Paris is to buy your Eiffel Tower tickets well in advance of your trip or you'll have to stand in line for a very long time. Once you know which day you'll be in Paris, buy your tickets. If you want to go to the very top, you don't want to wait because space is limited and those tickets sell out extremely fast.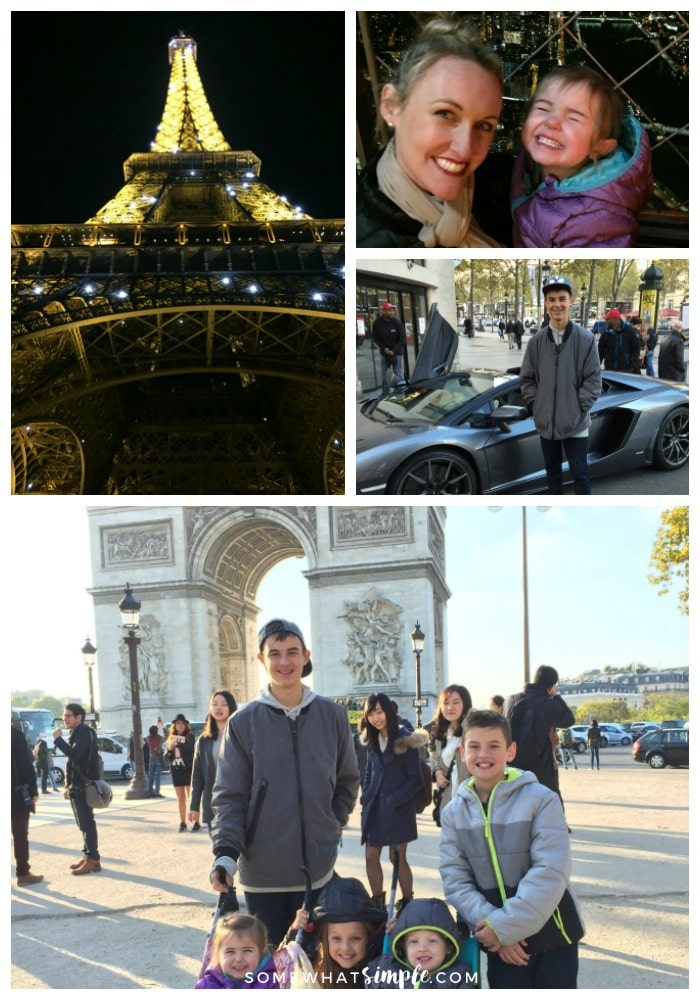 We then took the metro over to the Arc de Triomphe where we climbed to the top to get a panoramic view of the city. If your legs aren't tired before you get there, they will be when you're done. We then took a stroll down the Champs-Elysees and found a quick bite to eat before heading back to the Eiffel Tower.
Every evening, at the top of the hour, the Eiffel Tower glows with thousands of flashing lights! (It is definitely worth seeing!) If you're able to visit the Arc de Triomphe during the day, I would highly recommend seeing the Eiffel Tower at night. It's absolutely gorgeous!
Day 4 – Versailles & The Louvre
Because the Palace of Versailles is about a 30 minute train ride out of the city, you'll want to leave as early as possible.
Avoid visiting Versailles on Sundays and on Tuesdays when the Louvre is closed. Last year we went on a Sunday and it was like going to Disneyland on a Saturday during Christmas. This time we went on a Wednesday and it was so much more enjoyable. The crowds were small and you could enjoy walking through the palace without feeling like cattle. That day it was also free to visit the palace gardens which was definitely worth seeing and taking time to relax.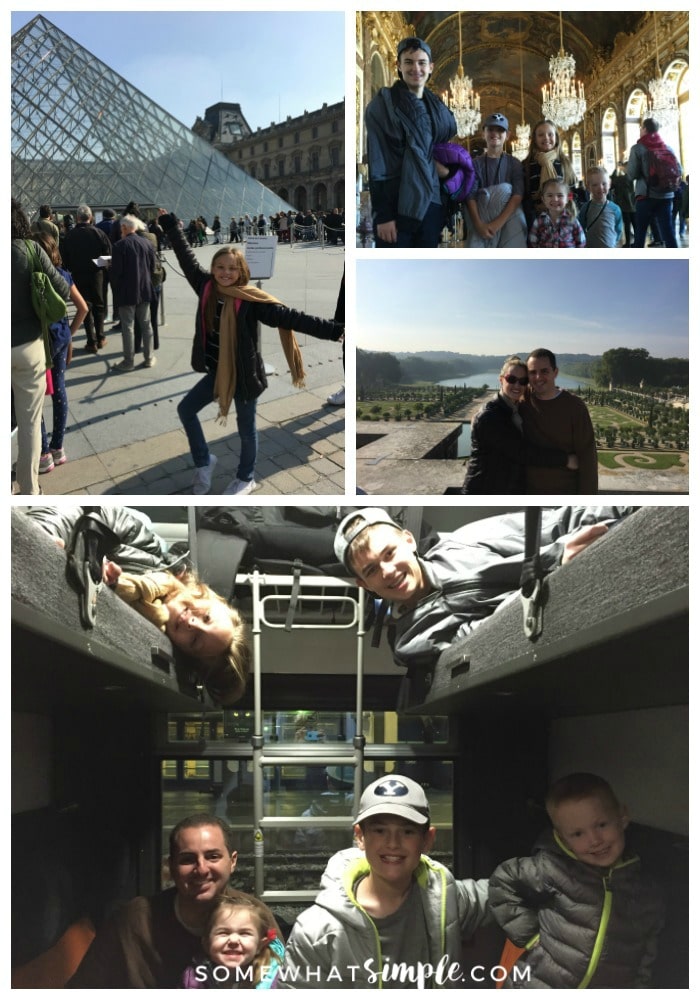 After your visit to Versailles you can take the train back to Paris and get off at the station across the Seine River from the Louvre. At main entrance by the glass pyramid there's a line just for Museum Pass holders which will definitely save you time. We spent about 2 hours walking through the museum and saw some of the highlights; the Mona Lisa, Venus de Milo and an Egyptian mummy.
Paris To Venice Night Train
After the Louvre we had dinner at a fun local eatery and then grabbed our bags and headed to the train station to catch our overnight train to Venice. The Thello overnight train is definitely an experience worth having! It was one of my children's favorite parts of the trip.
It is perfect on so many levels; there's no fighting security at the airport, you don't have to pay for a hotel that night and the train drops you off literally steps from the Grand Canal in Venice around 9 am the next morning.
Make your reservations early because the train does fill up. Plus, the further out you reserve your spot, the cheaper it is.
Thello is an Italian company, so be sure to use a credit card that doesn't charge a foreign transaction fee
What To Do In Venice
Day 5 – Venice and Travel to Florence
You'll arrive in Venice around 9 am the next morning refreshed and ready to go!
There's a place in the train station where you can leave your bags for the day while you explore the city. It costs a few Euros per bag but it's definitely worth not having to carry your bags around the city if you're not staying there that night.
Venice is one of the most unique cities you will ever visit and is well worth spending a day there. My best advice for Venice is to just wander and get lost. Being surrounded by water, you won't be able to veer too far away but it's an incredible experience exploring the small streets and seeing what you find. We ran into a street performer who played classical music using only glasses filled with water and it was unbelievable! You have to watch this video, it's incredible what this guy can do!
You absolutely have to go to St. Mark's Square and walk through the Basilica. It is extremely ornate and unlike any other church I've seen. It's free to enter but you can't take any bags inside. Don't worry, there's a place really close by that will let you store your bags for an hour for free.
If you want to take a ride on a gondola, you'll be able to find plenty of them near the square. However, there are so many gondolas by the square it almost looks like a ride at Disneyland because they travel so close together through the little canals. As you're walking from the train station to St. Mark's Square don't be afraid to leave the masses and just wander around.
Don't worry, it's impossible to get lost. While we were wandering around, we came across a couple of gondolas waiting for riders in areas that were a little secluded. If you want to ride a gondola, I would grab one of these so you can enjoy the canals without the chaos by St. Mark's. As your'e walking to the square there are plenty of shops and delicious food try. You need to try the homemade pasta and gelato; your taste buds will thank you for it!
A fun and inexpensive way to see the Grand Canal is to take a vaporetto (water bus) from St. Mark's Square back to the train station. It's a great way to experience Venice from the water without having to spend a fortune on a gondola. After a day of exploring, treat yourself to one of the many local restaurants and enjoy eating dinner outside. Eating in local restaurants is one of my favorite things about traveling and Venice is full of so many great places to eat you can't go wrong!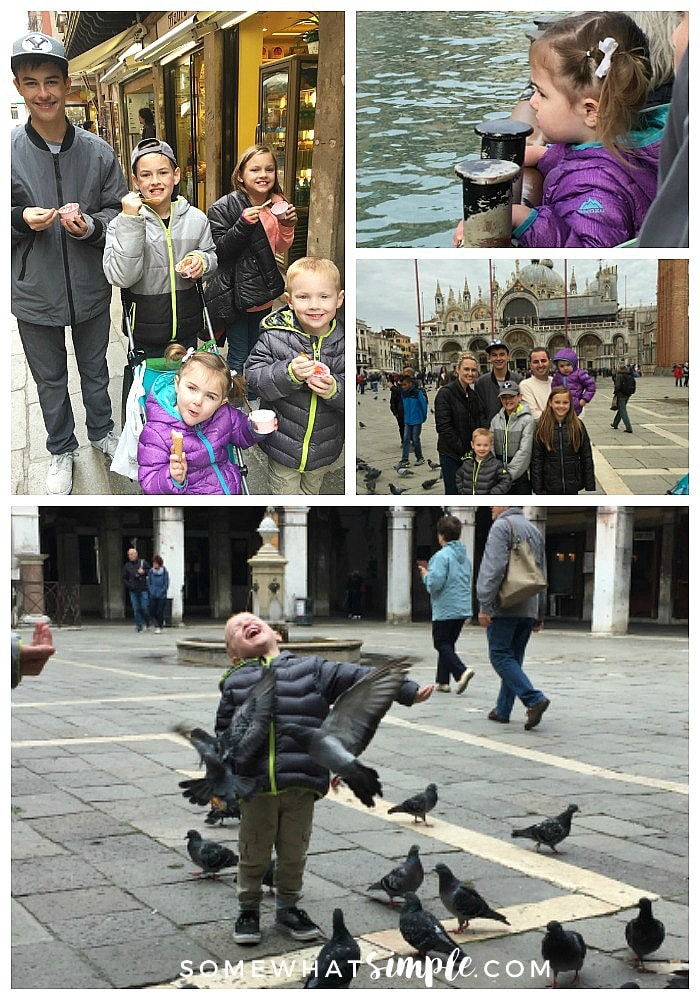 After dinner we caught a train to Florence where we stayed the night so we could hit the ground running in the morning. I would recommend buying your tickets ahead of time to make sure you have a seat on the train. In Florence we decided to stay in a local apartment that we booked through Airbnb to have a more authentic experience. This is the place we stayed at and it was perfect! It was a beautiful apartment and you could walk anywhere within a few minutes and was really close to the train station as well.
What To See In Florence And Pisa
Day 6 – Florence and Pisa
Florence is a beautiful city that has so much charm. You'll love just walking down the narrow streets and experiencing the ambiance of the city. In the morning we walked through the Mercato Centrale and did a little shopping in the open air market before we headed over to see the Duomo.
The Duomo is unlike any other church you'll see in Europe. The outside is wonderfully ornate with bright colors and is contrasted by it's beautiful simplicity on the inside.
We then headed over to see Michelangelo's David. This is an absolute must see while you're in Florence. I was a little unsure if my children would enjoy it but even they thought it was amazing.
I would highly recommend reserving your tickets to the museum ahead of time. The Academia Gallery is small so they limit the number of people entering the museum. If you reserved your tickets ahead of time you can enter through a priority line which will save you a lot of time.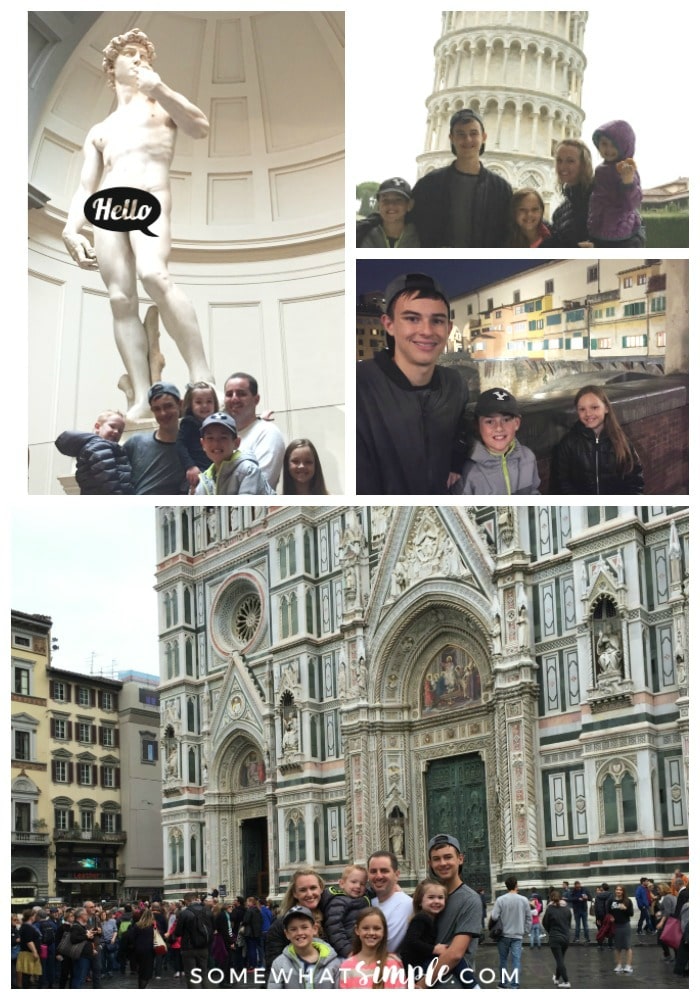 How To Get To Pisa
Trains leave

Florence for Pisa

many time throughout the day so there's no need to reserve your tickets ahead of time. You can purchase them at the kiosks inside the station. Depending on the number of stops the train makes, the trip will typically take between 30-60 minutes.
There's not much to see in Pisa except the famous leaning tower but that alone is well worth the trip. If you decide to climb to the top, you'll be treated to a beautiful view of the city. The day we were there we were greeted with a torrential downpour of rain! We really didn't get to do anything besides see the tower before catching a train back to Florence.
Once back in Florence we spent the evening walking the city and enjoying another round of gelato. A couple of stops I would recommend are the Piazza della Signoria (where the David statue once stood) and the Ponte Vecchio which was the only bridge in Venice that wasn't destroyed during WWII.
What To See And Do In Rome
Day 7 – Rome
The next morning we caught an early train to Rome that we reserved our tickets ahead of time for. We stayed at an incredible little hotel called The Wesley Rome. The hotel is located in the center of the historical district and a short walk to all the major attractions. That afternoon we went to the Vatican Museum to see the Sistine Chapel.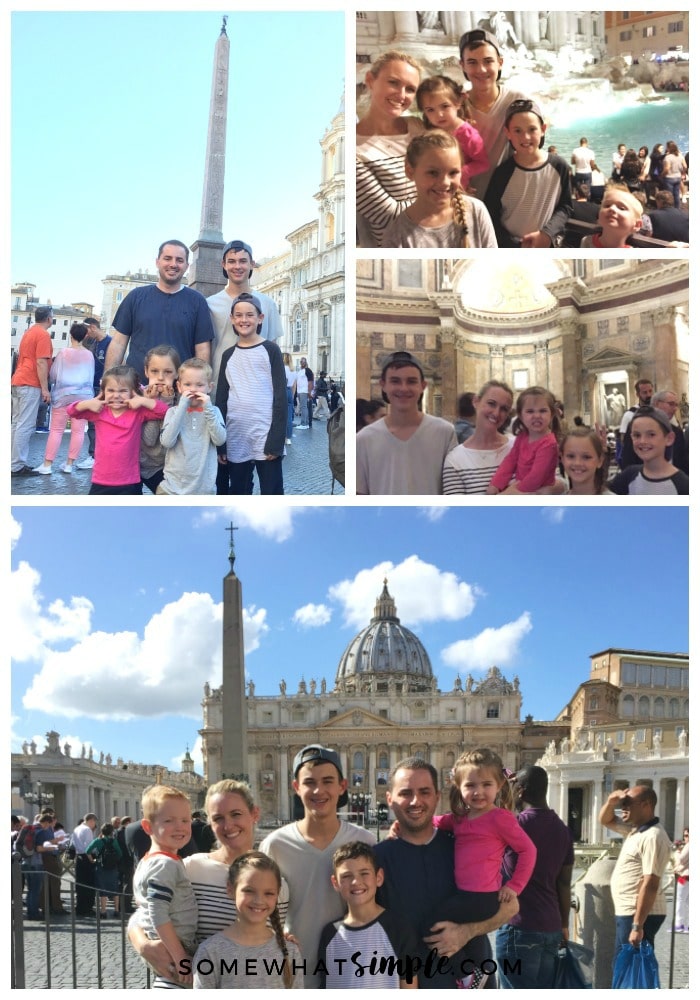 Again,

reserve your tickets

ahead of time so you don't have to wait in the long line. We wanted to see St. Peter's Basilica but our train was delayed that morning and the Basilica is closed on Sundays. We weren't able to see it this time, but I hear it's amazing!
In the evening we explored the city with stops at the Pantheon, the Trevi Fountain and Piazza Navona. The Piazza Navona is my favorite place in the city for gelato. Between the Pantheon and the Trevi Fountain you'll also find several street performers at night showcasing their various talents.
Day 8 – Rome
In the morning we enjoyed a walk through the city to the Colosseum. This is an absolute must see while you're in Rome!
Once again (I hope you've caught on the theme by now), reserve your tickets (and pay for them with your Chase Sapphire Preferred card) before you go so you can enter through the priority line. Your ticket for the Colosseum is also good for a visit across the street at the Roman Forum.
From there we took the metro up to the Spanish steps and then walked back through the city to do some souvenir shopping. That night we had pizza on the patio of one of the restaurants in front of the Pantheon. It was the perfect way to end the trip! Having dinner in front of a beautiful ancient landmark was a surreal experience!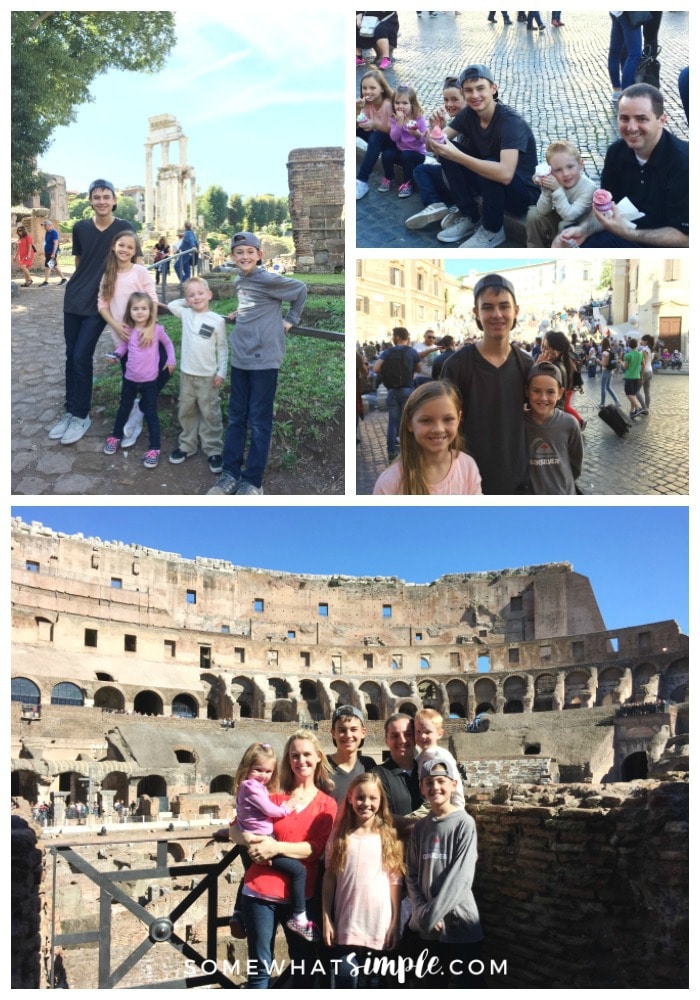 Heading Home
Early the next morning we went to the airport and headed home. I know this sounds like a whirlwind of a trip, but if you want to see the highlights of Europe & have limited time, it is possible. And if you think you can't keep up the pace, don't worry! We were able to do all of this with 5 children in tow (ages 2, 5, 8, 10 and 13) so you'll be just fine.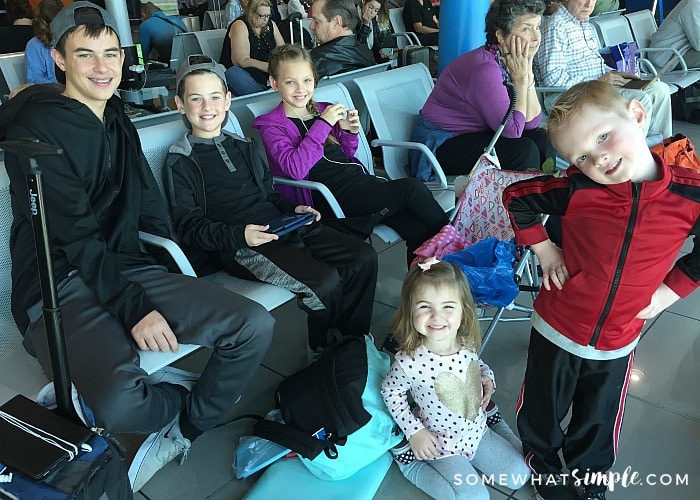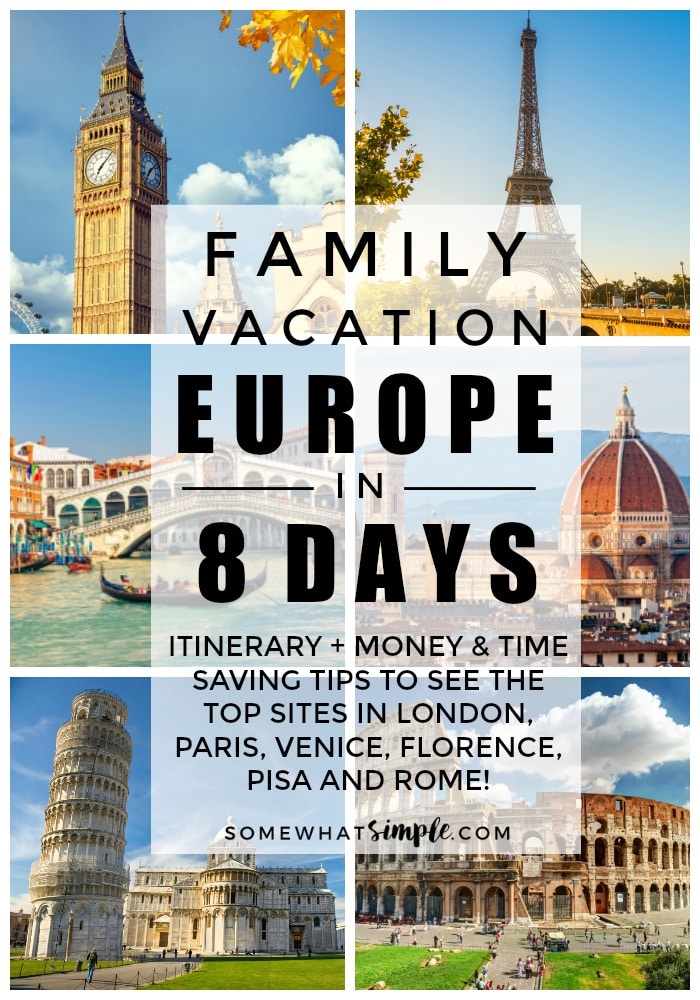 Somewhat Simple has partnered with CardRatings for our coverage of credit card products. Somewhat Simple and CardRatings may receive a commission from card issuers.
Responses are not provided or commissioned by the bank advertiser. Responses have not been reviewed, approved or otherwise endorsed by the bank advertiser. It is not the bank advertiser's responsibility to ensure all posts and/or questions are answered.