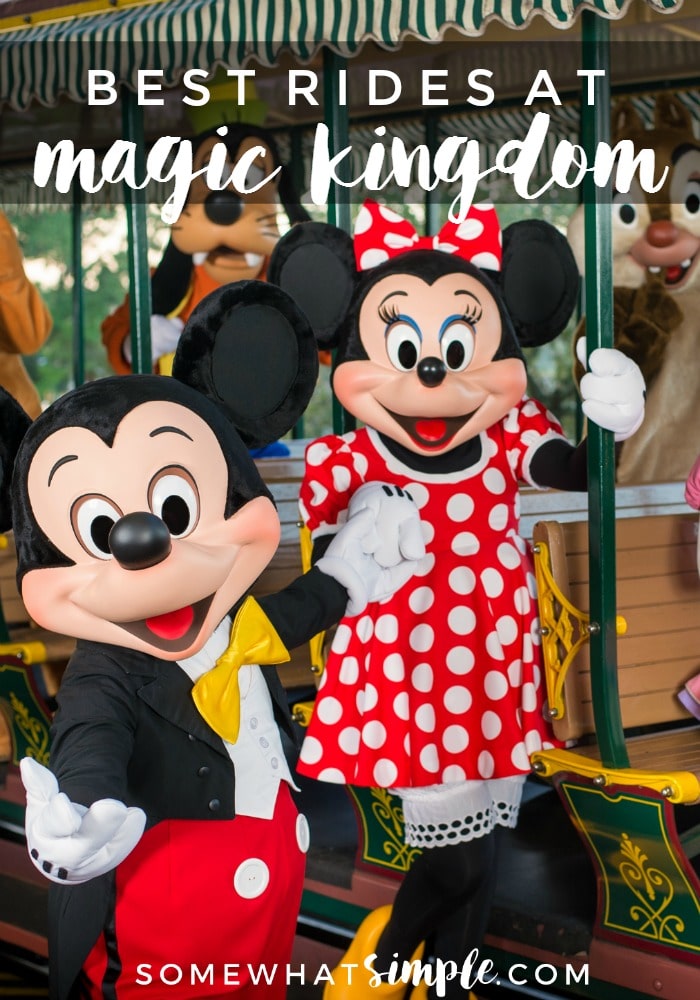 If you're planning a trip to Disney World soon, there are a handful of attractions you should not miss! Whether you have older people or young kids in your group; here is a list of the best Magic Kingdom rides for both age groups!
We are HUGE Disney fans in our house and I have always loved visiting the parks ever since I was young. While the rides are a lot of fun, don't forget to try some of the best things to eat at Disney!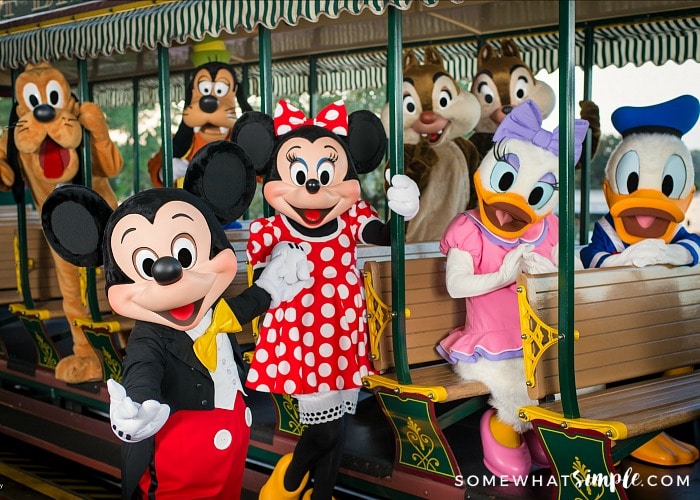 Best Magic Kingdom Attractions
The Magic Kingdom is the most magical park at Walt Disney World. There are so many things to do and see that it can get very overwhelming if you don't plan ahead a little. I have visited the Magic Kingdom multiple times with my five children and have taken note of their favorite rides and attractions each time we've visited.
My younger children definitely enjoyed different rides than my older children did. There were also rides that my older children loved going on with their younger siblings. Today I'm going to share with you the top Magic Kingdom rides for both the young and old so everyone can have the most magical day ever!
Even though it is possible to see the Magic Kingdom in a day, I would recommend spending two days in the park. If that is not feasible then here are some tips to do the park in one day and not leave with a broken heart. After you spend time at the parks, if you're looking for great places to eat while you're visiting the Magic Kingdom, try one of these great Disney Springs restaurants.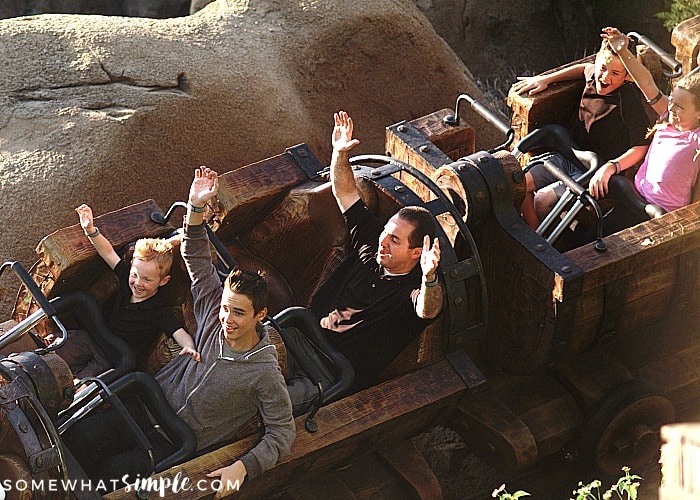 Best Rides At Magic Kingdom For Adults
Seven Dwarfs Mine Train
This is easily my family's favorite Magic Kingdom rides. Modeled a little bit after the Big Thunder Mountain Railroad you will speed your way to the mines where bright colors and the seven dwarfs are waiting for you. The ride slows down and the first thing you see is all of the colorful lights.
As you move through the dwarfs do what they do best, work. All of them are there, so make sure to look for your favorite! As you continue through you will hear the all familiar "Hi Ho" and then the famous theme song "Hi Ho, Hi Ho, It's Off to Work We Go" starts as all the dwarfs join in. The song sends you on your way to the next leg of the ride, where you pass by the cottage and see Snow White dancing with the dwarfs. There is a surprise at the end but I don't want to give away. This part thrill ride and part attraction. It is a must do and you definitely want to get a Fast pass. You must be 40 inches to ride.
Big Thunder Mountain Railroad
Are you ready to take on a supernatural force that haunts Big Thunder Mountain? If so, then you definitely want to take a ride on this speeding train. You will go down hills, take sharp corners, and travel down dips. This ride can be great for the whole family but you must be 40 inches to ride. It does go pretty fast so if you have anyone with heart conditions, etc. they may want to sit it out. It is a very popular ride, so fast passes are recommended.
Space Mountain
Get ready to board your space ship and rocket your way through outer space. This roller coaster takes you flying around the galaxy completely in the dark. It will constantly keep you guessing which way you will go next. You need to be 44 inches tall to ride Space Mountain. This ride is very popular and the lines can get extremely long, so you will want to reserve a fast pass in advance if you can.
Splash Mountain
If you love a ride that has a big drop, Splash Mountain was made just for you. I especially love this ride in the middle of a hot afternoon. Most of the ride takes place inside which can be very refreshing. Plus, there are multiple drops and opportunities to get wet along the way, including a 5 story plunge at the end where you could potentially get soaked.
If you want to ride Splash Mountain in the afternoon you will want to reserve a fast pass. If you can wait until the evening, most of the crowd will shy away from getting wet and the wait times are usually a lot less. I've seen them many times under 15 minutes. You only need to be 40 inches to ride this one.
Haunted Mansion
While this ride may not be as exciting as the railroad, it still has some thrills and chills. You will explore over 15 rooms in the mansion, each one being more haunted than the last. You will see ghosts, ghouls, and many other creepy beings. But beware at the end because legend has it that you may pick up 3 hitchhikers to take home with you. This ride does not have an height restrictions. The line moves pretty quickly, so you can save your Fast passes for another ride.
Top Magic Kingdom Rides For Younger Children
Peter Pan's Flight
This is my favorite ride at the Magic Kingdom that is perfect for everyone! You will board your own private pirate ship and fly off to Never Land. I love how the ride is set up and makes you feel like you're flying high above London as you travel through the adventure of Peter Pan. There is no height requirement but you will definitely want to reserve a fast pass for this one. From the time I was a teenage until our most recent trip a few months ago, I can't remember a time where this ride did not have a long line.
Tomorrowland Speedway
Here you will jump into your own car and zip around Tomorrowland in your own gas-powered car. My children love being able to get behind the wheel of their own car! For our children who do not meet the 54 inch height requirement to drive the car by yourself, I just push the gas pedal and let them handle the wheel. The cars are a little hard to steer so you'll want to keep your hands close or it could be a very jerky ride.
Dumbo The Flying Elephant
On this classic ride, you will climb into your own Dumbo elephant and go on a magical flying ride. You can control how high or low you want your Dumbo to fly. There is no height requirement for this ride and has always been a favorite when our children are younger.
The Little Mermaid: Ariel's Undersea Adventure
Hop in a clam shell and go on an adventure with Ariel! Meet all of your favorite characters as they sing and dance their way through the attraction. This is not a thrill ride, but more of a lazy boat ride. While most of the ride is happy and colorful, there is a dark sequence with Ursula that may scare young children. The animatronics on this ride is amazing and it is coupled with beloved screens of the movie. If you love The Little Mermaid this ride is a must for you and the whole family. Fast passes are a must and there are no height restrictions.
Enchanted Tales With Belle
If you or your child loves Belle, you don't want to miss this one. It is not a ride, but more of a journey. The special effects in this attraction are just amazing. You will meet characters from the beloved Disney movie "Beauty and The Beast" as they tell you a story. I don't want to give too much away but just know that your child could get picked to participate in a very special event at the castle. At the end you will meet Belle in her beloved library. Unless you want to wait a very long time, Fast pass is definitely recommended. There is no height restriction.
More Tips For Disney's Magic Kingdom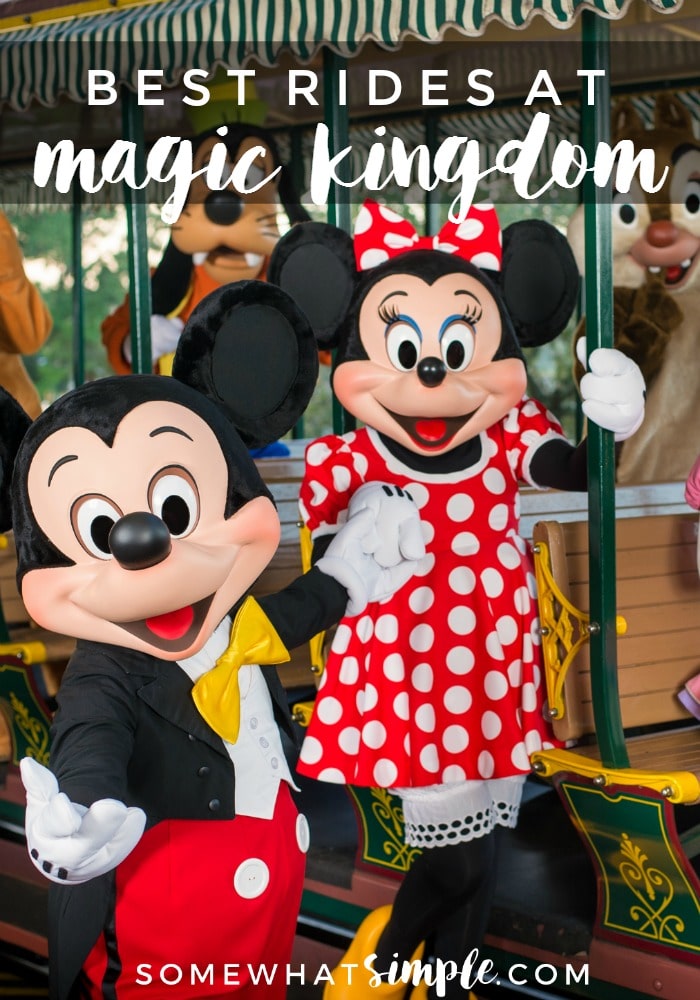 We sure hope you have a blast at Magic Kingdom! (Next time take me with you, will ya?)
What Magic Kingdom rides are your favorite?
Leave us a comment in the section below – we'd LOVE to hear your thoughts!