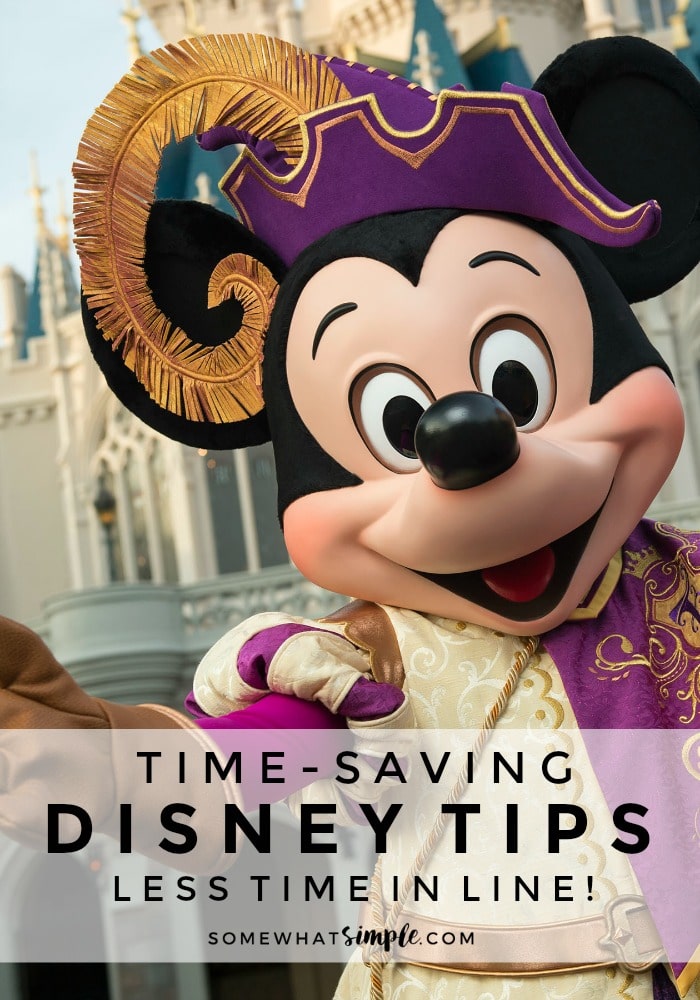 Spend less time in line and more time enjoying the magic with 13 time-saving Disney tips! These little-known tricks will make visiting Disney faster and more fun.
Here are a few more Disney tips we think you'll find helpful: The Best Food at Disneyland, Where to Meet the Characters at Magic Kingdom, and How to Save Money on a Disney Vacation.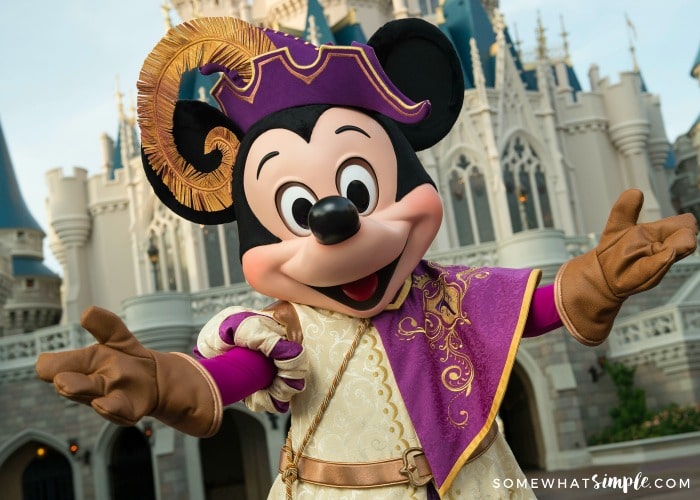 Time Saving Disney Tips
It's easy to get overwhelmed if you're a first-time Disney visitor, but we'll help you optimize your Disney vacation and avoid as many pitfalls as possible with these time-saving Disney tips.
While a couple of tips below are park-specific, the majority can be used at any Disney park – in Florida, California, or throughout the world!
*Photos in this post are from our Disney PhotoPass/ Memory Maker – it was like having our own personal photographer with a nice camera in our back pocket!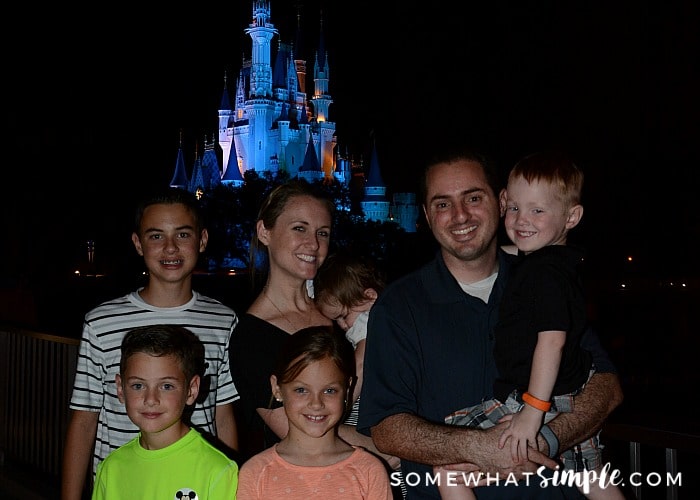 1 – Buy Your Tickets Before You Go – Each time we go to Disneyland, I am amazed at how many people are starting their day in a looooong line to buy their tickets! The park ticket counter not only doesn't have the best prices, but they are also super crowded! Save the time and hassle and get your tickets online before you go.
The cheapest tickets we've found are from Getaway Today (affiliate). You can also save money by purchasing Disney gift cards at Sam's Club and then using those gift cards to purchase your admission tickets online.
2 – Get Genie+ – Formerly known as the Fastpass, Genie+ allows you to return to a ride at a certain window of time and enter The Lightning Lane where the wait time is just minutes. Genie plus is an additional cost per ticket, but I think it is worth every penny. You can also purchase tickets for individual Lightning Lanes if you don't want the full Genie Plus pass.
For Walt Disney World – download the My Disney Experience App
For Disneyland and California Adventure – download the Disneyland app
Each day at 7 am (no matter what time the theme parks open) every guest with Genie+ can make their first attraction reservation and enter a virtual queue. Once you've redeemed your initial selection, you can use the app to make another selection. You can make selections all day until the park closes.
You can purchase Genie+ with your vacation package or you can buy it separately on the app between 12 am and 7 am on the day you plan to go to the park. (I wouldn't wait 'til 7 am to purchase your Disney Genie Plus – set your alarm and get it at 6:45 or earlier! That way you're ready to reserve your first attraction right at 7 am.
3 – Pick your favorites – Long lines and attractions being far apart might make it stressful in getting to see all you want to see. So pick your favorites, do those first, and then everything else is a bonus!
Wondering what some of the must-see attractions are in Magic Kingdom– we wrote all about it HERE.
4 – Be There for the Rope Drop – Not only will you want to see the special opening of the park but being the first in line to get in could speed up wait times for your child's favorite ride or must-do activity.
5 – Don't Follow the Crowd – One of the best tips we have ever received is that when entering the park go left. Most people are inclined to go right or straight and head toward the castle or Tomorrowland. Do the opposite and you will bypass some of the crowds!
Also, head to the very back of the park first. Most people will stop at the first ride they see and work their way around. Do the opposite!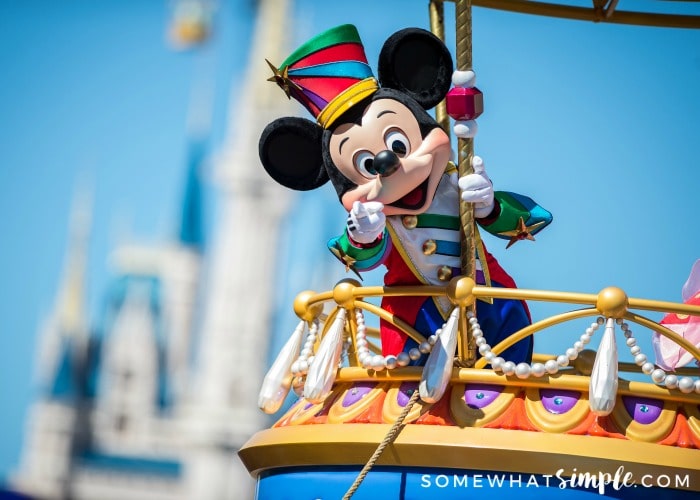 6 – Use Disney's Extra Magic Hours – Each day, certain parks are open an hour early or up to three hours later for guests staying in Walt Disney World resorts. Research Extra Magic hours before you go so you can plan ahead of time which parks you can take advantage of early AM or PM.
7 – Order Food on the App – It's not uncommon for lines to order food to be out the door during mealtimes. Instead of waiting in those lines, use the Disney app to order your food. Then, arrive at the mobile pickup window at the designated time, grab your food, and you're good to go!
If you're visiting Disney World, you can make a dining reservation to cut down your dining time at Epcot, Hollywood Studios, Animal Kingdom, or Magic Kingdom, or you can purchase a Disney dining plan.
Advanced dining reservations are offered up to 60 days in advance at select restaurants throughout the Disney Resort and California Adventure, but they only have limited availability – so plan accordingly if that's something you are looking forward to.
8 – BYOS (Bring Your Own Snacks) – You can save a lot of time (and money!) by bringing snacks and simple meals into the park. Eat while walking to the next attraction, or snack while you're in line. Granola bars, PB & J sandwiches, goldfish crackers, fruit snacks, etc. can help keep the kids fed and entertained!
9 – Use The Child Swap Option for the BIG rides – To use the Child Swap feature, just notify the ride attendant that your spouse is sitting out with a young child. They will give you a pass that is good for your spouse + 1 or 2 riders to get to the front of the line as soon as you are off the ride.
10 – Take Advantage of The Parades – If parades aren't your thing, take advantage of the shorter lines while everyone else is watching the parade. When we had annual passes to Disneyland, we'd always save Splash Mountain, Pirates of the Caribbean, and The Haunted Mansion 'til Fantasmic was playing. Adventure land was always packed, but most of the people would be watching the show, leaving the lines a lot shorter for us!
11 – Use the "Single Rider" line – Some rides offer single rider lines and those lines can move a whole lot faster!
12 – Save the Shopping for the END of the Day – Not only is it a pain to carry around all your Mickey souvenirs and worry about them getting lost or stolen, but shopping at closing time will give you more time for the rides and attractions. Why? Because when the parks close they shut down the rides, not the shops. So spend your time on the rides during park hours while they're running, and shop as you make your way to the exit gates.
13 – Stay on Property – Not only do we love the magic offered at the Disney resorts, but they come with extra bonuses, too! Extra park hours, park transportation, etc. Our favorite Walt Disney Hotels are –
Animal Kingdom Lodge
Yacht Club and Beach Club
Art of Animation
All-Star Sports and Music (for a budget- friendly option)
And we've heard good things about the following –
Contemporary Resort
Swan and Dolphin
So whether you're planning a week-long Walt Disney World vacation, or you're trying to see everything at California Adventure in a day we hope these tips help get you the most out of your time at Disney!