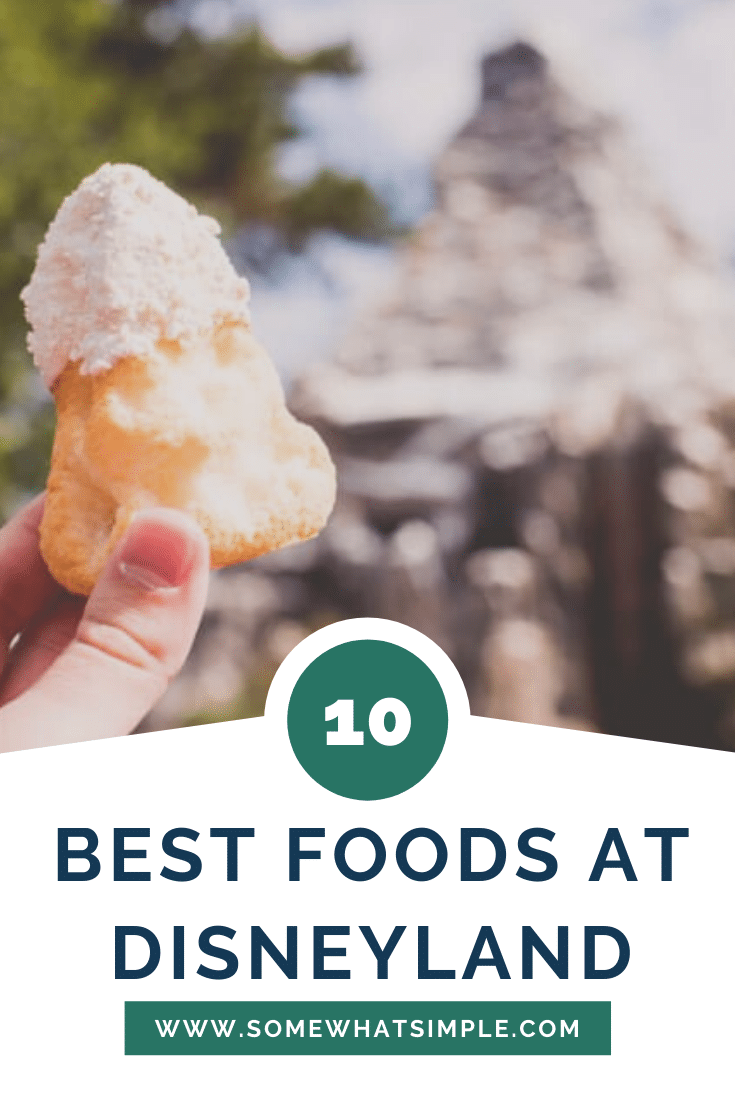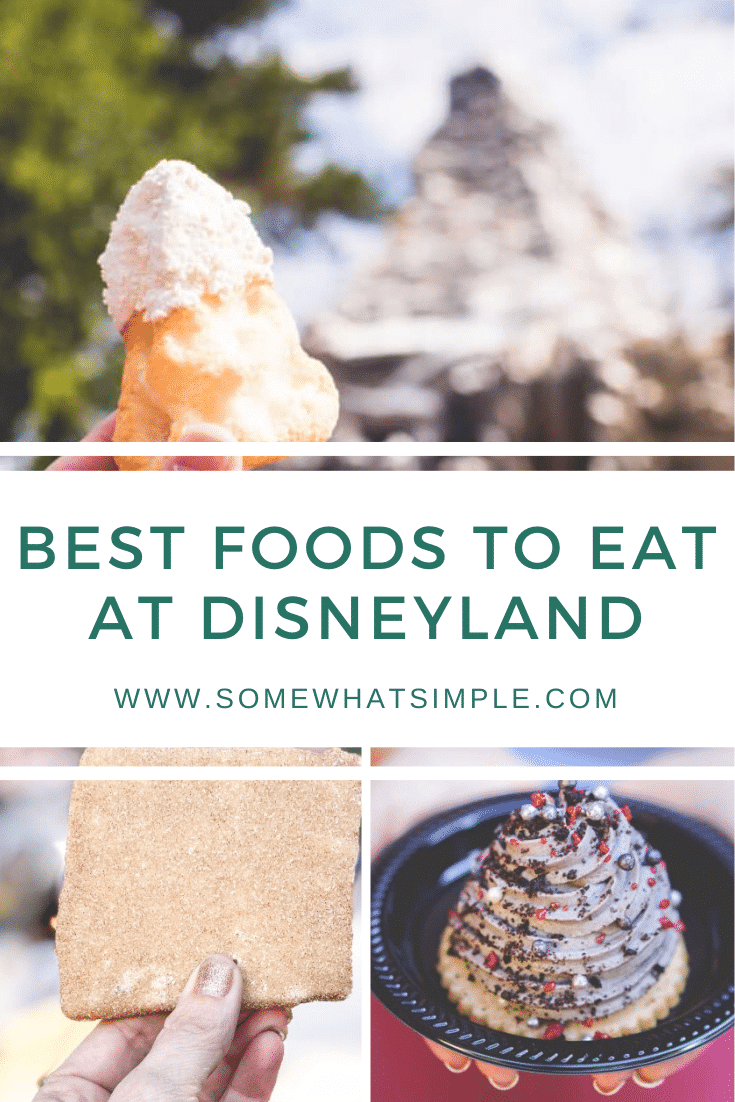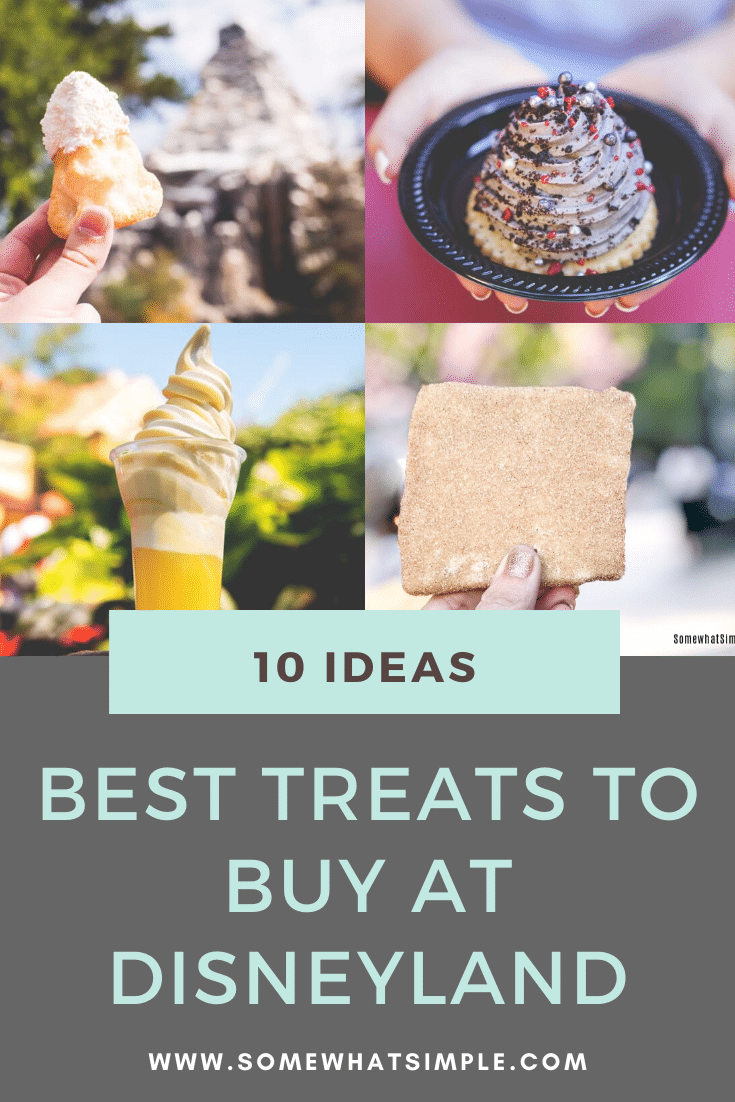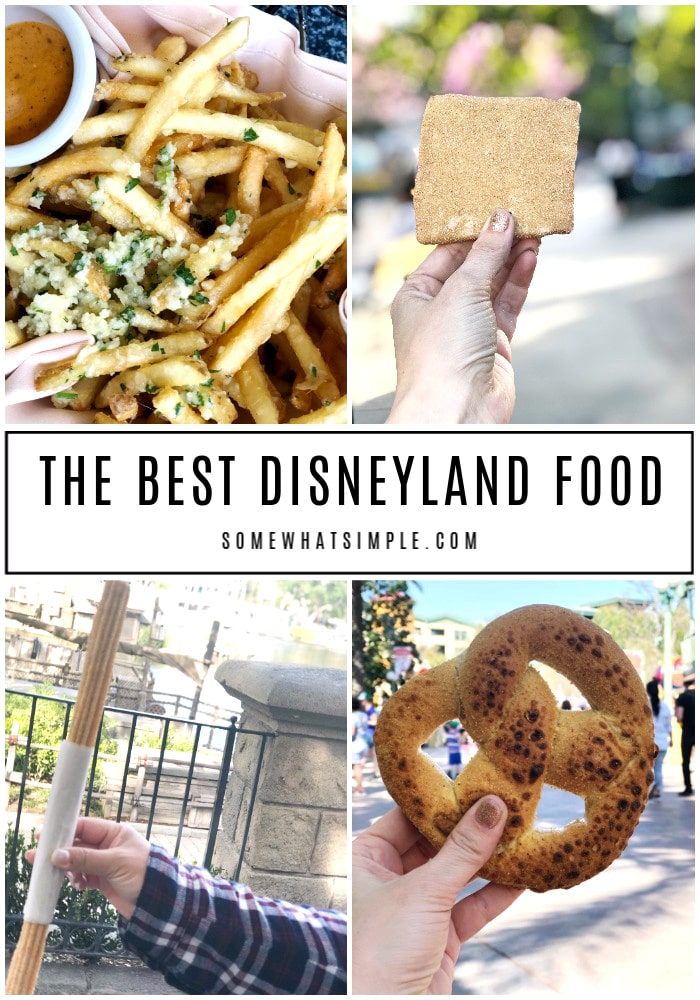 From Dole Whips to Churros and Clam Chowder in a Bread Bowl – here is the ultimate list of the best food at Disneyland and Disney's California Adventure!
Are you planning your next trip to Disneyland? Be sure to check out a few more of our favorite Disney tips – How to Spend Less Time in Line, How to Save Money on a Disney Vacation, and Top Disney Dining Experiences.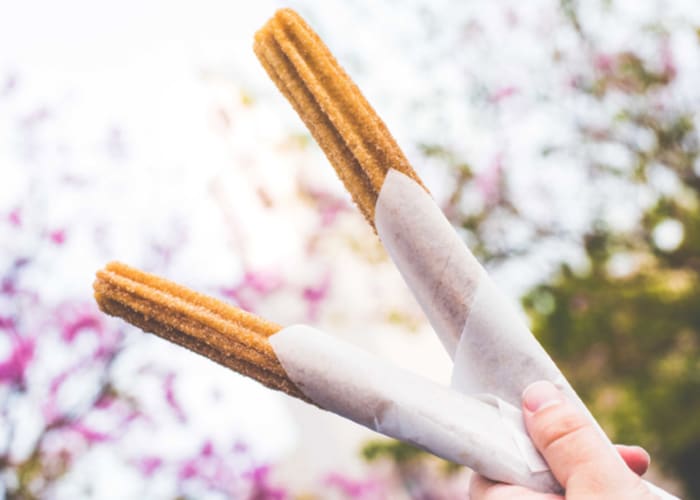 Gathering Everyone's Opinions
Growing up in Southern California meant we visited Disneyland as a family quite often. My parents purchased annual passports the year I went to Kindergarten and we were pass holders through out the years, all the way up to when I became a mom myself. Now our family lives in Phoenix and we try to get a trip planned to Disneyland every couple years because we love it so much. We have our favorite rides, our favorite things to see and we definitely have our favorite things to eat.
In preparation for this list, I went to the Somewhat Simple Instagram and Facebook audiences and asked them "What is the best food at Disneyland?"
The responses had me craving another trip to Disney! Some of the answers were things I've not tried (yet!) and some answers were already on my personal list of favorites!
Take a look –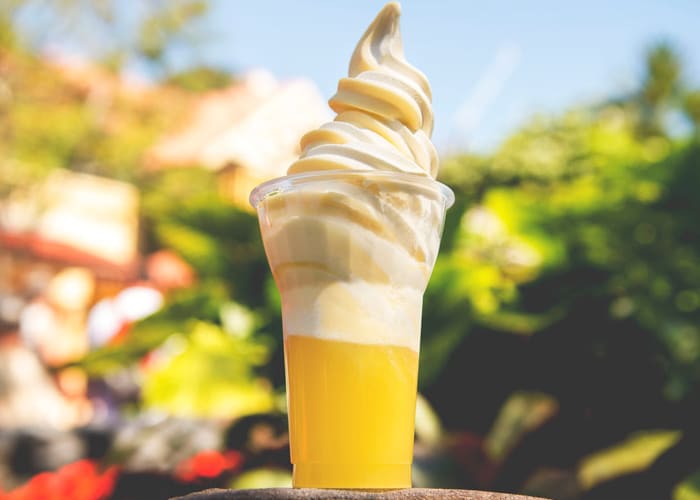 10 Best Foods to Eat at Disneyland
1. Beignets
The beignets were hands-down the most mentioned food when we asked for must-eat treat recommendations. It seems everyone who tries these delicious pastries falls in LOVE! While most people said they purchase beignets from Cafe Orleans, it is worth mentioning that those who also tried them at Ralph Brennan Jazz Kitchen in Downtown Disney said they were even more delicious than the ones inside the park. (This was actually mentioned multiple times!)
2. Dole Whip
The Dole Whip has been one of the most popular Disney snacks since it was introduced in 1986! A Dole Whip is a delicious soft serve frozen treat that is sweet and tart and totally delicious. You can get the cup-version, called a Dole Whip by Disney, or the Pineapple Float from the Tiki Juice Bar by The Enchanted Tiki Room.
3. Clam Chowder in a Bread Bowl
Always a line, always worth it! The clam chowder is amazing and the sourdough bread bowl is delicious! Get it at the Royal Street Veranda in Adventureland by Pirates of the Caribbean.
4. Monte Cristo Sandwich
A sliced ham, turkey, and Swiss cheese sandwich fried in a light, fluffy batter, dusted with powdered sugar. This sandwich is FILLING, and so delicious! Get it from Cafe Orleans in Adventureland – a reservation is probably a good idea. 😉
5. Mint Julep
Nothing tastes better on a warm afternoon than a non-alcoholic Mint Julep! These refreshing mint + lime icy drinks can be found at the Mint Julep Bar at the French Market.
6. Dill Pickles
When I was younger, they sold these pickles from big pickle barrels. Now they are laid out on ice in plastic baggies ready for you to grab and go! Of all the "food memories" I have at Disneyland, these pickles are most nostalgic! The newer version aren't as good as I remember them being when I was 5, but they are still a favorite Disney treat! Grab them from various snack stands throughout the park.
7. Pommes Frites
While waiting for your Monte Cristo Sandwich at Cafe Orleans, order the Pommes Frites! They are a traditional french fried potatoe tossed in Parmesan, garlic, and parsley served with Cajun Spice Rémoulade. Definitely a Disney favorite! In case you haven't noticed, Cafe Orleans has three of the best foods at Disneyland that made our list, so I would definitely recommend dining there.
8. Churro
There is just something deliciously nostalgic about the crispy, but soft, cinnamon goodness that is the Disney Churro. No other churros can compare- so don't even try. Warning, you will not want to share, so grab enough for the whole family! You'll find churros from various snack carts through out the park.
9. Boysen Apple Freeze
This is one treat I had never heard of before seeing the results of our poll, and I was surprised at how many people said they loved these things! I had to look them up to know what they were, and you can bet I'll be trying them on our next Disney trip! A Boysen Apple Freeze is a frozen apple juice with a hint of boysenberry topped with passion fruit foam. This sweet + sour treat can be found at Maurice's Treats stand by the castle.
10. Lobster Rolls
One of the most popular foods at Disneyland is the warm, buttery lobster roll now at Harbour Galley in Critter Country. (By Haunted Mansion and Splash Mountain.) Perfectly seasoned lobster with celery and onions on a buttered roll topped with fresh chives and served with house-made chips… do I have your attention yet?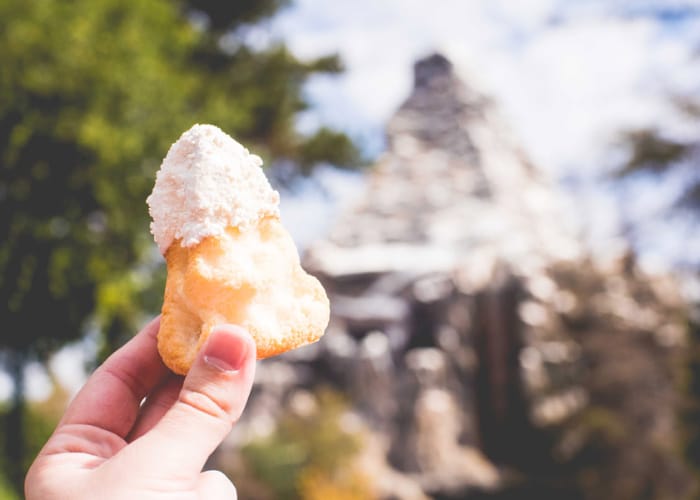 More Disneyland Favorite Foods
More delicious foods and treats that were mentioned multiple times, but didn't quite make our Top 10 List! Listed in alphabetical order, here are a few more delicious things to try when you're in the park.
Bacon Wrapped Asparagus with Lemon from Bengal BBQ in Adventureland
Baked Potato Soup from Carnation Café
Black + White Mickey Cookies from Main Street Bakery
Caramel Apples from Pooh's Corner
Chicken Basket at The Golden Horseshoe
Chicken Veggie Kabobs Bengal BBQ
Diet Coke from Café Orleans – "The Best Diet Coke Ever!" (But bring your own straw because they serve drinks with paper straws – yuck!)
Orange Dole Whip at Tropical Hideaway
Dole Whip with Tajin Seasoning in Adventureland
Fried Chicken Dinner at Plaza Inn
Funnel Cake by Splash Mountain
Gumbo Bowls @Royal Street Veranda (this one was mentioned a bunch!)
Ice Cream Sandwich from various ice cream carts
Jungle Julep Purple Drink at Bengal BBQ
Loaded Raspberry Dole Whip from Tropical Hideaway
Matterhorn Macaroon (mentioned being one of the cheapest treats in the whole park at only $2.75)
Mickey Sundae @ Golden Horseshoe (Served on a warm skillet cookie.)
Mickey Waffle at Carnation
Peanut Butter Cup Cookie from Pooh's Corner
Raspberry Macaron from Jolly Holiday Café
Spaghetti and Pizza from Pizza Planet
"The Gray Stuff" at Belle's Tavern in Fantasy Land – shortbread cookie, red velvet cupcake and cookies and cream mousse… YUM!
Turkey Sandwich from Jolly Holiday Cafe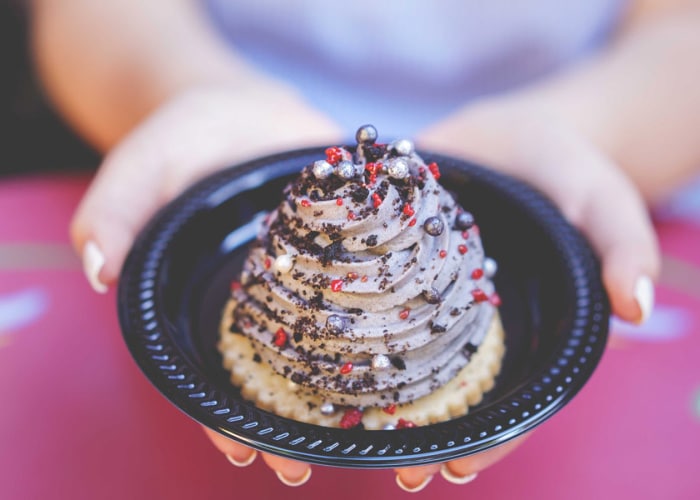 Top 10 Foods to Eat at California Adventure
1. Churro Toffee
This was supposed to be a seasonal treat, but the popularity of this toffee is insane and should keep it in Disney candy shops forever! In fact, what once could only be purchased in California Adventure close to the park entrance is now being sold at Disneyland too!
2. Turkey Leg
Greasy, delicious and very filling! But grab a bunch of napkins- you will need every last one!!! Served from a handful of carts through out the park.
3. Corn Dog
These are the tastiest, crispiest corn dogs you've ever imagined existed! Made popular by The Corndog Truck on Mainstreet, you can now enjoy a cron dog from various stands through out California Adventure.
4. Cream Cheese Filled Pretzel
My husband and I JUST tried this and it was delicious! Grab it from Bayside Brews.
5. Ghirardelli Sundae
A classic treat that tastes even better when sprinkled with a little Disney magic!
6. Jack Jack Cookie Num Nums
Delicious chocolate chip, shortbread and jam-filled cookies served with assorted milks, found right by The Incredicoaster.
7. Lobster Nachos
Warm Lobster with Black Beans, Aged Cheddar-Oaxaca Cheese Sauce, Pico de Gallo, and Chipotle Crema. Order these from Lamplight Lounge (lunch and dinner menu only – not served for brunch.)
8. Cookies N Cream Milkshake
Another one I haven't tried yet, but it looks delicious and came highly recommended! Find the best one at Schmoozies.
9. Brioche French Toast
Named by several fans as "The Best French Toast in the World!" This favorite breakfast is from Flo's V8 Cafe in Cars Land.
10. Pixar Pier Frosty Parfait
Satisfy your sweet tooth with a mouthwatering Lemon Soft-Serve with Blue Raspberry Swirl from Adorable Snowman Treats on Pixar Pier.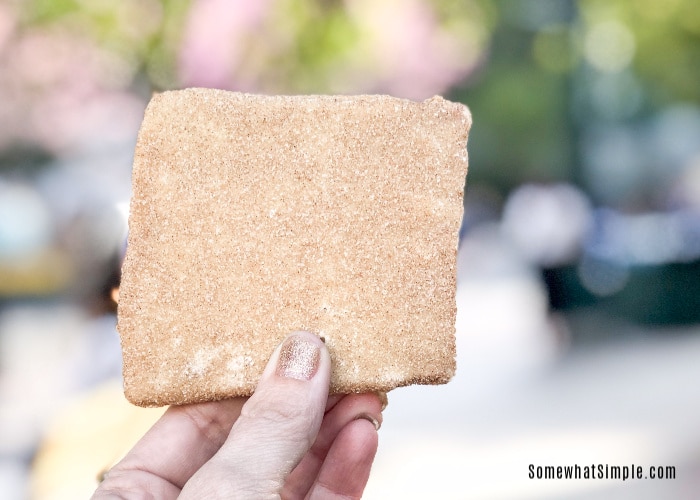 More California Adventure Favorite Foods
There were more delicious foods and treats that were mentioned, but didn't quite make our Top 10 List! Once again, I have listed these in alphabetical order for your convenience.
Avocado Burger from the avocado stands
Clam Chowder
S'Mores Squares
Unicorn Slush at the gift shop past the Incredicoaster.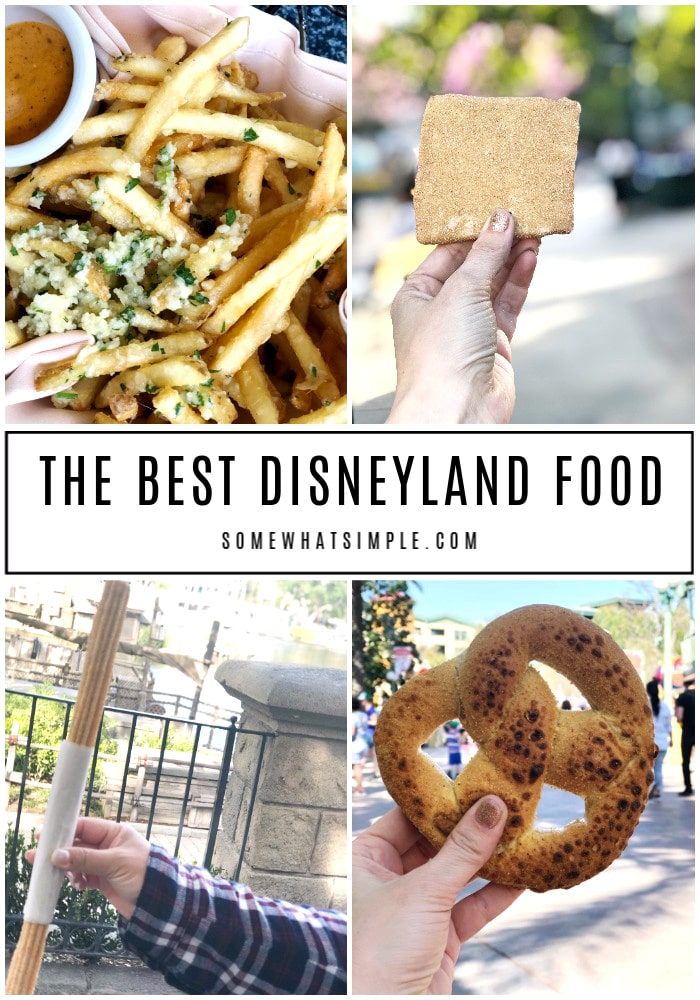 So there you have it! All the best food at Disneyland!
I received 2 Park Hopper tickets to Disneyland in exchange for writing this. All opinions are 100% my own.