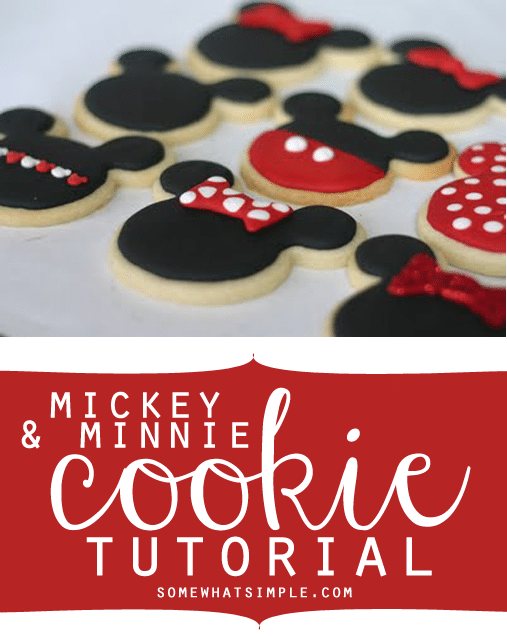 These Mickey and Minnie Mouse Cookies are the perfect Disney treat! This easy step by step tutorial will transform simple sugar cookies into something magical.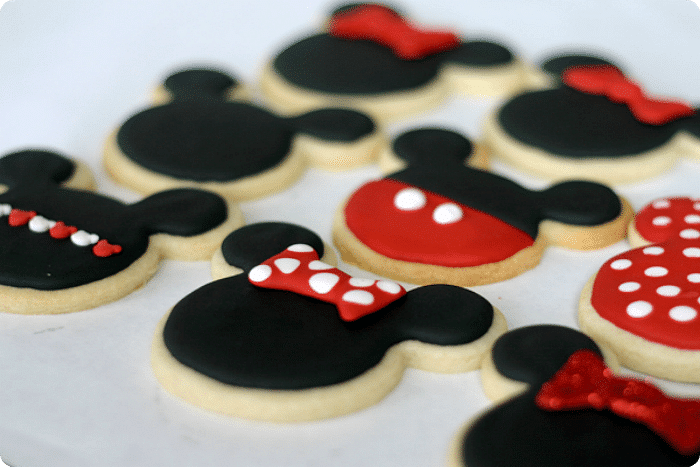 Today I'm feeling all Disney inside and I decided that some Mickey and Minnie Mouse Cookies were in order. My family and I are fresh off a Disneyland vacation and I do believe it is the happiest place on earth. (Though sometimes you do wonder when you witness a child melting down from being off their nap schedule and the parents are saying, "you need to settle down, because we ARE staying for Fantasmic!")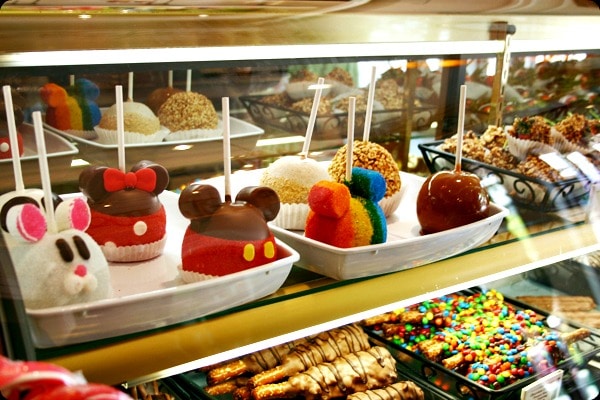 Easy Mickey and Minnie Mouse Cookies
Today's inspiration comes from these cute candy apples from Pooh's Corner – the candy store at the end of the Winnie the Pooh ride. As I was purchasing my Minnie Mouse apple, I noticed that Minnie's bow was royal icing with sanding sugar, but it wasn't just frosted on top of the apple, it was done with a process called "floodwork". (At least that's what my people call it!)
Floodwork means you simply pipe out separate decorations on parchment paper and then transfer them onto your cake or cookies when they are ready. I'm going to show you some Mickey and Minnie Mouse cookies using basic cookie decorating tips and then I will show you some Minnie cookies using the floodwork method. Ready? Let's get to it!
Read these simple tips and tricks for sugar cookies and royal icing if you need a quick refresher.
How To Make Mickey Mouse Cookies

Mickey was a 3 step deal. Pretty easy, just wait for it to dry a few hours in between each step. You could do it all at the same time, but your black and red could get up in each others' business. And the buttons would meld into the red and be even, instead of raised. But hey, no biggie if you're short on time.
How To Make Minnie Mouse Cookies

Minnie was more complex for me. She's got hair accessories to worry about. I just couldn't decide what to do with her bow. But I did know that I wanted to make them as "floodwork."
More Easy Cookies Recipes
Minnie Bows Floodwork Lesson

Simply pipe decorations onto parchment paper and let it dry completely. (I leave mine alone over night.) You should now be able to easily pick it right up.
For the plain bow, in order to have the center look defined, you need to pipe the sides and let them dry for a couple hours, then make the dot in the center. I like those better than the ones on the right which were done all at once. When I made some bling-y bows, I poured plenty of disco dust and sanding sugar on and left it there while it dried. I didn't shake off the excess until it was completely dry.
The other great thing about "floodwork" is that you can set them half on and half off of your cookie. Parts of Minnie's bow would sag if I piped right onto the cookie.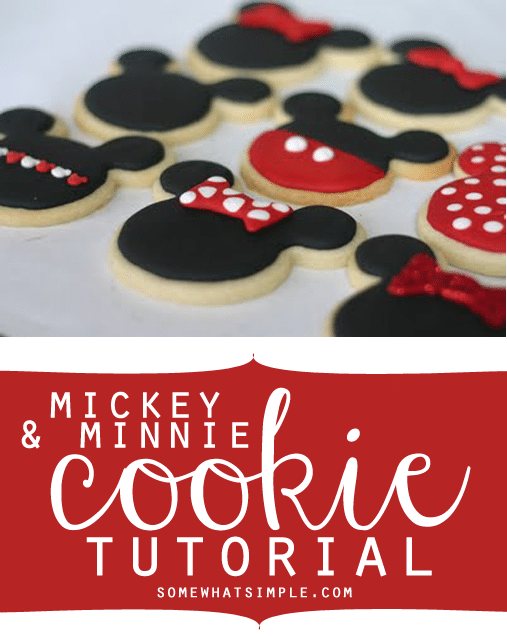 Now you have a custom decoration that you can put on your cookie/cake/carmel apple!
About the Author: Ashleigh is the creative mom of three and blogger from Bee in Our Bonnet . Ashleigh spent a few years blogging on Somewhat Simple as our Baking Contributor.
This post originally published on Somewhat Simple in April 2011