After reading this post you are going to want to plan a trip to Lauterbrunnen, Switzerland. Don't say I didn't warn you!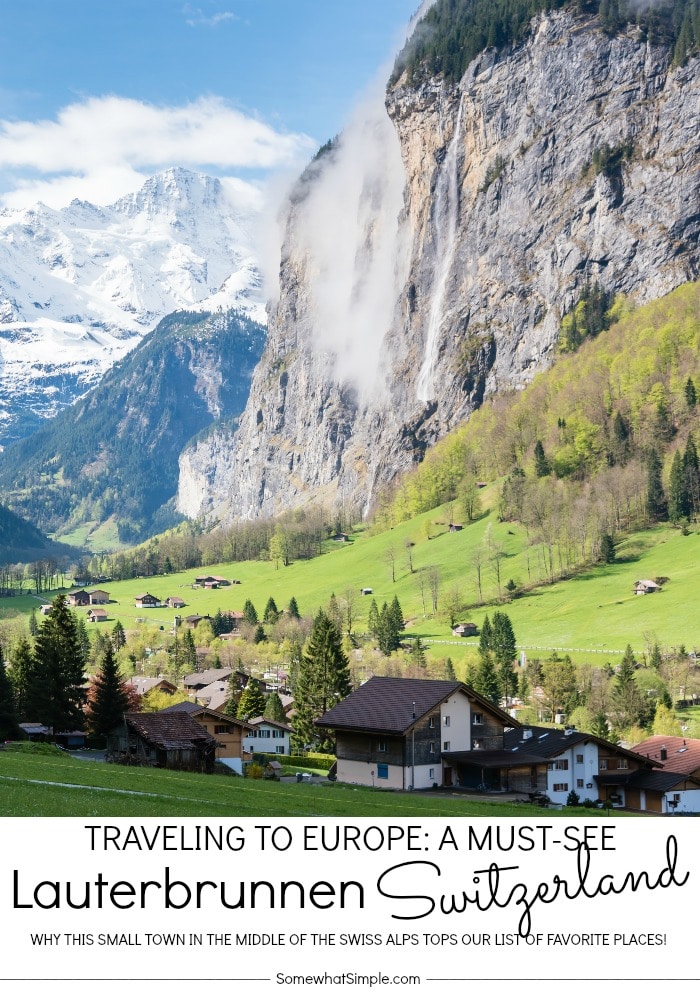 Where Is Lauterbrunnen Switzerland?
I want to share with you a hidden gem that you MUST SEE on your next European vacation. On our recent trip to Europe we wanted to visit several of the popular destinations in Western Europe. We also wanted to visit a place that wasn't a typical tourist spot. I called a friend who lived in Germany while her husband served in the military and she told me about her favorite spot in all of Europe… Lauterbrunnen, Switzerland.
Lauterbrunnen is a small village located in Central Swizterland and a short train ride from Interlaken. Nestled in a valley with gorgeous rocky cliffs shooting up on either side, this small town in the Swiss Alps is unlike any place you have ever seen.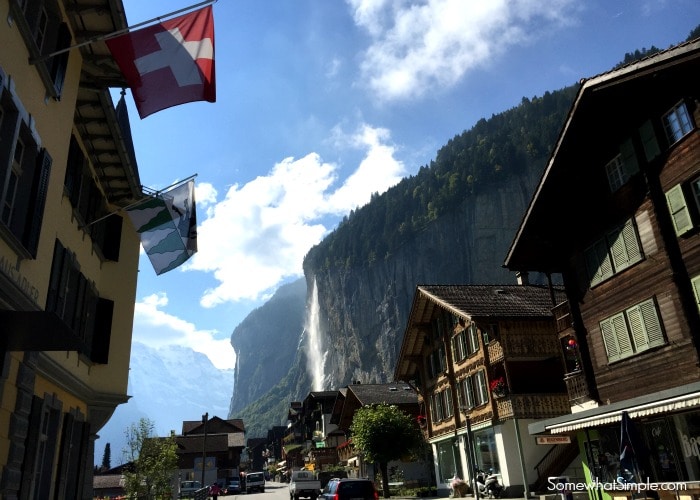 Lauterbrunnen Switzerland
After one quick Internet search I knew I had to go there! Getting there takes a little time but it's easy to do with the European train system. It took us a few hours and 3 different breath taking train rides from Milan to get there but it was well worth the trip. When we got off the train in Lauterbrunnen we were greeted with this amazing view and I instantly fell in love with the place!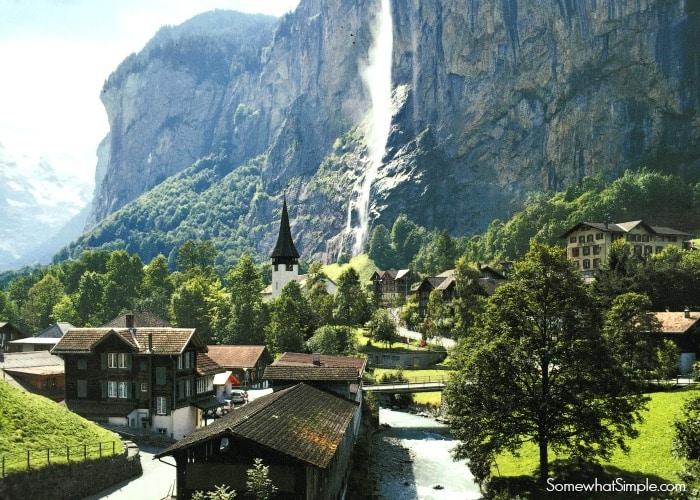 Lauterbrunnen Hotels
Since we had been traveling all morning, we immediately set off to look for a place to eat. Along the main street of town there were a few different cafes and hotel restaurants to choose from. We decided to stop at the Hotel Schutzen simply because it had an outdoor patio so we could soak in the scenery while we ate. Our waiter was hysterical and the food was delicious! We ordered a hamburger but were given a little slice of culinary heaven. The patty was made out of what seemed to be a mixture of hamburger and sausage…simply amazing!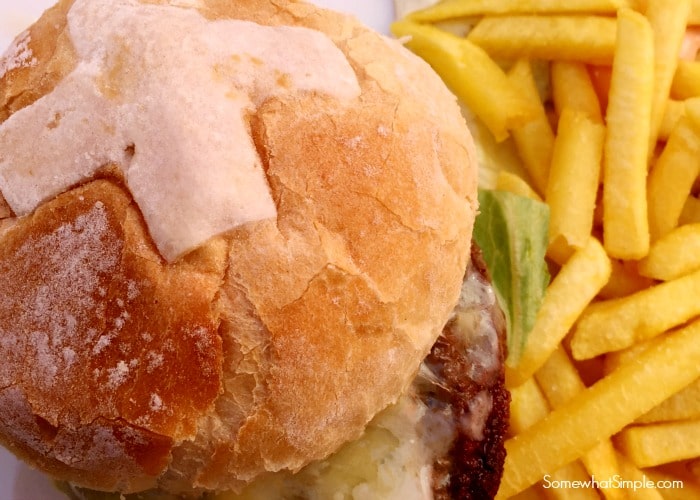 After lunch we headed over to take a closer look at the beautiful waterfall flowing from the side of the cliff. While we were walking, you could see several paragliders leaping from the cliffs above and floating down to the valley floor. The entire scene was like something out of a travel show. When we got to the waterfall we discovered a trail that takes you up the base of the cliff and behind the face of the waterfall. I'm not much for hiking but the climb was short and not difficult at all. Besides, who doesn't want to say they hiked up behind a waterfall in Switzerland?!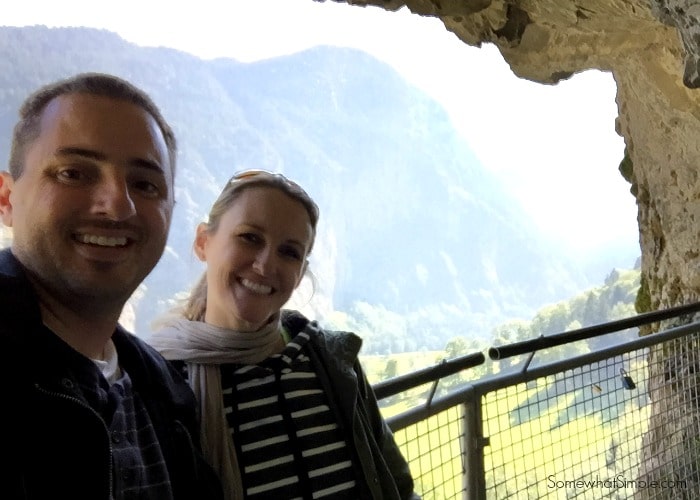 As for places to stay, there are several independent hotels in Lauterbrunnen to choose from. If you're feeling a little adventurous, there's even a campground you can stay at. However, I would only recommend doing that in the summer time. We were there in September and it got really cold at night. We chose to stay at the Hotel Alpenruh which is located in Murren; a village located on top of the ridge above Lauterbrunnen that's accessible only by cable car.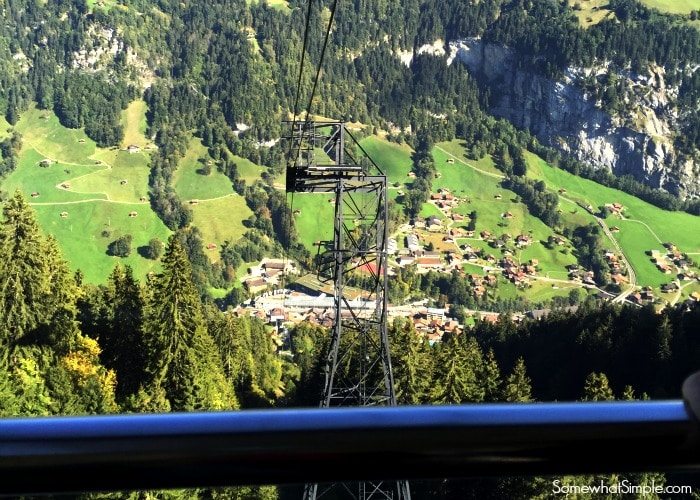 Murren Switzerland
I'll admit, I was a little nervous about riding the cable car and even got a little shaky every time the cable car would sway but I'm glad I did it. I thought the view was incredible from the valley floor but from above it was unbelievable. From Murren, and if you're not afraid of heights like me, you can take a second cable car up to the top of the mountain to Schilthorn. For you James Bond fans, this is where they filmed a portion of the movie, Her Majesty's Secret Service.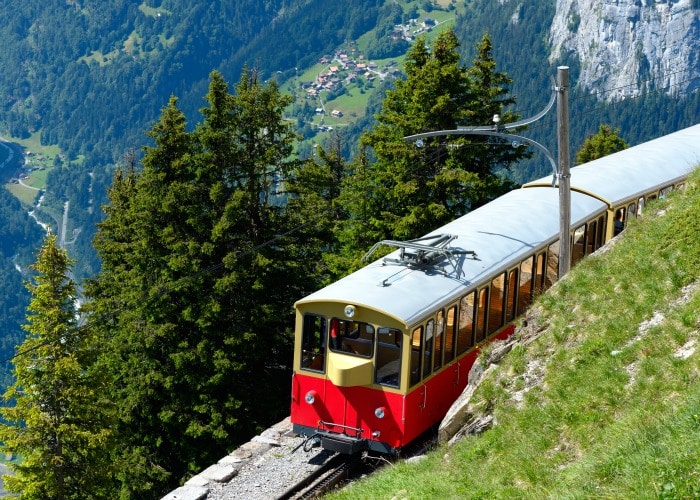 Our hotel was fantastic and the staff was super friendly. Our room included a free breakfast but we had to catch an early train the next morning so they packed us a breakfast to take with us. How nice was that?! If you choose to stay in Murren, spend the extra few dollars to get a room facing the Alps. The view was incredible! Take a look at this quick clip of the view from our balcony and you'll understand why.
That night we had dinner at the Hotel Blumental and I HIGHLY recommend it. It was a very romantic setting and the food was delicious. It was the perfect ending to a perfect day in Lauterbrunnen.
. . . . .
If you're looking for a unique, "off the beaten path" place to visit while in Europe, Lautterbrunnen is THE place to go.
For other European travel ideas take a look at these other posts; European Highlights In 8 Days, Ireland Travel Tips and our Top 5 Things To Do In Amsterdam.