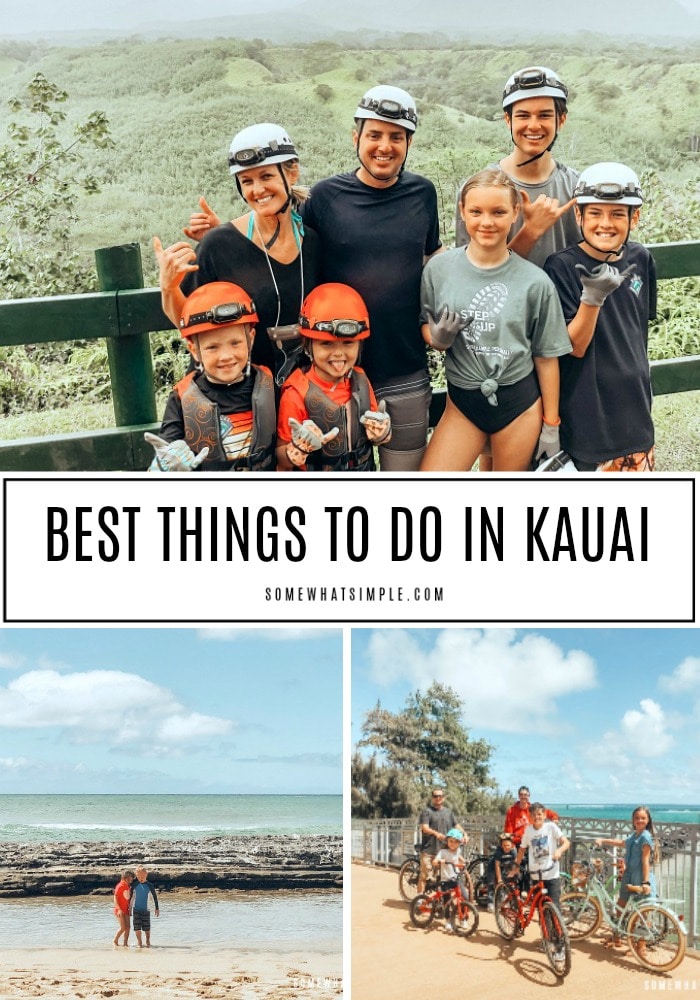 The island of Kauai is one of the most beautiful places I have ever visited. From outdoor adventures and relaxing on gorgeous beaches, there are so many incredible things to do in Kauai! Everyone should add this destination to their traveling bucket list!
Whether we are visiting Europe, Niagara Falls or planning a simple road trip, some of the best memories we've created as a family have been while traveling. Hopefully these recommendations will help you create some of your own family memories that will last a lifetime!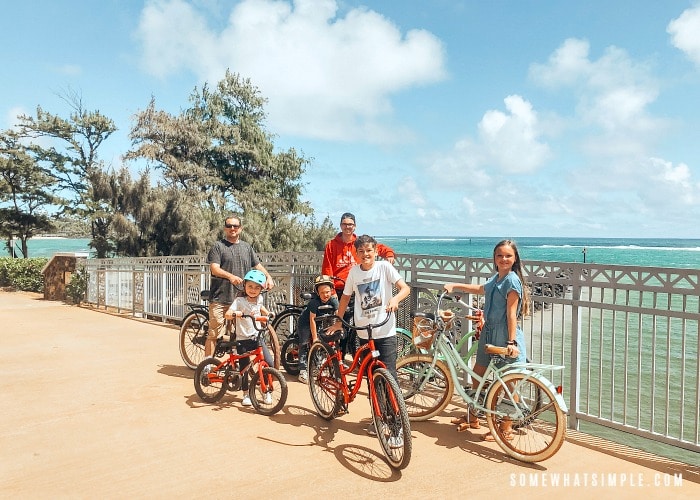 Best Things To Do In Kauai
Our family of 7 decided to make the most of our Spring Break this year by planning a trip to the island of Kauai. Kauai is exactly what most people picture Hawaii to look like – everything is so tropical, lush and green. The beaches are gorgeous and the slow-paced island life is contagious! In my opinion, Kauai is the most beautiful of all the Hawaiian Islands, and if you love the great outdoors, this is the island you need to visit.
There are some many fun things to do in Kauai, it can be tough to narrow it down. Our kids range in age between 5 and 16, so finding activities that everyone can enjoy together can sometimes be a challenge. After traveling to every corner of the island, we have come up with our list of the best things to do in Kauai. Whether you enjoying relaxing on the beach, or something a little more adventurous, there's something for everyone!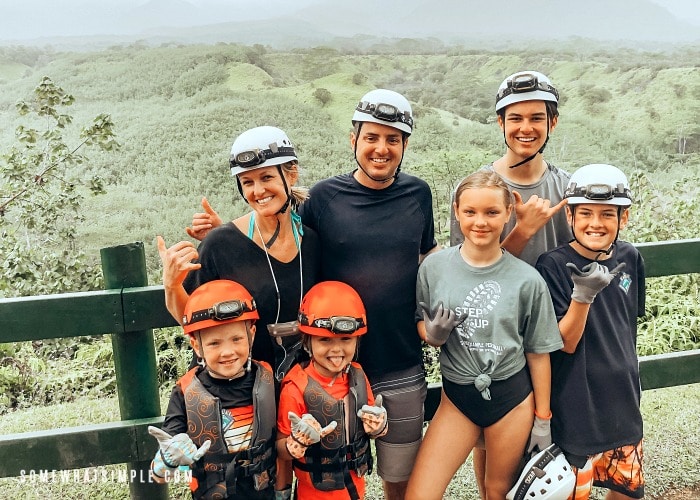 Kauai Tubing Adventure
Several years ago while we were on a cruise, we had the chance to do some river tubing, and it was a blast! Since then we have wanted to take our kids on a tubing adventure, but we haven't been able to find a place to do it. While researching things to do on our trip to Kauai, we came across this tubing adventure with Kauai Backcountry Adventures and it immediately went on the top of our bucket list!
From the minute we walked through the doors at the meeting place, everyone we met was incredibly friendly and helpful; especially our tour guides – they kept us laughing the entire time! The tubing adventure takes place in the historic irrigation canals and tunnels of a sugar plantation. Even the shuttle drive to launch point of our tour provided us with some of the best views of the island. Once we arrived at the top, we hopped in our tubes and started floating down the canal.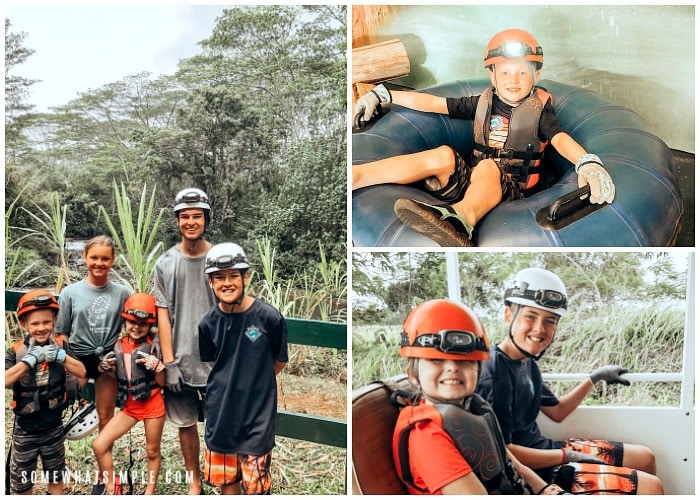 The adventure takes you through about 2 miles of irrigation canals and through 5 tunnels. The kids absolutely loved going through each of the tunnels! A couple of the longer ones had some curves in them so you couldn't see the light at the end, and those were especially fun. Everyone is outfitted with a helmet and a headlamp so you could still see everyone around you, and you were able to enjoy the incredible rock colors that were on display inside.
The water on the tour is gentle and relatively slow-moving, so it is perfect for everyone. It was fun, relaxing and refreshing to float along in your tube while you enjoyed the gorgeous scenery and the gigantic smiles on your children's faces! You know it's a success when each one of the kids said they had a blast!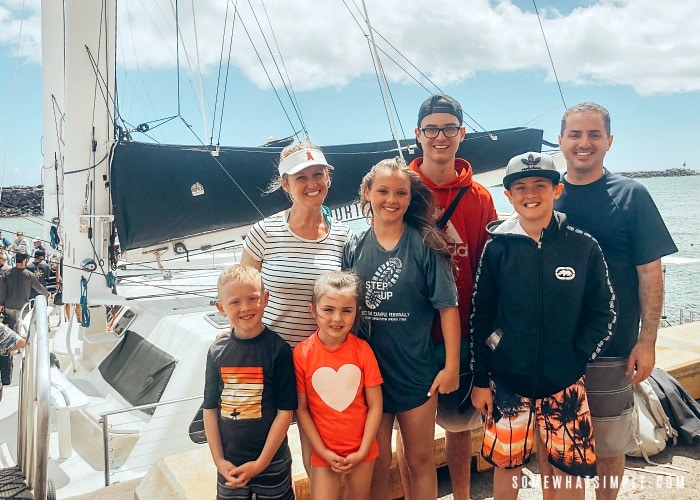 Napali Coast Boat Tour
One thing I have always wanted to see in person is the Napali Coast. But because there are no roads or hiking trails that will take you there, the only way to see Napali is by helicopter or boat. Since this was one of the top things to do on our list, we booked a catamaran boat tour with Captain Andy's that would take us to see the Napali coast, and we'd get to do some snorkeling along the way too!
If you decide to book this tour (and you should) I would recommend scheduling it as early in your trip as possible. Sometimes the weather can be unpredictable and the sea can be too rough to make it to the Napali Coast, which is what happened to us. A storm rolled in the morning of our tour, but we were able to easily reschedule it for later in the week when the weather was better. (Should your tour be cancelled or re-routed, Captain Andy's will rebook or refund you without any hassle or hidden fees.)
The catamaran was absolutely gorgeous with plenty of room outside to enjoy the breeze, or inside if you wanted to get out of the sun for a little while. The crew was phenomenal and always willing to help; especially with the younger kids when they would need to move around the boat. At one point during the trip, they let all of the kids take a turn steering the boat, which made my son's day!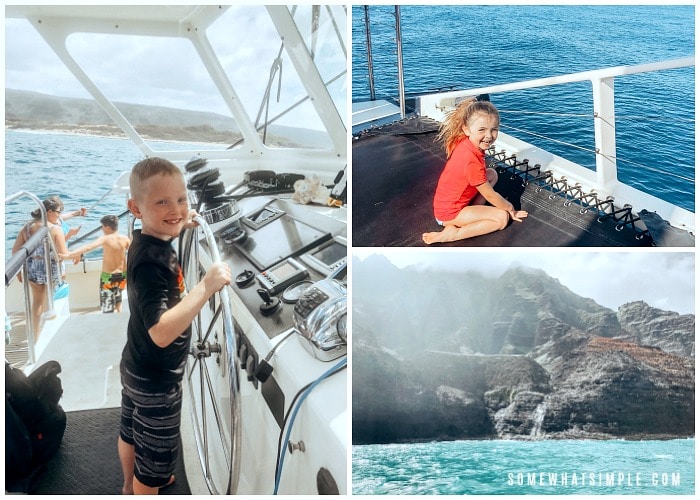 This boat tour had it all, and it was definitely one of the highlights of our trip! While making our way to the Napali Coast, we stopped and did some snorkeling. It was some of our kids' first time snorkeling and they couldn't believe how many fish they saw swimming around them! Once we were done snorkeling, we started sailing to the featured destination.
While we were sailing, a pod of dolphins showed up and started swimming along the catamaran, which was an absolute treat! As we made our way around the island the captain would make periodic stops to do some whale watching. Lucky for us it happened to be prime whale watching season so we saw quite a few humpback whales while we were out.
After sailing for a couple of hours we arrived at the Napali Coast and it was breathtaking! While seeing pictures of this beautiful coastline are impressive, there is nothing like seeing them in person. Being so close to the shoreline provided a great view and appreciation of the sheer size and incredible beauty of the cliffs. If you go to Kauai, you can't miss this opportunity!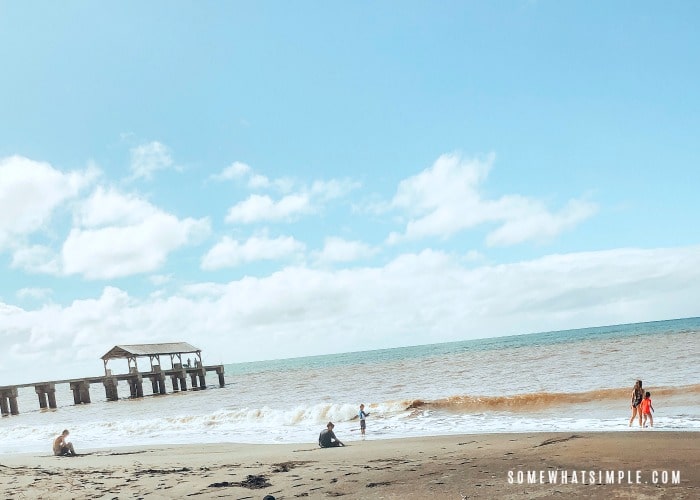 Best Beaches In Kauai
Let's be honest, one of best reasons to visit Kauai is to go and relax on the beautiful beaches. While the island isn't very big, it can take some time to get from one side to the other. Here is a recommendation for each side of the island that is easy to get to as well as a bonus recommendation that takes a little effort but was our favorite beach on the whole island.
Hanalei Bay
Located by the town of Hanalei on the north side of the island, Hanalei Bay is one of the most gorgeous beaches I've ever visited. The backdrop to this beach is of the beautiful mountains that have gorgeous waterfalls cascading down all year long. There's plenty of open sand to relax on, or if you want to rent a kayak or other beach equipment, you have that option as well.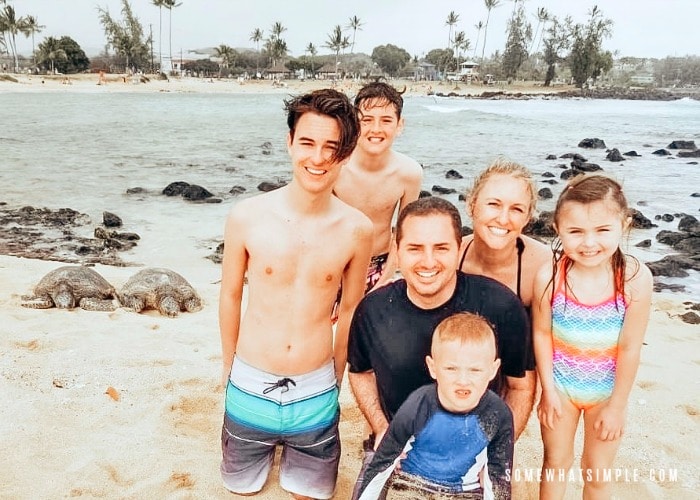 Poipu Beach
Poipu Beach is located on the southern end of the island and is one of the more popular beaches on the island, but it does have ample parking. Because the south side of the island gets considerably less rain, the weather here is almost always perfect. This beach is also a popular resting spot for both sea turtles and monk seals and are frequently spotted lying on the sand which can be an added treat.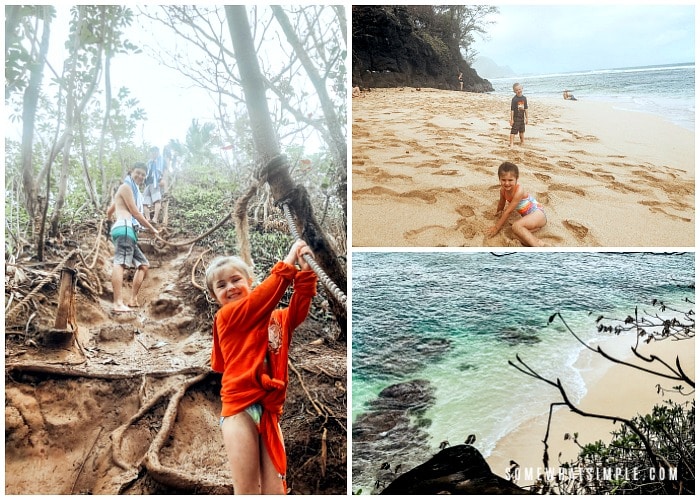 Hideaway Beach
Hideaway Beach is located in Princeville, on the north side of the island. It was hands-down our family's favorite beach. True to its name, it's hidden away and takes a little effort to get to. The only public parking for the beach is located right before you enter the Princeville Resort's property and it only has about 8 stalls, so get there early. Once you park, there's a small trail by the fence that will take you to some steep stairs and a couple of rope ladders before you make it to the beach. You should be in good physical health but keep in mind that our 5 year old was able to do it with a little help.
Because of the limited parking, there are only a few people on the beach at a given time. It's a great place to relax and enjoy the gorgeous views on a semi-secluded beach. When the water is calm, this is also a great beach to do some snorkeling.
More Beach Vacation Ideas

Waimea Canyon
Spend a few hours and take a scenic drive up to Waimea Canyon State Park. The road up to the canyon begins near the town of Waimea on the southwest side of Kauai. The canyon is a beautiful gorge that is known as the "Grand Canyon of the Pacific" and the comparison is spot on. There are two lookout points where you can park and then easily walk to in order to get the best views of the canyon.
While you're up there, continue driving on the road for another 15 – 20 minutes until you reach Kalalau and Pu'u O Kila lookouts. From here you can see the Kalalau Valley, which is unlike anything you've ever seen. The Kalalau Valley is where the Napali Coast begins, so while you can't see the actual coast from the vantage point, you can begin to appreciate the beauty of that majestic coastline.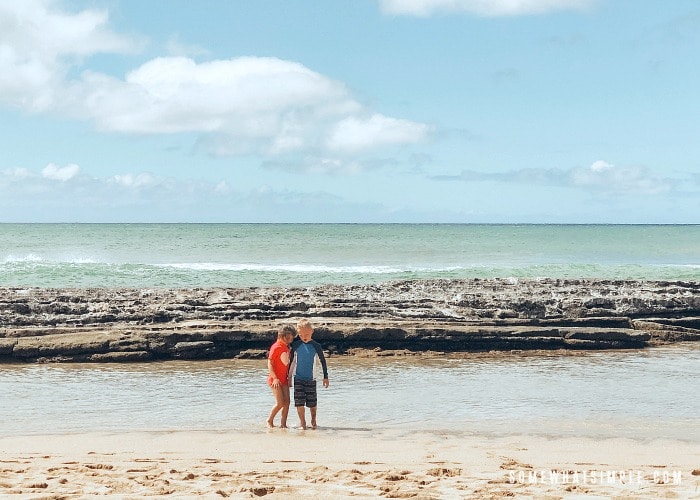 Now that you have a few suggestions about what to do in Kauai, go out and have the vacation of a lifetime! If you need more inspiration, here are a few more ideas of things to do. If you've been to Kauai before, is there anything we missed or something else you would recommend as a "must do"? Leave us a comment below and let us know. Or if you visit Kauai, tag us on social media so we can see all of the fun you're having and be secretly jealous of your vacation!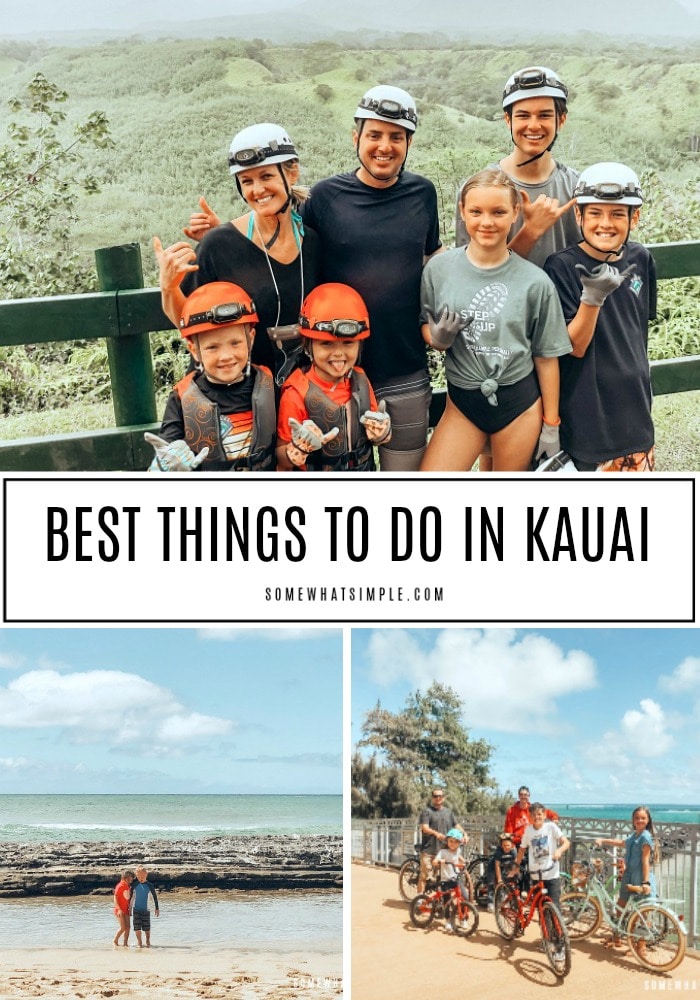 Our family received discounted and/or free tickets for the river tubing and sailing tour. All opinions are 100% my own.