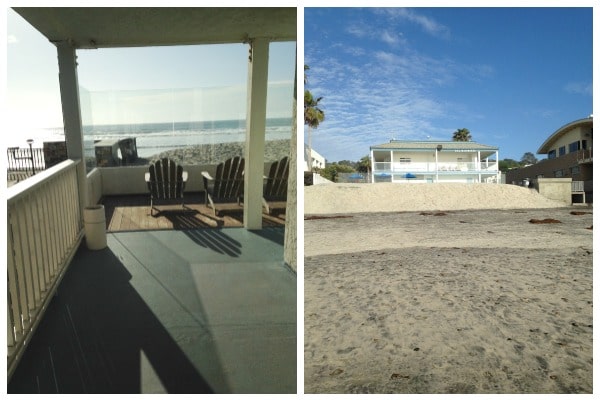 Del Mar, California is a beautiful seaside village that offers a wide variety of things to do and see. Here are our top 10 things to do on your next visit to Del Mar.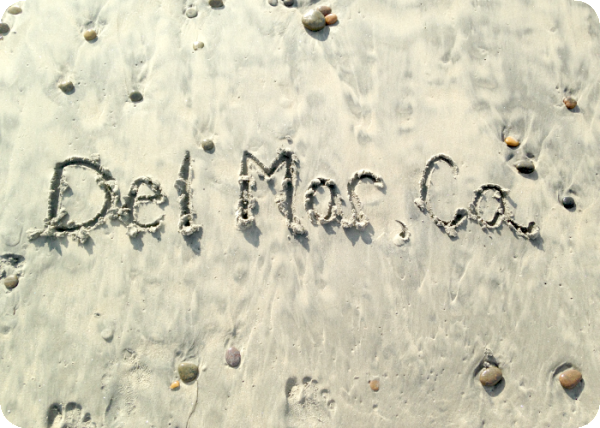 Take the whole family on a fun-filled vacation, make a quick trip for some health and wellness rejuvenation, or spend the weekend relaxing on a romantic get away! Del Mar, California is a quaint beach city features a beautiful ocean backdrop with blue skies, quiet sandy beaches and a small-town feel. It is located conveniently close to San Diego and Oceanside, and the opportunities for entertainment are literally endless!
Our Experience at Del Mar, California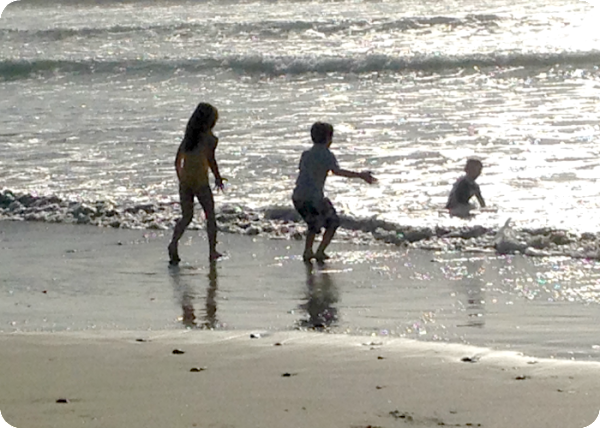 WHO Went– We took the whole family! Two adults and 5 kids, ranging in age from 3 months to 11 years.
WHAT We Did– Played at the beach, walked through the town and visited LegoLand, California.
WHERE We Stayed- Del Mar Motel on the Beach. My family received a free night's stay at this motel and we couldn't have been happier with the accommodations! Del Mar Motel sits right on the beach, and that's no exaggeration. Our room was literally 20 steps from the sand and you could hear the waves crashing on the shore all night long. It is truly an ocean-side oasis. Del Mar Motel offers complimentary beach towels, boogie boards, beach chairs, umbrellas and sand toys for your trip to the beach- just ask at the front desk! We were walking distance to the Del Mar Village with fun shops and delicious restaurants. Also, Del Mar Motel is in the process of renovating their rooms so your stay is filled with the luxury of Del Mar and the conveniences of home. The renovation will be completed in time for summer 2014 reservations and vacations.
Right next to our hotel was a restaurant called Poseidon on the Beach. The completely packed parking lot and waiting list of over an hour (on a Tuesday night at 5pm) made me so curious to give it a try, but we had 5 hungry kids who had been in the sun all day and were tired, so we'll have to make this a priority next time!
WHEN We Went- Mid-March. The ocean was cold, but the weather was perfect! We stayed two days and one night- way too short of a time, I know- and we could have easily spent an entire week there.
WHY YOU Should Go- Del Mar is like a hidden gem along the California coast line. I was born and raised in Huntington Beach, but I had no idea what fun and leisure awaited for me and my family (now Phoenix residents) in Del Mar. Unlike your typical beach vacation spots like San Diego or Santa Barbara, Del Mar is a quiet coastal town with everything you need in walking distance. We absolutely LOVED our stay!
Top 10 Things To Do in Del Mar, CA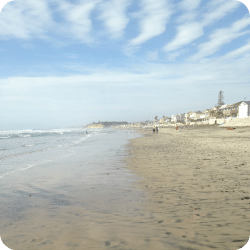 1. GO TO THE BEACH
In March, the water was cold, but that didn't stop the kids from jumping right in and having a good time! The beaches are clean and the sand is soft and warm. My kids had a blast jumping over waves, digging holes, burying each other in the sand and collecting rocks and sand crabs. We've visited a lot of beaches as a family from the coast of California, to the tropical beaches in the Caribbean and the paradise islands of Hawaii, and Del Mar ranks right up there with some of our favorite sandy memories!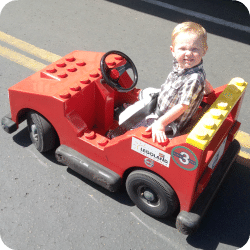 2. VISIT LEGOLAND
We have taken our kids to several amusement parks, but this was our first visit to LegoLand and we had a great time! We went on a Wednesday and stayed the entire day, from 10am – 5pm and we were able to see the entire park and we rode every ride. The longest line we waited in was probably 20 minutes, but most of the lines were only a 5-10 minute wait. Our friends said it was significantly more crowded for them- they went the same week but on a Saturday and they had lines that took over an hour. Remember to wear sunscreen and note that there are plenty of areas and rides involving water, and not just in the water park. (There were "more-prepared" families that brought extra sandals and wore their bathing suits for these rides.) Our kids, specifically our 6, 8 and 11 year old seemed to be the perfect ages. We had a blast and I would definitely recommend this for families and Lego lovers alike.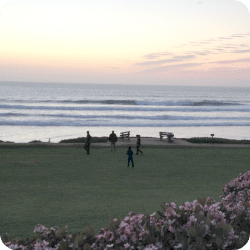 3. WALK IT OFF
Enjoy a peaceful ocean-side stroll along the beach where you can soak in a beautiful sunset or watch the dolphins play in the surf. Our family walked from our hotel to Smashburger for dinner (about a 10-15 minute walk with kids) and we enjoyed it very much! Even on a Tuesday night, the little town was buzzing with vacationers and locals enjoying the Del Mar nightlife. The town was very clean and passerby's were nice and friendly.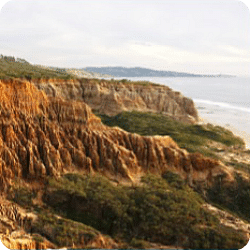 4. TAKE A HIKE
Imagine being nestled between majestic rock formations, the iconic Torrey Pines Golf Course, the quaint village of Del Mar and the Pacific Ocean. This is the experience when hiking at Torrey Pines State Natural Reserve, which boasts unmatched ocean views among various easy-to-moderate hiking trails.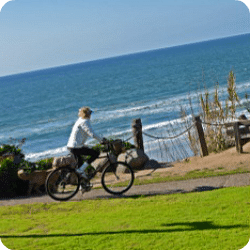 5. RIDE A BIKE
Tour the coastal streets of Del Mar and its surrounding areas with a bike ride along Camino Del Mar. Didn't bring a bike? No problem! You can rent them from San Diego Electric Bike Company in Solana Beach, only a few miles away from Del Mar.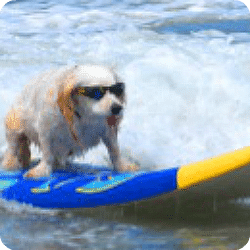 6. SURF
You can rent a board or take surfing lessons from Rusty Del Mar, a must-stop shop for surfing enthusiasts. The sunny shores of Del Mar are also a perfect place to enjoy stand up paddle boarding (SUPing). Practice your stance and paddling techniques with help from Fulcrum Surf School, located on Camino Del Mar and you'll be cruising the waves in no time.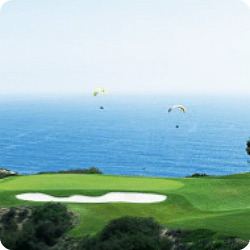 7. GOLF
The famous Torrey Pines Golf Course, perched on the beautiful coastal cliffs overlooking the beach, is only minutes away from Del Mar, CA. Play the same spectacular course as notable greats like Tiger Woods and Phil Mickelson, while watching the colorful paragliders sail by overhead.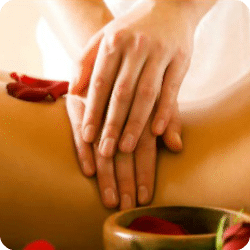 8. HIT THE SPA
Enjoy a day of tranquility at one of the MANY day spas in Del Mar. Detox with one of their relaxation techniques, or unwind with a poolside massage treatment.
9. PLAN AN ADVENTURE
Ride horseback among the beautiful scenery of the area. Visit Los Peñasquitos Canyon Preserve to have your own equestrian adventure. OR, enjoy an ocean view like never before– from high above! Check in with Skysurfer Balloon Company to arrange for your hot air balloon ride over the green hillsides, expansive estates and glimmering coast of Del Mar for an unforgettable aerial experience.
10. SUPPORT THE FARMERS & LOCAL ARTISANS
Stroll around the Del Mar Farmers Market every Saturday from 1-4 pm to see and taste the best local and organic produce and flowers and hand-crafted artisan goods.
More Fun California Vacation Ideas
Fun Family Vacation Ideas
Have I convinced you yet to book your getaway to Del Mar, CA yet??? What are you waiting for? Call The Del Mar Motel NOW and make your vacation plans today. Don't forget to use the code DREAMDELMAR for 15% off your room rate when you call the motel directly.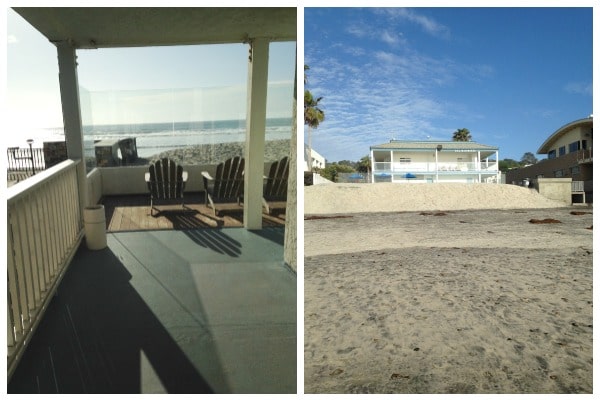 Have fun!
This is a sponsored post written by me on behalf of the Del Mar Tourism Business Improvement District (TBID). I was compensated with a free night's stay and money for travel expenses in exchange for my review. All thoughts and opinions are 100% my own and the information presented here is from my personal experience and from the Seaside Wellness Guide to Del Mar.