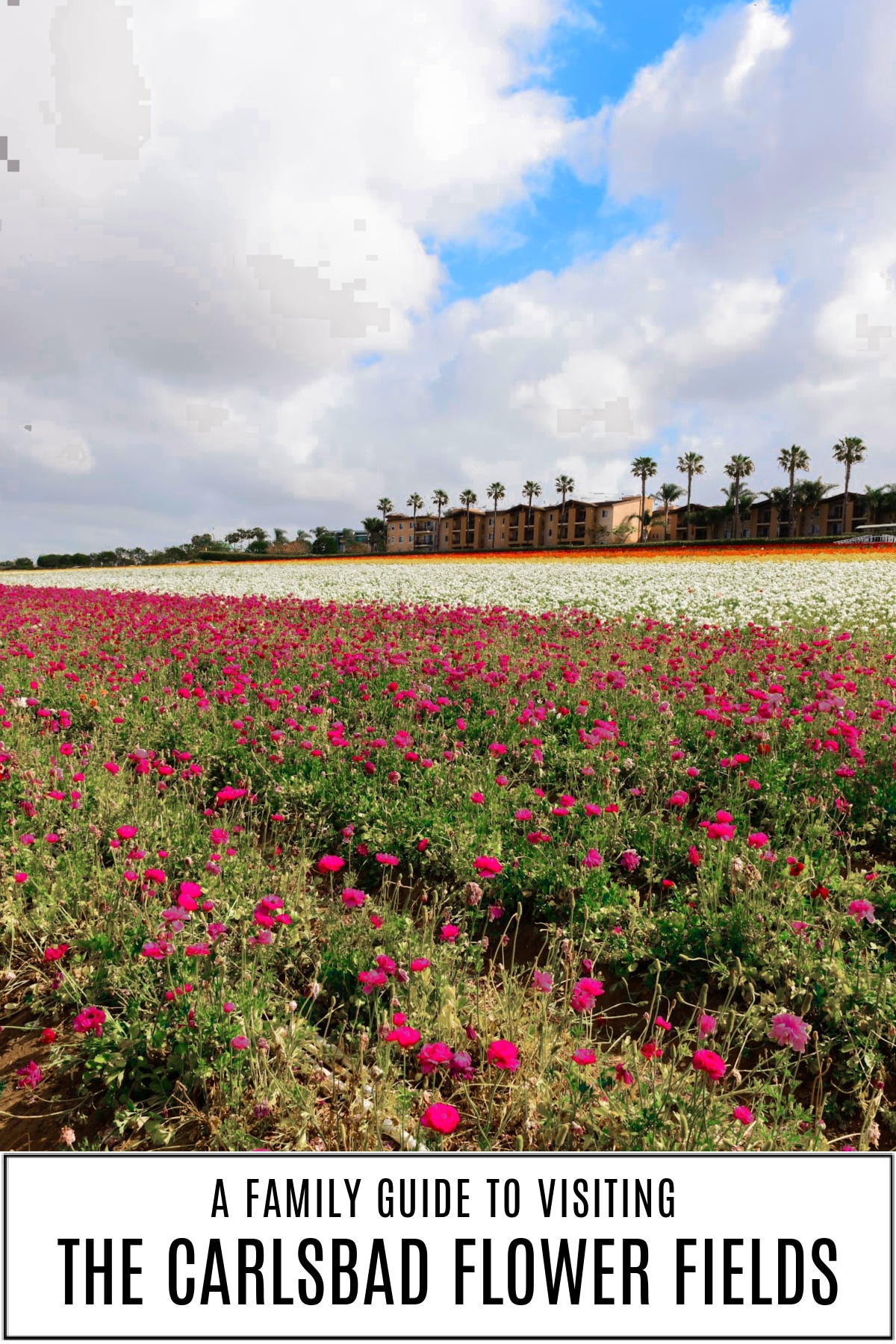 The Carlsbad Flower Fields are a tourist attraction with flowers blooming from March to May each year. Here's what to do and what to bring on a visit with your family.
Here are a few more fun California vacation ideas – Couples Trip To San Francisco, Top 10 Things to do in Del Mar, CA, and Things to do in Carmel By The Sea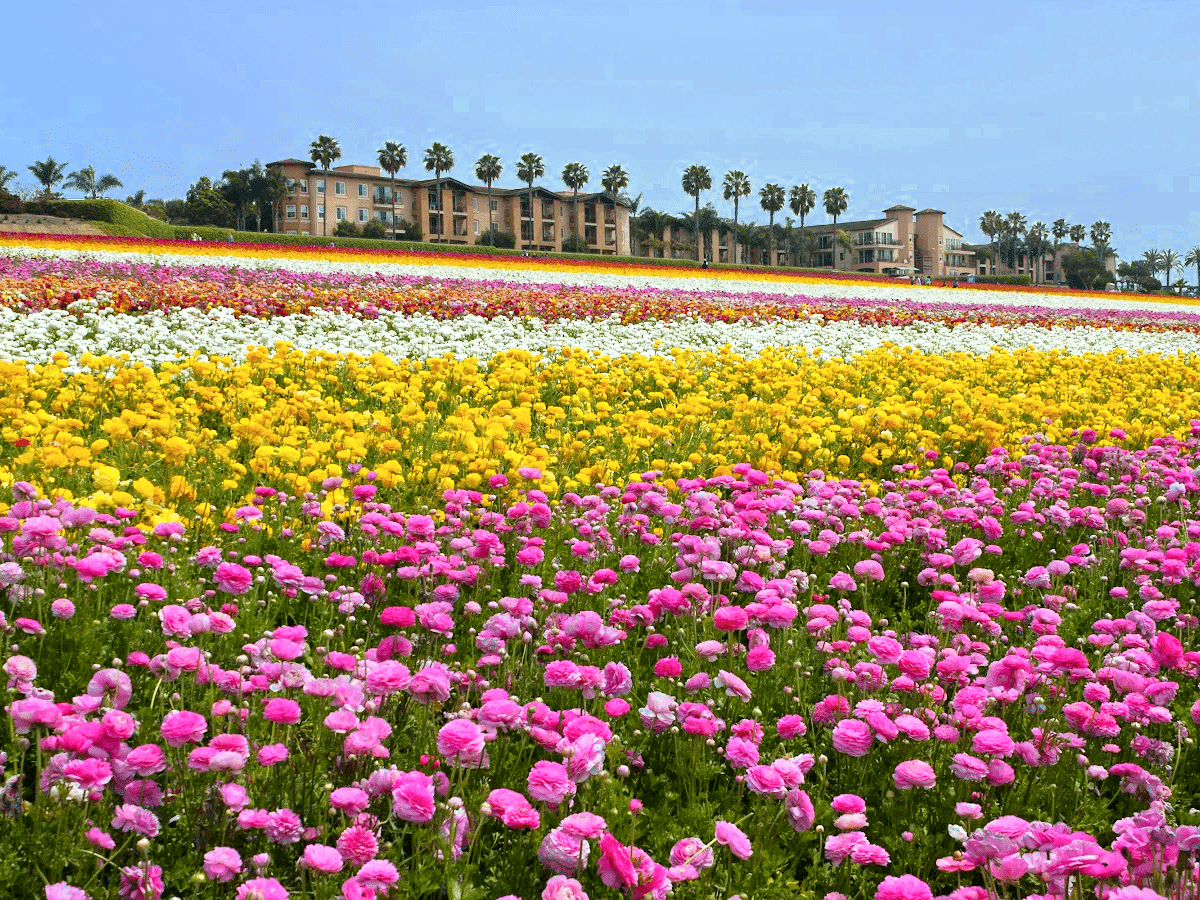 Carlsbad Flower Fields
Being a military family we move around a lot. One of my favorite things about moving to a new place is discovering it! Today I'm sharing one of our favorite finds with you, The Flower Fields in Carlsbad, CA.
These flower fields are Mother Nature's way of announcing the arrival of spring in southern California, and they make for a fun day trip that the whole family will enjoy!
I thought we would spend maybe an hour or so at the fields, but man was I wrong! My kids, my parents, and I spent over 3 hours exploring the different exhibits and all the breathtaking scenery. It was SUCH a fun day!
What is the Carlsbad Flower Fields?
The Flower Fields at Carlsbad Ranch consist of over 50 acres of giant Tecolote ranunculus flowers. The rolling hills of north San Diego County have been blooming each spring for more than sixty years, and they are a truly spectacular display of natural color and beauty.
The Flower Fields are on a working farm currently owned by the Ecke family.
Where are the fields?
The flower fields are about 30 minutes north of downtown San Diego in Carlsbad, California. Visiting the fields is a fun day trip from Orange County or LA. Depending on traffic, it will take about 60 minutes from Orange County and 90 minutes from Los Angeles.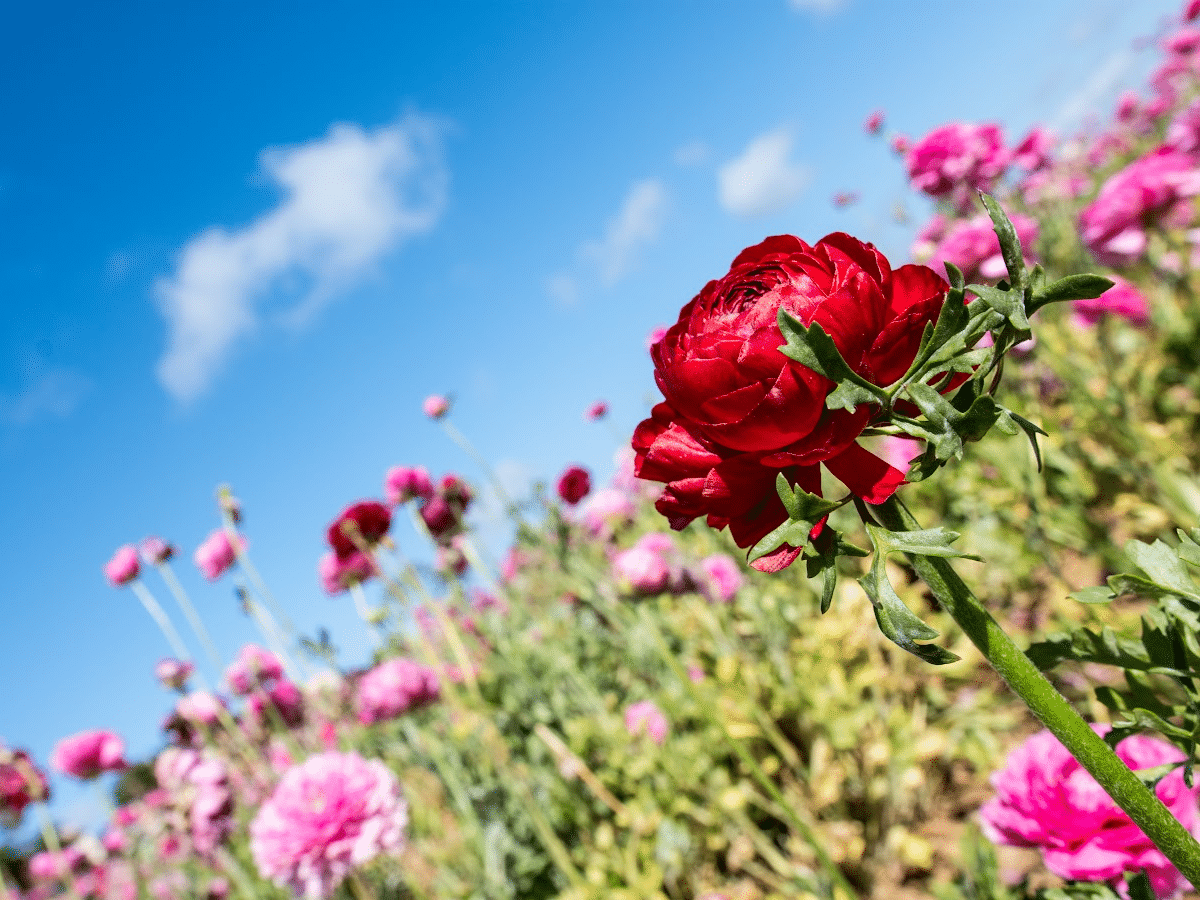 When is the best time to visit?
The fields bloom for approximately six to eight weeks in early March through early May. The blooms are at their peak at the end of March and the beginning of April.
Weekdays are less crowded than weekends and holidays, and tickets can sell out, so plan far enough in advance.
Tickets are sold in 30-minute time slots, starting at 9 am and ending at 5 pm. Once inside, you can stay as long as you'd like, or until it closes at 6 pm.
It gets more and more crowded as the day goes on, so 9 am is definitely the best time to go if you want the coolest weather and the least amount of people.
Carlsbad Flower Fields Tickets –
Tickets must be purchased in advance online, HERE.
Cost of tickets:
Adults (age 10+) – $22
Kids (3-10 years) – $12
Seniors (65+) – $20
Season Passes:
Adults $46
Kids $20
Seniors $42
Parking is free with paid admission.
What to Bring
Credit or Debit Cards – Cash is not accepted on-site, so if you plan to purchase food, drinks, souvenirs, and any other attractions, make sure you have a credit or debit card.
Clothing Ideas – Lightweight layers. Mornings can be breezy and cool, but afternoons can be breezy and HOT! Dress accordingly in a sweater or small jacket, and don't forget your sunglasses.
Sunscreen + Sun Hat – There isn't any shade in the flower fields, so be prepared with lotion and a hat.
Water – Drinks are available for purchase, but bringing your own water bottle is definitely encouraged.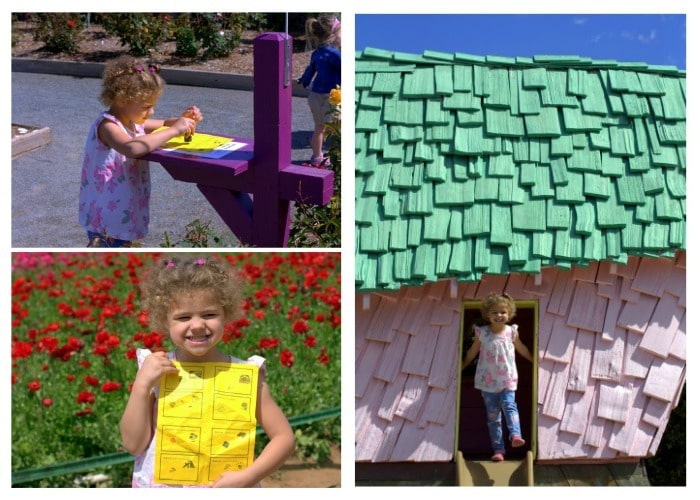 What to Do
This season will include sunshine and flowers with the return of live outdoor music and a number of activities you won't want to miss! From yoga, wine tasting, live musical performances, and more, there are plenty of things to do and see when you visit the flower fields! Check out the activity calendar here.
Here's a list of 10 Favorite Things To Do –
Fun with the Flowers – Carlsbad Flower Fields is one of the top producing farms of Ranunculus in the country. While the Ranunculus are the main flowers in the field, there are others kinds of flowers too, like sweet peas, orchids, poinsettias, and roses.

I love the American Flag of Flowers, made with red, white, and blue petunias.
Walk around the Sweet Pea Maze – it smells AMAZING!
There is a 1,500 square foot greenhouse filled with poinsettia flowers that is pretty amazing, too!
The Cymbidium Orchid Greenhouse is the perfect place to get up close to exotic orchids!

Fill Up Your Flower Passport – When you walk thru the entrance, kids are given a piece of paper with 8 different boxes that represent 8 stations throughout the fields. After visiting each station, the kids get a stamp on their paper. (My 4-year-old LOVED this! She loved finding each station, exploring, and then stamping her paper.)
Take a Tractor Ride – There's no better way for visitors to learn about the history of the Flower Fields! The tractor ride is an additional cost – $6 for adults, and $3 for children.
Go for Gold! – Mine for gemstones at the Carlsbad Mining Company.
Go to Church – They have an early morning church service on Easter Sunday.
Take Family Pictures – The fields provide the perfect backdrop for amazing pictures. While walking the fields you'll come across groups of people with their cameras on tripods taking amazing family photos.
Attend a Demonstration – Learn about gardening, floral arranging, and more at the Demonstration Garden.
Visit the Artists Garden and Bird Aviaries – Using flowers as an art medium, this garden is where paintings come to life! It is amazing!
Pick Blueberries – The U-Pick Blueberries patch is a new attraction, and it is fantastic!
Enjoy the View – The Setting is Breathtaking! The fields are set on a hill overlooking Carlsbad State Beach. When you climb to the top of the field there's a beautiful vista of the vibrant rows of Ranunculus and the ocean in the background.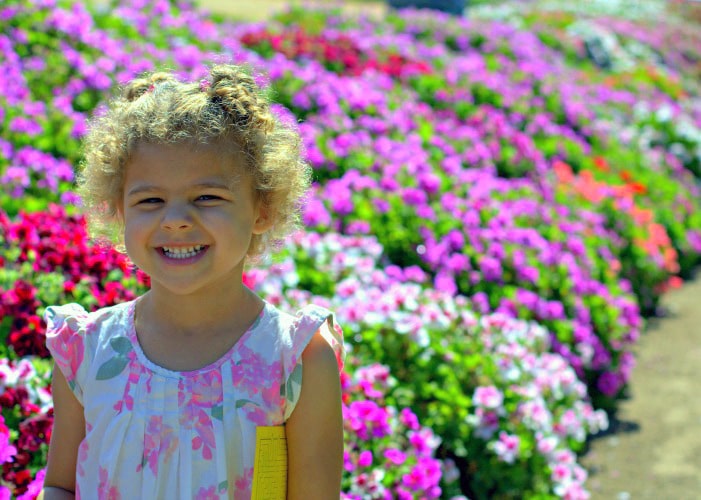 Food at the Flower Fields
There is plenty to eat and drink in the famous fields. Here are some favorites –
Kettle Kernels Popcorn – If this is the only thing you try, your trip will have been worth it! Get the kettle corn and thank me later. 😉
Pizza Trolley – Delicious artisan pizzas and fresh salads.
The Strawberry Shack makes delicious strawberry treats (strawberry shakes, sundaes, shortcakes, soft-serve ice cream, chocolate-covered strawberries, etc.) all from fresh, locally-grown strawberries: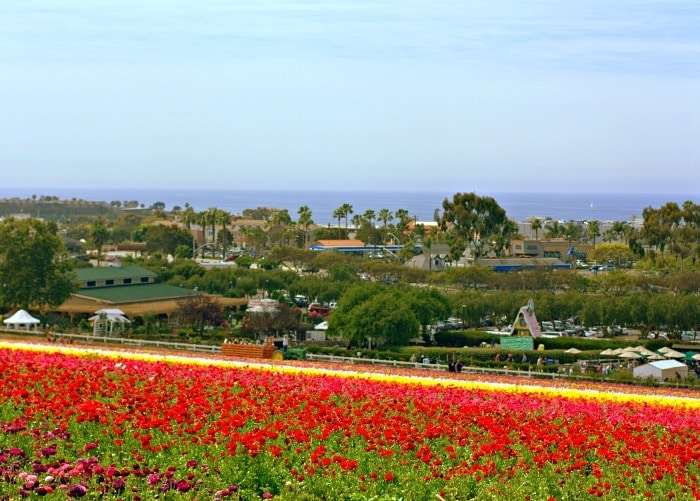 Other Information
Face masks are not required. View the current safety guidelines and protocols here.
You can purchase freshly cut ranunculus flowers or bulbs as a souvenir from the Armstrong Garden Center on-site.
With rows and rows of colorful flowers blooming as far as the eye can see nestled next to the beautiful ocean views, the Carlsbad Flower Fields are a one-of-a-kind experience that the whole family will love!
You can find more information about the fields HERE.
Have you been to the Carlsbad Flower Fields?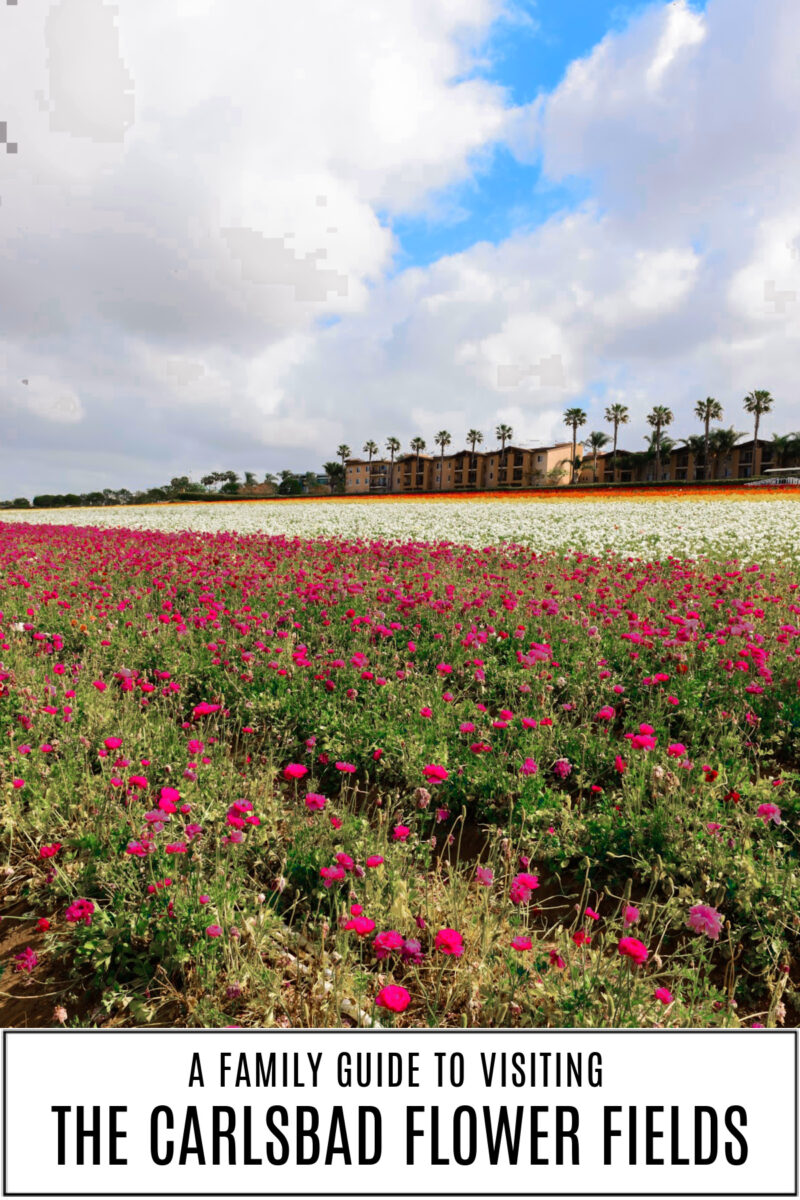 ABOUT THE AUTHOR – Jillian is the creator, author, recipe developer, and travel blogger behind Food Folks and Fun. She's a teacher turned SAHM married to a military man—which means her family moves often, traveling and experiencing the world!