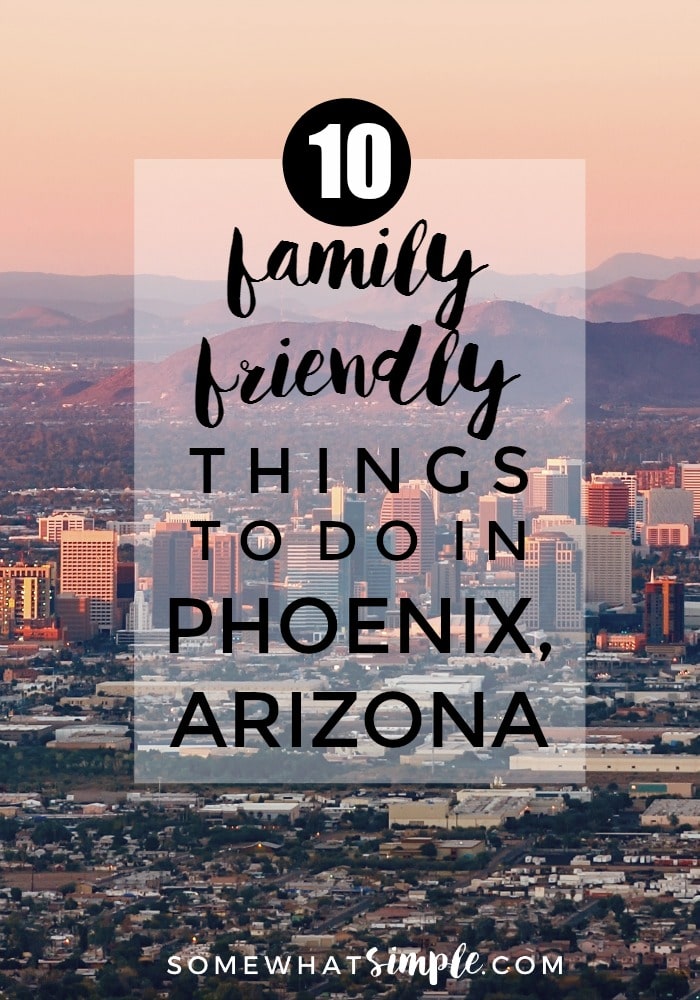 Whether you're looking for fun things to do with your kids or ways to get out of the house and explore, this list of fun Family Things to do in Phoenix will give you a great place to start!
Here are a few more family travel ideas we think you'll enjoy – Christmas in New York City, 10 Things To Do in Minneapolis, and Things to Pack That You Never Thought Of.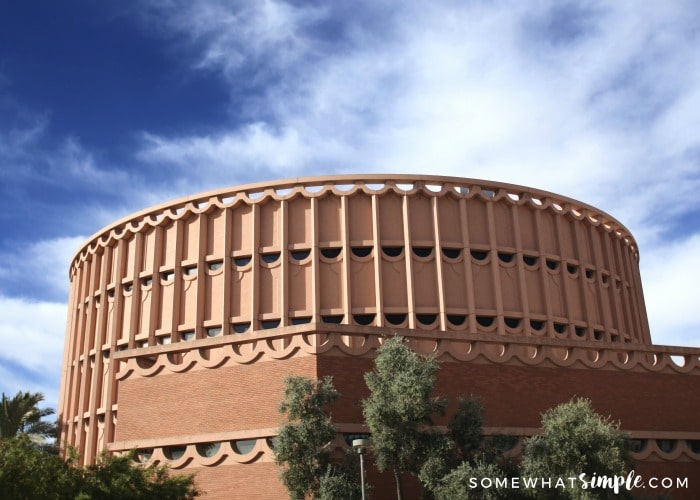 Planning a family vacation to Phoenix?
As a mom of 5 kids (ages 3-14), I have the opportunity (and responsibility!) of finding fun things for our family to do, together. And while we definitely do enjoy traveling the world and exploring new cities, sometimes the best memories can be made right in your own backyard!
Here's a list of some of our family's favorite things to do in Phoenix and the surrounding cities – Mesa, Tempe, Scottsdale, and Gilbert.
Things to Do in Phoenix, Arizona
1. See a show at Gammage –
The best of Broadway right in the Valley of the Sun! Our family has seen multiple shows at Gammage and I've NEVER been disappointed! Show tickets and theater information can be found on the ASU Gammage website.
2. Play & Learn at the AZ Science Center –
A 4-story hands-on children's museum with live demos, a planetarium & an IMAX theater. We used to have annual passes to this and it was so much fun! View the Arizona Science Center website for exhibit details and hours of operation.
3. Hike Camelback Mountain –
Hiking this 2,704-foot mountain in the middle of the valley is a perfect outing for a family! It's a quick trail that isn't too strenuous with amazing views of the entire Phoenix valley! Visit ClimbCamelback.com for details.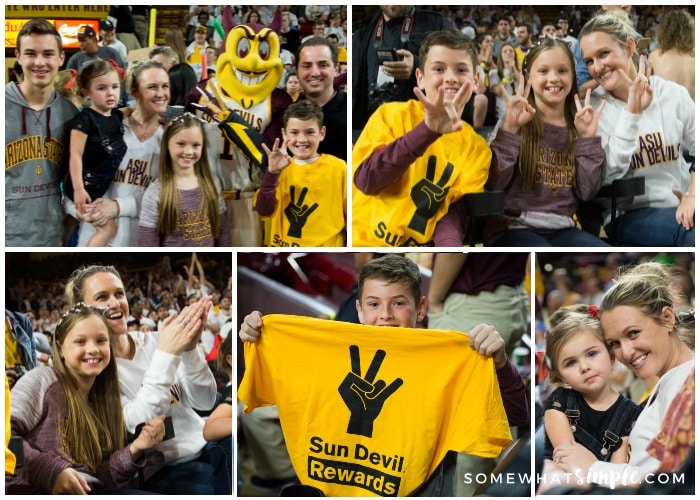 4. Attend a College Game –
Swimming, football, basketball, and more – the ASU Sun Devils always have something exciting going on! Our family recently went to the ASU vs. UCLA basketball game and we had a blast! Check out The ASU Athletic Schedule for tickets and information.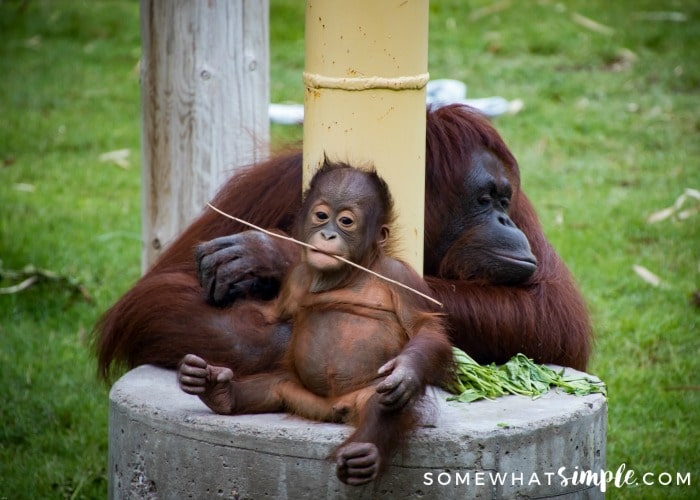 5. Visit the Phoenix Zoo –
This zoo is amazing! 125 acres of animal exhibits is not something you'd expect to see in the middle of a big city but it really is a cool backdrop! They have a children's area & petting zoo that my kids LOVE. My favorite spots are the Orangutan and Monkey exhibits – I can sit there and watch those animals all day! Also amazing are the giraffes and elephants. Visit the Phoneix Zoo website for more information.
6. Float the Salt River –
One of our favorite summer traditions is to float down the Salt River on innertubes as a family. We buy $5 tubes at Walmart and a $10 car pump, and head up to the landing point on Bush Highway. Admission is free, but each car will need a Tonto Forest Pass, which is sold at the parking lots by the Salt River, as well as at local gas stations and convenience stores.
You can also pay for a tubing tour from Salt River Tubing Company. They'll rent you tubes and take you by bus to the river drop-off point. It's more expensive than doing it yourself, as they charge per person, but if you're not interested in the planning and preparation, this is definitely a good option!
7. Visit Wrigley Mansion –
Take a tour of the elegant Wrigley Mansion built by William Wrigley, Jr., in 1929.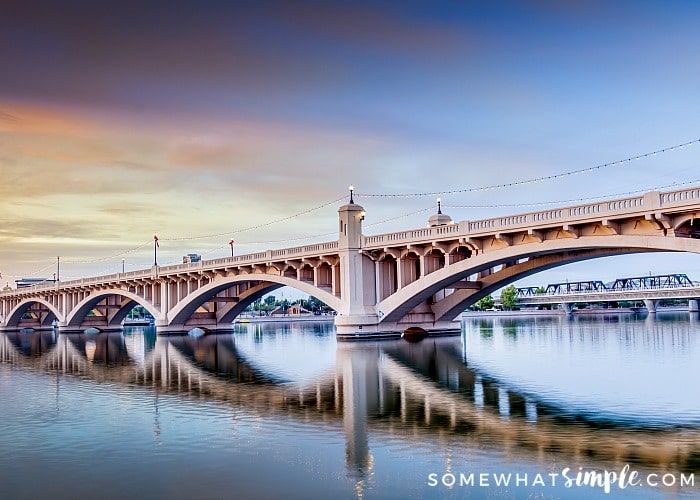 8. Visit Tempe Town Lake –
This lake is Arizona's second-most visited public attraction. It is more than 2-miles long with a system of paths that allow people to walk, jog, bike, boat, and more!
9. Make a Splash at Wet n' Wild –
You didn't think we'd make a whole list of things to do in the desert and not include a fun waterpark, did you? This family-friendly water park has more than 30 attractions, including water slides, splash pads, play areas, a wave pool, and a lazy river. Ticket and hours of operation info HERE.
10. Tour Mystery Castle –
This is the one place on this list that I've never been to, but I've heard great things about it and would love to take the kids exploring here soon! It is a mansion in Phoenix that was created by a father for his daughter. It is made from stone that has 18 rooms, 13 fireplaces, and many other unique characteristics! Tour info HERE.
BONUS IDEAS –
Desert Botanical Garden
Play with the Butterflies at Butterfly Wonderland
Museum of Natural History
Children's Museum in Mesa
Spring Training Baseball
Ride the Roller Coasters at Castles N' Coasters
Visit Old Town Scottsdale
Odysea Aquarium – The penguins, sharks, and otters are my favorite, and the bumper boats and touch pools are fun, too!
Favorite Family Resorts – The Arizona Grand and Great Wolf Lodge
McCormick-Stillman Railroad Park in Scottsdale – the train rides and carousel are my kid's favorite!
Laser Tag at Stratum in Gilbert
If you like musical instruments, be sure to visit the Musical Instrument Museum in Phoenix
Phoenix Art Museum
Catch a Diamondbacks game in Downtown Phoenix
Play the arcade games at Jake's Unlimited
Enchanted Island Amusement Park
Watch a Coyotes game in Glendale
Do Axe Throwing at Class Axe Tempe
Try an Escape Room at Great Room Escape (we've done so many and this location has our favorite rooms!)
Fish at Encanto Park
Have you explored Phoenix yet? What excursions should be on this list?
Leave us a comment in the section below with your must-see activities and attractions!