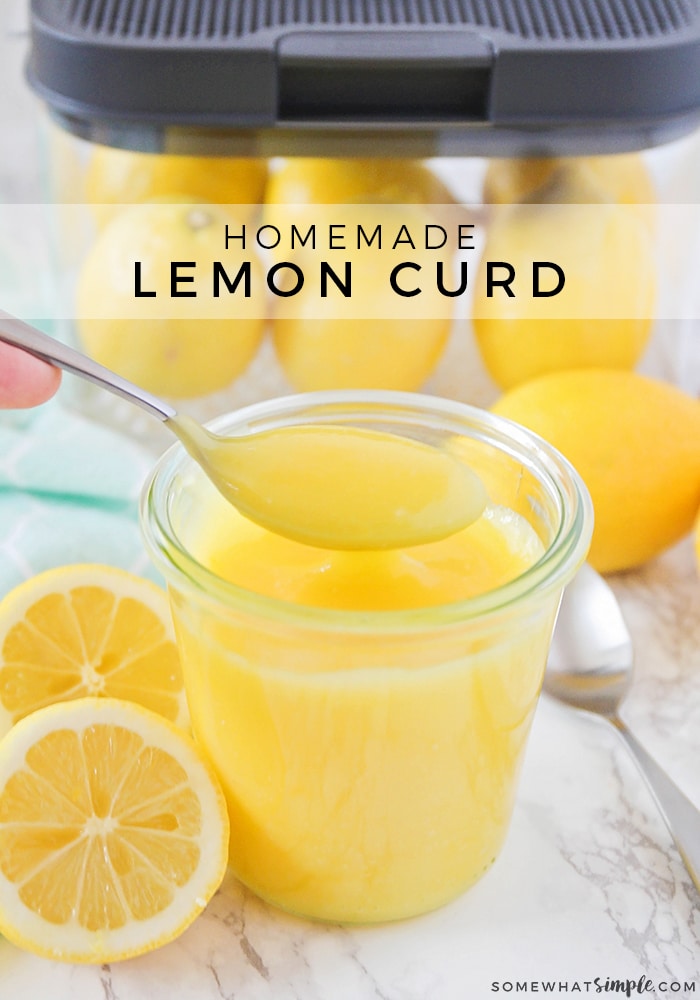 This homemade lemon curd is a delicious mixture of tart and sweet! It's perfect on waffles, pancakes, and ice cream, and adds a sweet burst of lemon flavor!
This post is in partnership with Rubbermaid FreshWorks Countertop. As always, all opinions are my own.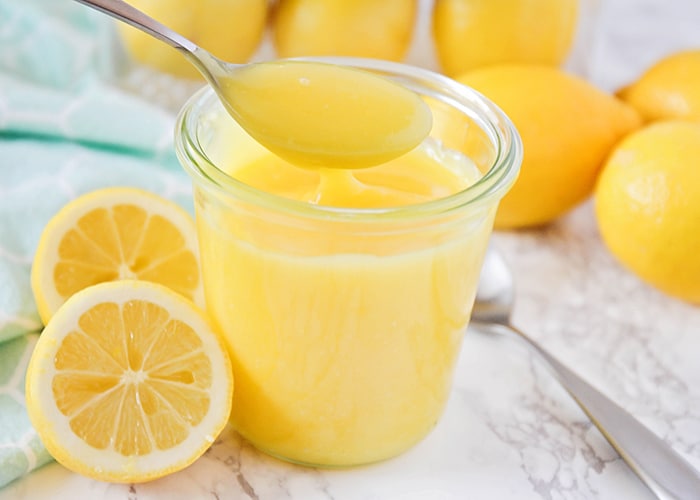 Did you know that Americans throw away $24 billion worth of produce each year? That's a huge amount of produce going to waste! I have certainly been guilty of buying produce with the best of intentions, and not using it quickly enough before it spoils. Since I have committed myself to reducing food waste this year, I was really excited to try the new FreshWorks Countertop line from Rubbermaid.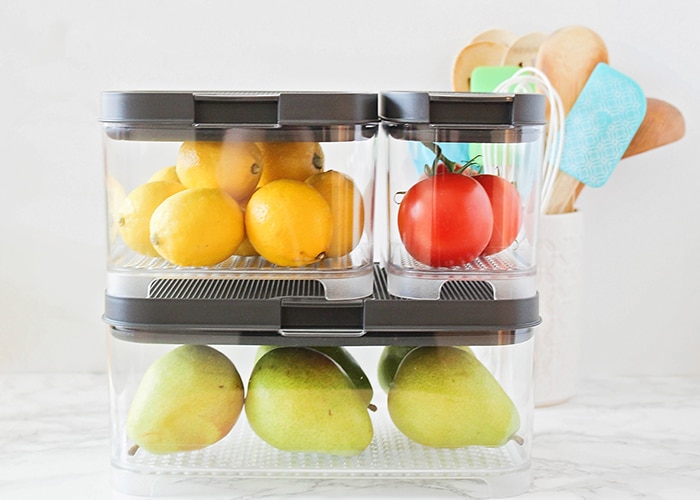 Best Fruit Storage Containers
FreshWorks Countertop is designed to keep countertop produce fresher for longer. It's great for storing produce that is normally kept on the counter, such as tomatoes, bananas, apples, pears, and citrus fruits. It's designed to fit neatly on your kitchen countertop, and the pieces stack perfectly together to save space. It comes in a variety of sizes, which are great for storing different types of produce. The elevated based promotes airflow to prevent spoilage, and keeps the produce away from moisture.
The FreshWorks Countertop containers have a FreshVentTM Lid with innovative technology that naturally regulates the flow of 02 and CO2 to create the optimal environment, so your produce stays fresher longer. I love how sleek and elegant the containers are, and how they show off the beautiful fresh fruits and vegetables. They are also stain and odor-resistant, so they will continue to look fresh and new, even with continued use.
We put these FreshWorks Countertop containers to the test just to see how well they work. Take a look at the side by side comparison of our lemons. This fruit was purchased at the same time, but half of it was set on the counter in a fruit bowl, the other half was set in the FreshWorks Countertop containers –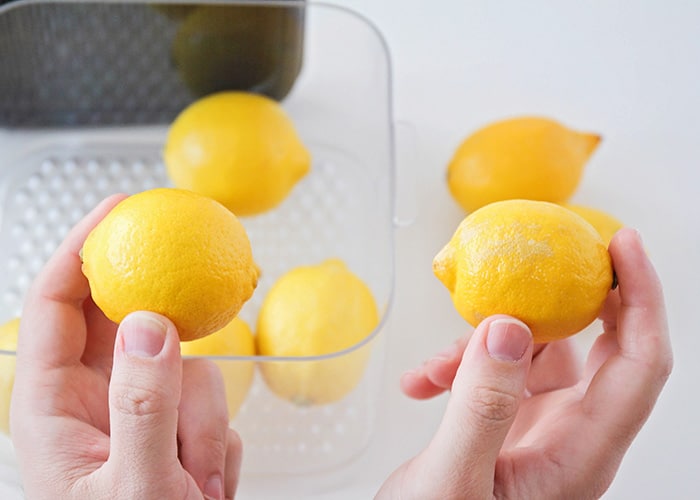 Look how much fresher the lemons on the left still are!!!! The texture of the two lemons were so different! The lemons left on the counter were quite a bit softer and their rinds were starting to fade and discolor. The lemons kept in the FreshWorks Countertop containers looked like they hadn't aged a day since they were purchased!
Are you sold yet? We LOVE them!
Best Homemade Lemon Curd
One of my favorite recipes to make with fresh produce is this beautiful and delicious homemade lemon curd. In the past, I have bought bags of lemons with good intentions to use them before they go bad, but invariably I don't use them in time, and they either get moldy, or hard and dried out before I can use them. I love that the FreshWorks Countertop container keeps them fresh for longer, so I can use all of the lemons before they go bad!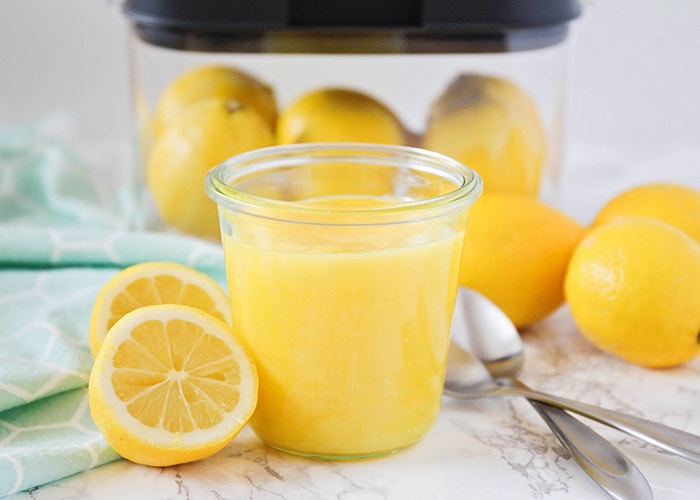 I first tried lemon curd a few years ago after a visit to Trader Joe's. It was love at first bite! There's something wonderful to me about the intertwined tartness and sweetness, and I'm crazy about the silky texture. It goes well on everything, too! I like it on toast in the morning, but it's also great warmed up and poured over ice cream, and it makes an awesome filling for cakes or cupcakes. This recipe can easily be doubled or tripled, depending on how much curd you need, and will keep up to two weeks in the fridge.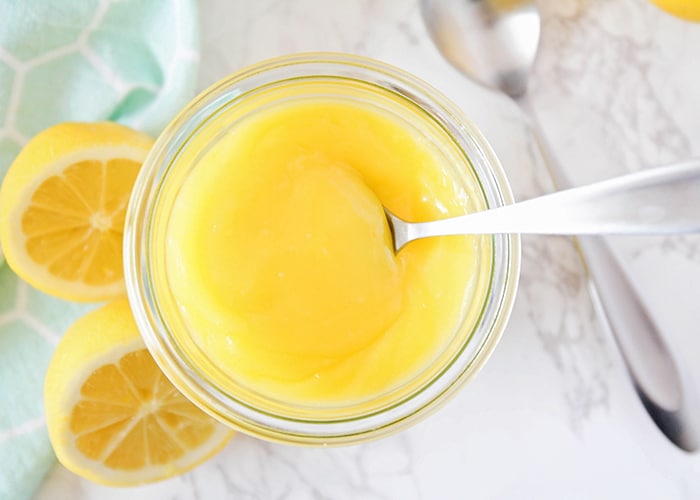 This lemon curd was much easier to make than I thought it would be, and it came together really fast. I even broke some of the lemon curd "rules" (I used whole eggs instead of just yolks, and didn't add butter at the end) and it still turned out amazing! It was one of those, "Oh my goodness, I can't believe I made this at home!" moments. It's always fun to impress myself with my own culinary prowess!
Homemade Lemon Curd Recipe
Homemade Lemon Curd
This Homemade Lemon Curd Is A Delicious Mixture Of Tart And Sweet! It's Perfect On Waffles, Pancakes, And Ice Cream, And Adds A Sweet Burst Of Lemon Flavor!
Ingredients
2

whole eggs

3/4

cup

sugar

1/2

cup

fresh lemon juice

,

from 2-3 lemons

zest of two lemons
Instructions
In a medium saucepan, whisk together the eggs, sugar, lemon juice, and lemon zest until well blended.

Heat over medium heat, whisking constantly, until thickened to desired consistency.

Remove from heat and pour into a bowl or jar. Cover and chill for at least one hour. Refrigerate until ready to use.
Nutrition
Other Notes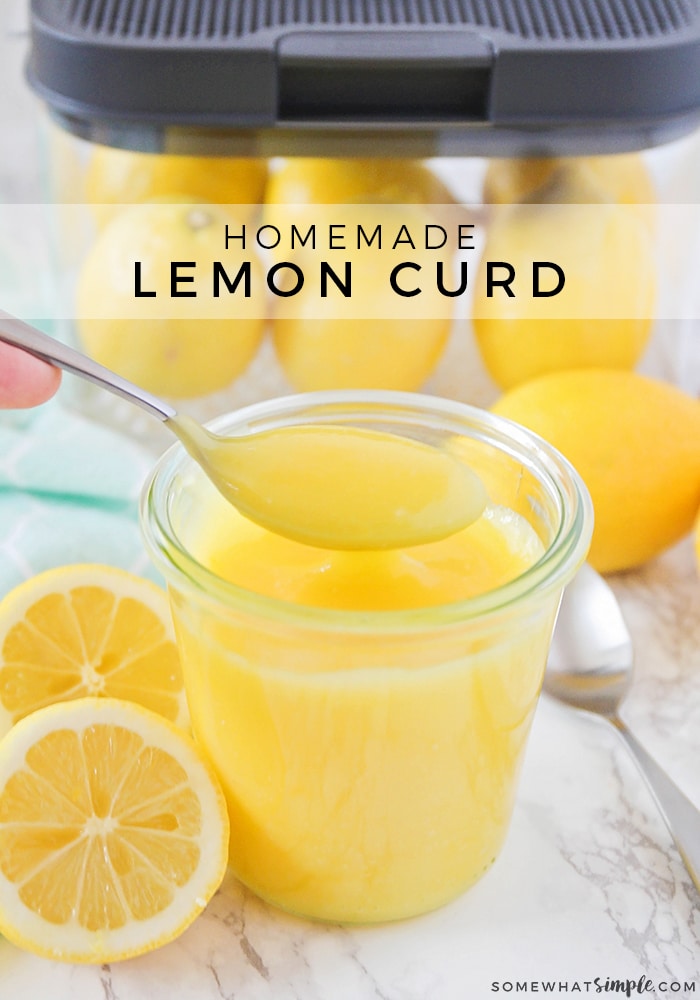 Join in the quest to #LongLiveProduce by purchasing your own FreshWorks Countertop today!