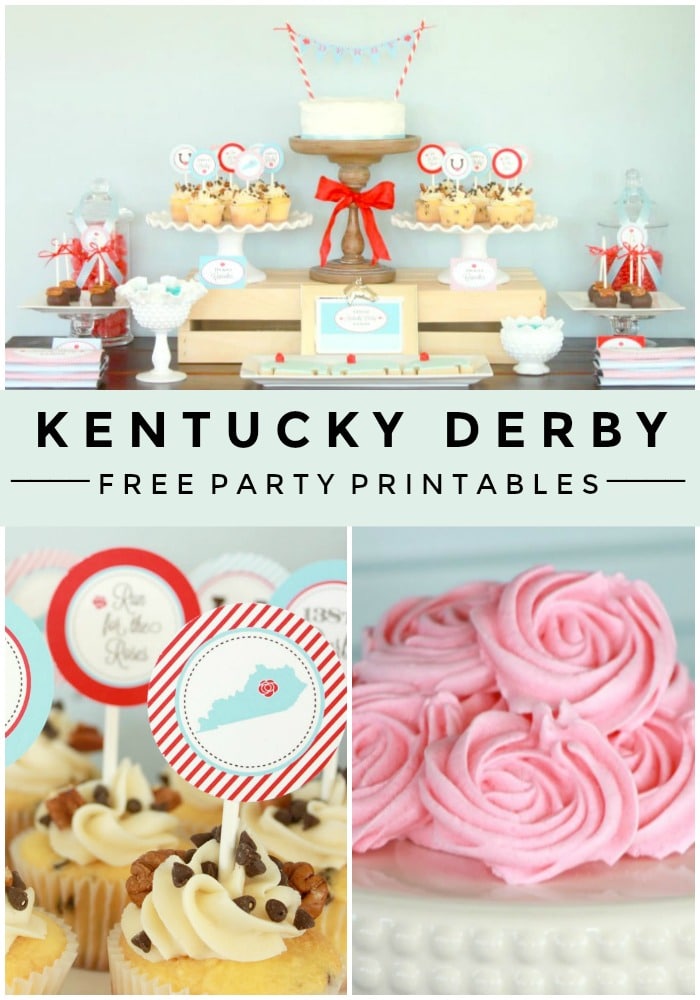 The Kentucky Derby is a great reason to celebrate with friends and family this spring. Here are some of our favorite Kentucky Derby party ideas.
The Kentucky Derby
I'm a Kentucky girl, and there is no bigger day in Kentucky than Derby Day! I'm thrilled to chat with you about one of my favorite days of the year – the Kentucky Derby!
When is the Kentucky Derby?
Every year on the first Saturday in May, all eyes are on my beautiful state! It is a tradition that started in 1875 and it is the only horse race that has run consecutively ever since – even during the World Wars. The race takes place at Churchill Downs and it is the first leg of the American Triple Crown, followed by the Preakness Stakes and the Belmont Stakes. Jockeys in the Kentucky Derby race 3-year old Thoroughbred horses a distance of one and a quarter miles in what has become to be known as "The Most Exciting Two Minutes In Sports".
Kentucky Derby Race
You may also hear the Kentucky Derby race referred to as "The Run for the Roses". The red rose has been the official flower of the Kentucky Derby for more than 100 years, and the winning horse is crowed with a stunning Garland of Roses. The crowning is one of the most exciting moments of the race!
Kentucky Derby Party Ideas
If you won't be making a trip to Chruchill Downs on Derby Day, you can still celebrate in style. Here are a few tips for setting up a beautiful Kentucky Derby party.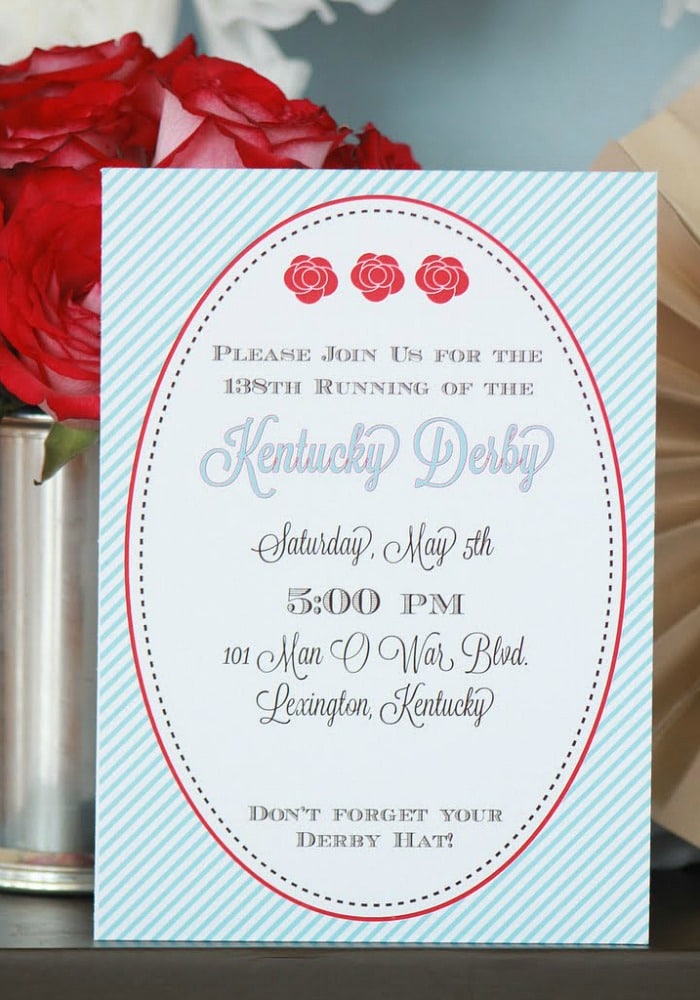 kentucky derby party invitations
"The Run for the Roses" is a great theme to build a Derby party around. Set the tone for your party with a rose themed invitation.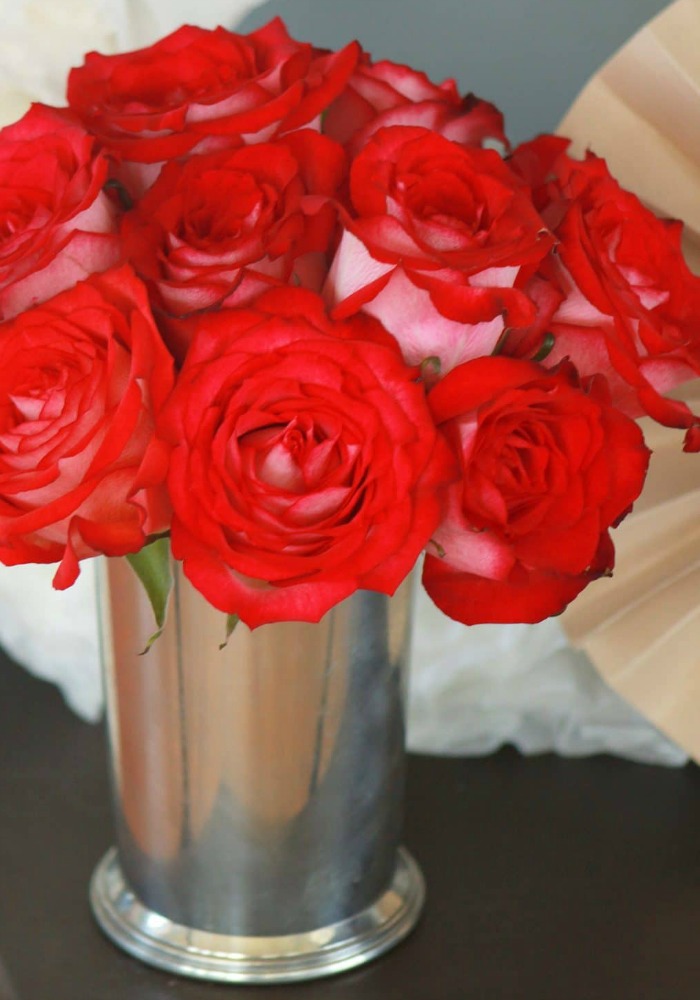 kentucky derby party decorations
Carry out the Run for the Roses theme by using our rose themed paper goods – place cards, cupcake toppers, and drink flags. (download link below.) Fresh red roses can be incorporated in your décor by scattering vases or mint julep cups filled with red roses around the house. A rose centerpiece placed on the main food table is also a winning choice.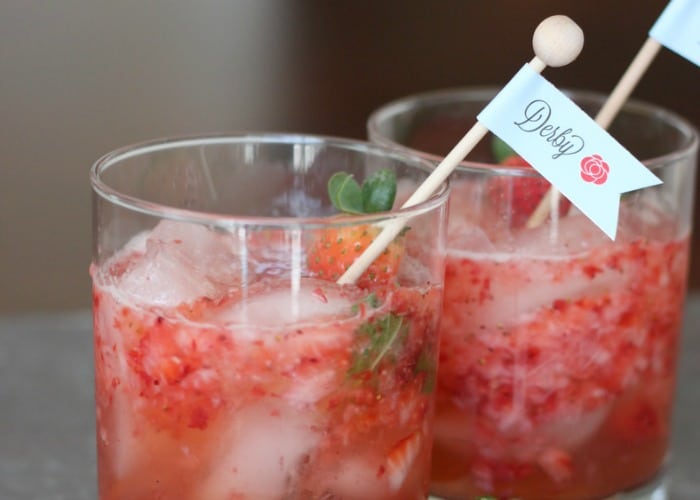 kentucky derby party food
If you are serving appetizers or a meal, many Kentucky themed foods work well for a Derby buffet. Here are some of our favorite menu items:
Non-Alcoholic Strawberry Mint Juleps
Since these items can be made earlier in the day, you can have an awesome Bluegrass-themed menu without sacrificing time spent mingling with your party guests.
kentucky derby desserts
A party celebrating the most exciting two minutes in sports also needs some exciting Derby themed desserts! Here are some favorite traditional Kentucky Derby Desserts –
Instead of the predictable pecan and dark chocolate pie, make Derby Cupcakes inspired by that delicious gooey dessert!
Strawberry Rose Meringues carry out the Derby rose theme, and they are so pretty to look at too!
Each of these desserts are a great choice because they can be eaten without a plate and fork, allowing guests to clutch a mint julep or racing program in their other hand.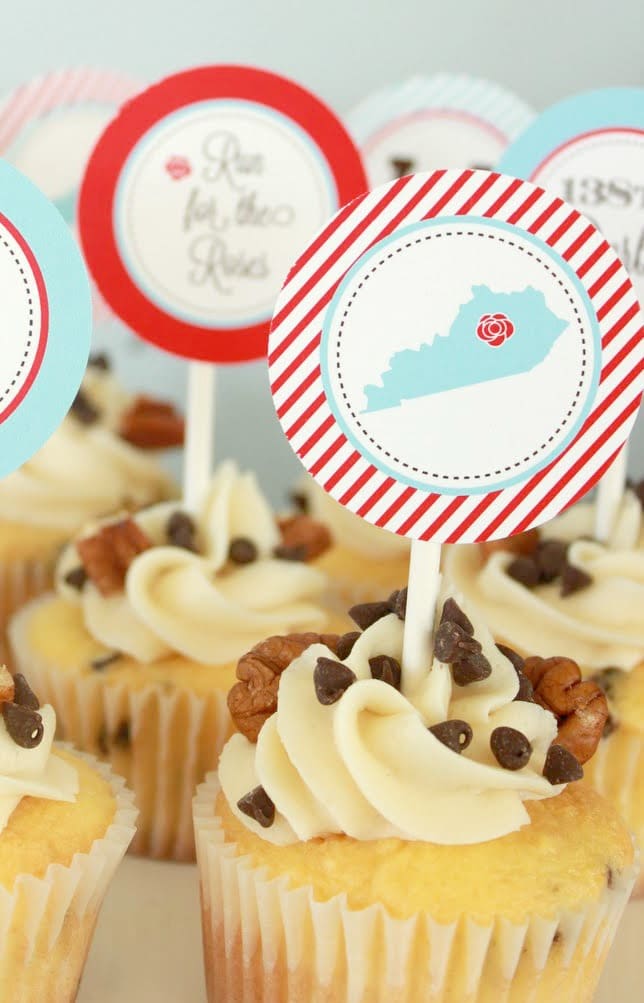 kentucky derby party games
The main event for any Kentucky Derby party is obviously watching the big race. Here are a few things to consider –
The more guests you invite, the greater access to viewing you'll need to provide. One large television or several smaller ones will guarantee that no one misses the big event.
Guests will appreciate access to a daily racing form. Consider looking online for racing forms to download and print.
Consider taking wages for the winner as an added measure of excitement!
If you'll be hosting children at your party, you could also look online for coloring pages for kids to color in their race day pick's stable colors.
A few other activities for your Kentucky Derby party could include –
a Derby hat contest
a game of horseshoes
corn hole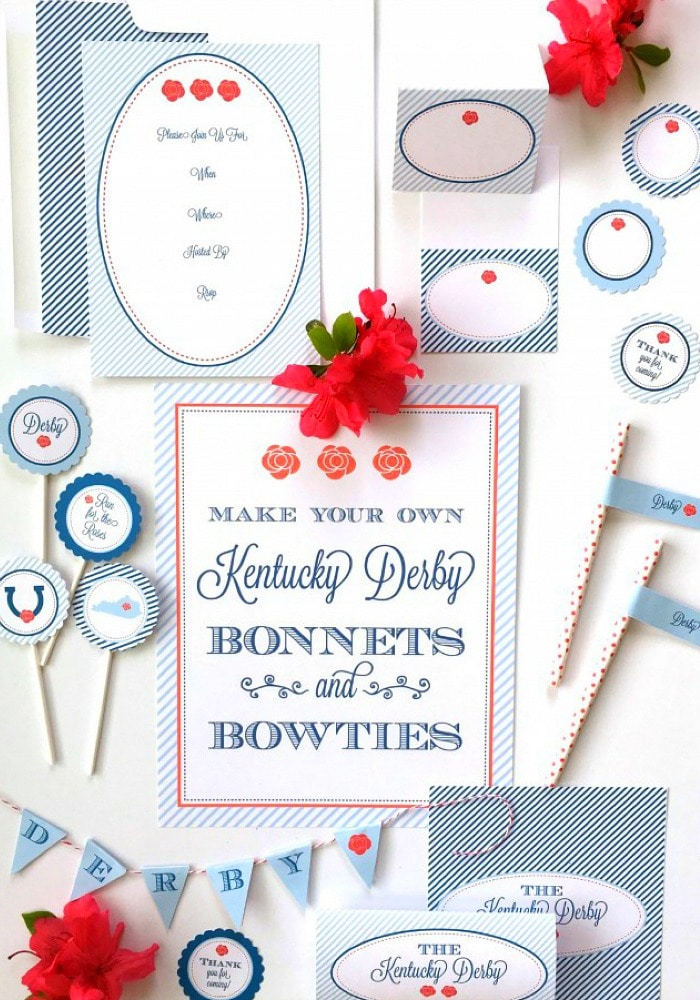 HOW TO DOWNLOAD THESE FREE KENTUCKY DERBY PARTY PRINTABLES –
Visit Mirabelle Creations and sign up for the newsletter.
You'll immediately get an email asking you to confirm your subscription.
One more email will come through with a link and password to grab these freebies. (Theres a TON more freebies available too!)
I hope your Kentucky Derby Party is a blast!
ABOUT THE AUTHOR – Deanna is the creative mom and blogger from Mirabelle Creations. Deanna shares personalized, thoughtful party designs to help others celebrate life's special occasions. Mirabelle Creations specializes in colorful, stylish paper goods for the modern hostess.