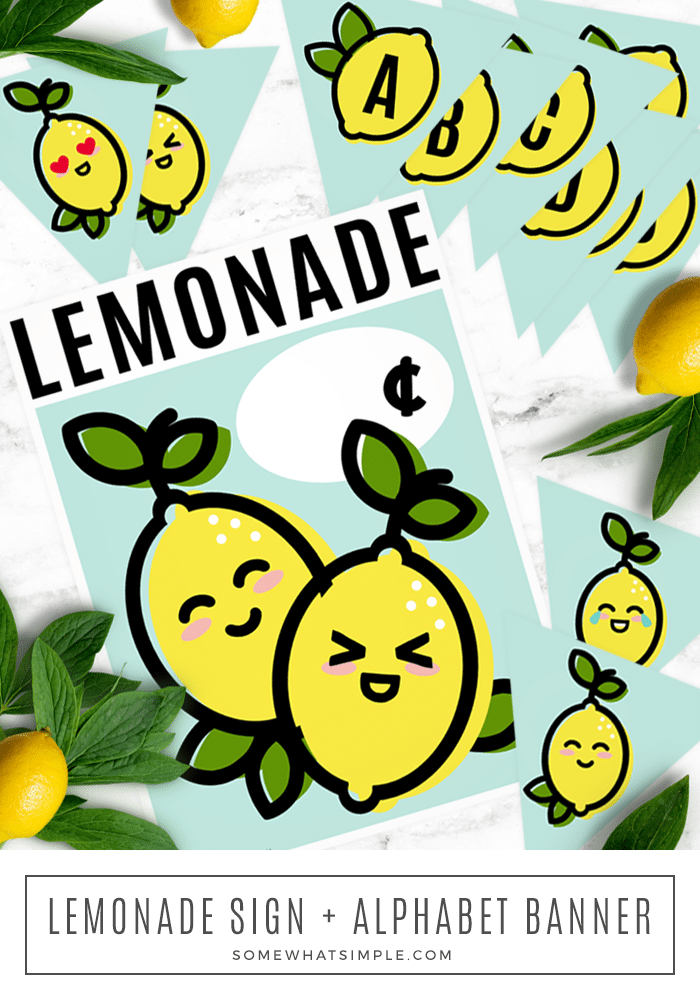 Set up the cutest lemonade stand in the neighborhood with our darling pack of free printables! The printable pack includes both a lemonade stand sign displaying the price as well as a banner to hang from your stand.
Need some delicious lemonade to sell at your lemonade stand? We've got you covered! Here are a few of our favorites – Raspberry Lemonade, Peach Lemonade, and The BEST Homemade Lemonade.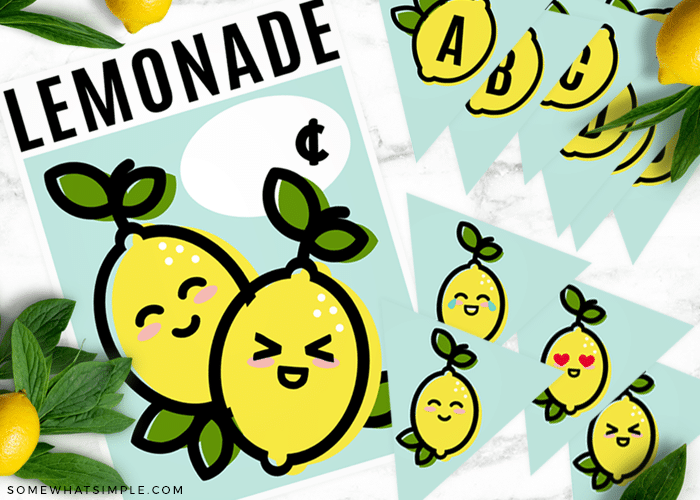 How to Make a Lemonade Stand
Summer is here and that means it is time to fill out your summer bucket list! Are there special things your kids have been talking about doing for weeks? Do you have any favorite childhood memories you want to share with them? If "Have a Lemonade Stand" is on your list, this post is for you! We've created some pretty fantastic lemonade stand sign printables that will make this activity easy peasy lemon squeezy!
MATERIALS NEEDED –
cute lemon stand sign and banner (download below)
tape
ribbon or string
marker
table
tablecloth, optional
chairs (if you plan to be comfy while waiting for customers
ice
change for large bills
DIRECTIONS –
Download and print your free lemonade stand signs with our cute printables. (We had the big sign printed at The UPS store for a couple dollars on 11×17 paper, then we cut off the excess white part and placed in an 11×15 frame. Yo can print it from home on regular paper, but the design may get cut off.)
Set up your table in a safe place where friends and neighbors can see it. Add a tablecloth, optional.
Assemble your lemonade banner by cutting out each pendant to spell a word or message of your choice. The entire alphabet is included in this pack, as well as some darling lemon-face emojis, so get as creative with this banner as you'd like! Tape each pendant to your string, then attach it with tape to the front of your table.
Decide how much each cup of lemonade will cost, then write the price on the large sign included in the free printable file. Put this print in the frame, then place on your table.
Set up the chairs behind the table and wait for your first customer!

More Fun Summer Activities For Kids
Printable Lemonade Stand Sign
Cheers!