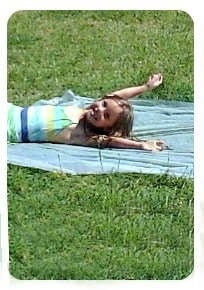 Ready to have some fun outside? I'll show you how to make your own slip and slide- it doesn't get any easier than this!
Materials Needed:
An inexpensive, heavy duty plastic drop cloth- This particular one cost around $3. You can find these plastic drop cloths in all different lengths & thicknesses in the paint section at Lowes.
Stakes-  I used the stakes from our croquet set, but any stakes you have on hand should work just fine.
Directions:
Roll out your tarp, stake it down, wet it with a hose & have fun!
Variation:
Add some kitchen soap for an even slipperier ride!
And the best part is:
When I would buy the "real" slip and slides, I hated when my kids were finished for the day. Leaving it staked to the lawn killed the grass and they never stored conveniently, but because I spent $15 on it, I couldn't waste it and throw it away! Because this drop cloth was only $3, we played with it and simply tossed it in the recycle bin! Perfect!
We ended the day with some popsicles and enjoyed even more laughs! Such a fun summer day!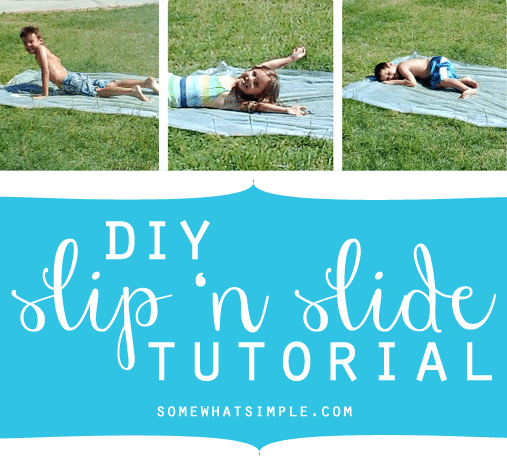 DON'T MISS A THING!
Sign up for our newsletter to receive our FREE Home Organization Binder Printables + weekly updates filled with creative inspiration and exclusive freebies!
---