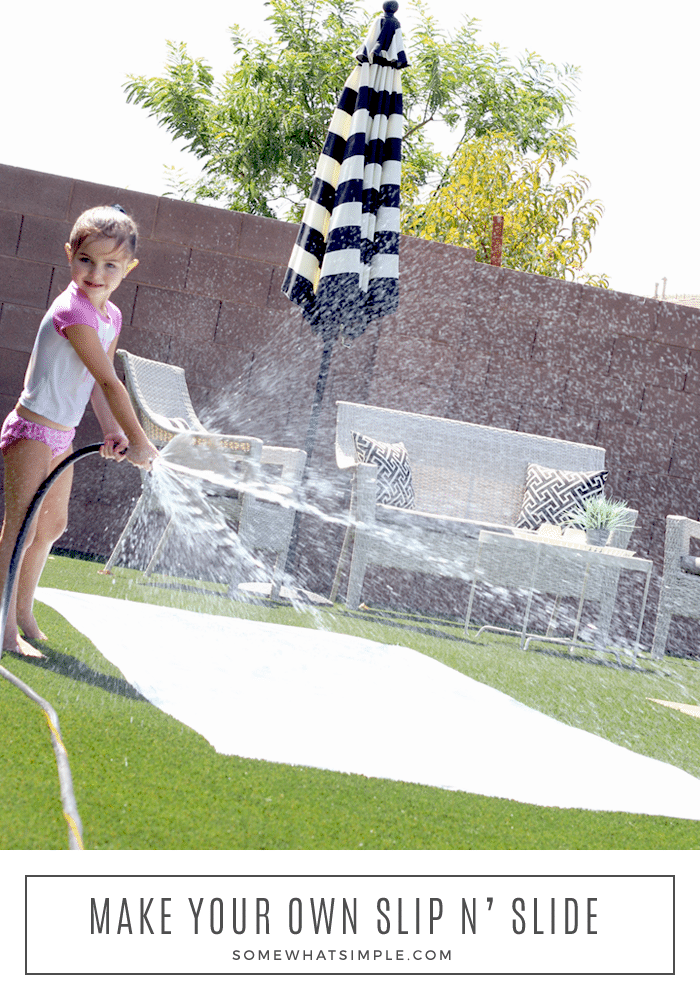 Ready to have some fun outside? We're going to show you how to make your own slip and slide! It doesn't get any easier (and more budget-friendly) than this!
I love summer time because it's the perfect time to try fun new activities with my kids. Making Homemade Slime, Ribbon Wands and Water Gun Painting are some of my children's favorites!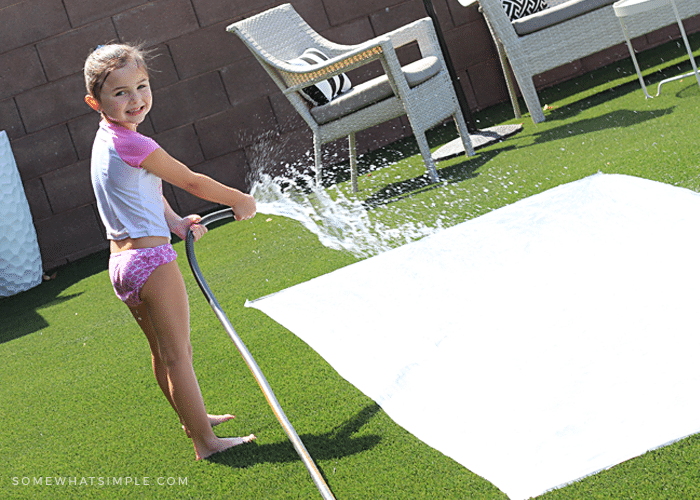 DIY Slip and Slide
What's summertime fun without a water activity?! You're going to LOVE how simple it is to make a slip and slide: a few minutes of prep equals hours of fun!
Making your own Slip and Slide is not only easy, it is also much more affordable than buying one at the store. And, unlike store-bought slip and slides, you can make this DIY version as big as you need!
I remember when I was a teenager, one of my church leaders made a giant slip and slide out of a plastic tarp for one of our youth activities. They had a portion of the slide laid out on a flat area in the park, but it sloped down a small hill right at the end. It was a long, fast, slippery ride that was so.much.fun! Even after all these years, I still remember having a blast that day – it was way better than any store-bought slip and slide I'd ever tried!

"Real" slip and slides from the store always posed a problem when my kids were done for the day: leaving it staked to the lawn killed the grass, but there isn't an easy or convenient way to store them.
Because this plastic drop cloth is only a few bucks and not $20 like the ones in the store, we play with it all afternoon, wear it out, then toss it in the recycle bin once we finish!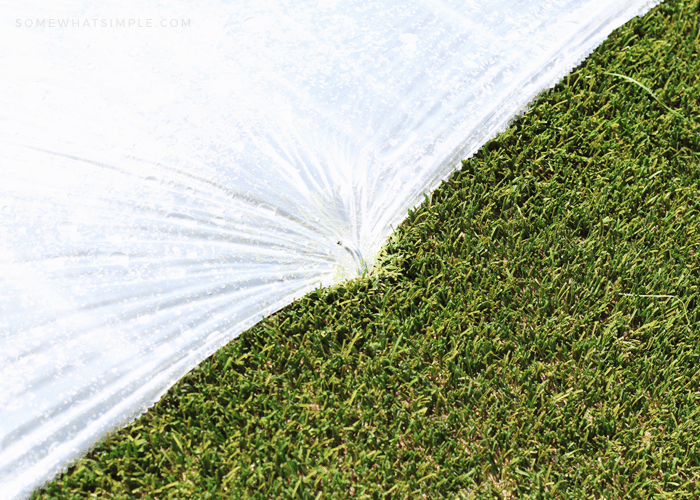 More Fun Water Activities

Homemade Slip And Slide
We grabbed everything we need for this homemade Slip n Slide at Lowe's for under $10 bucks! (And that was for a 3-pack of plastic drop cloths – not just one!) We only used one from our 3-pack, and we folded it in half to make it thicker. You could stake another one (or two!) down to make your slip n' slide longer!
You can find plastic drop cloths in all different lengths & thicknesses in the paint section. I have always used the cheapest version because if it rips, I don't feel bad throwing it away right after!
The other thing you'll want to grab are a few stakes. I found these for 43 cents each. We used 6, but depending on how big you want yours, you may need more.
How To Make A Slip And Slide
Ready to make your own DIY slip and slide? Here's how!
DIY Slip and Slide Supplies:
Plastic drop cloth
Hammer
Garden hose and/or sprinklers
Kitchen soap, optional
Homemade Slip and Slide Directions:
Unroll your tarp. You can fold it in half if you want it to be thicker.
Using your hammer, stake down the tarp.
Grab the hose and your swim suits, and get the party started!
Variation:

Add some kitchen soap for an even slipperier ride!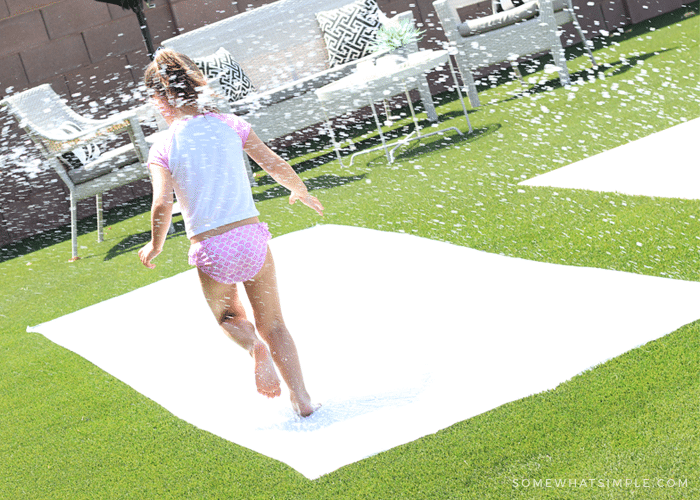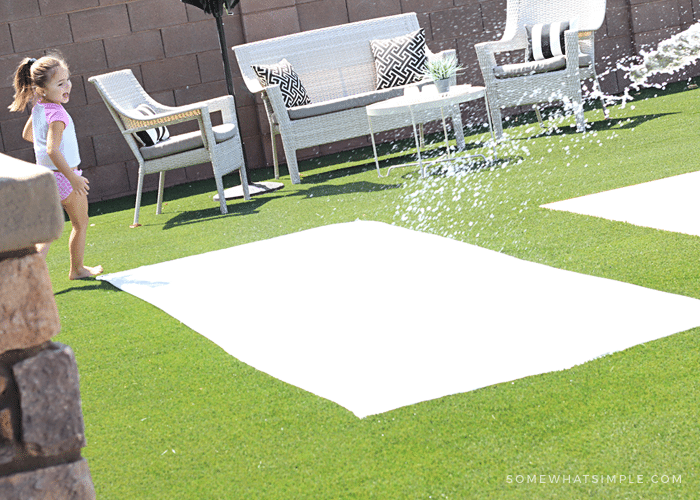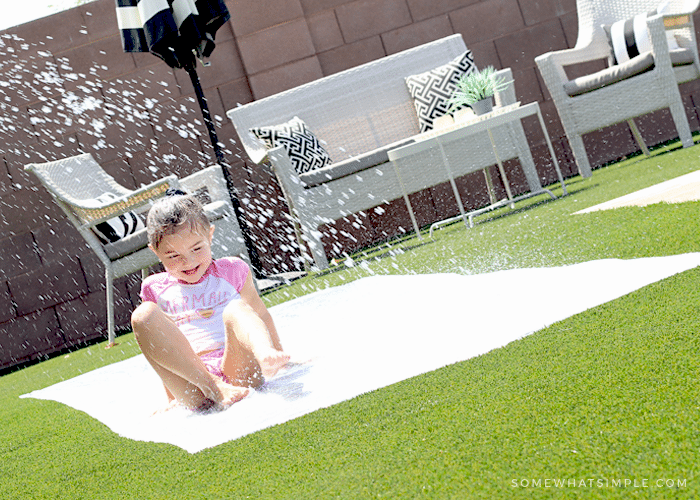 We recommend ending the day with some popsicles to enjoy even more laughs! Have a great rest of the summer!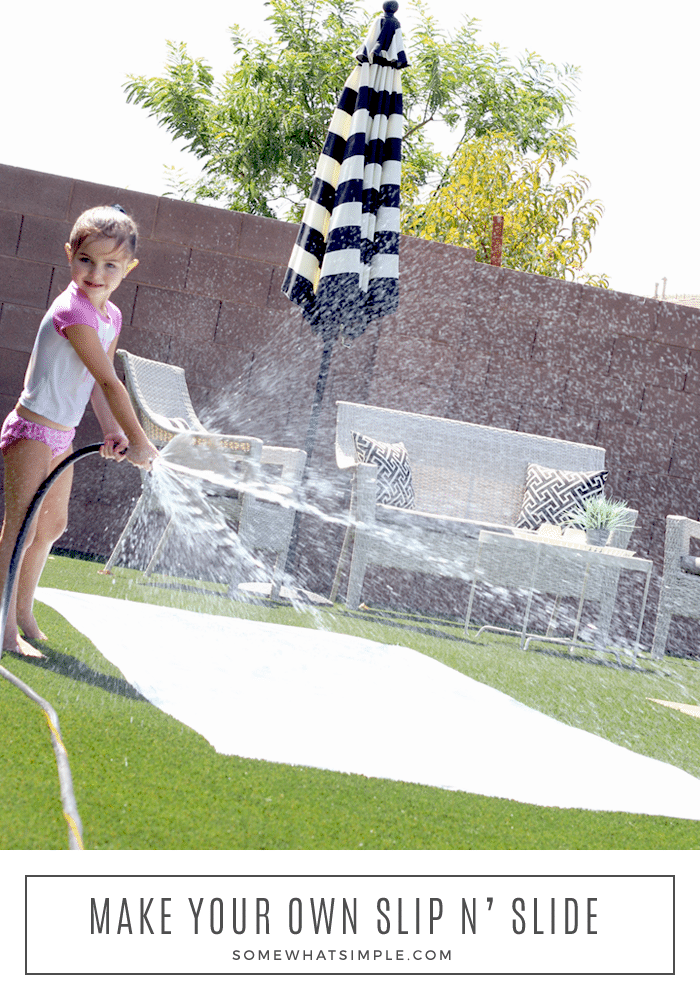 This post is sponsored by Lowes. All opinions are 100% our own.
This post originally published in 2010, but was updated in 2018.
SaveSave
SaveSave
SaveSave
SaveSave
SaveSave