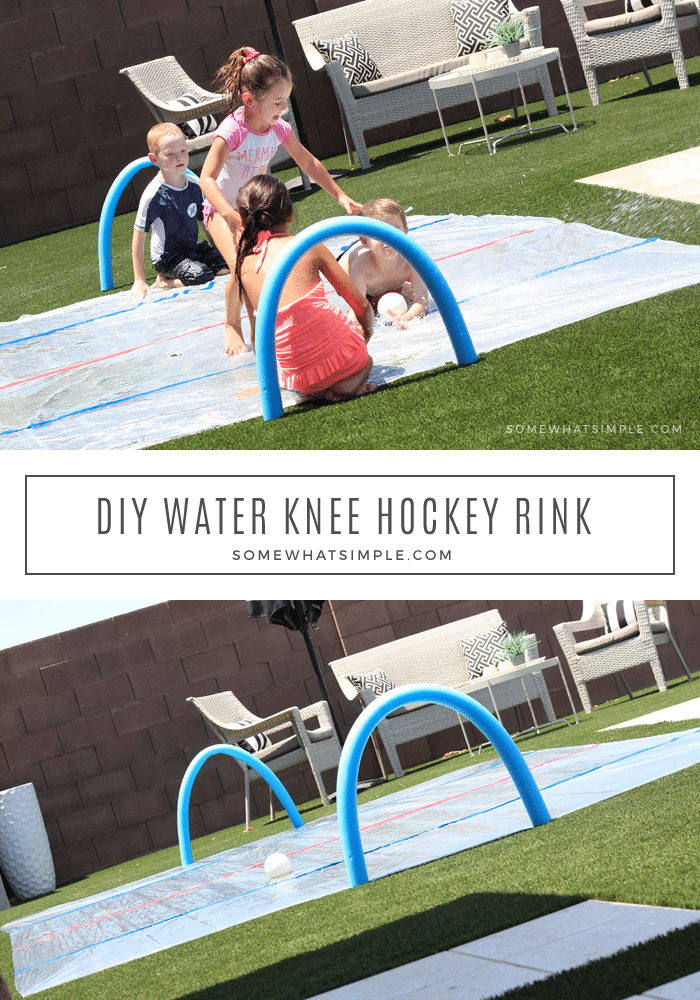 If your family loves hockey like mine does, you will love this outdoor water knee hockey rink. This easy tutorial will help you create hours of outdoor fun for your future NHL stars!
water knee hockey rink
My kids are HUGE hockey fans. They LOVE the NHL and they love to play hockey in any form- on or off skates, indoors or outdoors… they play it nearly every day! So when I came up with this fun Water Knee Hockey Rink, I pretty much won the "Mom of the Year Award." This project took me less than 30 minutes to put together and cost around $5.
Before we start, here's some more outdoor fun ideas: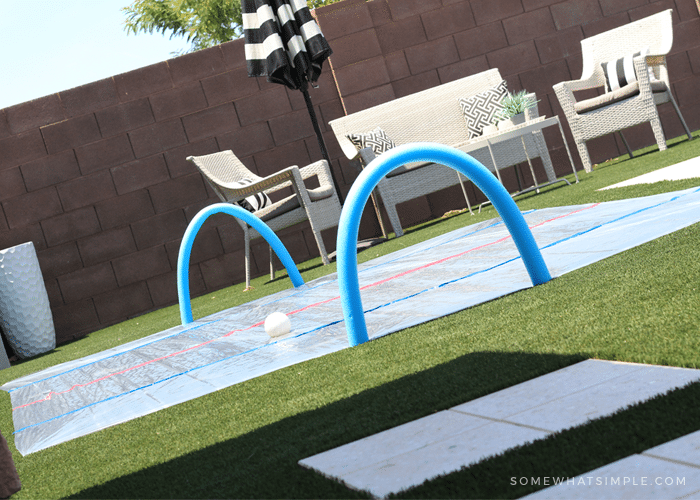 HOW TO MAKE YOUR OWN WATER KNEE HOCKEY RINK
supplies:
1 plastic tarp (I grabbed a super cheap 0.7 MIL plastic drop cloth)
stakes to keep your tarp down (48 cents from Walmart in the camping section)
2 foam pool noodles
Duct Tape *I used red and blue tape to resemble the lines on an ice hockey rink
directions:
Stake your tarp to the lawn so it doesn't blow away or move around during the crazy movements of the hockey game.
Tape off your rink using your duct tape. (One red line in the center, 2 blue lines between the red line and each goal.)
Put 2 stakes in at each end, only inserting them about half way.
Bend your pool noodles to form your hockey goal posts and place each end onto the halfway inserted stakes. Repeat for both sides of the tarp.
Get your hose out, play, and have fun!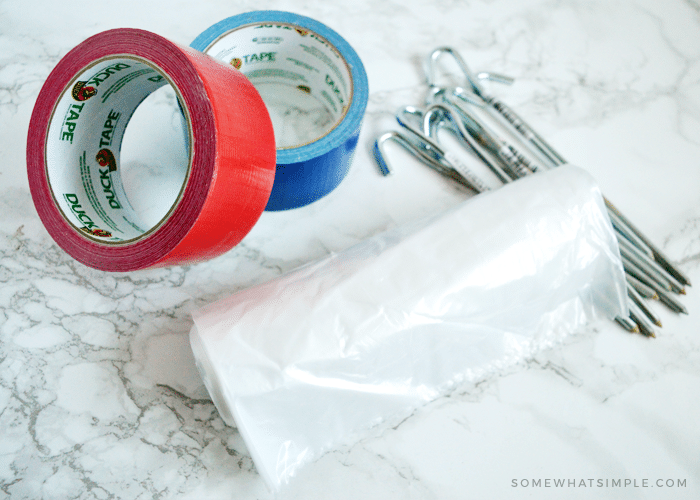 I love that I can just throw this cheap tarp in the recycling bin when we're done – no need to store it! And no need to worry if the kids put holes in it!
The pool noodles fit perfectly onto the stakes. So simple!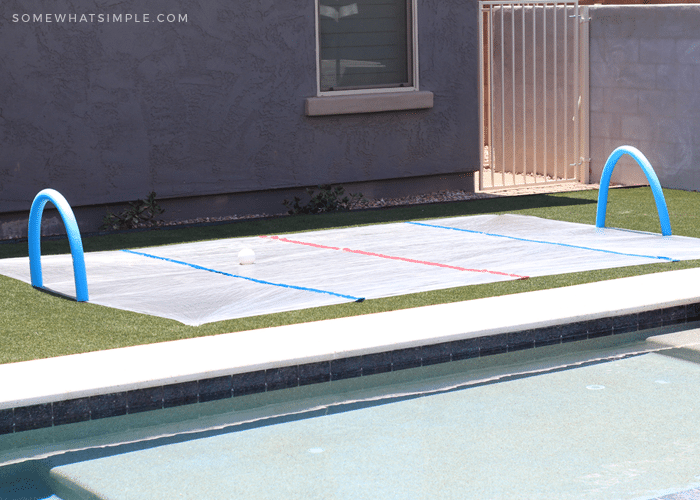 Make sure to grab a ball – any ball will do!
Once the tarp is nice and wet, it's time to start playing!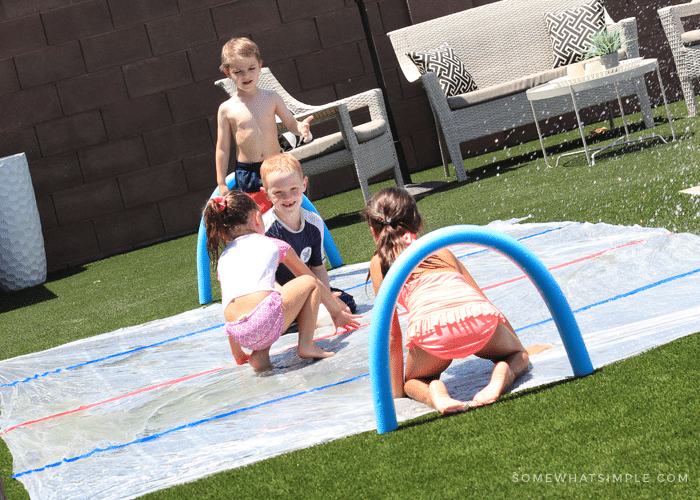 Each "team" had a goalie, and I stood by ready to hose them down, if needed… 😉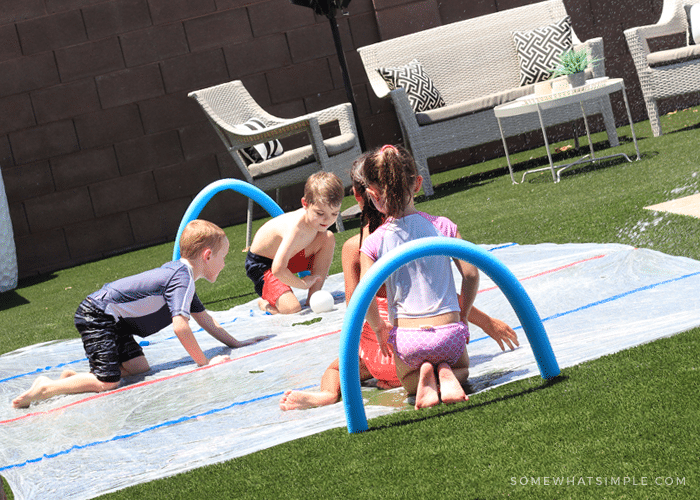 The game started, and things got intense: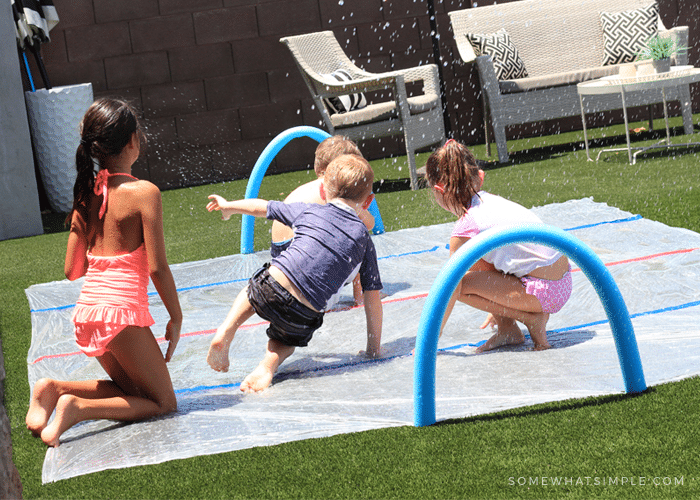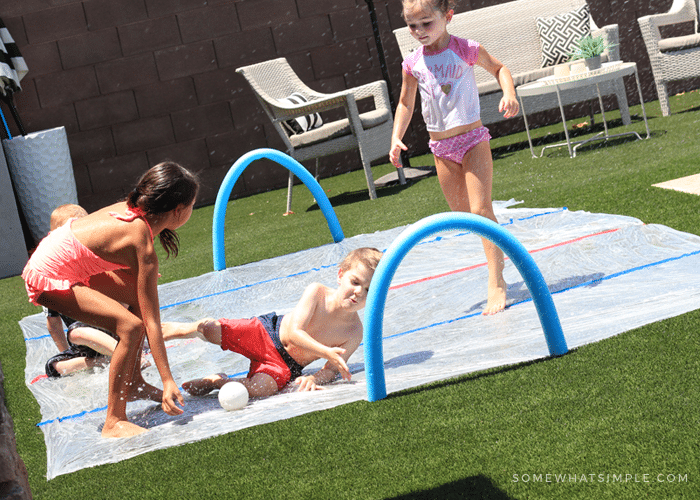 The kids LOVED playing this game! And it was the perfect activity for our 1,574,873º Arizona weather! 😉
Ready to make your own water knee hockey rink?
We'd love to see your creations! Tag us on social media so we can see all the fun you guys are having this summer!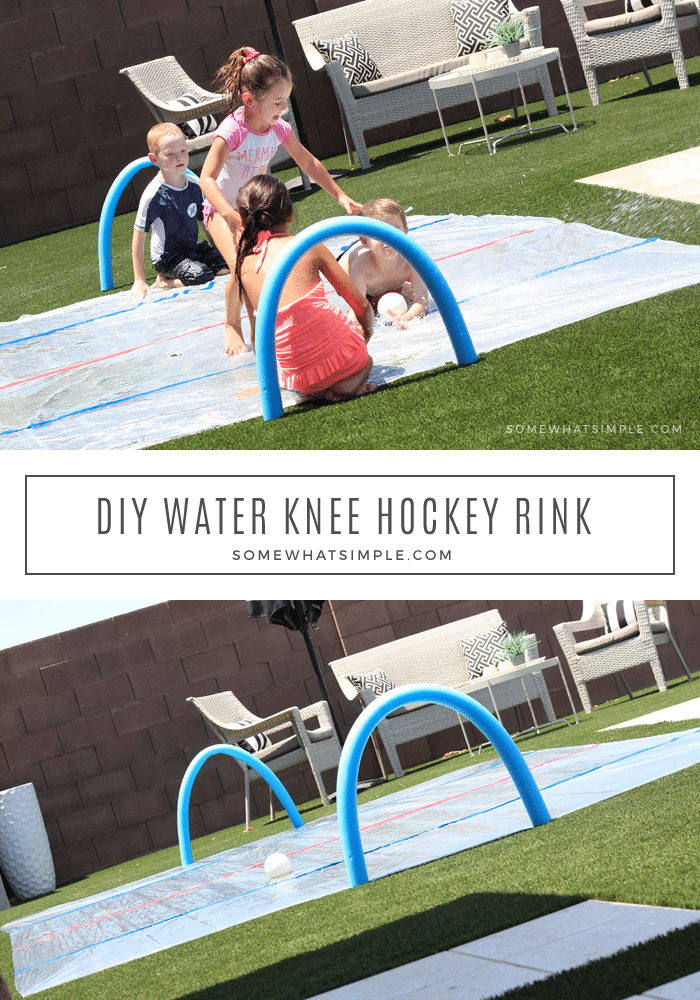 This post originally published on Somewhat Simple in 2013 and was updated in 2018 with new images.