Enjoy every minute of your changing body with these 10 ways to feel beautiful while pregnant!
If you're pregnant or planning to become pregnant, be sure to read our helpful tips about Things To Do The Moment You Find Out You're Pregnant.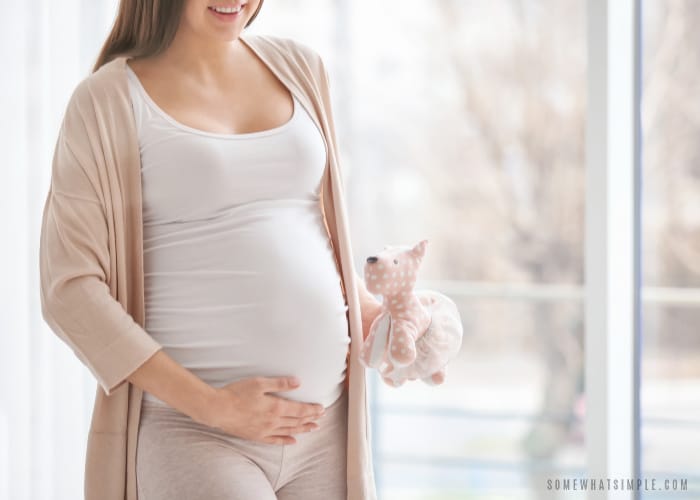 Feel Beautiful When Pregnant
You've outgrown another pair of pants, you're skin is a mess and your ankles are bigger than ever. Does this sound familiar to anyone? 😉 Watching all the changes that happen to your body during pregnancy is hard, but a lot of our insecurities and doubts can be addressed and overcome with positive thoughts and a change in behavior. Here are a few pregnancy pointers to keep you looking and feeling the very best.
1. Wear Clothes That Make You Feel Beautiful
With all the styles of maternity clothes on the market today, you shouldn't have a hard time finding something that fits your style, your budget, and your growing body! Here are a few clothing tips –
Don't go overboard and buy the entire maternity section! Pick out a few staples and build your pregnancy wardrobe around items you love! Here are a few maternity outfits we love!
Assess your pre-pregnancy closet and take an inventory of items that will work during pregnancy.
The EASIEST items to convert to maternity are dresses and skirts.

Skirts can be worn below the bump OR above the bump.
Wearing a skirt above your bump with a cute top tucked in allows you to use many of your blouses that are too short to cover your entire belly.
Add a belt for some added shape!

Pair your jeans with a nice long top. If your top feels just a bit short, try adding a longer layer over it, like a vest.
Don't feel guilty for splurging on something for a special event.
Ask to borrow clothes from friends with a stylish maternity wardrobe.
2. Eat Healthier
Much easier said than done! While you shouldn't diet during pregnancy, you should also not adopt the "eating for 2" mentality either! Eating healthy may keep you from gaining weight excessively, it will lessen the likelihood of developing gestational diabetes, and it will make you feel better! Here are a few helpful tips –
Allow yourself to splurge, but don't go overboard.
Keep healthy food conveniently close.
Consider using Wal-Mart Grocery Pickup for your grocery needs! Because grocery shopping is the pits anyway, adding morning sickness, swollen ankles, and perhaps a cranky toddler sidekick to the mix sounds even more miserable! Place your order online, then pick up your food when it is convenient for you. This is a free service that saves time and money! And if you use my referral link, we each get a $10 off our coupon!
3. Pamper Yourself
Being pampered is a great option for a quick image boost. Here are some simple ideas –
manicure or pedicure
facial
pregnancy massage
No pampering budget? No problem! Do a facial or pedicure at home with a few close friends!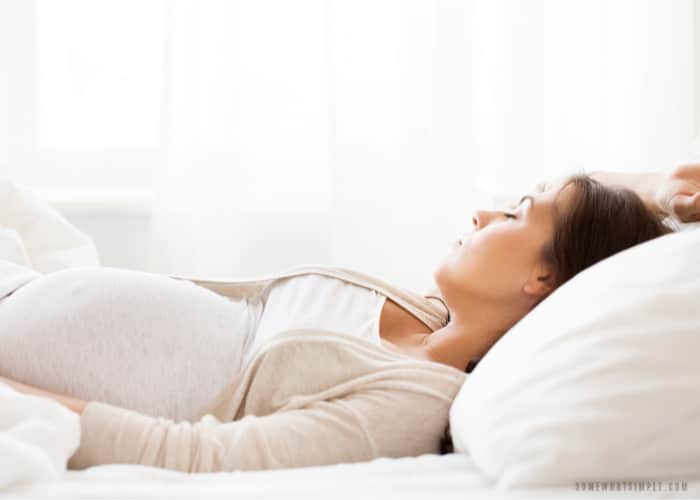 4. Get Your Beauty Sleep
I know what you're thinking, "Sleeping while pregnant is HARD!" Not only is your body achy and hot, but your bladder also needs to be emptied an insane amount of times during the night! But getting enough sleep is crucial to your health and to your overall attitude. Here are a couple of ideas to help you get a better night's sleep –
Set a relaxing night routine.

Take a bubble bath
Stretch
Read a book
Put down electronics

Use a body pillow – Hands-down my most-used pregnancy item for all 5 pregnancies!
Nausea Medicine – Ask your doctor to prescribe something that helps calm your stomach and helps you sleep.
5. Put On Some Makeup
"Makeup can do wonders during pregnancy. It can be used as a tool to feel pretty and in control." – Bobbi Brown, makeup artist.
During pregnancy, you don't have absolute control over how your body looks, but you can have total control over your face! Buy a new shade of lipstick, try a new shadow technique, or splurge and get a complete makeover! Spending an additional 5-10 minutes on yourself before you walk out the door will do wonders for your attitude!
6. Do Your Hair
You're losing less hair than normal, and it appears to be shinier and thicker – thank you pregnancy hormones!!! While I wouldn't advise any BIG changes to your locks during pregnancy, I do think you should have FUN with it while you can! Add some highlights, try a new hairstyle, curl or straighten it, etc. Make an effort to get it out of a messy bun or ponytail as often as you can!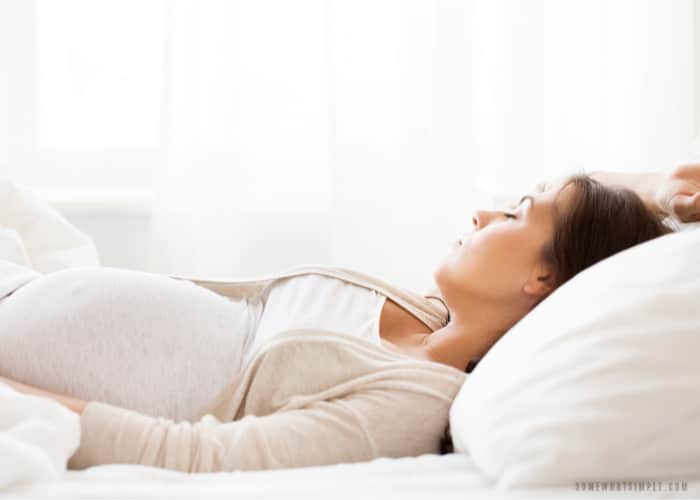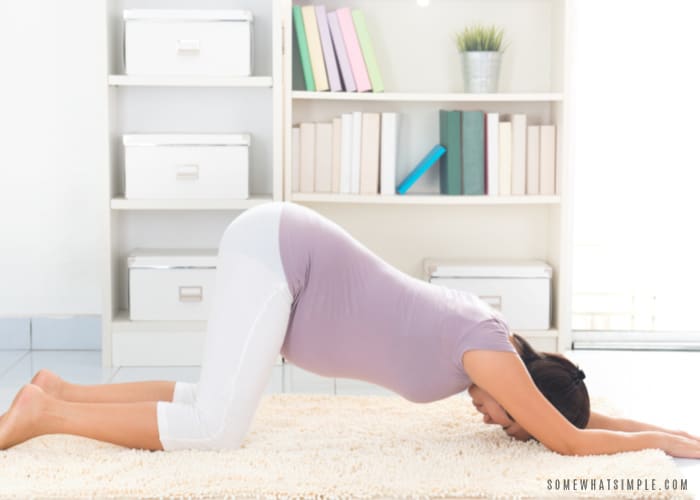 7. Stay Active
Exercise might be the last thing you feel like doing when you're bloated or dealing with morning sickness, but getting up and moving can make all the difference! Set a timer to make sure you get up and move every 60-90 minutes. Here are some ways to be active that take very little effort and will leave you feeling happier, healthier, energized, and more beautiful –
Take a 10-minute walk
Do yoga
Consider getting an exercise ball while sitting at work to engage your core.
Check with your doctor before doing any exercise program.
8. Get Out Of The House
If you can't find a reason to curl your hair or wear that new top you bought, create one! Plan a date that forces you to dress nice. Go to a play or to a nice restaurant with your husband, throw a fancy dinner party with your friends. It might surprise you how good these special nights will make you feel!
9. Take Care Of Your Skin
All those lovely pregnancy hormones can sure do a number on your complexion! Whether you're breaking out like a 14-year-old girl, or you find your face to be extremely dry and flaky, bad skin makes it hard to feel beautiful while pregnant! But here are a few tips to help you combat these symptoms –
Stretch Marks. Nobody wants them, but they happen anyway! I have skin that is prone to stretch marks – all my sisters and my mom got them during pregnancy, and I even got some during puberty. But I managed not to get a single stretch mark during any of my pregnancies and I'd like to think it was because I was religious about keeping my belly hydrated! I put lotion or oil on my stomach every time I got out of the shower, and every time it felt dry or itchy. HERE is an oil I love, and HERE is a great body butter… although any good moisturizing lotion will work in a pinch!
Make an appointment with a dermatologist and seek advice on safe pregnancy skin treatments. There are various home remedies he may suggest, as well as some medication that you may be able to take.
Wear a broad-spectrum sunblock with SPF 50 (or higher) every day!
Darkened skin on your face (also known as "the pregnancy mask") is totally normal and will fade after delivery. If you find it to be unsightly, you can cover those spots with concealer.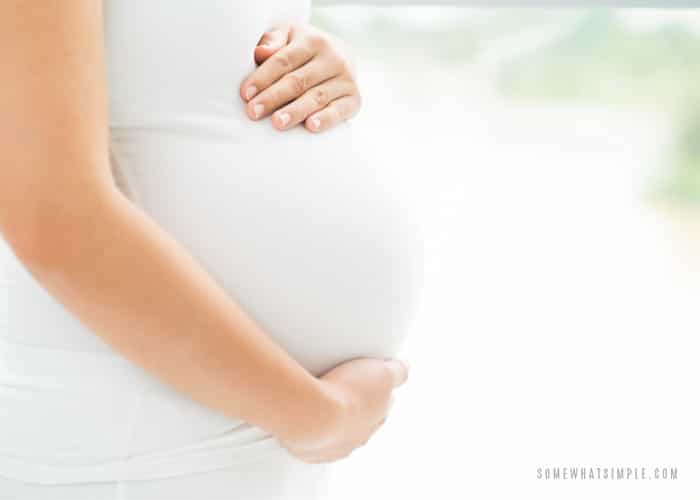 10. Enjoy It.
Take the time to enjoy being pregnant. Don't focus on life with the baby – focus on the experience of what is happening right now!
keep a pregnancy journal
take weekly pictures of your pregnant body – even when you don't feel pretty enough!
smile with each fetal movement you feel
take an afternoon off to relax
This is such a special time of your life – try to focus on the good and stop worrying about everything else!
. . . . .
While it isn't easy or always natural to feel beautiful while pregnant, take some time for yourself, focus on your health and take care of your body. You are doing some amazing things, and THAT is something to smile and feel beautiful about!