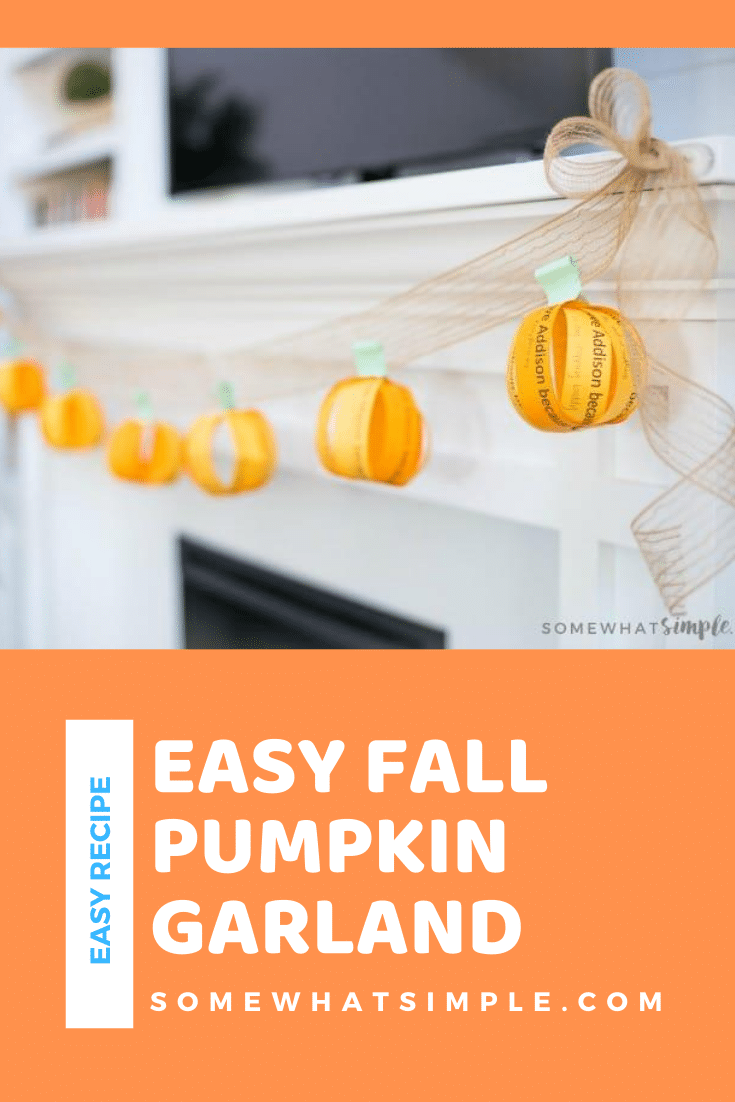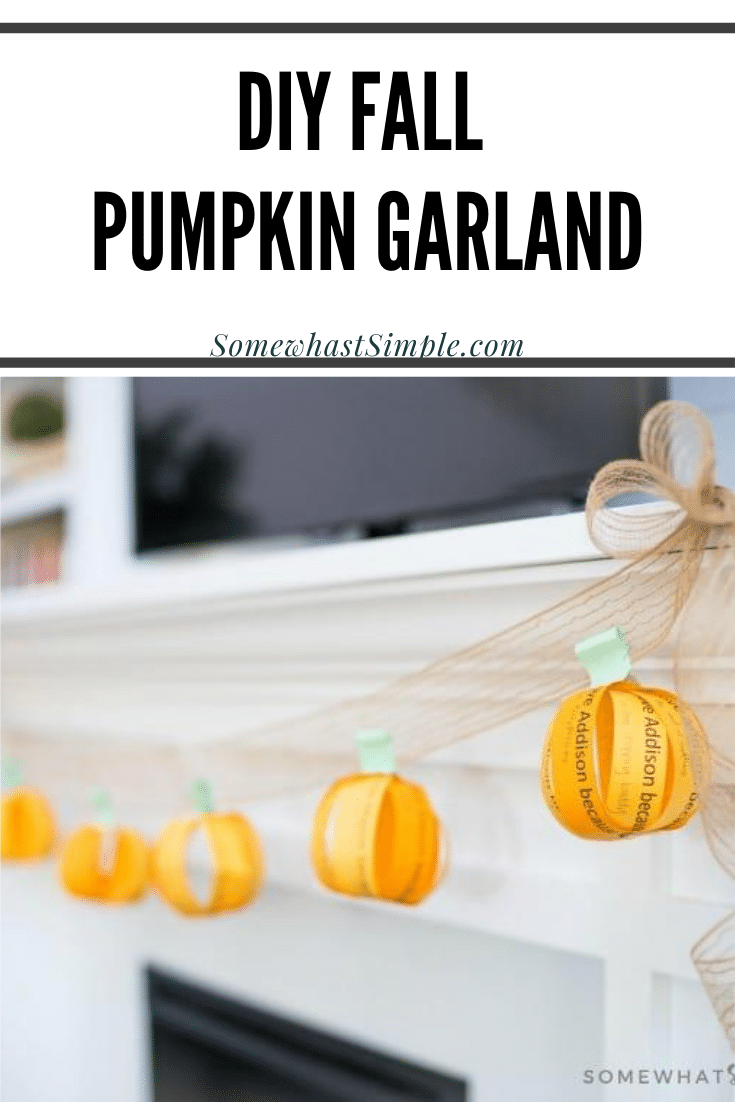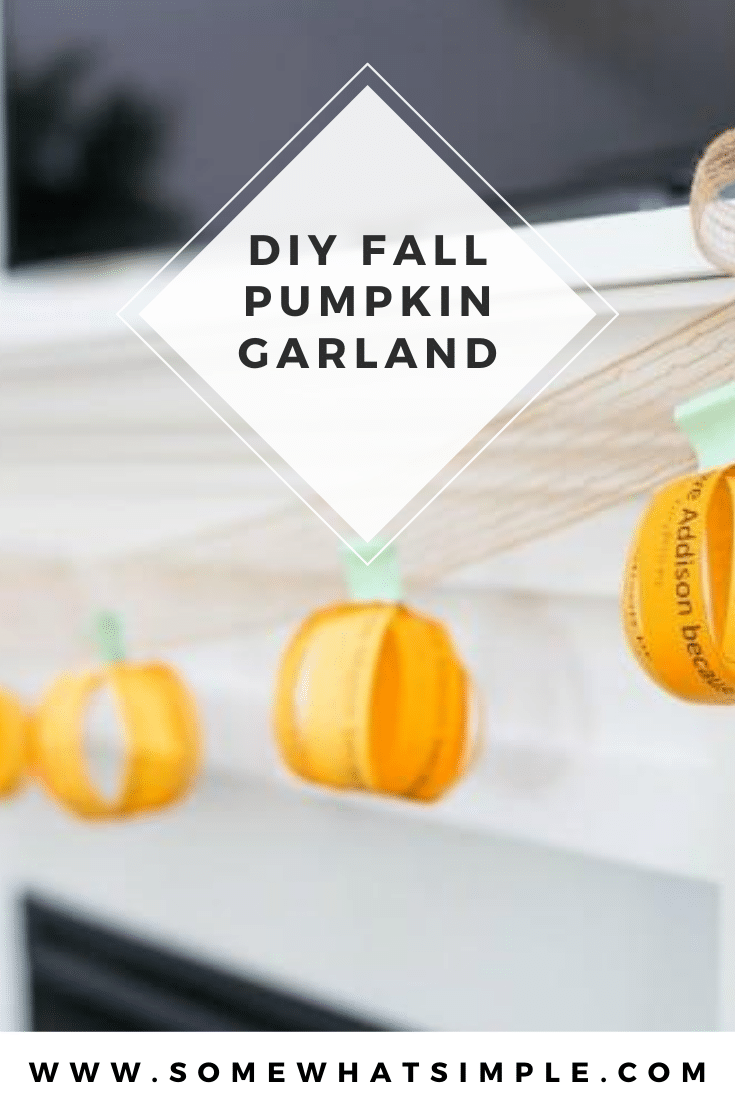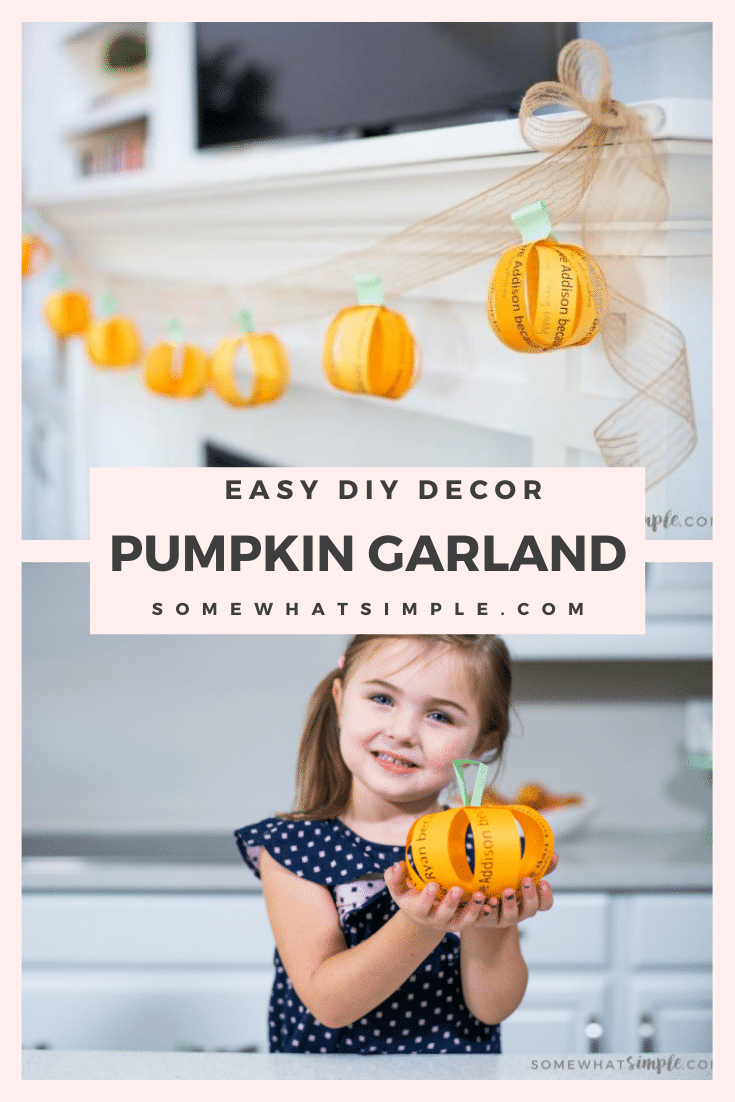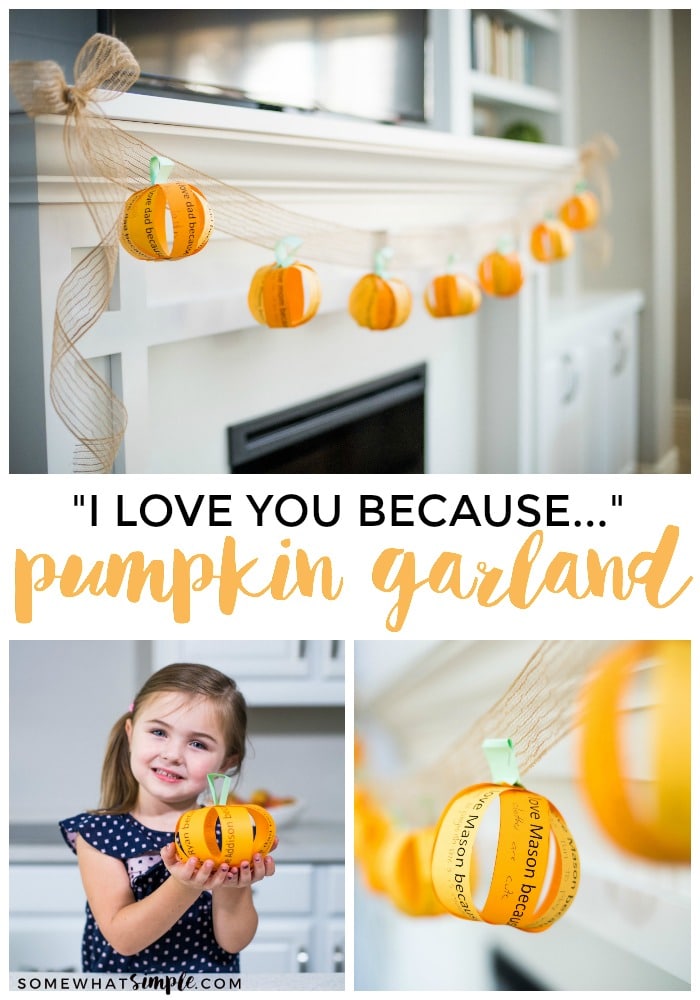 Not all Halloween and Fall decorations have to be scary! This fall garland is a cute decoration that the whole family can help create!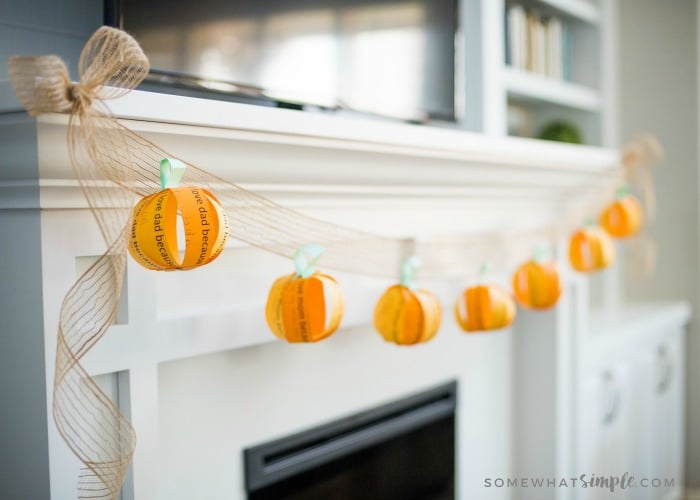 Easy Fall Decorations
Get ready for a fun family activity with a sweet purpose! This pumpkin garland is not only cute and festive, it is a great display of our family love and a reminder of why each one of us is important! We made one of these garlands years ago for Family Home Evening when all of our kids were really little, and we just made them again last week. I have to say, hearing all the reasons why my kids love each other is so fun and sweet! Here is how to make one for your family –
How To Make A Pumpkin Garland
Fall Garland Supplies –
orange paper*
green paper
pen
scissors
hole punch
brass fasteners (brads)
glue
ribbon
stapler
*I printed all the names of our family members on the orange paper so I could cut them in long strips. One page would have everyone's names – "I love Dad because…." , "I love Mom because", "I love Ethan because" etc.

Pumpkin Garland Directions –
Give everyone an orange piece of paper and a pen. Have each person write one reason why they love each family member. Once everyone is done, you can have each person read their papers out loud or keep it anonymous. (I prefer to have them read. It makes a fun, loving family night!)

Cut out the strips of paper and

put the strips into piles- 1 pile for all of the reasons people love dad, 1 pile for all the strips of reasons people love mom etc.

Hole punch the top and bottom of each pile of strips.

Put a brad in both of the holes, securing each pile.

Fan the strips outward so they form a sphere-like shape.

Cut and fold a green strip of paper to make a stem.

Place some glue on the green paper, then secure it to the top of your pumpkin and let it dry.

Once dry you can staple each pumpkin stem onto a ribbon.

Hang your ribbon, and you're done!
Now everyone in my family has their own hanging pumpkin telling them just a few of the reasons why their family members love them!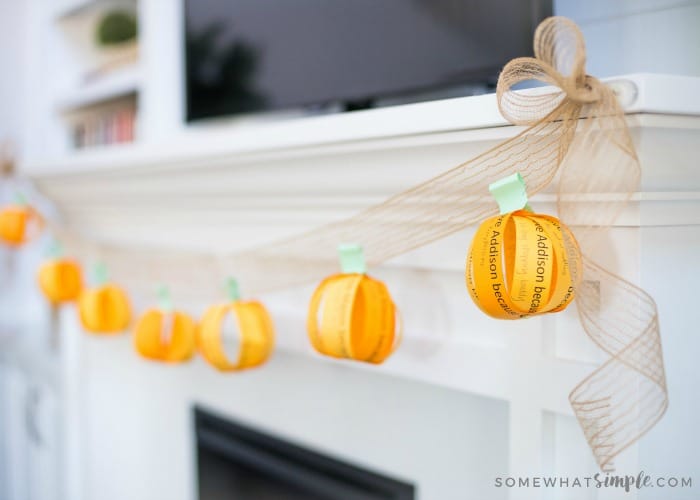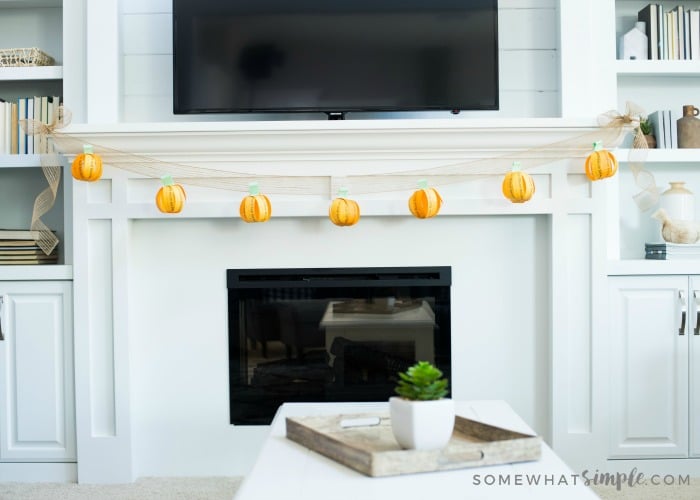 You can even take it one step further as have these pumpkins serve a dual purpose –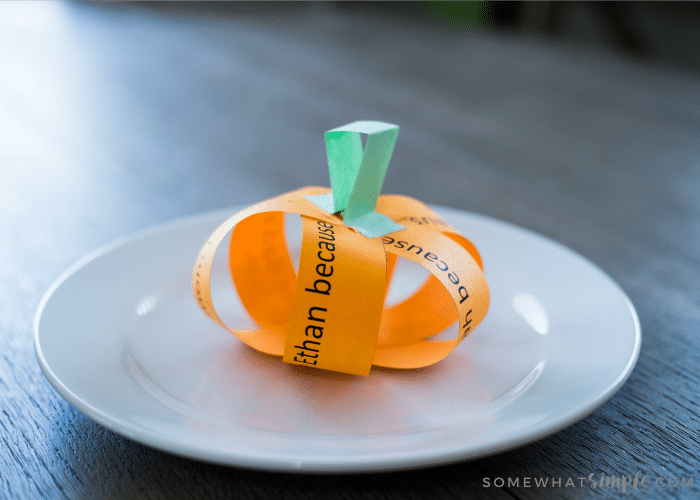 Leave your garland up until Thanksgiving, then use each pumpkin as a place card at your dinner table!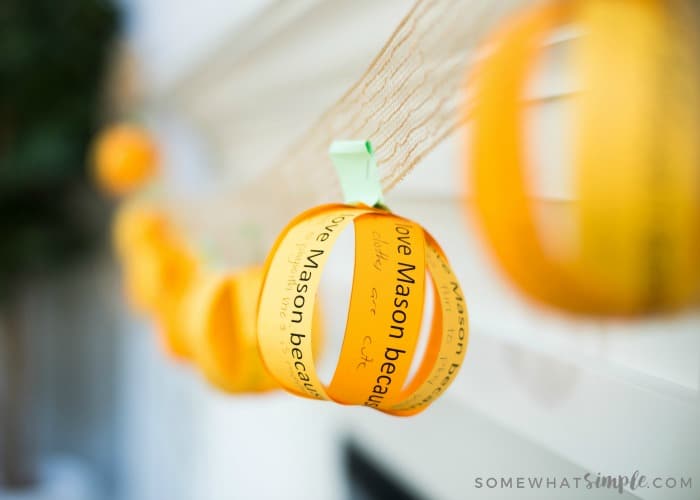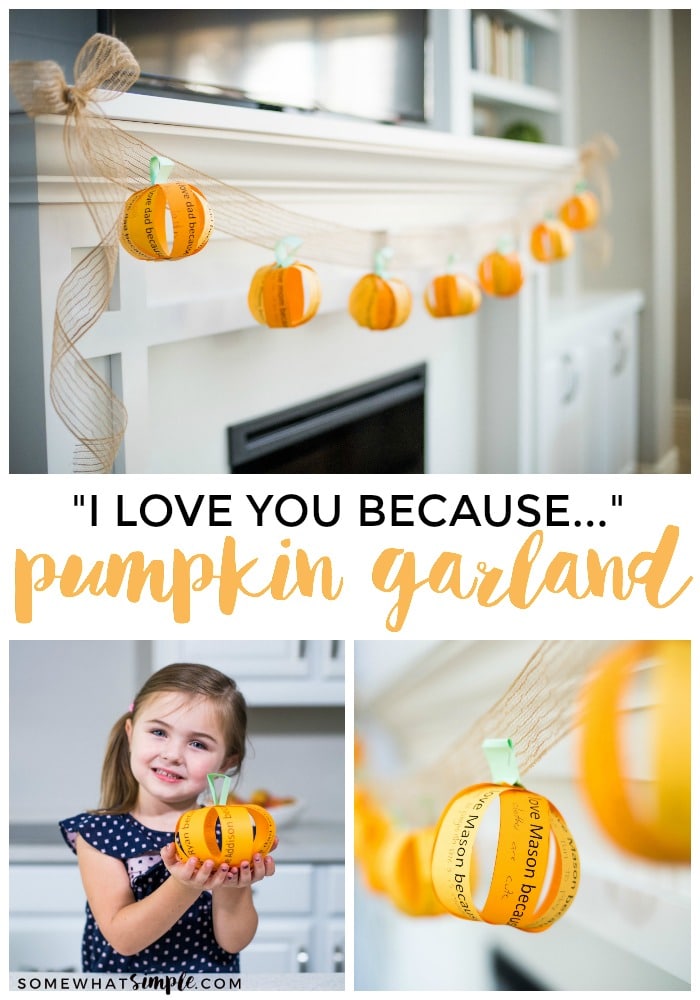 This idea was originally published on Somewhat Simple in October 2012.