I am a huge fan of orange chicken, but I've always been worried that a homemade version wouldn't have the same flavors and textures that I love so much from my favorite Chinese take-out. Then I stumbled across this recipe for Orange Chicken Rice Bowls from Kraft Foods. Not only did it look easy enough for me to try, there weren't any crazy or expensive ingredients like some Asian dishes I've made in the past.
I made this recipe for my family last week with just some minor tweaks and the flavors were fantastic! It is a great homemade alternative to ordering take-out… and it's healthier too! No fried chicken- just chicken breast strips, veggies, and an orange flavored sauce that is simply delicious!
Orange Chicken Rice Bowls
INGREDIENTS
1 lb. boneless skinless chicken breasts, cut into strips
1 cup Asian Toasted Sesame Dressing
1 cup orange juice
3 cups frozen stir-fry vegetables
3 cups cooked white rice
1/2 cup cashews (you could also use peanuts)
DIRECTIONS:
Cook the chicken strips in large nonstick skillet for 5 minutes or until cooked through.
Add the dressing and juice to the pan and bring to boil.
Add the vegetables and cook for 5 minutes or until heated through, stirring occasionally.
Serve over rice and sprinkle with nuts.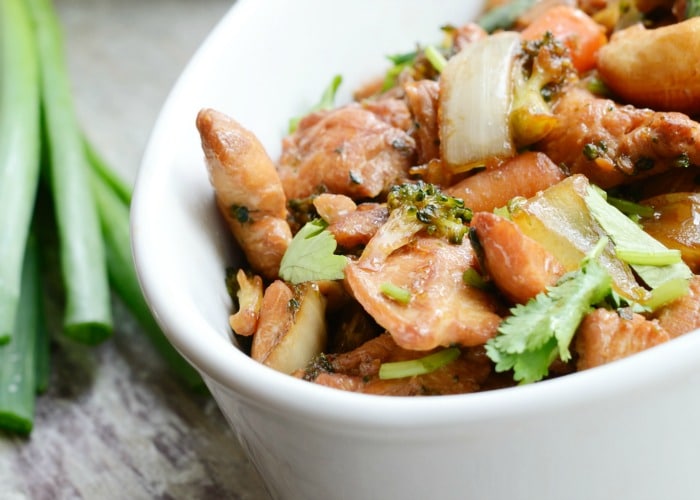 This recipe was originally posted on Somewhat Simple in July of 2009