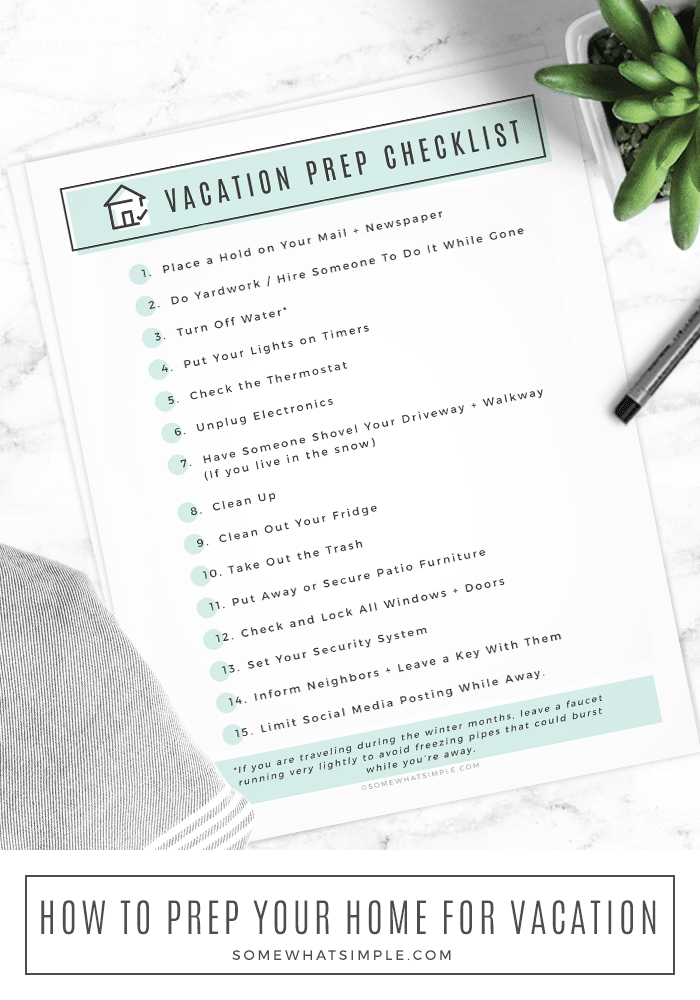 This is a sponsored post written by me on behalf of Key by Amazon. All opinions are 100% mine.
Prepare your house for vacation with our free printable checklist! 15 ways to keep your house safe while you travel!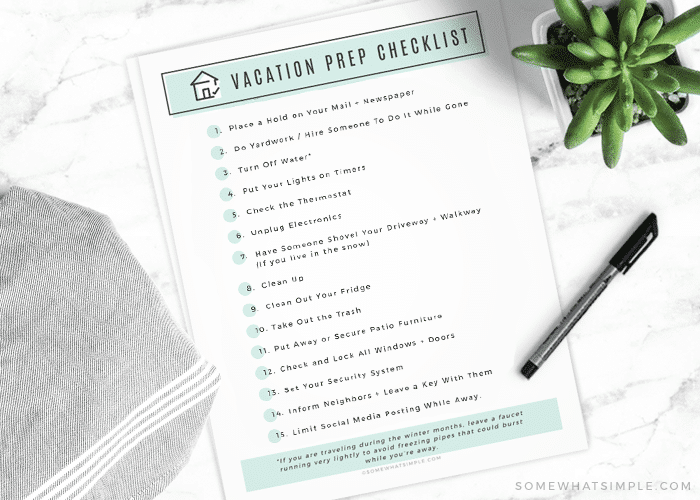 A lot of planning goes into the actual vacation part of a trip, but our homes are often left behind and overlooked! Whether you're doing a short weekend getaway, or a multi-week excursion in a foreign land, it's important to make sure your house is safe from disasters, intruders, and unwanted pests! Make your homecoming as seamless as possible with a handy checklist of things to do before you leave!
How to Prepare Your House for Vacation
There are 15 things to check off the list before you leave for vacation, let's discuss a few of the big ones!
1. Place a hold on your mail + packages + newspaper Nothing says "We're out of town" quite like a mailbox that hasn't been emptied in a few days and a porch full of packages! Our family recently discovered a SUPER helpful service that has given us some much-needed peace of mind when it comes to package deliveries when we aren't home – Key by Amazon In-Garage Delivery.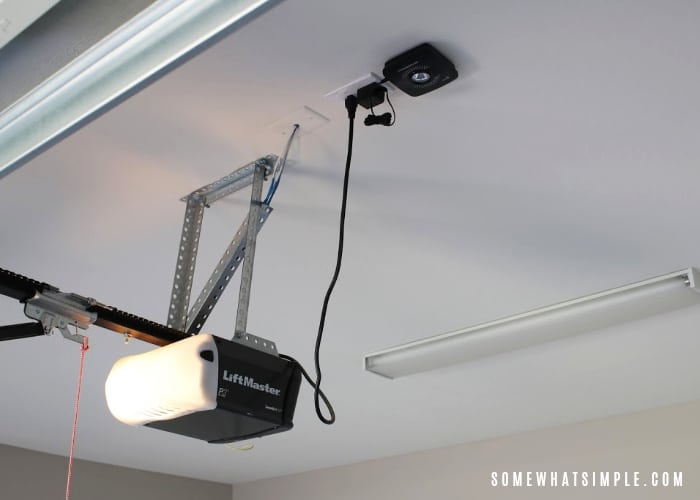 We recently went out of town for a summer vacation and just days after we got back was my son's baptism day. I ordered a cute little suit for Mason that needed to be delivered while we were gone so I could have it for his big day. BUT I didn't want this package waiting on our porch all week so it could be damaged or stolen. With the Key by Amazon app, we could place an order and have it delivered straight to our garage, and we could manage and control the delivery from our smartphones!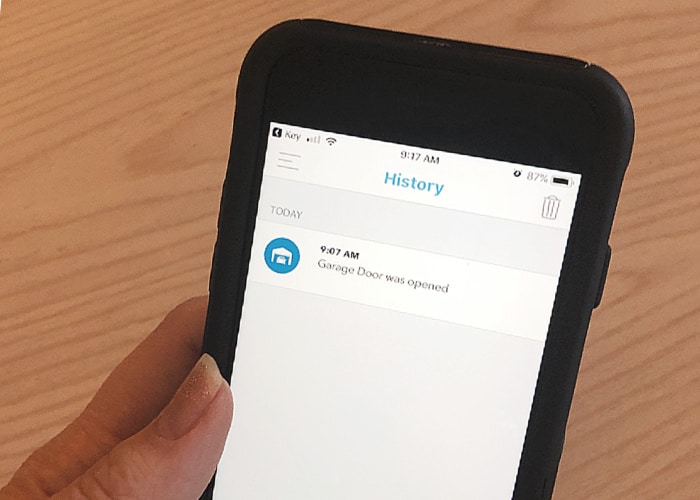 The service is free for Prime customers. Linking the myQ app to the Key App is so easy. All you need is a myQ smart garage hub and the myQ app to get started. Learn more about this service and see if it is available in your area. The entire process took just a few minutes!
In-Garage delivery is an easy way to protect your packages –
No more waiting all day for important packages
No more spending time tracking a missed package
No more time spent cleaning up wet packages left in the rain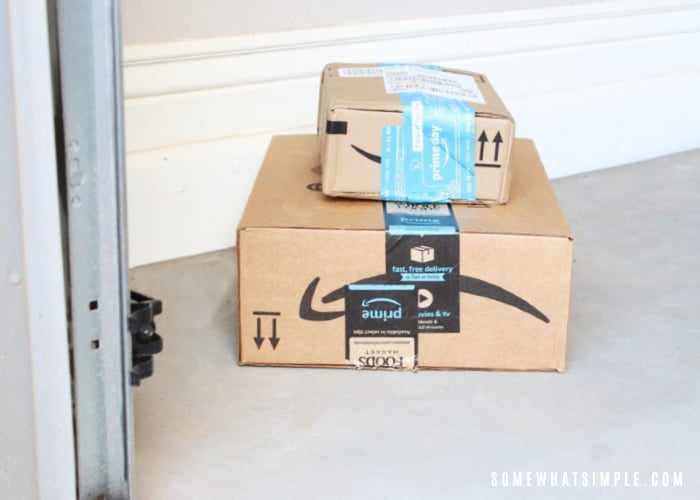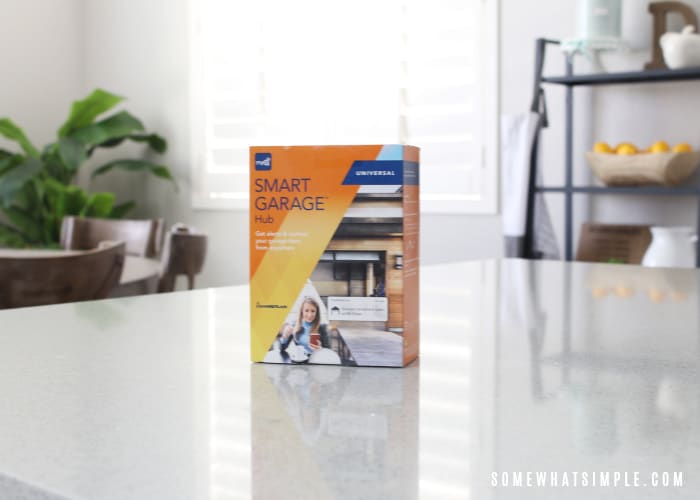 Key for Garage frees up time so you can focus on what matters in life… like vacations!!
For all other mail, you can place a hold on your mail directly from the post office's website.
2. Do Yard Work / Hire Someone to Do It While Gone
Take the time before you leave to make sure your yard is not overgrown. If you're going to be gone for a longer period of time, consider hiring someone to do it while you're gone. Also, if you're going to be gone during the winter months, ask a friend or neighbor to shovel your driveway so the snow doesn't pile up and make it obvious that you're gone.
3. Set Your Thermostat One mistake we made years ago was to turn our thermostat off completely while we were away during the summer in Arizona. We came home late one night to a house that was uncomfortably hot, and it took hours to get it cool, which nearly ruined our a/c unit. Instead, increase the temperature to 85 or 90 while you are away during the summer, and lower your furnace to 60 in the winter.
4. Clean Up Clear the clutter, do the dishes, clean sweep and vacuum the floors. Take a minute to clean out the fridge and toss anything that will expire while you're away. Also, take out the trash to help ensure that you aren't greeted by any unwelcoming aromas upon your arrival! Cleaning your house before you go will help prevent little bugs (like ants and gnats) from setting up their camps in your home while your gone, and it makes coming home from vacation so much more relaxing!
5. Inform a Trusty Neighbor Consider telling your neighbors your plans, and leave a key with them in case of an emergency. Ask them to remove any fliers or mailers that get tossed on your porch, and have them on the lookout for any suspicious activity.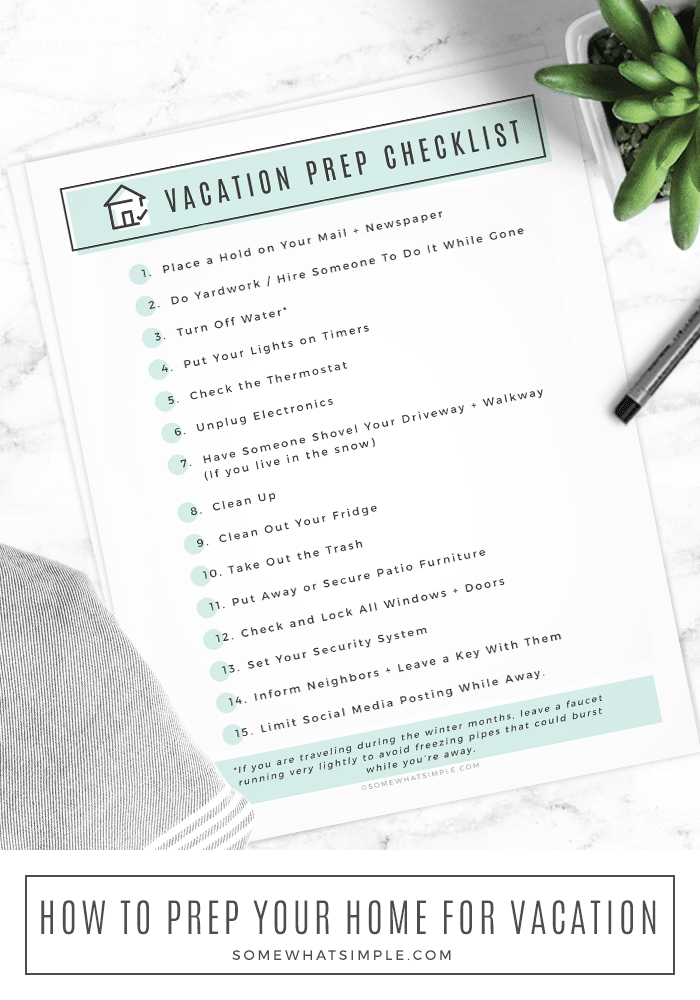 We have 10 more suggestions on how to prepare your home for vacation – be sure to download our free checklist before you go!
Have a safe and happy vacation!