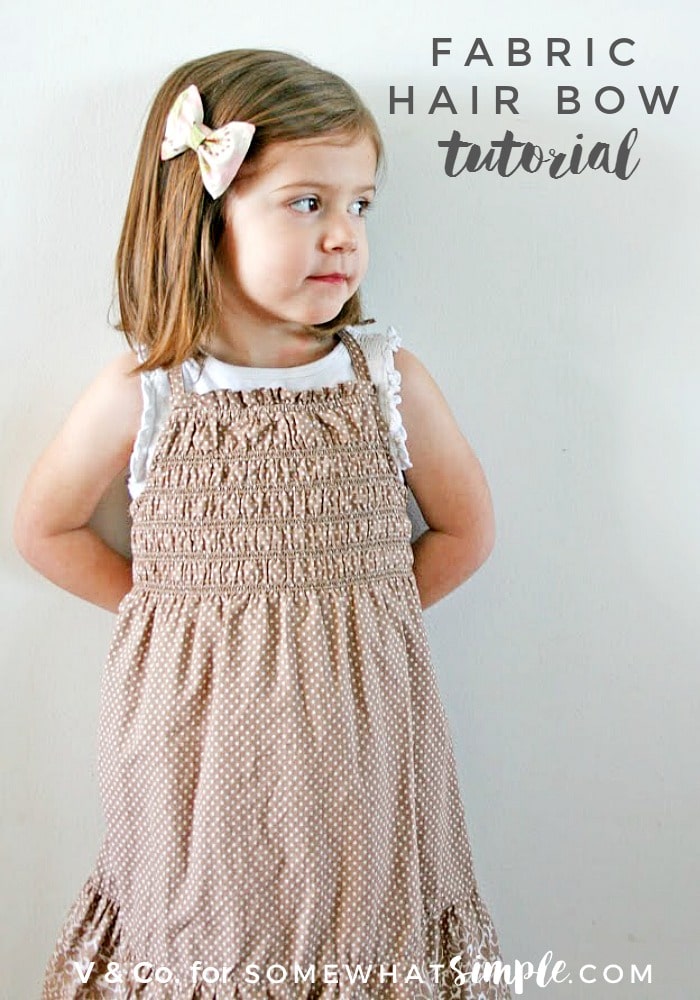 A fabric hair bow is a simple accessory to make that will look darling in your little girl's hair!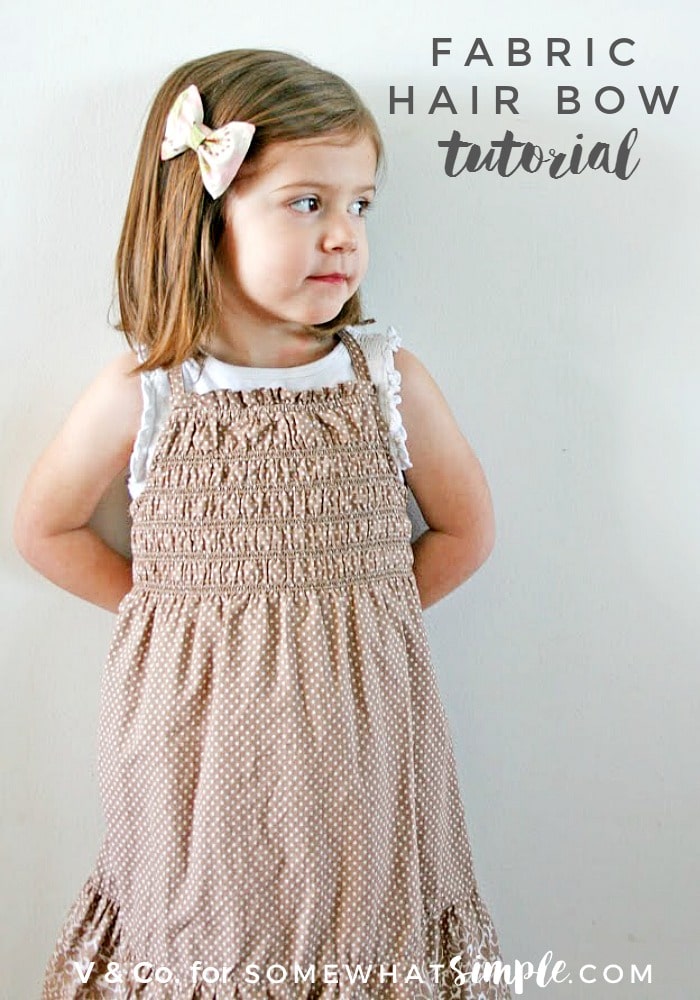 My daughter loves bows in her hair. I love fabric. Hence the fabric hair bow was created, and we are both verrrrry happy about it!
Fabric Hair Bow
MATERIALS –
one fabric square of 5 by 5 inches
scissors or rotary cutter
needle and thread
sewing machine
hot glue gun, optional
DIRECTIONS –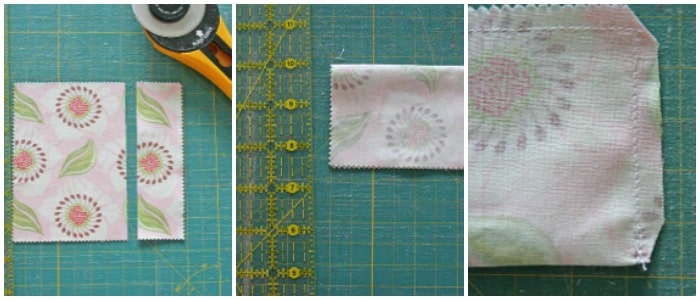 1 || Take your 5 by 5 inch square and cut a strip of 1 1/2 inches. Set this strip aside.
2 || Fold over your rectangle, right sides together and sew the three sides shut.
3 || Clip off corners.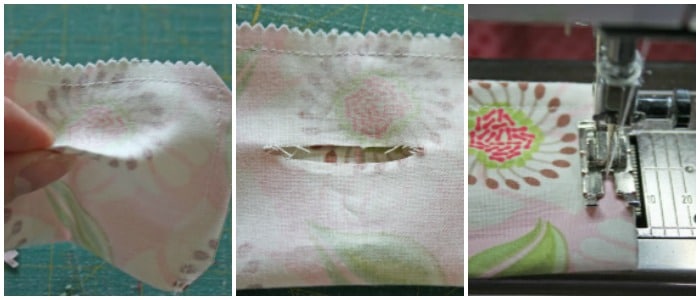 4 || Pinch up one side of the rectangle you just sewed.
5 || Cut a little slit in the back, and then turn it inside out. (Make sure you get the corners out completely too!)
6 || Sew a top stitch around the whole rectangle.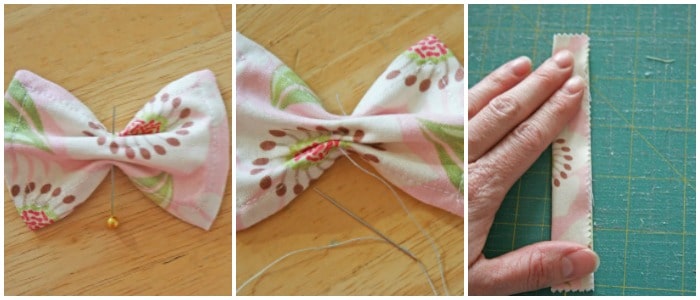 7 || Scrunch down your rectangle and then place a pin in place.
8 || Sew your bow by starting at the top of your bow and going through all the layers to get to the bottom. Do this a couple of times to make sure it's secure. Tie it off with a knot.
9 || That little strip of fabric you cut off in step 1 is going to be the strip of fabric that will make the middle part of the bow. Fold it over once and sew down the side of it.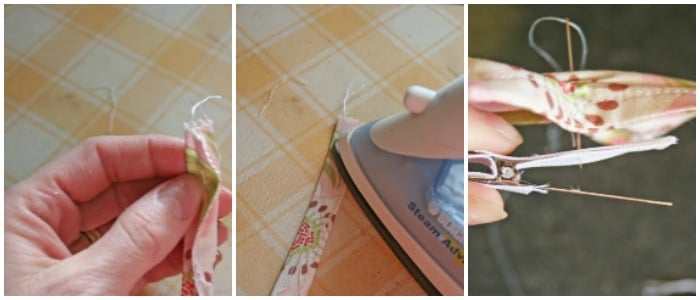 10|| "Move" the seam to the bottom of your strip.
11 || Iron down your strip, with the sewn section on the bottom so it wont show when you place it on your bow.
Now you have all three pieces you need to make your hair bow – the alligator clip, the bow, and the center.
12 || Attach the bow onto your hair clip. I like to sew mine on, but you can easily hot glue gun it as well.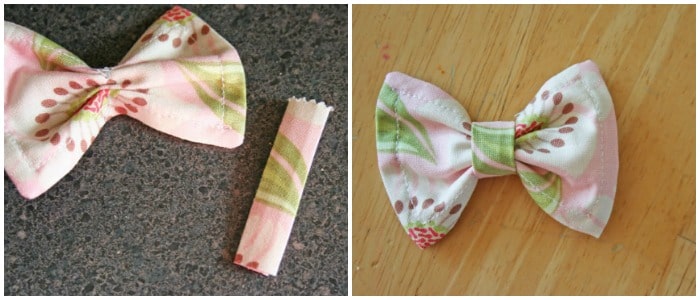 13|| Cut down your strip a little so that it fits nicely around your bow and tucks under the clip.
14 || Hot glue the strip into place and you are done!
And now you just have to make one for every outfit!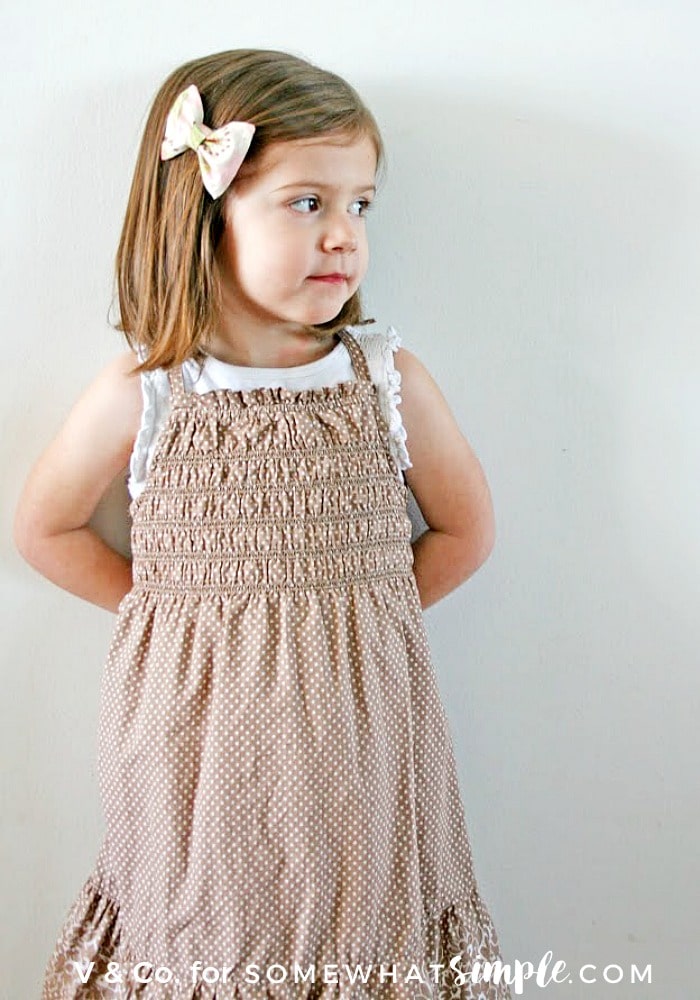 ABOUT THE AUTHOR: Hi there! I'm Vanessa and I'm the gal behind the blog and shop, V and Co. On my blog I share tutorials, decorating before and afters, and funny moments of two city folk who have moved and now find themselves living in the middle of nowhere! Thanks Steph for letting me come over for the day!

This guest post originally published on Somewhat Simple in May 2010.