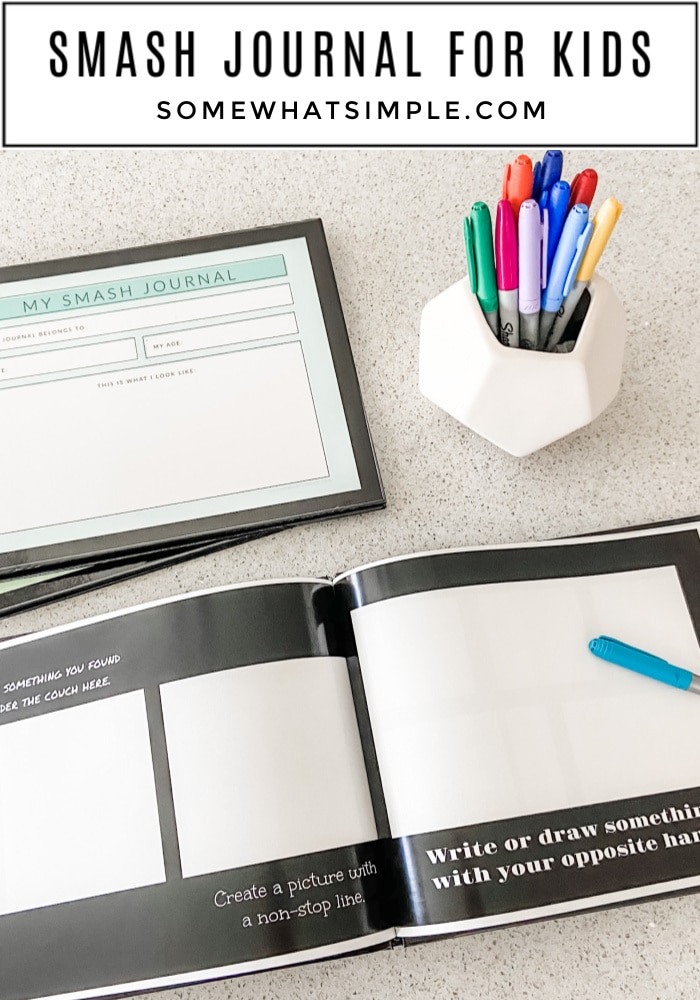 Document life in a fun, unique way by making a custom Smash Journal for Kids!
This post is in partnership with Walmart Photo. All opinions are 100% my own.
With 5 kids at home all day, I am always on the lookout for things to do to keep them entertained. With the help of my friends from Walmart Photo, I came up with an idea to make a custom smash book, using Walmart's Express Photo Books.
What is a Smash Journal?
A Smash Journal features daily prompts to doodle, draw and be creative! You can write, color, paint, or glue in embellishments and memorabilia. For the journals I made for my kids, I thought of daily prompts that were not things you'd typically write about in your journal – things like, "Draw your favorite food with your eyes closed" and "Tape something you found under the couch on this page." All the activities are fun and creative, and so far, my kids are LOVING their journals!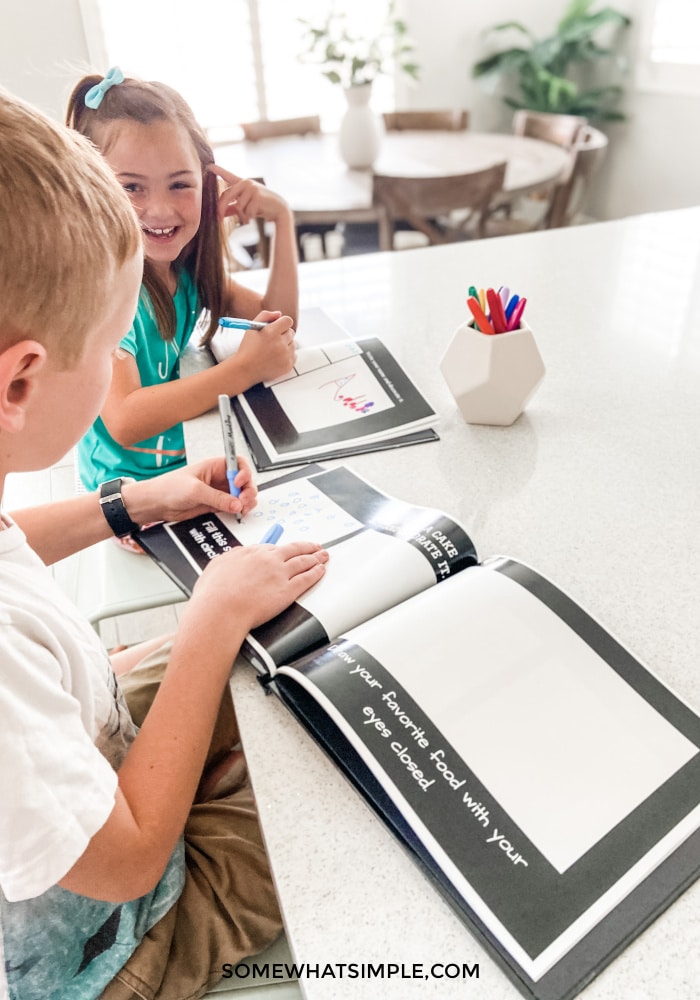 Walmart Photo offers a bunch of same-day products that you can create and pick-up in just a few hours. I was really impressed with the price and quality of the hardcover photo books, and they make the perfect journals!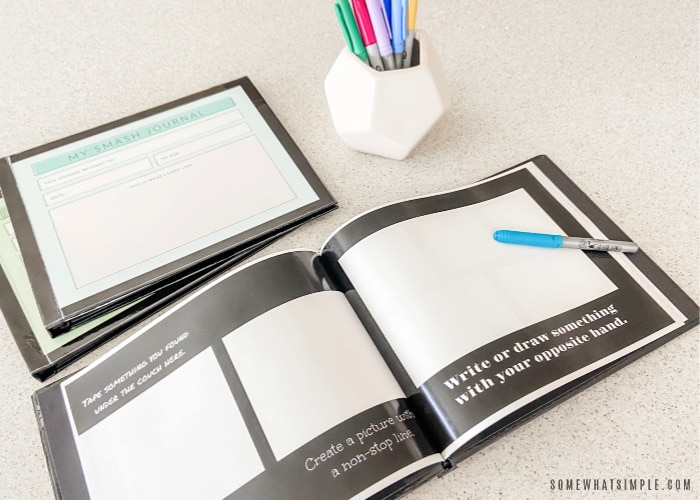 How to Make a Custom Smash Journal for Kids
Smash books make documenting life simple and fun! Want to make your own? I'll show you how I made mine, and I'll include a list of 50 prompts you can use if you're looking for some fun ideas.
WHAT YOU NEED –
List of Daily Prompts (download below)
Access to Walmart.com
DIRECTIONS –
Visit the Walmart Photo website and click on SAME DAY PRODUCTS.
Hover over the words PICK UP TODAY and then click PHOTO BOOKS.
Scroll through the dozens of book designs and pick your favorite. I chose the CLASSIC BLACK option.
Choose your cover style from the options on the next page. I chose CUSTOM HARD COVER, then click CREATE NOW.
Now you are on the page where you will design your book. A standard book comes with 20 pages, but you can add as many as you'd like!

COVER – I chose to use the SINGLE IMAGE COVER and I uploaded an image I made where my kids can fill in their name, age, date, and draw a picture of themselves. Download these covers below if you'd like to use them.

SPINE – I added each of my kid's names on the spine for an extra custom touch!

INSIDE IMAGES – Because the book I chose came with black pages, I used a plain white image in each spot where you would typically upload a photo. This made it so each page had white spaces for my kids to answer each prompt. I think it looks really good against the black background.

INSIDE TEXT – I added the daily prompts in white text under each doodle space. I typed out each prompt in a different font, just to give everything a little more variety.


Once your book is ready, preview it to make sure everything looks exactly as you want it to, then click DONE and it will get added to your cart. If you want to make more than 1 smash journal but with different covers and spines, click CONTINUE SHOPPING and then go to your project page in your profile and click DUPLICATE. You can make the changes you want, preview it, then click DONE and it will be added to your cart.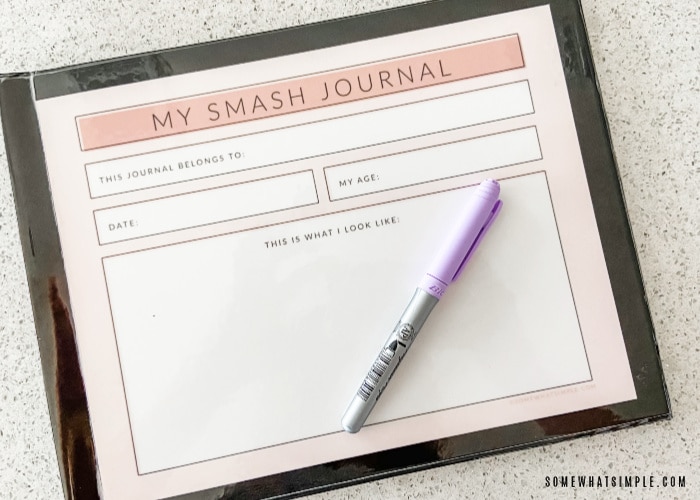 Daily Smash Journal Prompts + Cover Pages
Download the cover images, the plain-white image for doodle spaces, and journal prompts PDF by entering your name and email address below –

Walmart Photo Books sure make it easy to create these smash journals! Give them a try and let me know if your kids love them as much as mine do!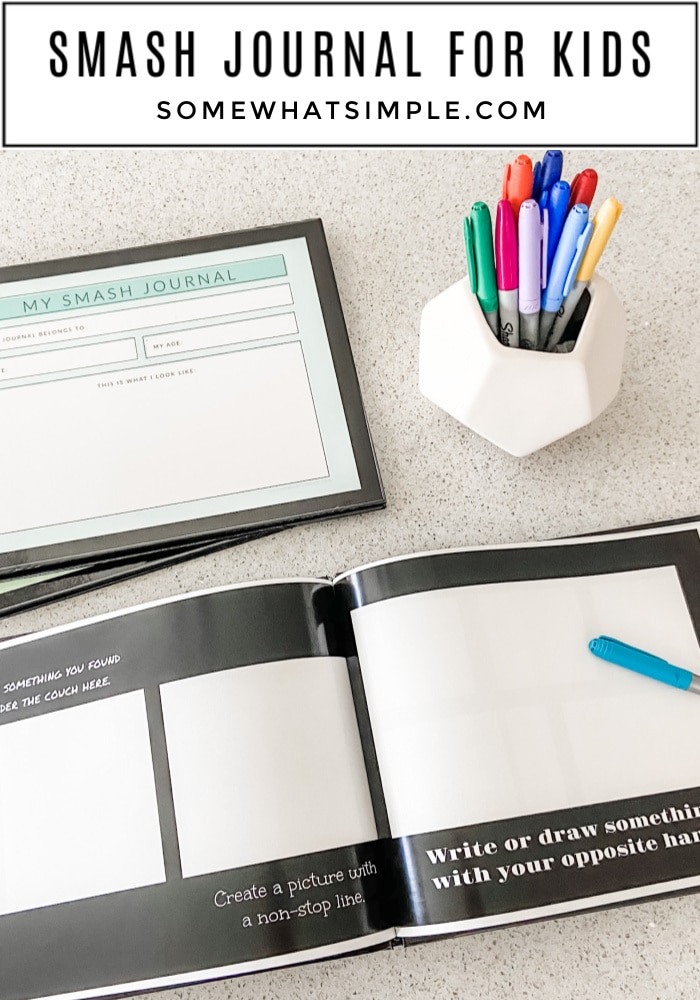 This post is sponsored by Walmart Photo. Thanks for supporting our sponsors so we can continue to provide content to SomewhatSimple.com