Strawberry Balsamic Flatbread is an easy recipe with lots of sweet and savory flavors. The perfect summer appetizer!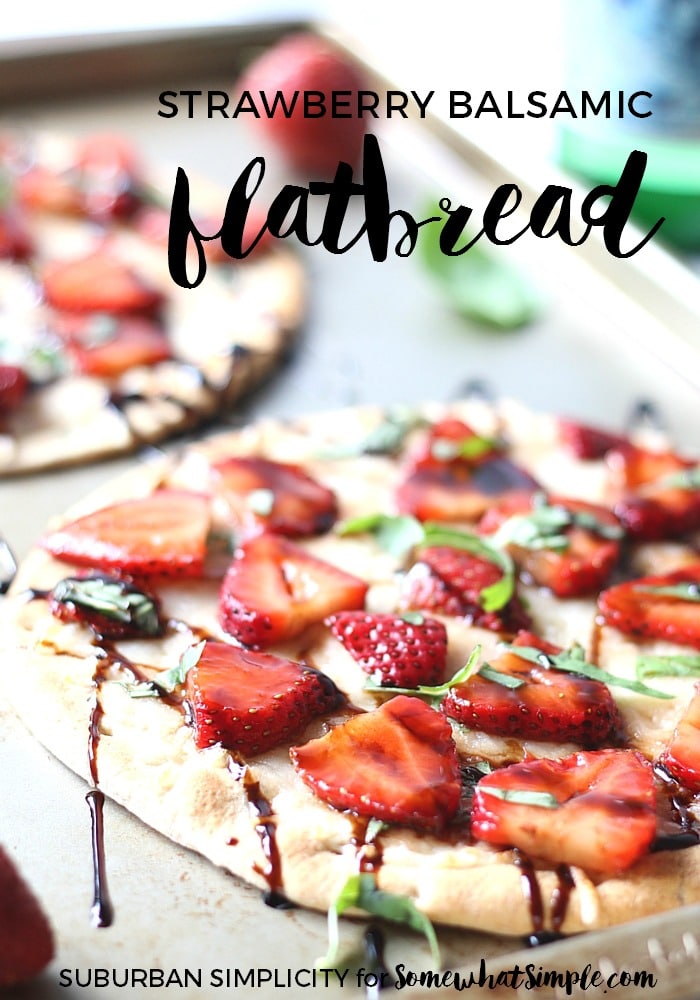 I'm all about simple, especially when entertaining.  Serving guests delicious recipes with fresh ingredients is the perfect way to make them feel at home.  That's why I love this recipe for Strawberry Balsamic Flatbread.  It always gets rave reviews.  The recipe comes together in about 10 minutes, but tastes amazing with ripe strawberries marinated in balsamic vinegar.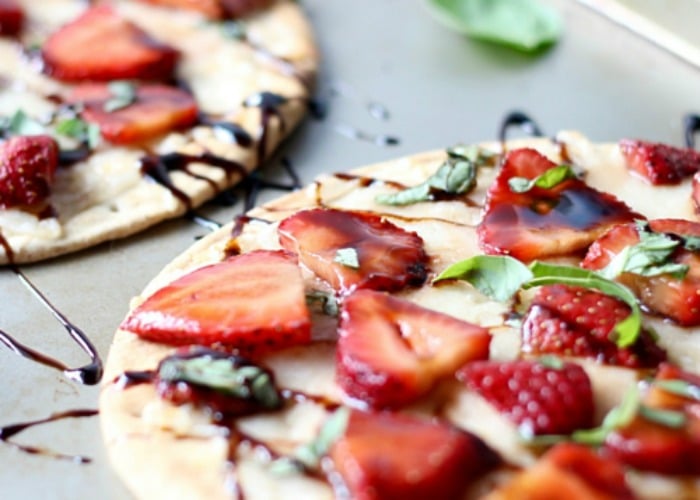 We serve this flatbread throughout the summer since it's light and pairs well with other appetizers, drinks or snacks.  Sometimes I make it for lunch because it's so simple and not too filling. To make the Strawberry Balsamic Flatbread as healthy as possible, I use whole wheat flatbread, but it's great with regular as well.
You can also plan ahead and marinate the strawberries earlier in the day and put it all together as guests are arriving.
TIP:  A fancy little trick I learned a while back is to chiffonade fresh basil.  (I love saying that word, it's so pretty!) This is accomplished by stacking the basil leaves, rolling them tightly, then slicing the leaves perpendicular to the roll into tiny strips with a sharp knife. The delicate strips remain bright green and full of flavor, plus, they look beautiful when incorporated into your spring and summer dishes!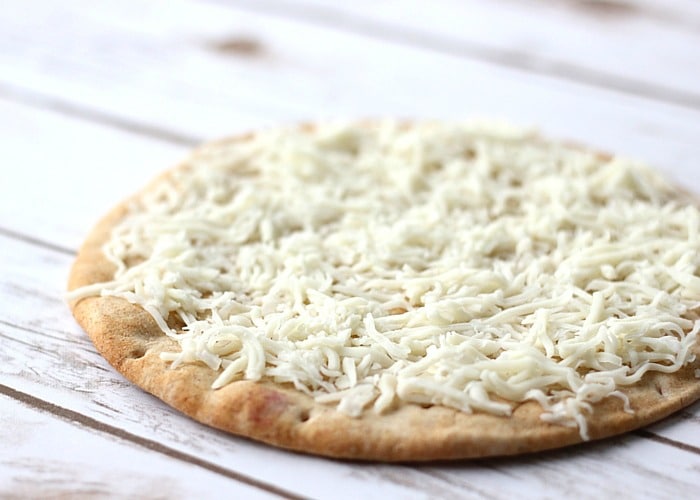 Strawberry Balsamic Flatbread Recipe
This recipe makes 2 Flatbreads, but is easily doubled for larger parties or get togethers.
INGREDIENTS:
2 flatbreads
1/2 cup mozzarella cheese
3/4 cup sliced strawberries
1/4 cup balsamic vinegar
Fresh basil
DIRECTIONS:
Wash and slice strawberries. Slice or chiffonade basil leaves.
Place strawberries, basil and balsamic vinegar in a bowl to marinate while you prepare the flatbread.
Place 1/4 cup of mozzarella on each flatbread.  Broil in oven until slightly brown.  Let cool for a few minutes.
Place marinated strawberries and basil on top of flatbread.  Add more basil for garnish if desired.
Slice and enjoy!
Can you believe how simple that is?
An effortless appetizer with fresh ingredients that's tasty, healthy and looks gorgeous on your table.
What better way to enjoy summer entertaining!