This Thanksgiving quote is a simple reminder on being thankful for your blessings. We made it into a printable, so you can frame it and display it this holiday season, or keep it up all year!
If you love printable quotes as much as we do, be sure to check out our Printable Quotes Pack. (It's a fun one!)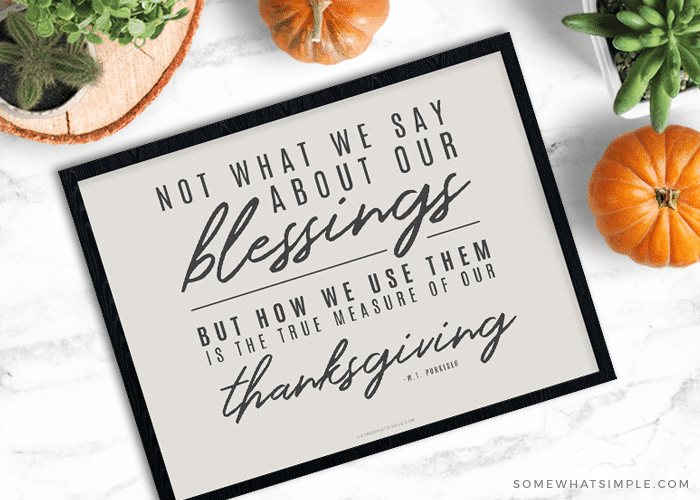 Free PrintableThanksgiving Quote
We are knee-deep in my most favorite time of year and I want time to stop. Right now!
Don't you love the holiday season, when the weather is cooler and thoughts are focused on Thanksgiving, family together time, service and love? It's magical. Year after year, it never gets old!
To celebrate this favorite time of year, I thought I'd share a Thanksgiving printable with you! This is a great quote to display during the fall season… or any season for that matter! (A great way to keep a momento from fall in your home always!) I kept the design simple and clean so it is sure match any style and room decor.
This is one of my very favorite Thanksgiving quotes – I hope you love it as much as I do!
We think you'll love these other Thanksgiving printables:
Thanksgiving Quote Printable
MATERIALS:
free printable (link to download is below)
scissors
8×10 frame
DIRECTIONS:
Download, save and print the printable file. (The file is a high resolution PDF ready to print at 8×10 inches.)
Trim the printable down to fit into your frame.
Place it in your frame and display it somewhere in your home. You could also stick it on your fridge, on your bathroom mirror, or lay it on your teen's pillow 😉 …. pretty much anywhere!
ENJOY!
I hope you enjoy this fun printable and that your Thanksgiving is a memorable one!
This post originally published on Somewhat Simple in October 2011 and was updated in 2018 with a new design and images.