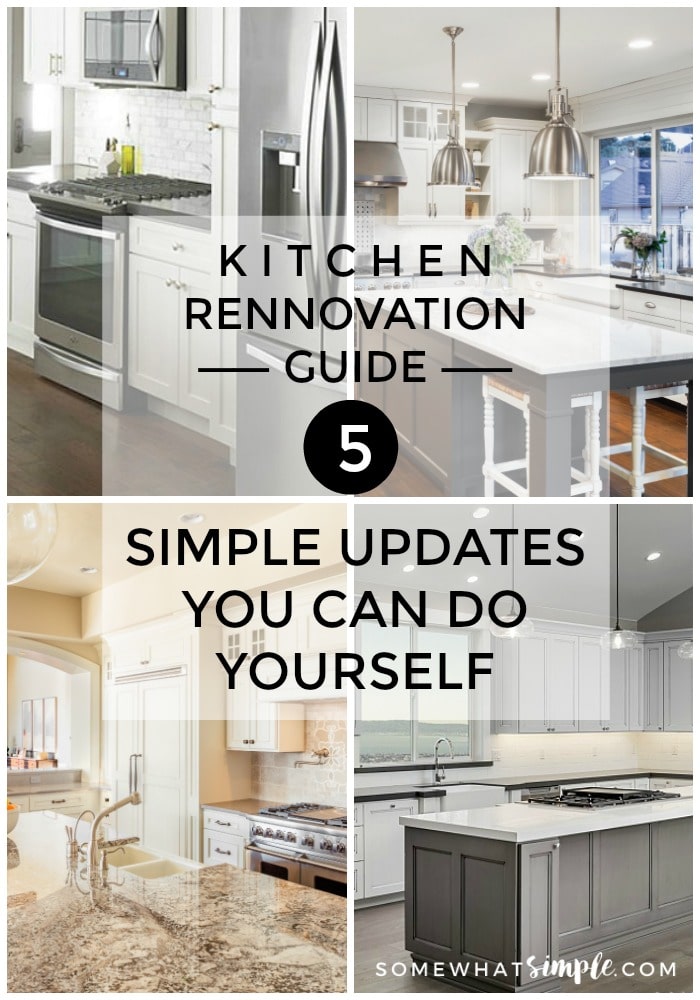 5 simple kitchen updates for the look you want without the cost (and hassle) of a complete kitchen renovation!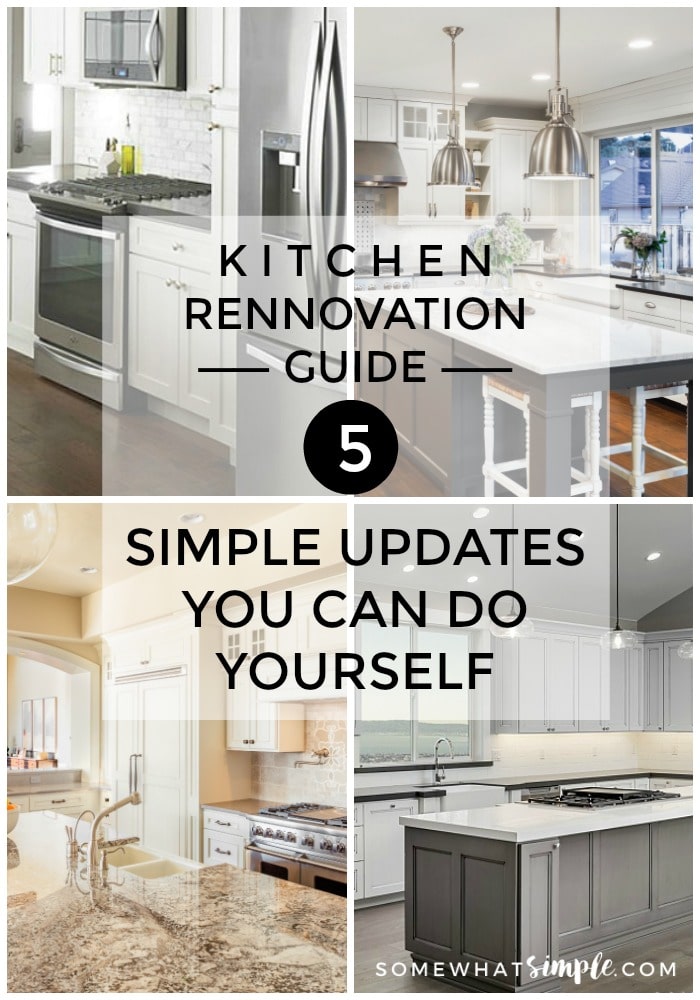 With all the time we spend in the kitchen, it's no wonder we want it to look clean and fresh! An updated kitchen will not only add value to your home, it can often make (or break!) a real estate deal. Today we're going to show you 5 simple kitchen updates that won't break your bank. Because sometimes the little things can make the biggest difference!
5 Simple Kitchen Updates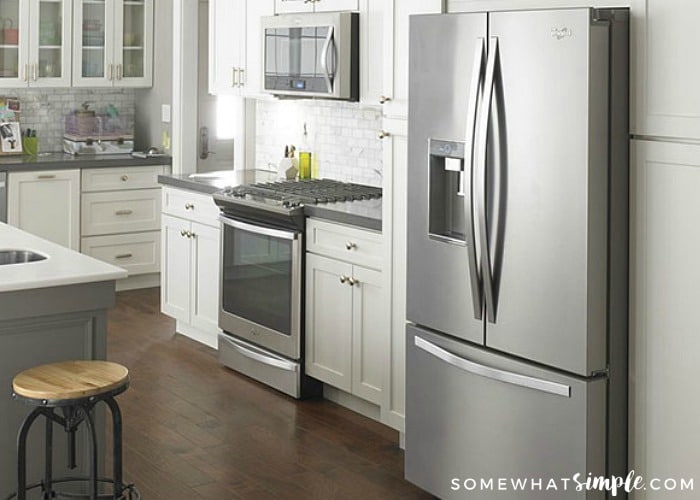 1. Update your Appliances
Your appliance situation can completely set the stage for an updated kitchen! If you have old or mismatched appliances, consider swapping them out! Watch for deals on appliance packages, or check Craigslist for newer used ones. You might be surprised at the money you SAVE on your gas and electric bill each month since newer models are much more energy efficient.
It took us MONTHS of looking for a new refrigerator before we finally pulled the trigger and I'm SO happy with the one we got! It looks great and functions fantastic! If you're in the market for a new fridge, we LOVE the Whirlpool Wide French Door Refrigerator with Infinity Slide Shelf. (Say that 10xs fast!)
Here is a quick video tour: (yes, I even did a video tour of our fridge!)
Read our entire review and purchasing details HERE.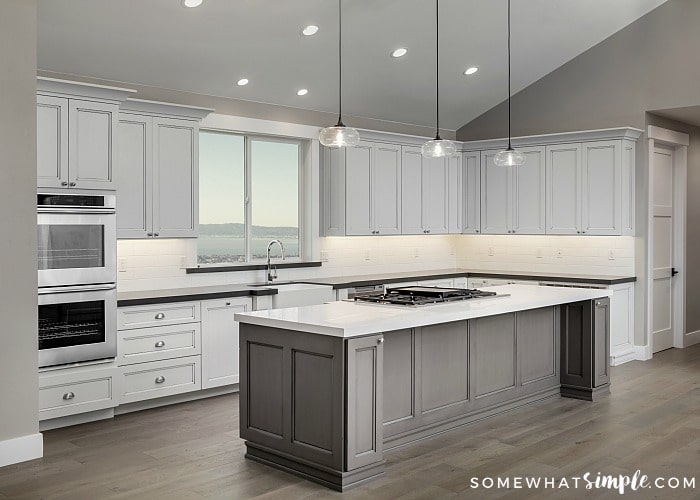 2. Update Your Cabinets
Painting or refinishing your cabinets is no easy task, but the payoff is HUGE!!! It's not hard to find a "how to" on the internet for refinishing your cabinets – our favorite tutorial on how to paint your cabinets is HERE, from All Things Thrifty.
Open shelving in place of cabinets is a hot trend right now that can save you a ton of money if your current cabinets are in bad shape! We love Anna's kitchen renovation, including her open shelving tutorial, HERE.
And can we talk about cabinet hardware? Even though it may seem small, cabinet hardware can have a big impact on your kitchen. Switching out your outdated knobs and pulls will create a whole new decorative feel. For some good deals on designer knobs, try Overstock or Ebay. Or, for an even better deal, try spray painting your existing hardware. (How to Spray Paint Your Hardware the Right Way, TUTORIAL HERE from Classy Clutter.) Maybe some paint is all you need!
… and speaking of paint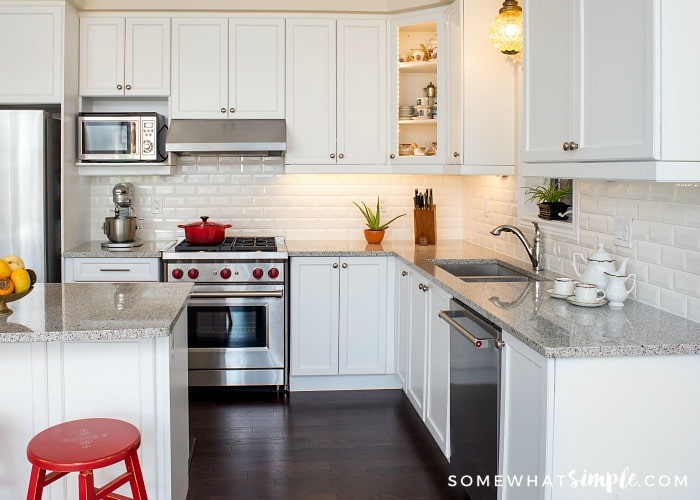 3. Update Your Walls and Windows
A fresh coat of paint is like a face lift for a room. The color you choose will help set the tone for your entire kitchen. Paint your walls a nice neutral, or go bold for a bigger statement!
Take notice of your back splash too! Adding one or updating the existing one is an update that can be very budget friendly! Hawthorne and Main has a great DIY Backsplash tutorial, listing all the supplies you'll need to complete the look yourself!
If you have outdated window treatments, consider swapping them out with something new! Roman shades or bamboo blinds are a current, affordable trend that can really update a space in no time at all. One of my favorite kitchens with bamboo blinds is this beautiful kitchen from The Inspired Room.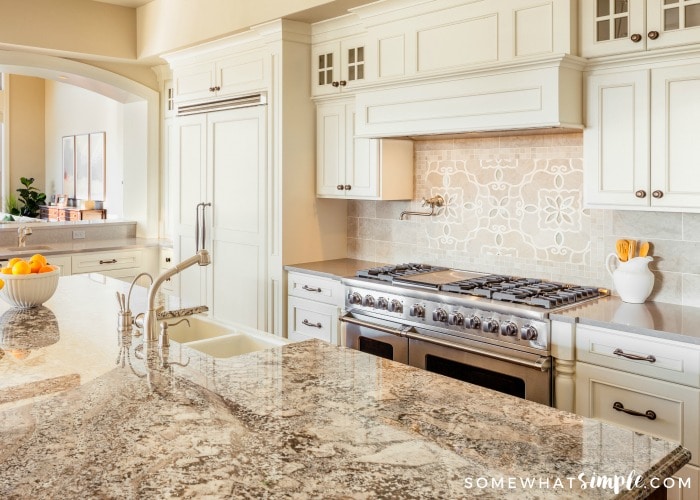 4. Update Your Counters
If your budget allows for new counters – DO IT! There is nothing prettier than a brand new granite or quartz. For a more budget-friendly option, consider PAINTING the ones you have. (Yes, you read that right!) You'll be surprised how good it looks and how well it holds up. Read some helpful tips and tricks from the pros who have painted countertops HERE, on Remodelaholic.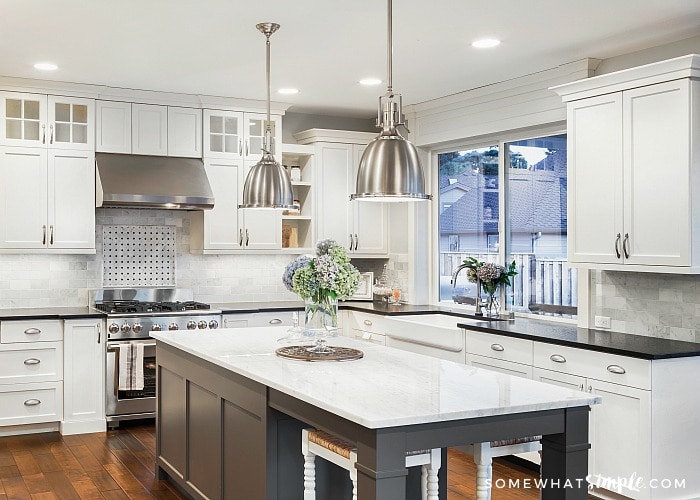 5. Update Your Lighting
Updating your lighting is a simple update that make such a HUGE difference! And because there are so many lighting stores and options, you are sure to find something you love for a price you are comfortable with. Another option is to make your own pendant lighting, with simple steps from Tatertots and Jello.
. . . . .
There you go! 5 simple kitchen updates you can do yourself.
Updating your kitchen doesn't have to take too much time or money!
We hope you found the inspiration you needed to help make the heart of your home a happier place to be!
This post on 5 Simple Kitchen Updates is sponsored by Whirlpool. All opinions expressed here are 100% our own.